Washington, D.C., is more than the seat of the national government. The DMV—the District of Columbia, Maryland and Virginia—is home to broad, diverse communities whose offerings include food and drink, art, history, performances, parks, waterfronts and more, much of it a quick bus or Metro ride away. Whether you're a new Revolutionary or a returning one, there's always more to explore in the city the George Washington University calls home.
---
History
Foggy Bottom draws its evocative name from the mist rolling off the Potomac River at its southern boundary—and perhaps also from the industrial smog that once hung over its streets. As the 19th-century manufacturing hub of Washington, D.C., the neighborhood was home to breweries, glass factories and the Washington Gas and Light Company and to the predominantly immigrant population that worked them.
The George Washington University moved to 2023 G St., NW, in 1912 and quickly established itself as a neighborhood presence. But a weak national economy and the austerity of Prohibition took their toll on the neighborhood's industries in the 1920s, and by the 1940s the area included some of the city's most notorious slums.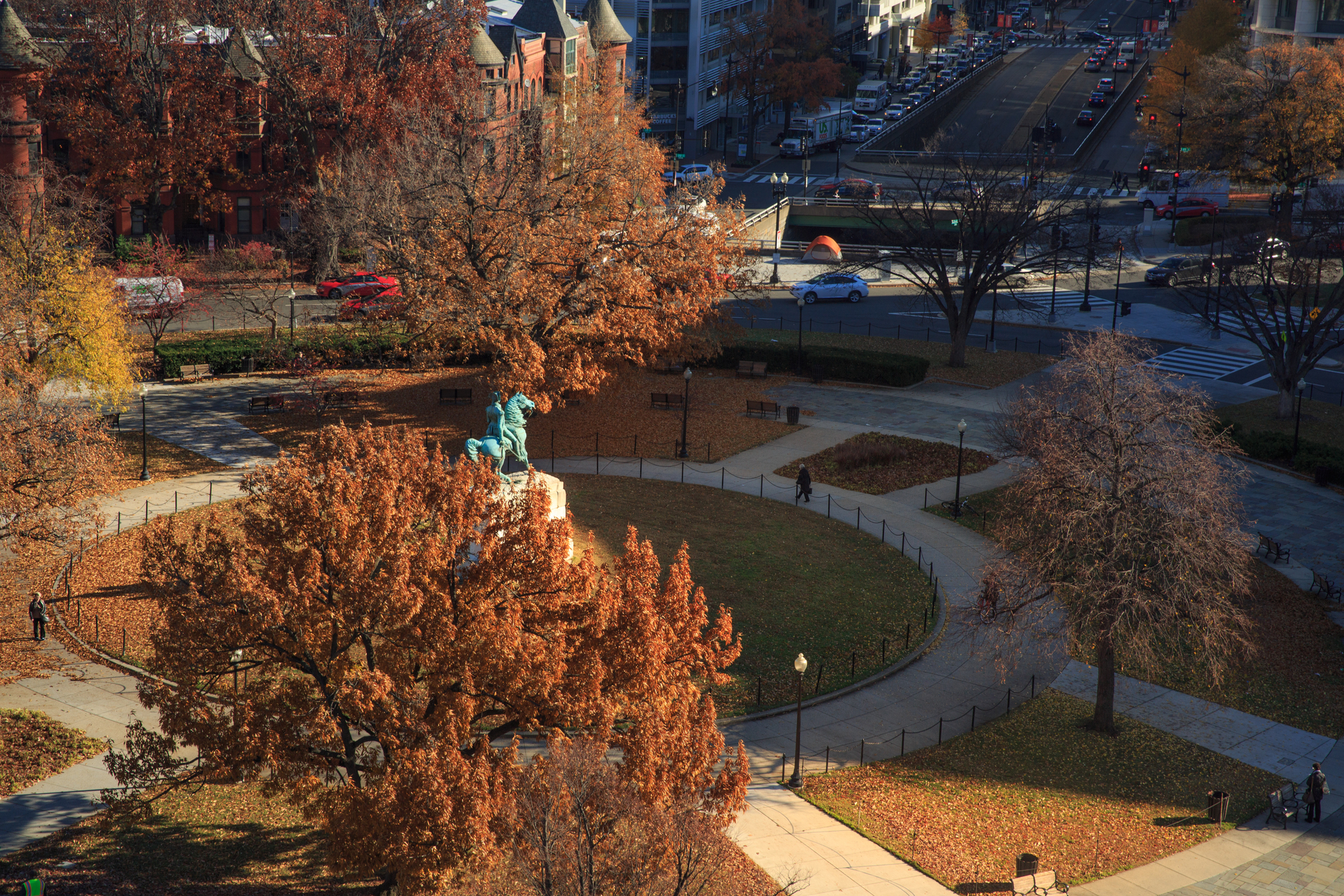 Washington Circle, where the George Washington University Hospital now stands, was once known as "Round Tops" after the notorious Irish gang that controlled it. (William Atkins/GW Today)
---
The final blow to the neighborhood's industrial character came in 1949 with the closing of the Washington Gas Works. When the Department of State moved its headquarters to Foggy Bottom that same year, the federal government soon after targeted the entire area for redevelopment. Foggy Bottom now serves as a center for several major national and international organizations, including the World Bank and International Monetary Fund. It's also home base for many GW students, and there's a lot to explore between classes.
Where to Eat:
Foggy Bottom offers copious options, and GWorld cardholders can use their Campus Cash (faculty, staff and non-residential students) or Dining Dollars (residential students) at many dining and grocery partners on and near campus. GW Deli (2133 G St. NW), a student institution for decades, offers sandwiches that are worth the sometimes-intimidating lines. Local hero José Andrés' fresh, fast-casual bowls put vegetables front and center at Beefsteak (800 22nd St. NW). Poppabox (1928 I St. NW) offers a variety of quick, affordable breakfast and lunch options for those who like to eat on the go.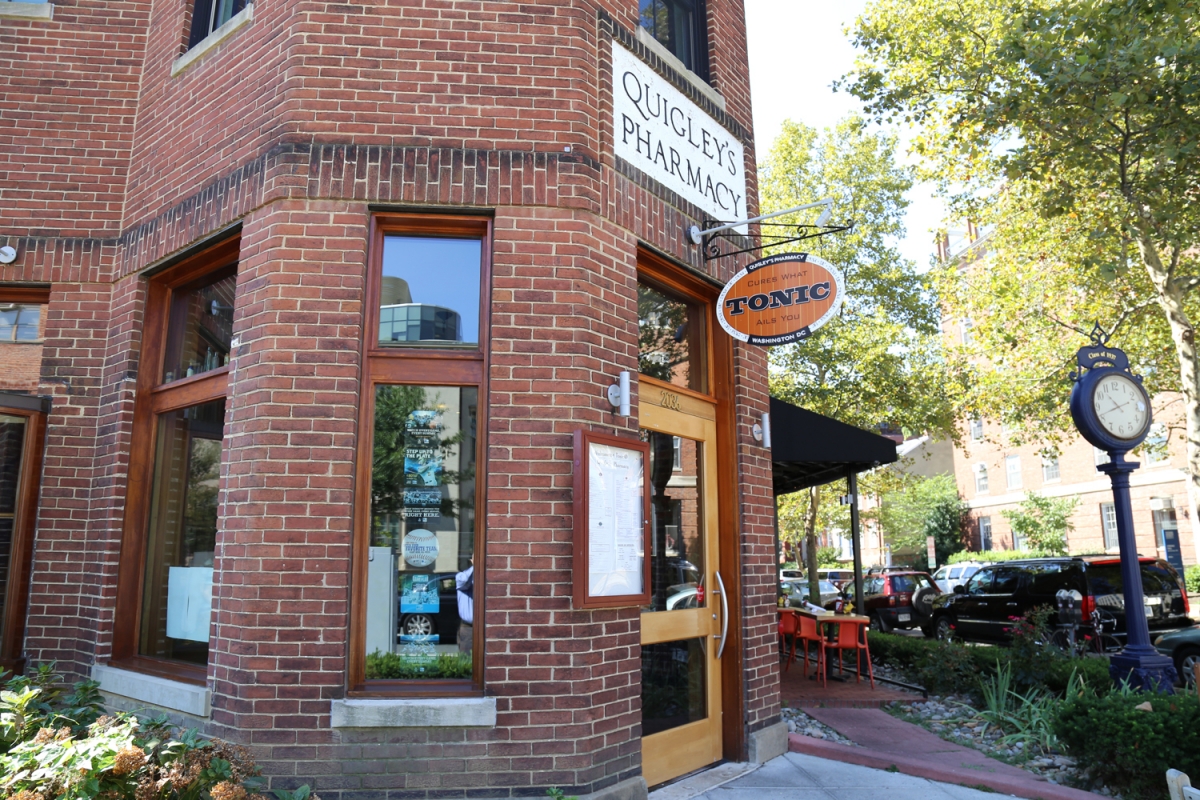 For happy hour, locals love the tater tots at Tonic (2036 G St. NW), where the walls are lined with photos of Foggy Bottom through the last century. (Robert Stewart/GW Today)
---
Western Market, the revamped pedestrian mall at 2000 Pennsylvania Ave. NW, opened in 2021 with a host of new options and old favorites, including D.C. family-owned Roaming Rooster and Falafel Inc. For happy hour or a sit-down meal, try gastropub-y options at Duke's Grocery, sushi and sake at Onkei or savory Indian street food at Bindaas. Grab dessert, including local creamery ice cream, at longtime favorite Captain Cookie and the Milkman.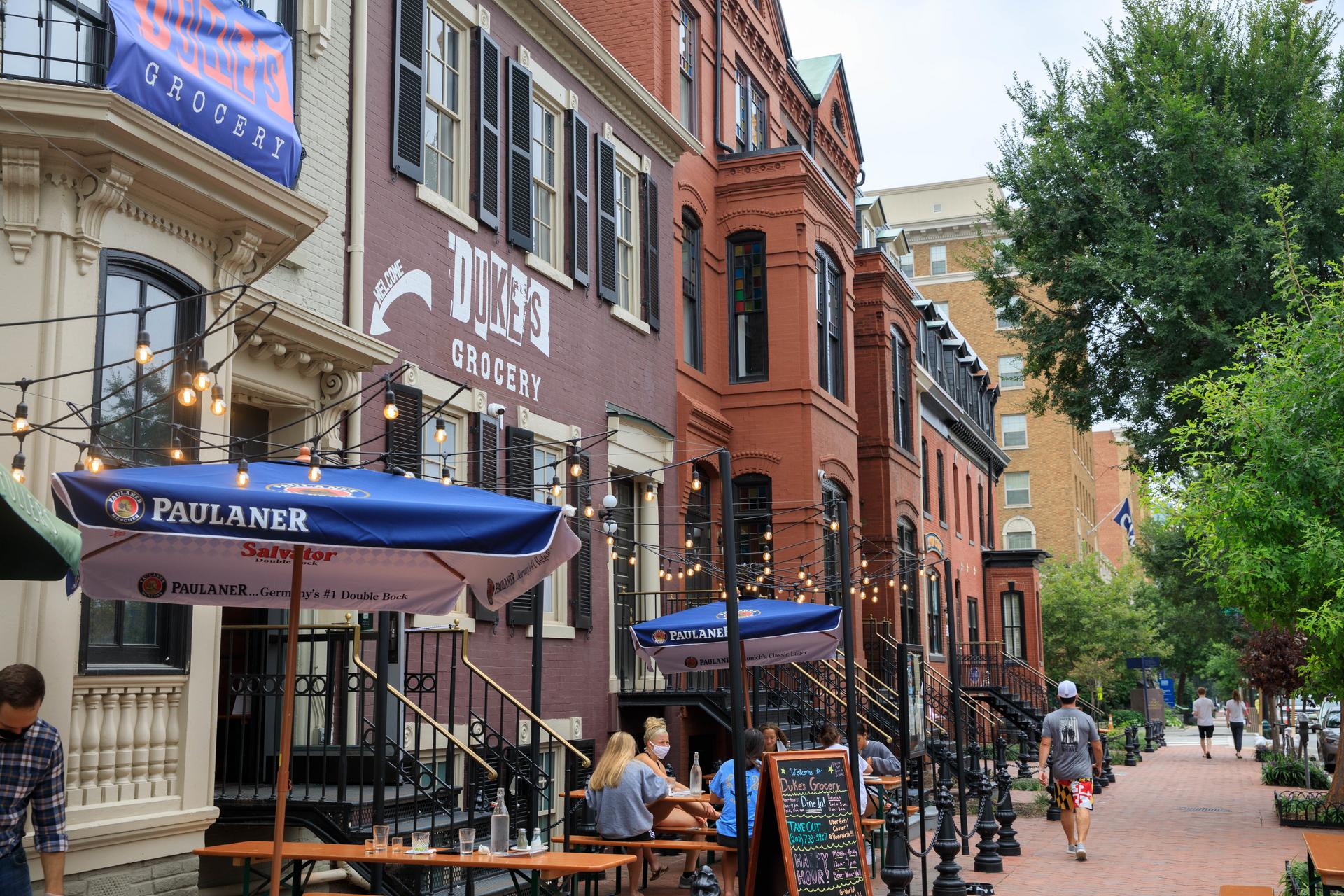 Diners gather outside Duke's Grocery. (William Atkins/GW Today)
---
Local special-occasion favorites include KAZ Sushi Bistro (1915 I St. NW), Rasika West End (1190 New Hampshire Ave. NW) and the Michelin-starred Blue Duck Tavern (1201 24th St. NW).
Residence hall District House (2121 H St. NW) is open only to GWorld cardholders. For community members, it offers a refreshed dining experience with new vendors and kiosk ordering.
---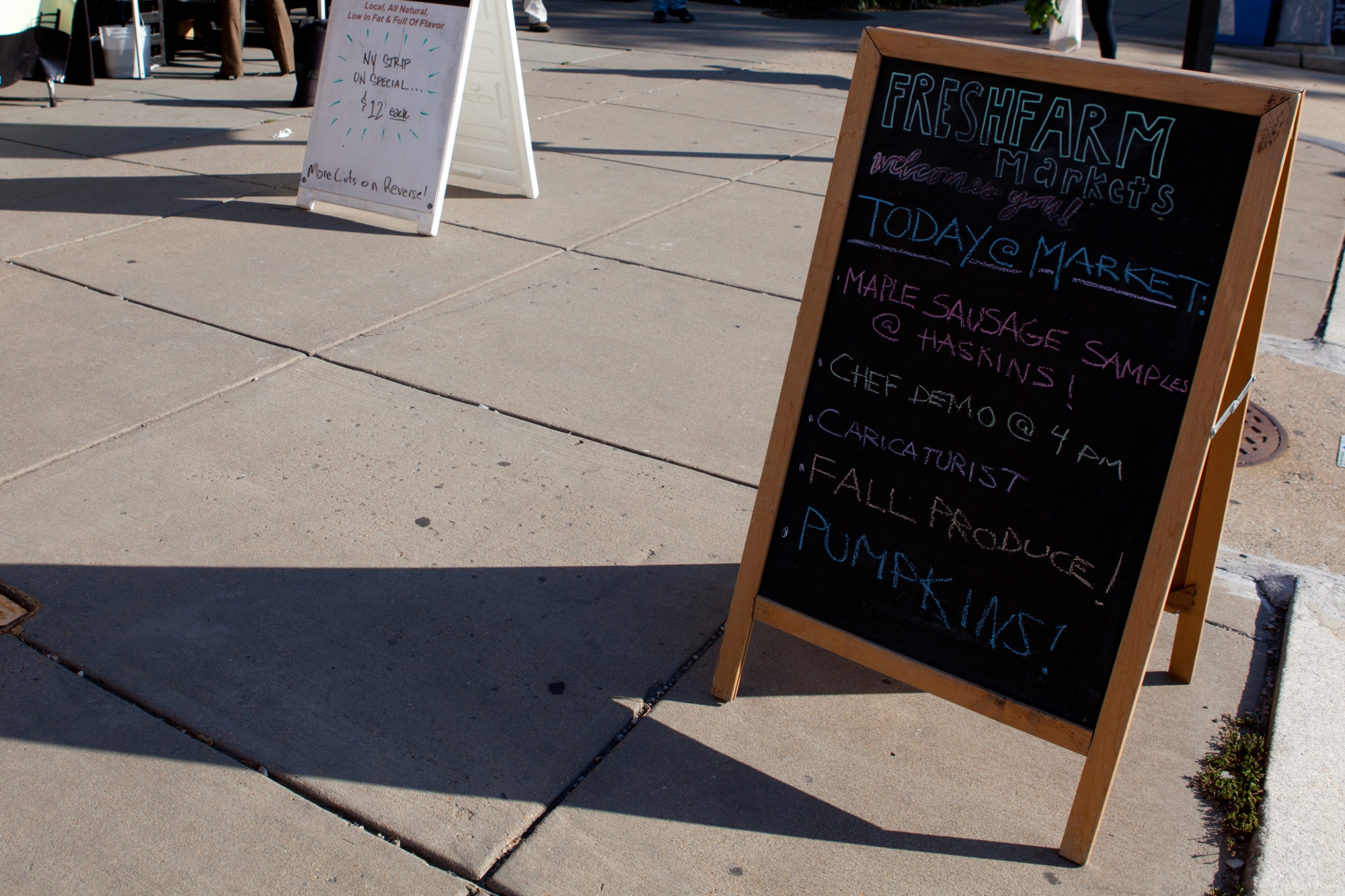 The FRESHFARM Farmer's Market comes to 23rd and I streets Wednesdays at 3 p.m. (Jessica McConnell Burt/GW Today)
---
What to do:
Visit Museums and Historic Sites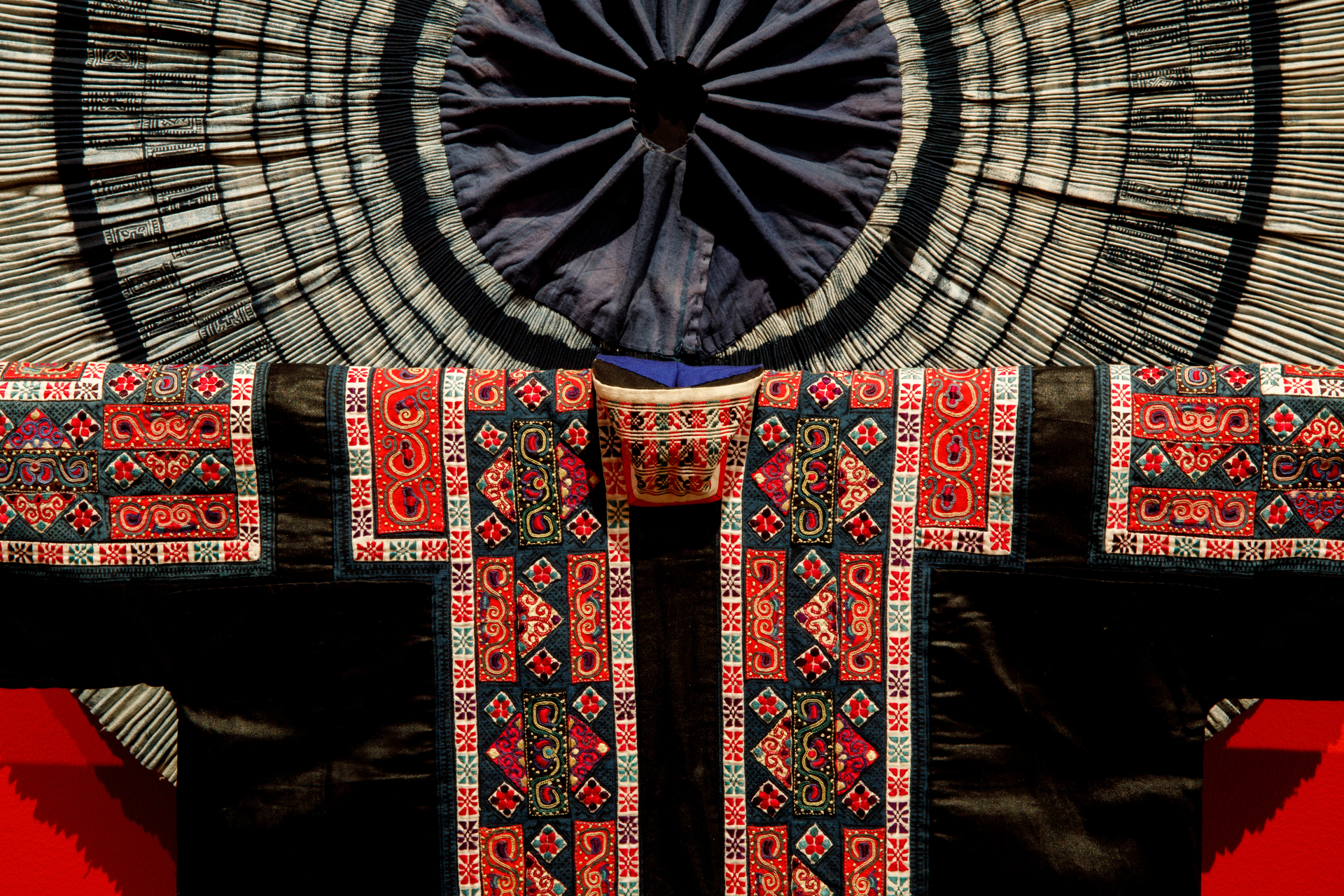 Pieces from an exhibition at the George Washington University Museum and The Textile Museum. (William Atkins/GW Today)
---
The George Washington University Museum and The Textile Museum (701 21st St. NW) combines two Foggy Bottom institutions: The Textile Museum's vibrant collection of textile art spanning five continents and five millennia, and the Albert H. Small Washingtoniana Collection of historic artifacts telling the story of the nation's capital. Besides selections from the permanent collection, the museum also features rotating exhibitions on topics from historic costume to contemporary art. It currently hosts Anne Lindberg's "What Color is Divine Light?" a breathtaking installation created specifically for the space, on display through Dec. 23, 2023.
The Corcoran School of the Arts and Design's historic Flagg Building is home to a series of rotating fine-art exhibitions, including those belonging to the Luther W. Brady Art Gallery.
The Foggy Bottom Historic District also includes the district's oldest structure: a frame dwelling at the corner of 25th and Eye streets said to have been associated with the Underground Railroad. (The structure now comprises 822, 824, 826 and 828 25th St., NW.)
Political history junkies can visit the Watergate Hotel (2650 Virginia Ave. NW), which last summer marked 50 years since the scandalous break-in that made it a household name.
At the far south of the neighborhood on the grounds of the National Academy of Sciences stands the Albert Einstein Memorial (2101 Constitution Ave., NW), a 21-foot bronze statue erected in 1979 to commemorate the 100th birthday of this scientific and humanist icon.
For those who like to wander, the Foggy Bottom Association has created multiple self-guided walking tours of historic Foggy Bottom featuring sites of artistic, historical and social significance.
Root, Root, Root for the Home Team
GW sports are in the ascendancy. Cheer on GW's basketball, volleyball and gymnastics teams at the Charles E. Smith Center and soccer, lacrosse, tennis and softball on the Mount Vernon Athletic Fields.
Nature in the City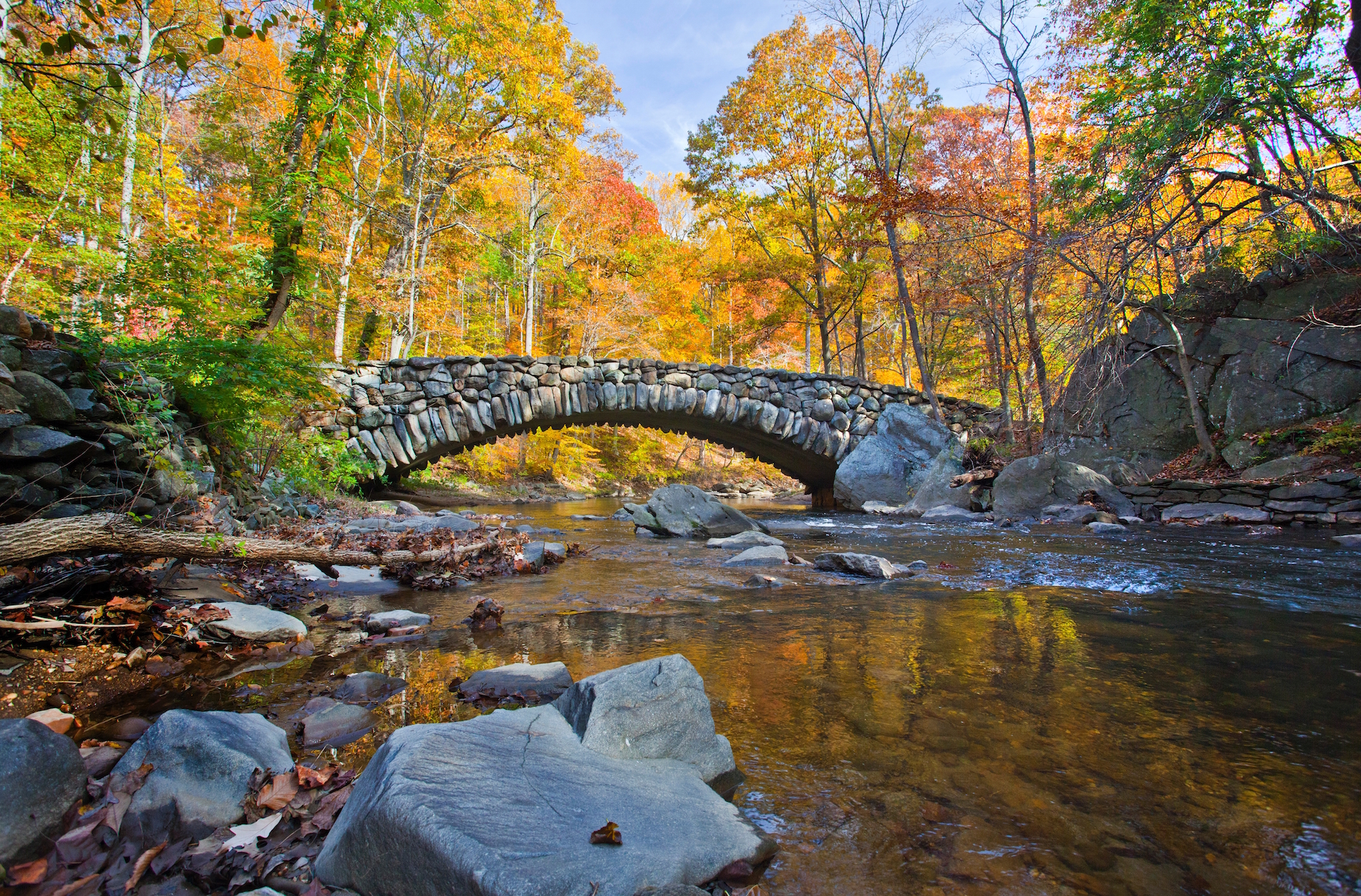 Rock Creek Park is just a few blocks from campus. (Courtesy National Park Service)
---
Joggers, cyclists, birdwatchers and anyone who needs a break from city bustle will relish the nearby tree-shaded paths of Rock Creek Park. If you prefer wheels to walking, nearby bikeshares offer rentals to riders who don't have their own. If you're craving the life aquatic, you can even rent a boat—and if you don't feel ready to handle your own yet, take kayaking, paddleboarding or other classes at Thompson Boat Center between April and October.
Take In a Performance
Catch the complimentary shuttle from the Foggy Bottom Metro to the Kennedy Center, where options range from splurge-worthy tickets like "Moulin Rouge! The Musical" to free daily shows at Millennium Stage and special workshops at its arts campus, The REACH. And keep an eye on the University Calendar and GWtoDo to find out when GW students and groups mount performances on campus or when Lisner Auditorium hosts visiting artists.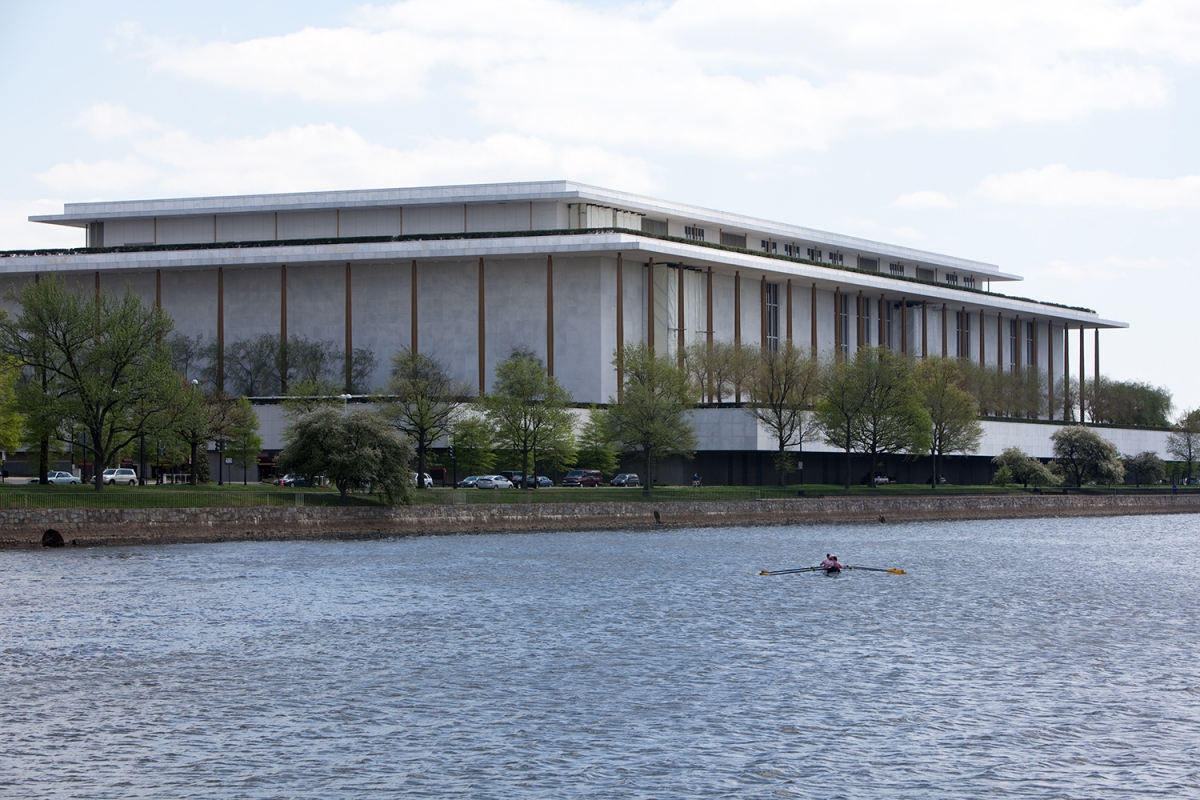 The Kennedy Center doesn't just offer plays and concerts. Visitors also can ascend to the terrace to take in a different kind of show: the panoramic view across the Potomac.  (William Atkins/GW Today)
---