Less than 15 minutes from both the Foggy Bottom and Mount Vernon Campuses by bus, Georgetown is a popular local and tourist destination for good reason: It offers a variety of inviting options, from its calming waterfront to its busy main streets and its eye-popping 18th- and 19th-century architecture.
The oldest neighborhood in Washington, D.C., Georgetown began as a shipping port in 1751, four decades before Washington was chosen as the nation's capital. In the 18th century, Georgetown was a thriving and independent shipping trade center for Maryland's tobacco, whiskey and timber exports. Because it remained separate from the federal district until 1871, Georgetown in 1867 was empowered to hold the area's first municipal election in which Black men could vote.
In the late 19th century, Georgetown's waterways became too clogged with silt for boats to navigate and the shipping trade declined. The area became more industrialized until the turn of the 20th century, when New Dealers began buying and restoring the neighborhood's old homes. Once home to famous residents such as former President John F. Kennedy, Watergate journalist Bob Woodward and actress Elizabeth Taylor, the neighborhood blends the old and the new.
---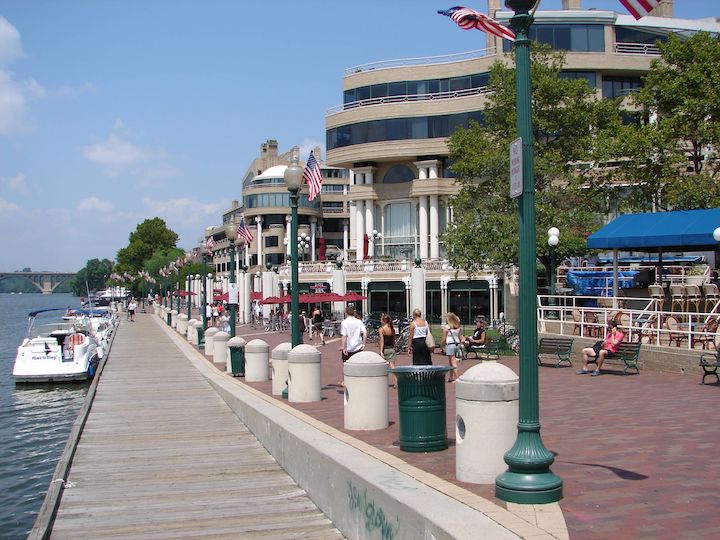 Georgetown's waterways once served as a thriving shipping port. Now the redeveloped waterfront includes restaurants, shopping, water access and free events. (Photo courtesy washington.org)
---
What to Do:
Georgetown is most known for its dining, nightlife and shopping along M Street and Wisconsin avenues, with retail options ranging from  staples like Sephora, Madewell and Anthropologie to antiques and vintage (locals recommend used bookstore The Lantern, 3241 P St., NW, and consignment boutique Pretty Chic, 1671 Wisconsin Ave., NW). But the area also offers detours into the past.
Stroll Georgetown's Historic Streets
Discover Georgetown's fascinating history by walking around the neighborhood. Several guided walking tours are available including Washington Walks and Georgetown Food Tour, or take a detour (and follow in the footsteps of local athletes) with a run up all 75 of the infamous "Exorcist Steps" on the corner of 36th and Prospect streets. The Old Stone House (3051 M St., NW), the oldest structure on its original foundation in Washington, D.C., hosts a historic exhibition in its kitchen that is open to visitors. It's also supposedly haunted.
Explore the Canal
The Chesapeake & Ohio Canal (C&O Canal) is a national park that runs 185 miles from Georgetown to Cumberland, Md. The 19th-century waterway runs through the neighborhood's side streets and offers a sense of Georgetown's rich history, as well as plenty of photo opportunities with lush green spaces and quaint houses. For the first time in a decade, you can now reserve a ticket for a one-hour heritage boat tour, which covers the canal's history and the evolution of industrial technology it represents. Not a boat person? The canal is just as pleasant for a stroll on foot or with a rental from Big Wheel Bikes.
Enjoy the Water
The recently redeveloped Georgetown Waterfront Park offers a great place to catch a view of the Potomac River. Riverside paths are a good place to take a walk, while historic sightseeing tours can be taken aboard a boat. Paddle boarders and boaters may also drift down past the Georgetown Waterfront, Roosevelt Island and under the Key Bridge in a boat rental from Key Bridge Boathouse.
Check for free events taking place at the Washington Harbour. From November through March, its fountain transforms into an ice skating rink.
Follow the African American Trail
African Americans have lived and worked in Georgetown since its beginning. After the Civil War, Herring Hill, a 15-block area of easternmost Georgetown, was popular for families migrating to D.C. from the South. Take a self-guided tour of the institutions on the Georgetown African American Heritage Trail, which includes:
First Baptist Church of Georgetown, 2624 Dumbarton St., NW. Established by a former slave in 1862, the church still holds services and is open to visitors.
Mount Zion United Methodist Church, Heritage House, Parsonage and Cemetery, 1334 28th St., NW. The oldest Black congregation in the city, Mount Zion was established when Black congregants of Montgomery Street Church moved to reject racial discrimination. Visitors are also invited to walk quietly through the Mt. Zion-Female Union Band Cemeteries (2501 Mill Rd., NW), where Black D.C. residents have been interred for centuries.
Rose Park, 2609 Dumbarton St., NW. A beloved neighborhood playground and recreation area celebrating its 100th birthday this year, Rose Park was one of the first integrated parks in the District.
See Historic Homes
When public health restrictions allow, some Georgetown historic homes are open to the public for tours. Proof of COVID-19 vaccination or masks may be required for entry.
Tudor Place Historic House and Garden, 1644 31st St., NW. This five-acre estate was originally owned by the granddaughter of Martha Washington. Now open to the public Wednesdays through Sundays, it is home to more than 8,000 objects dating back as early as 1750.
Dumbarton House, 2715 Q St., NW, is open Fridays through Sundays. This historic house museum showcases Colonial period art and furniture and an herb garden. It also hosts year-round public events, lectures and tours.
---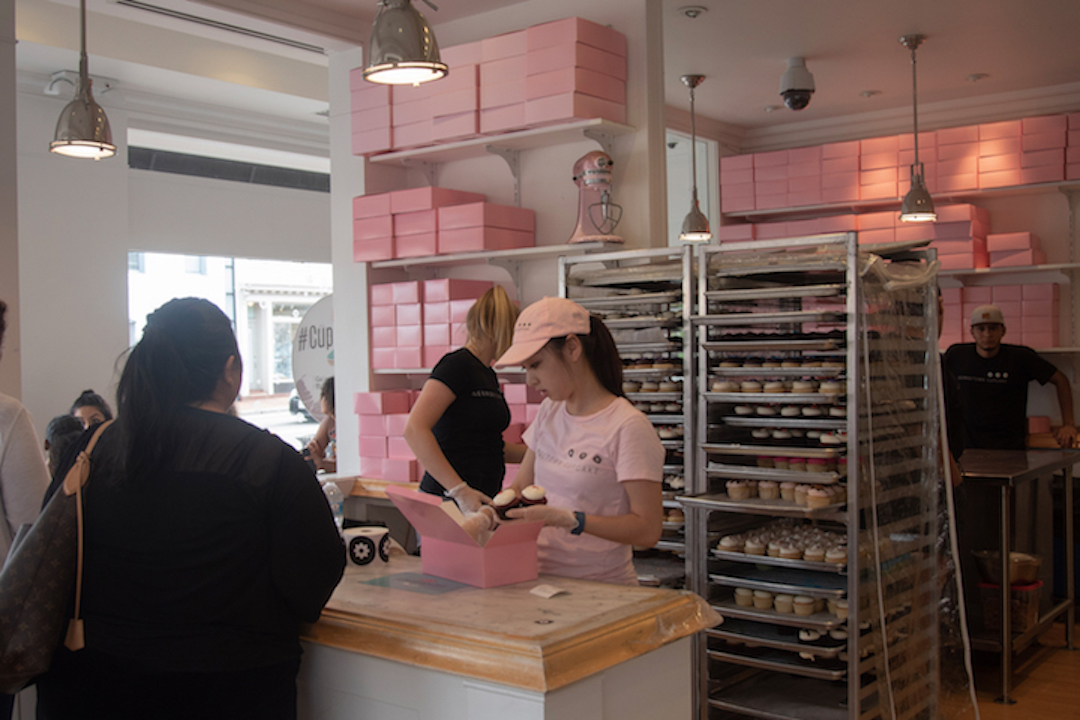 The famous cupcakery Georgetown Cupcakes, once the subject of its own reality-television show, has been a neighborhood staple since it opened in 2008. (Sydney Gray/GW Today)
---
Where to Eat:
While Georgetown is known as one of the D.C. area's top destinations for dining, it also has a pricey reputation. Still, restaurants in the area offer global food options in a range of settings from casual eating to fine dining. Try:
Established in 1933, Martin's Tavern is one of the oldest family-owned restaurants in the city. The tavern's wooden booths have hosted celebrities, politicians and sitting presidents including Harry S. Truman and George W. Bush. As a young senator, John F. Kennedy proposed to his wife, Jacqueline—a GW alumna—in a booth at the tavern known today as the "engagement booth."
This philanthropic eatery donates a portion of its sales to refugee relief efforts. The Palestinian-inspired menu offers everything from sandwiches to build-your-own bowls, all for under $5. It also offers gluten and preservative-free options.
This Neapolitan-style, brick-oven pizza spot offers an upscale-casual pie, with most menu items priced under $20. There's also a game room on its lower level.
What began as a stand at the Dupont Farmers Market is a now a chic counter serve that invites guests go farm-to-taco with its vegetarian and vegan tacos.
Let [You] Eat Cake
The famous Georgetown Cupcake, Baked & Wired and Sprinkles are all within walking distance of one another. (N.B.: This editor's plug is for Baked & Wired, which also has tasty options for snackers who prefer savory to sweet.)
---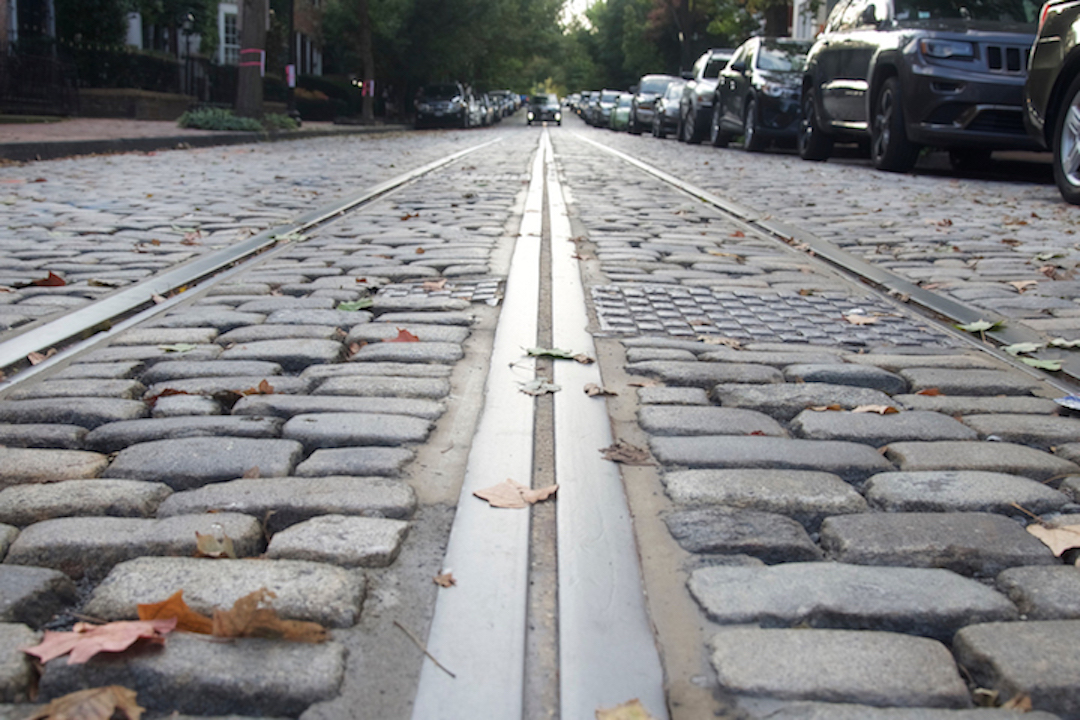 Known for its quaint cobblestone streets, 18th and 19th century architecture and vibrant retail, Georgetown's mix of the past and present make it a standout neighborhood in D.C. (Sydney Gray/GW Today)
---
How to Get There:
From Foggy Bottom
Walk: GW's Foggy Bottom campus is only about a 20-minute walk from the Georgetown Waterfront. (Be prepared for an uphill walk from the waterfront to M Street.)
D.C. Circulator: The Circulator's Union Station-Georgetown route has several stops easily accessible from campus on Pennsylvania Avenue for $1.
Metrobus: The #30N, #31 or #33 toward Friendship Heights, #38B toward Ballston or #D6 toward Sibley Hospital will get you to Georgetown in about 15 minutes or less.
From Mount Vernon
Metrobus: The #D6 toward Stadium-Armory and the #D2 toward Dupont Circle will get you to Georgetown in about 15 minutes or less.