By Ruth Steinhardt
Eastern Senior High School senior Adonte Yearwood thought he would spend his Wednesday morning presenting about the college application process at an informational panel for juniors.
Instead, he was surprised with a free education at his first-choice university.
Mr. Yearwood clapped a hand over his mouth, beaming, as George Washington University President Steven Knapp—followed by the GW mascot, members of the university admissions office and Mr. Yearwood's mother—entered the school library to declare him a Stephen Joel Trachtenberg scholarship awardee.
Mr. Yearwood is a JROTC member, a baseball player and an academic standout. His AP Literature and Composition teacher, Felicia Jordan, said she has used his essays, name removed, as exemplars for his fellow students.
But as he squinted into the lights of the news cameras unexpectedly surrounding him, all Mr. Yearwood could say, shaking his head, was: "Oh, man."
Dr. Knapp and the GW awards team spent Wednesday traveling to eight schools in Washington, D.C., surprising nine students with hand-delivered acceptance letters and the news that their full education—four years of tuition, room, board, books and fees—would be paid for. (A 10th student, whose school was on spring break, was notified by telephone.) 
"It's special not just because we get to welcome these exceptional students to the GW community, but also because we're getting the word out to families across the District of Columbia that college is a possibility for their future," said Dr. Knapp, who will step down as president of GW this summer after a decade of service as president and on the scholarship prize patrol. "Especially gratifying is the reaction of the fellow students—not just the emotional response of the student who's the recipient, but the fact that the other students are also surprised and delighted. It's always a wonderful day."
---
Stephen Joel Trachtenberg Scholarship Awards 2017 from The George Washington University on Vimeo.
---
Mr. Yearwood, soft-spoken and composed once he recovered from his initial shock, spoke evenly of the dark times his family has faced. He has long wanted a career in law enforcement, he said, and plans to take advantage of GW's proximity to agencies like the FBI.
But his dream took on a tragic dimension when his father was killed in the U.S. Virgin Islands, where he grew up, just a few weeks before his senior year began.
"My biggest struggle in my life came last summer when I lost my father to gun violence," he said. "To hear the news that he was gunned down in front of his job—it really crushed me. Honestly, I just cried and I cried and I cried until I couldn't cry anymore. But then I realized that I had to stay strong, not just for me, but for my family. I had to be the foundation that my mother could lean on in her time of crisis."
Costas Solomou, dean of admissions at GW, joined the awards team on its festive tour Wednesday and said the university is "excited to have these exceptional scholars join our GW community."
"These ambitious and academically talented young men and women are well on their way to becoming the next generation of citizen leaders," he said.
Students are nominated for the award by their high school counselors and participate in an interview process before being chosen. All D.C. residents graduating from an accredited public, charter or private high school in the District are eligible. The scholarships are renewed annually, based on satisfactory academic progress.
All Wednesday's scenes were touching, but some were spectacular. At Paul Laurence Dunbar High School, where the senior class had gathered in the auditorium for what they were told would be an assembly, the school band and cheerleaders entered to herald the announcement of winner Michael Degaga. (The drum line was loud, but the cheers for Mr. Degaga, a member of JROTC and captain of the robotics team who is expected to graduate as class valedictorian, were even louder.)
At Woodrow Wilson High School, winner William Davis thought he would be attending an Urban Alliance meeting. But he opened the door of his principal's conference room to meet not only the GW awards team, but also the excited cheers and raised camera phones of four generations of his extended family—from his great-grandmother, Alice "Grandma Alice" Little, to his grandparents, parents, siblings, aunts, uncles and even an excited toddler cousin.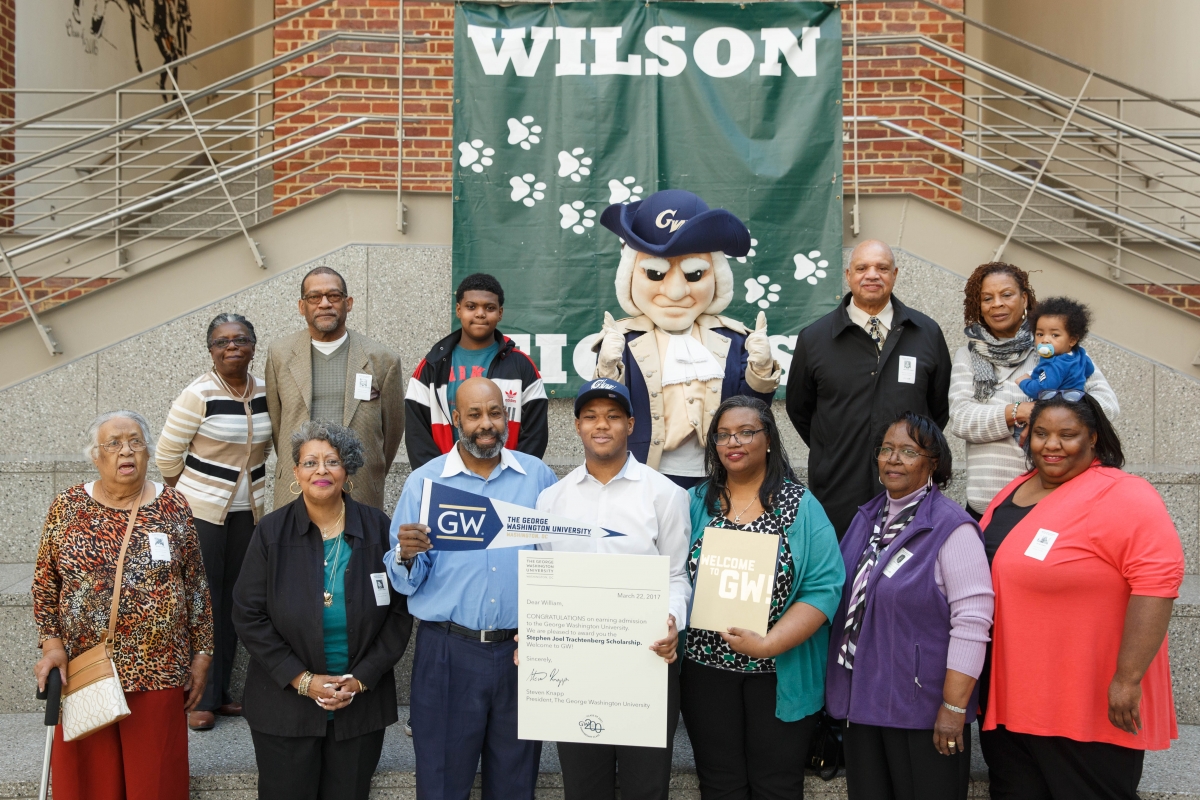 A dozen members of William Davis' family gathered to surprise and congratulate him at Woodrow Wilson High School. (Logan Werlinger/GW Today)
Since 1989, the SJT scholarship program has provided 166 academically exceptional students with full-ride scholarships covering all four years of their undergraduate education.  
The SJT scholarship program is one of many GW initiatives aimed at improving access to a college education for high-achieving students of all backgrounds. GW's July 2015 announcement that it will no longer require most undergraduate applicants to submit SAT or ACT test scores was another. Others include the university's participation in D.C. College Application Week, its Early College Program at School Without Walls, the District Scholars Award and partnerships with the Posse Foundation and Say Yes to Education.
The program has a 92 percent graduation rate, and many recipients are GW students now. At McKinley Technology High School, SJT winner and McKinley alumnus Byron Fullerton, now a sophomore at GW's Corcoran School of the Arts and Design, watched from the sidelines as this year's winner, volleyball team captain and aspiring entrepreneur Emmoni Morrisey, cried into her family's shoulders.
"Any words of wisdom?" a McKinley administrator asked Mr. Fullerton. Ms. Morrisey turned to him, smiling through her tears.
Mr. Fullerton, who is studying to be an animator, just smiled back.
"Welcome to the family," he said.
The full list of 2017 SJT winners:
Sydney Austin of National Cathedral School is captain of her soccer team and editor of the school newspaper. She aspires to be an archaeologist.
Lorrin Davis of Columbia Heights Education Campus is interested in studying international affairs to pursue her dream of working as a Foreign Service officer. She participated in former First Lady Michelle Obama's Let Girls Learn program and conducted a case study on the Syrian refugee crisis.
William Davis of Woodrow Wilson High School has volunteered with multiple D.C. programs including City CPR, the Lowell School and Capitol Food Bank. His internship with the Urban Alliance at the World Bank solidified his choice to major in business and pursue a career in finance.
Michael Degaga of Paul Laurence Dunbar High School is expected to be valedictorian of his class. He is the mechanical captain of the robotics team and a member of JROTC and hopes to turn his passion for aviation into a career and intends to major in mechanical engineering.
Jenesis Duran of Washington Latin Public Charter School is captain of her soccer team, school secretary and treasurer and involved in the League of United Latin American Citizens. She intends to study international relations.
Joel Escobar of Cesar Chavez – Parkside Campus is captain of his school's soccer team, an advocate for victims of domestic abuse and plans to major in computer science. He is expected to graduate at the top of his class.
Cherisse Hayes of Duke Ellington School of the Arts is an aspiring journalist. She is class treasurer, a student contributor at ShareAmerica.gov and interned for the D.C. Superior Court of Appeals as a junior deputy clerk.
Ana Lopez of Columbia Heights Education Campus first learned English at age 13 when she moved to D.C. and joined her mom who had left their home country when Ms. Lopez was a baby. She will be the first member of her family to attend college.
Emmoni Morrisey of McKinley Technology High School is a graduate of the Cathedral Scholars program, a DCPS college summer enrichment and college preparatory program. She is captain of her school's volleyball team and intends to major in business administration.
Adonte Yearwood of Eastern High School moved to D.C. from the U.S. Virgin Islands in order to further his education. A member of JROTC and the baseball team, he intends to major in criminal justice and pursue a career in law enforcement.