"Uptown Funk" blasted through speakers, the Ballou High School marching band tuned up their instruments and beach balls bounced through the crowd.
The atmosphere in George Washington University's Lisner Auditorium was electric Friday morning, as nearly 200 students from high schools throughout the District of Columbia—sporting college T-shirts and smiles—celebrated their acceptances to colleges and universities around the country.
The event marked the inaugural D.C. College Signing Day, an offshoot of First Lady Michelle Obama's "Reach Higher" initiative, which encourages students to complete education beyond high school.
In the spirit of National Signing Day, when high school students officially commit to college football programs, the D.C. students walked across the Lisner stage, one by one, to announce where they would be attending school in the fall.  
"I'll be going to and through the George Washington University," announced senior Matthew Jenkins, who received a full-ride Stephen Joel Trachtenberg scholarship to GW in March. His classmates from KIPP D.C. College Preparatory hollered from the audience. He was one of five attendees at the celebration who verbally committed to GW.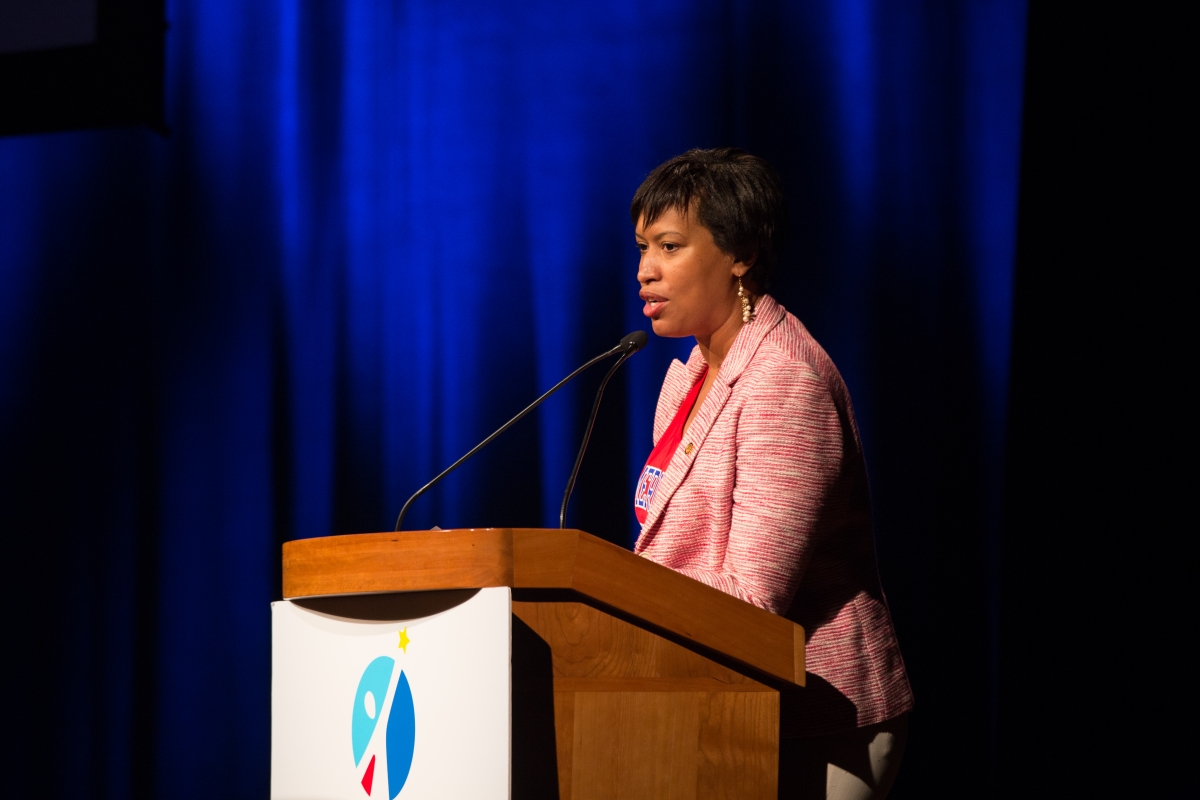 D.C. Mayor Muriel Bowser encouraged students to give back to the District after graduation.
---
In a video message shown to students, the first lady told the Class of 2015 that she was "incredibly proud" of their accomplishments, but also reminded them that the day signified only the beginning of their academic journeys.
"Getting into college is not the ultimate goal," she said. "The ultimate goal is to graduate and get that degree."
Ms. Obama—a first-generation college student who received her undergraduate degree from Princeton University—said her transition from high school to the Ivy League wasn't easy. She felt overwhelmed on campus and said she even brought the wrong size sheets for her dorm room bed. But she found support at the multicultural student services center and worked hard to achieve high grades in her courses. 
"Soon enough, I realized I had everything I needed to finish college," she said. "And I know that the same is true for you. I cannot wait to see everything that you will achieve in the years ahead."
U.S. Secretary of Education Arne Duncan also made an appearance at Signing Day, wearing his Harvard University sweatshirt. He, too, said that his first year in college was "extraordinarily difficult" and admitted that he did not excel academically as a freshman.
Mr. Duncan called the students the "future of this city," and he urged them to stay connected to their high schools and the communities where they grew up. His best friends today, he said, are still his friends from high school.
"Don't ever forget your roots," he said. "As you go off and explore the country and the world, enjoy that and revel in it, but don't ever forget where you came from. Don't ever forget your friendships here."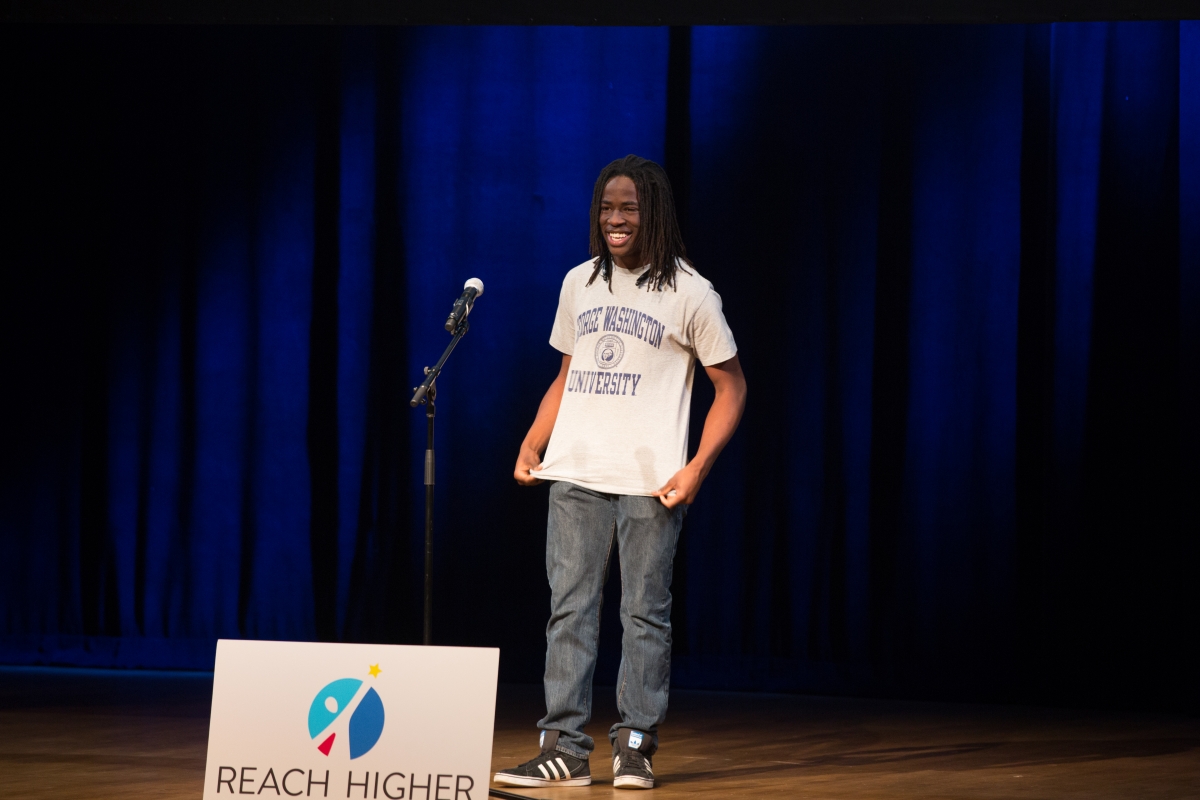 Byron Fullerton from McKinley Technology High School in the District proudly wears a George Washington University T-shirt during the D.C. College Signing Day event at Lisner Auditorium.
---
D.C. Mayor Muriel Bowser touted a similar message, encouraging students to give back to the District after graduation. She also advised them to "jump into" their college experience by experiencing everything they possibly can.
"If we are to build a city where we have a great growing pathway to the middle class, we need you to be able to compete for good paying jobs right here in your hometown," Ms. Bowser said. "And we're looking forward to it."
Mr. Jenkins was excited to meet other SJT Scholars and a few more of his future college classmates at GW.
"It's exciting to finally know who I'm going to see around campus," he said.
As his final weeks of high school wind down, he's eagerly waiting to graduate and to start classes at GW, where he plans to study architecture in the Columbian College of Arts and Sciences.
"I'm looking forward to finally being on my own at GW and studying my major," he said. "And I'm excited for the Mount Vernon Campus. It's just so nice out there."