By Ruth Steinhardt
When Glen Warren arrived at the George Washington University from Atlanta in August, he didn't come alone. As a member of GW's first cohort of Posse Scholars, he already knew 10 of his classmates from months of weekly preparatory meetings. 
"It's great to have a support system on campus before you even get there," Mr. Warren said. "It definitely makes you more confident."
His experience illustrates the impetus behind the Posse Foundation, which partners with nearly 60 colleges and universities in 10 cities across the country. Participating universities offer full-tuition leadership scholarships to select high school graduates from their designated city—Atlanta, in GW's case—with the idea that small, diverse, supportive peer groups increase overall community engagement and success.
Posse is one of four scholarships whose first cohorts of freshmen arrived at GW in fall 2016. Others were the GW District Scholars program, Say Yes to Education and the Cisneros Scholars program.
All of these awards or partnerships are part of the university's commitment to enrolling a more diverse student body with a focus on students from groups that historically have been underrepresented in higher education, as set forth in Vision 2021, GW's 10-year strategic plan.
The university formed a Task Force on Access and Success in January 2014, after George Washington President Steven Knapp participated in a White House summit on college opportunity. 
 "There's no single experience"
Mr. Warren, a student in the School of Engineering and Applied Science who is interested in artificial intelligence and grew up "tinkering with old radios" and building robots, said he already has experienced firsthand the advantage of a learning community with diverse views.
"When people are going through the same stuff you are, but they're coming from different perspectives, they can help you find solutions you wouldn't have thought of," he said.
Ian Haimowitz is a Cisneros Scholar from Taos, N.M., interested in politics and international affairs. Like Mr. Warren, he said the diversity of experience among his peers in the Cisneros program is an advantage not just for him, but also for the broader Latino community.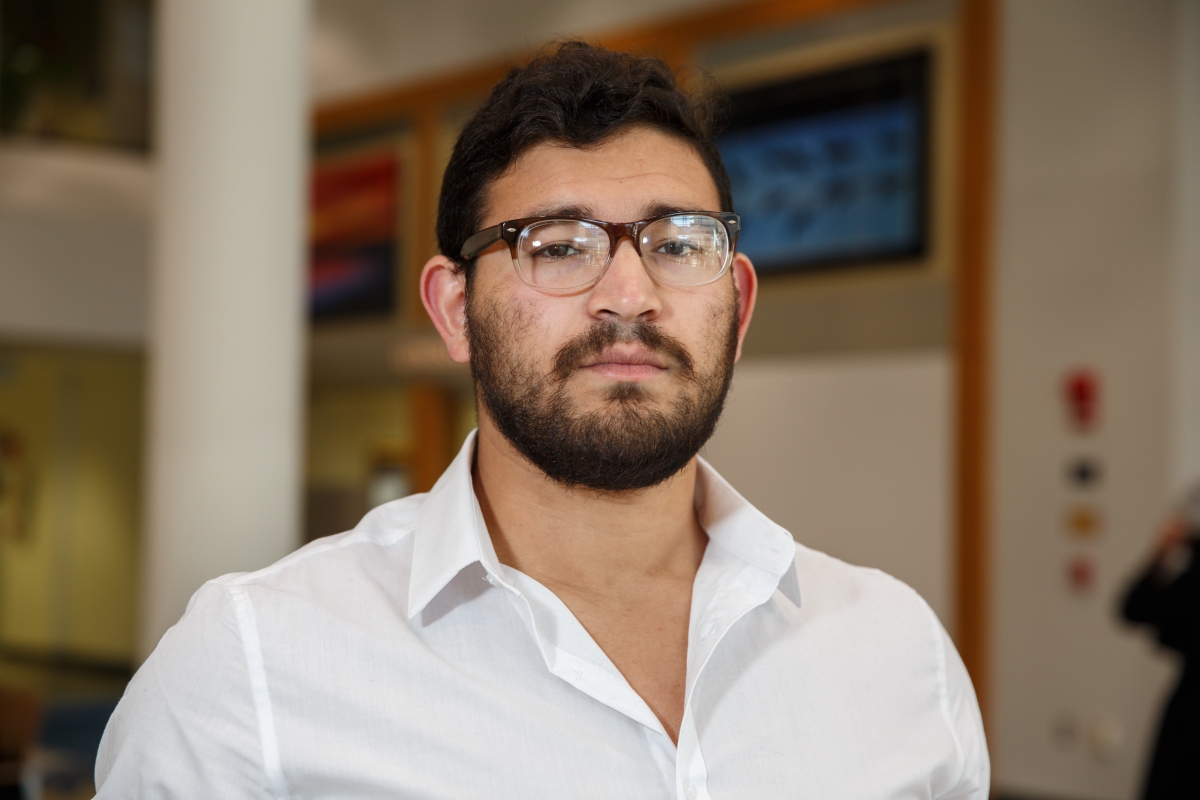 Freshman Ian Haimowitz. (William Atkins/GW Today)
"There's no single [Latino] experience," said Mr. Haimowitz, who grew up traveling between the United States and "extremely poor" communities in Nicaragua, where his father worked. "As much as people want to label and generalize, we come from all over.
"[In Cisneros] some of us are privileged, some of us have undocumented family members. People come from the U.S., from Central America, from the Caribbean. Each person has their own story and brings their own perspective about what it means to be Hispanic."
His classmate Kyanna Spaulding, a Cisneros Scholar interested in political communications, said she hoped scholarships like this would make a difference for the next generation of Latino students.
"Right now it's especially important that we get up and have our voices heard and say we are leaders, we are Americans, we are worthy, we are smart, we can contribute, and we want to contribute," she said. "Programs like [Cisneros] really help get our voices out and educate young Latinos."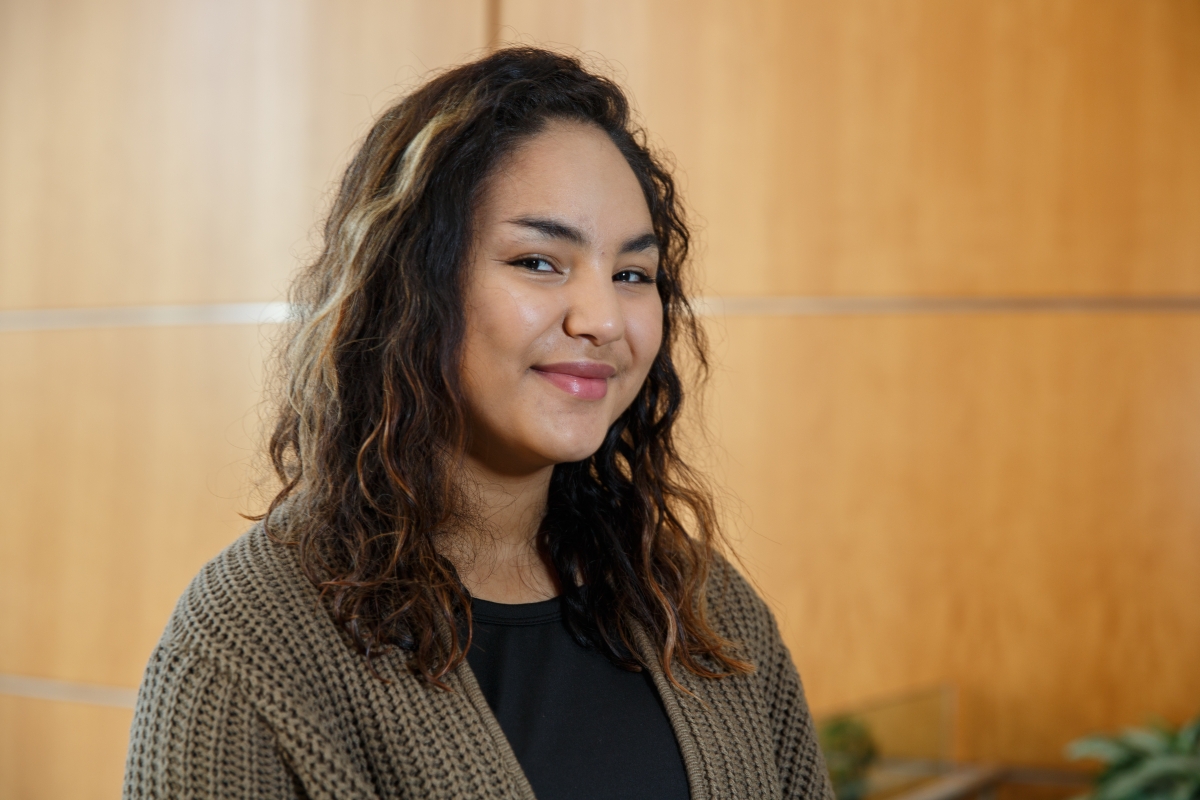 Freshman Kyanna Spaulding. (William Atkins/GW Today) 
Creating a community
Nicholas Tyre is a Say Yes to Education scholar from Greensboro, N.C., who said he was at first intimidated by what he saw as D.C.'s aggressive tempo.
"But how quickly it became a community surprised me," he said. "Once you find your group of people, whether that's through academics or social programs or Greek life, [it feels] easy."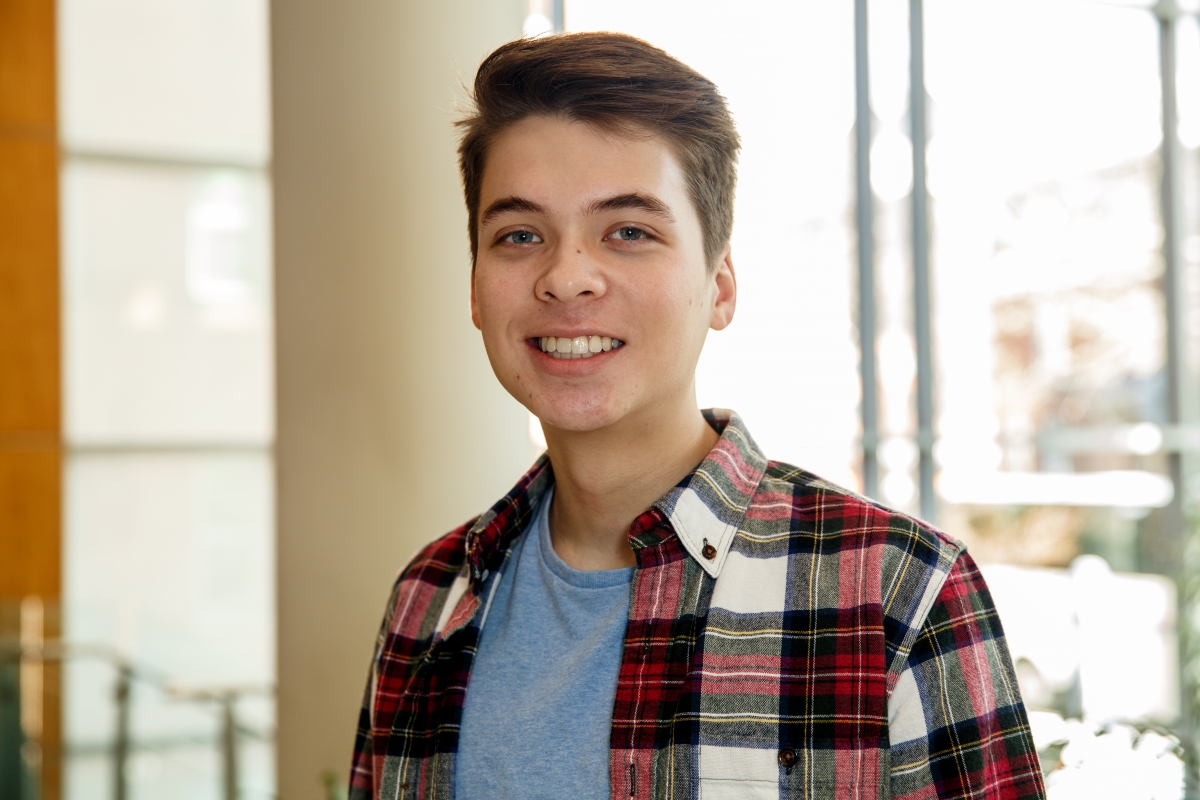 Freshman Nicholas Tyre. (William Atkins/GW Today)
District Scholars Sanjaya Wilson and Korey Carter are both from the District of Columbia, but they come from widely divergent perspectives. Ms. Wilson is interested in fine arts and dance. Mr. Carter is "hooked" on mechanical engineering and robotics. Mr. Carter prefers to stay on campus full-time, while Ms. Wilson said she goes home about twice a month to visit family—"as long as I have my own time to myself and my family's not always around in my business," she said.
But both agree they have some advantages as D.C. natives.
"I'm more comfortable, since I already know this city," Ms. Wilson said.  "If I need to get around or help other people get around, I know what to do."
Unlike the Posse and Cisneros cohorts, students in the District Scholars and Say Yes programs are not required to meet regularly as a group. But last semester, District Scholars paid a visit to the new National Museum of African American History and Culture, which Mr. Carter called "amazing" and Ms. Wilson said was "beautiful."
"We don't meet up that much as a group, but just seeing familiar faces is really nice," Ms. Wilson said.
A ripple effect
Some students believe their cohorts can help create open, productive dialogue at a precarious political moment. Next month, Posse Scholars will hold a retreat on the topic of "Us vs. Them" in which other students, including some from other scholarship cohorts, will participate.
"We don't know what to expect in this next presidential term, and that unexpectedness could cause confusion and anger," Mr. Warren said. "So having conversations about topics we think are important—that's really needed."
Posse Scholar Nicole Mintz said her Posse training has changed the way she approaches discussions with her peers both in and out of the program.
"Posse is actively trying to change the way people on campuses interact with each other," she said. "We're not afraid of talking about topics a lot of people are scared to talk about because we've been trained for that over a year."
Part of that training, she said, was learning to listen and to contextualize.
On some issues, "I had one perspective coming in and then I heard different things every week that I'd never considered," she said. "Especially now, with our political climate, it's important to talk about [social justice] in a way that's inclusive. We learned to take everything about that person into account when they express their views—their context and where they're coming from."