George Washington President Steven Knapp joined Secretary of Education Arne Duncan and Second Lady Jill Biden for a roundtable discussion about college affordability and student loans at the White House on Thursday.
The meeting was also attended by a diverse group of students, student advocates, economists and higher education experts. They represented organizations including the Center for American Progress, the United States Student Association and the Institute for College Access and Success, among others.
"We need to make sure that college is affordable for all, not just a luxury for a few," said Dr. Biden.
Over the past three decades, she added, the average tuition at a public four-year college has more than tripled. And the average undergraduate student who borrows for college will graduate with $30,000 in debt.
At Thursday's meeting, there was a strong focus on how to reduce the burden of student debt—a process that involves making sure students and their families are fully informed about programs that already exist, expanding sources of student aid and controlling the costs themselves, said Dr. Knapp.
"I see today's White House discussion as one more step in an ongoing process," Dr. Knapp said. "It was encouraging to hear such a variety of suggestions from so many people who care about individual students struggling with the burden of debt and about what all of us—the federal government, state governments, non-governmental organizations and colleges and universities themselves—can do together to address this national challenge." 
A lifelong educator, the wife of Vice President Joe Biden is a full-time English professor at Northern Virginia Community College. Dr. Biden said she has seen firsthand the power of education, as well as the financial barriers that can stand in the way of a student obtaining his or her degree.
"My students are juggling a lot. They're working fulltime, juggling family and community obligations, along with taking classes," she said. "I see over and over that they are so committed to furthering their education, because they know it's the way to a better life for themselves and their families. And that's why college affordability is so critical."
College affordability has been a priority for the Obama administration. The president raised the maximum Pell Grant award to $5,635 for the 2013-14 award year—a $905 increase since 2008. The administration has also worked to improve repayment options available to responsible student loan borrowers with a "Pay as You Earn" plan.
At Wednesday's meeting, Dr. Biden said Senate Democrats are working on a proposal that would help more young people afford to repay college loans—a plug for Sen. Elizabeth Warren's, D-Mass., refinancing bill, which is expected to hit the Senate floor this week.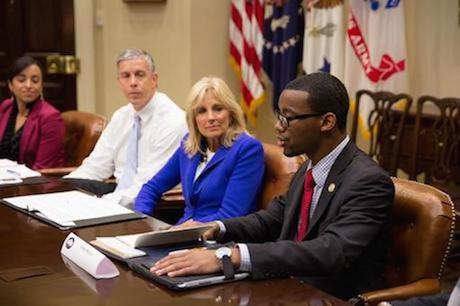 Dexter McCoy (front), former Boston University student body president, gave a personal account of his experiences with student loan debt. (From left) Secretary of Education Arne Duncan and Second Lady Jill Biden.
---
The George Washington University and Dr. Knapp have also prioritized college affordability.
During the White House's first college opportunity summit in January, President Obama and First Lady Michelle Obama challenged college and university presidents to create and expand on initiatives at their respective institutions that would increase college opportunities for low-income students.
After attending the summit, Dr. Knapp committed to implementing and increasing support for programs that would support high school students in the Washington, D.C. area. Dr. Knapp also created a university-wide Task Force on Access and Success, chaired by Vice Provost for Diversity and Inclusion Terri Reed.
The task force is working with community-based organizations to host workshops that will provide students and their families from 40 local public and charter schools assistance with applications for admission and financial aid. The university is also planning partnerships with community colleges, creating new pathways for high-achieving students to complete their bachelor's degrees at GW. 
Dr. Reed said that the three working committees within the task force have spent the past few months identifying the most promising ideas for addressing the needs of low-income students and their families, and they are now exploring the impact of those ideas.
Within the upcoming weeks, a website for the task force will be established, allowing members of the GW community to provide their own input. The website will be a mechanism for gathering data and detailed information that will help shape and supplement the task force's final recommendations.
"We are aware of school-based and faculty-led initiatives that might be modeled, highlighted or leveraged in service to the university's commitment and task force efforts," Dr. Reed said. "We are also hearing about perceived and real obstacles that must be addressed to support current efforts and encourage involvement across the university. "
During Wednesday's meeting, Dr. Knapp spoke about the work of the task force as well as GW's fixed tuition policy, which makes it easier for students and their families to financially plan out how much a GW education will cost.
At the same time, Dr. Knapp noted, he recognizes that private universities educate fewer than a quarter of all American college students, while the majority attend public four-year and two-year institutions. He said he is concerned with decreased state support for public colleges and universities, and he believes there is a tendency to see education as private benefit rather than a public good.
"I think that's a terribly short-sighted view, because higher education has played an absolutely crucial role in the development of our nation's economy," Dr. Knapp said. "Equally important, we can only function as a flourishing democracy if we have the kind of educated citizens that our namesake had in mind when he called for the creation of a university in the nation's capital. As president of what became his university, I feel a special responsibility to advocate the central importance of education to the values as well as the success of our nation."