By B.L. Wilson
Rustic bread, a culotte steak and fries, salad and a slice of pie or cake -- hearty fare to a person shut in as the D.C. region and the world grapples with the COVID-19 pandemic.
The meal is being offered for free by Medium Rare, a chain of restaurants in the DMV, to persons over 70 who are isolated and quarantined. Owners George Washington University alumnus Steven Abramson, B.A. '83, J.D. '86, and his partners Mark Bucher and Tom Gregg undertook the initiative when federal, state and local governments generally called for citizens to shelter in place during the COVID-19 pandemic.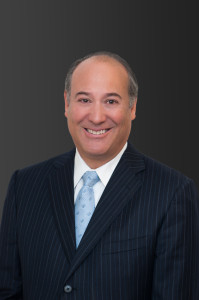 "We don't need to do this. We kind of have to do this," Mr. Abramson said. "We have the food, we have the ability to cook it and the organizational ability to put together drivers to bring a meal to people who need a meal. So we can't not do it, especially at a time like this."
For more than two weeks, Medium Rare's four restaurants across the area have prepared and delivered 200 to 300 meals every evening, helped by about 30 volunteer drivers who heard about the service on  local TV news.  The news program did the story after Mr. Bucher tweeted about the free meals.
Medium Rare received calls from senior care facilities, nursing homes, retirement communities and even families.
"Some of the requests we get for meals would tear your heart out," Mr. Bucher said. "One caller told his partner, 'My grandmother hasn't eaten in four days, could you get her a meal now. And we do it.'"
Kindra Stevenson, a recipient of the meals, said she is more than grateful.
 "The timing was phenomenal," she said. "I've been having high anxiety about the state of the world when the gentleman knocked on the door…and delivered a delicious meal for me and my dad."
The restaurant has had to lay off servers but is keeping on kitchen staff and managers as long as they can. The NFL Players Association has donated money to the free meal service and a GoFundMe campaign has been started to help defray the cost of it. Mr. Bucher, who runs the operation, said it will continue as long as the government lets them. For now, the restaurant delivers one meal, one time per person. But the owners are considering circling around again.
"You know it changes every five minutes. We don't know what we are dealing with today, tonight or tomorrow as the rules change and the governments involved change," Mr. Bucher said. "All nonessential businesses were ordered to close. Luckily, restaurants have been left open."
Medium Rare has been open for takeout and delivery orders every day. "We take a lot of precautions," he said. "Our workers wear gloves and masks. We are all distancing ourselves at work."
Mr. Abramson said that his professors at GW  "made it a point to highlight being a positive force and giving back to the community."
"My partners share that belief," he said. "We continue to look for ways to be of help and are proud to do so."