From a couture Givenchy gown to handwritten letters from the nation's founding father, each object at the new the George Washington University Museum and The Textile Museum tells a different story about history and culture. When the 53,000 square-foot museum complex finally opens Saturday, the D.C. community can immerse itself in the numerous narratives of people and place.
After a years-long integration and construction process, the jointly co-branded George Washington University Museum and The Textile Museum will invite the GW community to an open house festival from 10 a.m. to 5 p.m. Saturday. The day will feature food trucks, art demonstrations, hands-on crafts, dances and music performances from around the world in celebration of the myriad cultures represented throughout the museum.
The grand opening also will reveal three inaugural exhibitions, which offer a look into the museum's two cornerstone collections: The Textile Museum's world-renowned collections of more than 19,000 textiles dating back to 3000 B.C.E. and the Albert H. Small Washingtoniana Collection of one thousand maps, prints and other documents that chronicle the history of 18th- and 19th-century Washington.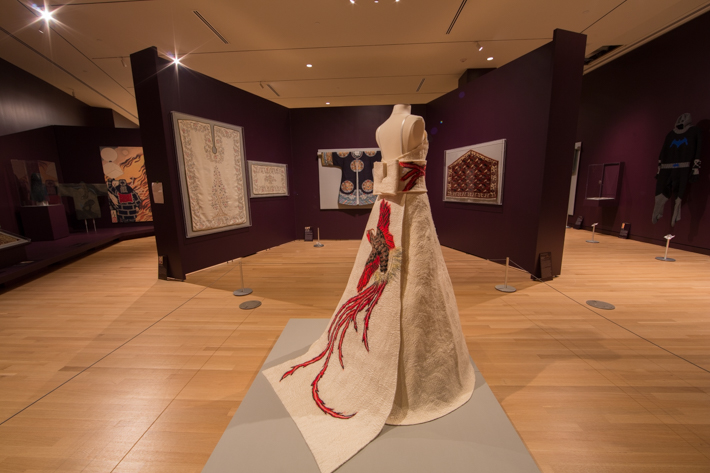 A look at "Unraveling Identity: Our Textiles, Our Stories."
---
"Here in Foggy Bottom, this museum will bring together students, faculty members, the general public and scholars," GW President Steven Knapp said at a recent preview event for the museum. "They will not only encounter centuries-old artifacts of stunning beauty, but will also enter a portal in which they will explore the heights and depths of human creativity and the rich variety of human culture."
On Saturday, food trucks—including Pepe, D.C. Empanada, Sate Truck, Peruvian Brothers, Captain Cookie and Tasty Kabob—will provide food on University Yard. Student groups like GW Bhangra, GW Raas, GW Chamak, GW Vibes, GW Troubadours and GW Balance will stage dance and music performances throughout the day. Internet radio station WRGW will spin tunes while visitors participate in arts activities, among them origami art workshops, a D.C. history dress-up booth, paper and silk marbling demonstrations and more.
The museum is also offering faculty and staff drop-in hours Monday from 9:30 a.m. to 11:30 a.m., and a GW student night Monday at 8 p.m.
Second-year graduate student Lauren Shenfeld, a Presidential Administrative Fellow working at the museum, has helped plan several of the events.
"We've taken every effort to make Saturday and Sunday as celebratory and representative of the GW arts community as possible," she said. "We're excited to showcase longstanding programs and activities that will be fun for visitors of any age."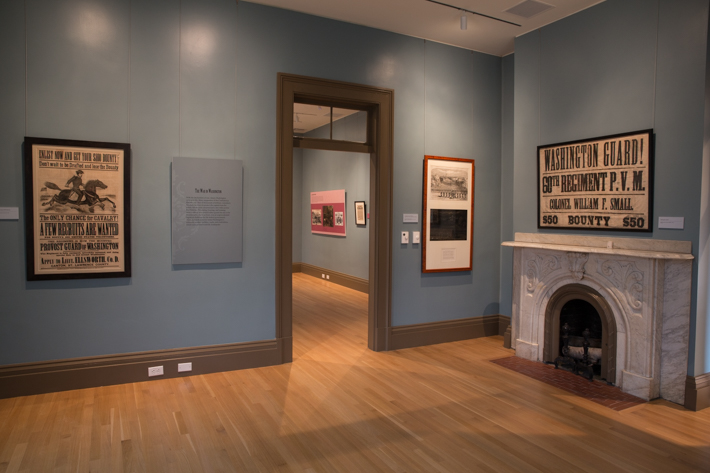 The exhibition "The Civil War and the Making of Modern Washington" in the museum's Woodhull House.
---
Visitors also can go on self-guided tours to see the three opening exhibitions on display. These include "Unraveling Identity: Our Textiles, Our Stories," the largest exhibition in The Textile Museum's 90-year history; "Seat of Empire: Planning Washington, 1790-1801," which uses maps from the Albert H. Small Washingtoniana Collection to illustrate Pierre L'Enfant's early plans for Washington; and "The Civil War and the Making of Modern Washington," a look at how D.C. transformed throughout the 1800s to become what it is today. The two latter exhibitions were designed by GW students and curated by history professors.
While Saturday's opening events are free, visitors can pay a fee to attend keynote lectures from textile scholars and historians and a show and tell presentation at GW's Media & Public Affairs building. More information is available here.
Sunday's programming will invite the D.C. community to enjoy the museum spaces and additional activities planned for children. Festivities will include return of The Textile Museum's Arts for Families series, craft projects, weaving tutorials and family-friendly tours that will introduce the city to GW's new center for arts and culture.
 "We really do think of this museum complex as an integral part of our Washington, D.C., community. We really want everyone to see this museum as in and of our great capital city," Dr. Knapp said.