The feat was massive: A team of graduate students were tasked with designing an 148-piece exhibit on 19th-century Chinese textiles and photographs as part of their Museum Exhibition Design class final. They'd perfected countless layout plans, mused over multiple paint swatches and even engineered a 3-D model of their grand vision. Months of work culminated last week, when the group shared their efforts with their colleagues during a final class presentation.
Ms. Brennan's class is part of several collaborations between the
museum studies program
and the new George Washington University Museum and The Textile Museum. These partnerships have given students firsthand professional experience while also benefiting the new museum. Professor
Kathy Dwyer Southern's
fundraising class, for example, challenged students to brainstorm ways to garner support for The Textile Museum. Last semester, Assistant Professor
Amelia Wong
led a social media strategy class focusing on ways to give the new museum a strong digital presence.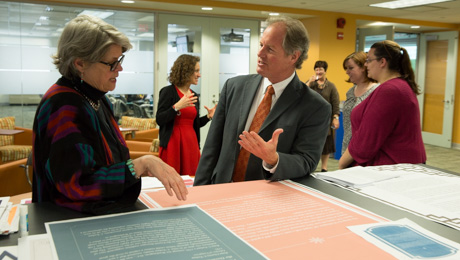 Barbara Brennan and John Wetenhall discuss the student projects.
---
Collaborating with academic departments across the university is a key part of the relationship museum director
John Wetenhall
envisions moving forward.
"GW has one of the best and most well-respected museum studies programs in the country. The new museum will showcase the university's strengths while also welcoming students from the museum education program and other academic departments to contribute to exhibitions and programs," he said.
Ms. Brennan led a class last year that designed
"Coming Soon,"
an exhibit previewing the new museum's offerings. The museum's staff was so impressed that they enlisted more student help this year. 
Students were split into three groups to work on "China: Through the Lens of John Thomson (1868–1872)," and a pair of exhibits from the Albert H. Small Washingtoniana Collection. These exhibits, titled "Civil War and the Making of Modern Washington" and "Seat of Empire: Planning Washington 1790 to 1801," also featured a great level of collaboration: Assistant Professor Laura Schiavo helped curate both with Columbian College of Arts and Sciences professors Tyler Anbinder, Ken Bowling, Lisa Benton-Short and Richard Longstreth.
The professors, along with Textile Museum curator Lee Talbot, met with students to swap ideas and inspiration. Jee Ahn Han, a student who worked as an intern at The Textile Museum, served as a liaison, flitting back and forth to make sure her group's direction matched what Mr. Talbot and other staff members had in mind.
"Museum work is always collaborative—you never get to go off and do everything by yourself," Ms. Brennan explained. "Through these projects, our students had the real experience of what it's like to be on a team and how to reach consensus."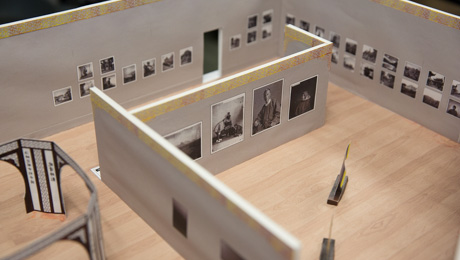 A 3-D model designed by a museum studies student.
---
First-year graduate student Adriane Roberts, who aspires to have a career in exhibit design, was in charge of putting together an entrance treatment and an interactive area for "China: Through the Lens of John Thomson (1868–1872)." Throughout the process, she and her group sketched out countless ideas and learned the technical aspects of design, including model building, 3-D renderings and graphic-making.
"This was my first chance to experience the whole design process and to create an exhibit that will actually be produced instead of just used as a class exercise," she said.
The museum studies program offers a taste of every aspect of the museum world, focusing also on development and programming. Ms. Southern had her students work with Dr. Wetenhall and museum's Director of Development Eliza Ward to come up with ideas for the museum's annual fund, giving societies, capital campaign and planned giving. 
Second-year graduate student Natalia Febo and her group pored through the museum's approach to its annual fund, surfacing prospective high-net and corporate donors. The team had a unique vantage—a direct line to Ms. Ward and Dr. Wetenhall, who provided frequent feedback and insight into professional fundraising practices.
"Each final project group met with me, like a consultant would with a client museum, to learn more about the fundraising opportunities and challenges we face. This helped them to start thinking about how to create a plan to help the museum grow its resources," Ms. Ward said. "We appreciated the ideas generated through this course that leverages the enthusiasm of students as tools for fundraising."
Many staff members of the new George Washington University Museum and The Textile Museum sat in during the final class presentations, eager to see what the students had produced. They watched, impressed, as students shared the result of their work.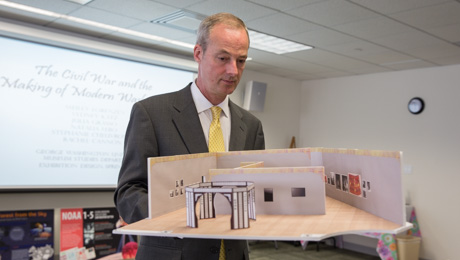 Textile Museum curator Lee Talbot observes one of the final design products.
---
"They really thought things through conceptually and culturally. I'm just so pleased—all of these layers of thought really show in the research these students did," Mr. Talbot said at the exhibition class presentation. 
Dr. Wetenhall called the three final exhibits "in every way professional: clearly laid out, gracefully designed and engaging to future visitors."
"No one would ever label these designs 'student work,'" he said.
Fundraising presentations were met with equal praise. Students shared ideas ranging from trips to Venezuela to fashion shows aimed at aimed at building a sense of community and philanthropy around the museum.
"The guts of this are something you could present to nearly any museum in the country," Dr. Wetenhall told one group.
But the greatest reward went to students, who are now able to hit the ground running at any future job thanks to their experience in the classroom.
"These projects were made for real-world clients," Ms. Febo said. "It really doesn't matter where you end up in the museum world—having knowledge in all these areas will be a plus."