As we countdown to the opening of the George Washington University Museum and The Textile Museum on March 21, GW Today is giving readers a sneak peek at the newest arts hub on campus. 
Inside the Albert H. Small Center for National Capital Area Studies, located in the historic Woodhull House, Anne Dobberteen, M.A. '12, sorts through the contents of a massive steel drawer. The compendium is filled with more than two centuries of D.C. history: A thin clipping from a newspaper called the National Intelligencer tells us the headlines of the day on Nov. 14, 1800, while a tollbooth ticket from 1833 reveals that it could cost anywhere from 1 to 20 cents to cross a road between Leesburg, Va., and Washington.
The collection—made up of 1,000 maps, prints and other Washington momentos—had been stored in Mr. Small's office and home until it was brought it to Foggy Bottom last month. Ms. Dobberteen, the collection's assistant curator, is leading the process of moving the objects into their new home in time for the museum's opening March 21. Most of the materials will be placed in the Albert H. Small Center for National Capital Area Studies, located on the ground floor of the Woodhull House. 
Getting all the materials out of their carefully wrapped boxes is a massive task, so Ms. Dobberteen asked GW students for help.
Unpacking historic material in a museum setting instantly appealed to senior Andrea Marshall, a history minor who recently was accepted into GW's museum studies master's program
 "I jumped on it. I was like, 'Unpack artifacts? That sounds great,' " Ms. Marshall said.
"It's a good opportunity for any undergrad," Ms. Dobberteen chimed in. "I didn't get to work with collections until I was a grad student."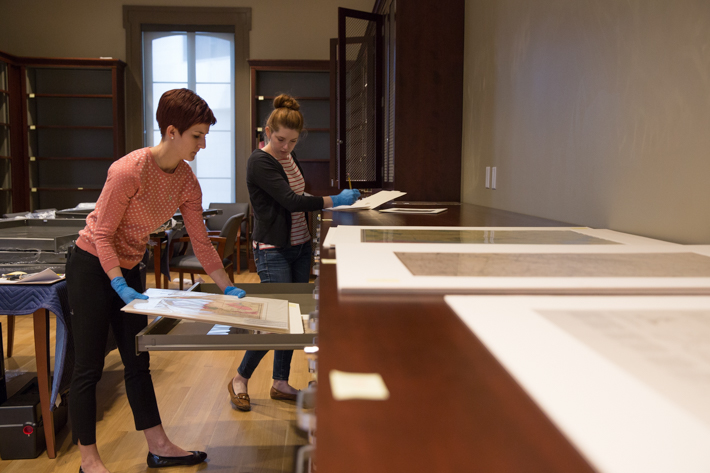 Senior Andrea Marshall helps Anne Dobberteen move the Washingtoniana Collection into GW's new museum.
---
Ms. Marshall and Ms. Dobberteen thumb through delicate maps carefully stored in archival materials and meticulously organize them into four massive map cases, which look like one large filing cabinet that lines one wall of the Albert H. Small Center for National Capital Area Studies. Once the museum opens, history buffs will be able to use the center and examine the objects inside the steel storage unit. Scholars also will have access to the books organized along the room's shelves—more than 1,000 volumes that Mr. Small has purchased through the years and, in some cases, rebound with protective covers.
"Researchers will be able to come in and look at everything firsthand," Ms. Dobberteen said, gesturing toward several tables and chairs in the room where the study of objects will take place.
She's done an extensive amount of research on the collection. After getting her master's in American studies at GW, Ms. Dobberteen helped inform a catalog written by the Washingtoniana Collection's longtime curator James M. Goode, PhD '95. Now, as assistant curator, she knows the collection inside and out, from its oldest item (a map of Maryland from the late 1600s) to its oddest souvenir (16 miniature prints of major government buildings that fold into a small box like an accordion).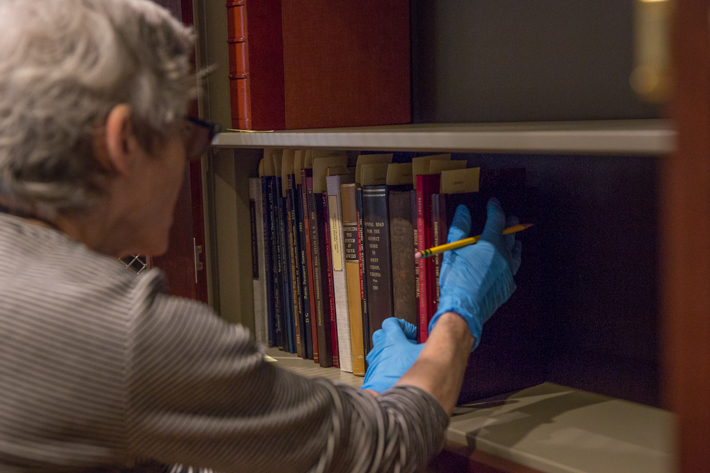 Volunteer Susan Dichter organizes books about Washington history. 
---
Maggie Leak, M.A. '14, another one of Ms. Dobberteen's volunteers, explained that the collection offers Washingtonians new ways of looking at their home. It's something she learned while doing graduate research on a hand-drawn map from the 18th century. 
"I came to D.C with relatively little knowledge of the history of our nation's capital," Ms. Leak said. "My research added so much depth to my experience in this city."
When the objects are unpacked by the end of this week, it will mark a new era for the Washingtoniana Collection—and it's something Ms. Dobberteen looks forward to after months of planning and careful preparation.
"I'm thrilled that students, faculty and researchers will be able to utilize the wonderful resources available here for years to come," she said.