The George Washington University Counseling Center  (UCC) welcomed three new staff clinicians this fall to better serve the diverse needs of students.
Maria Berbery, Sarah Skelton and Marietta Phillips join the UCC staff in offering counseling, assessments, referral assistance and crisis intervention.
Dr. Berbery and Dr. Skelton will provide expertise in serving multicultural and minority student populations and veterans and active-duty military students, respectively. Ms. Phillips is the first permanent counselor assigned to the Mount Vernon Campus.
"College students have wide-ranging mental health needs," UCC Director Silvio Weisner said. "These clinicians bring with them varied experiences and valuable perspectives on working with veterans, students of color and other traditionally underserved groups of students who may be reluctant to seek UCC services."
Dr. Weisner added that the new positions are also an opportunity to expand the skill-set of staff members
"It is important for university counseling centers to hire staff who have a passion for working with many different types of students who are facing a variety of issues," Dr. Weisner said. "At the same time, hiring staff with various specialties allows for more staff training, more effective collaboration with campus partners and more opportunities for outreach and education in these important areas."
George Washington Today sat down with Dr. Berbery, Ms. Phillips and Dr. Skelton to discuss their roles at the UCC and goals for the upcoming year.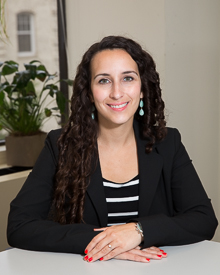 Maria Berbery
Staff Clinician and Diversity Services Coordinator
Dr. Berbery, a three-time graduate of the University of Maryland, said that she has long had an interest in assisting underserved and minority communities.
"The diversity services coordinator position does not exist at very many universities," Dr. Berbery said. "I was drawn to GW because of the emphasis on reaching out to students from diverse backgrounds."
Dr. Berbery joined the UCC last spring as a post-doctoral fellow and started her new position in August. She has conducted research on Latino mental health and transracial adoption and worked with Spanish-speaking clients.
Her experience made her uniquely qualified to launch "Let's Talk/Hablemos" in collaboration with the Multicultural Student Services Center. The drop-in program provides an alternative environment for multicultural students to discuss their issues.
"This program provides an opportunity to connect with students who are perhaps less likely to pursue services at the UCC," Dr. Berbery said.
"Let's Talk" is held from 1 p.m. to 4 p.m. Fridays at the MSSC office, 2127 G St. NW.
Walk-in counseling hours for LGBT students are from 10 a.m. to 1 p.m. Thursdays at the UCC office, 2033 K Street NW.  Walk-in hours for students of color are 1 p.m. to 4 p.m. on Thursdays at the K Street Northwest office.
Students of all backgrounds can also attend walk-in hours from 10 a.m. to 3 p.m., Monday through Friday, at the K Street Northwest Office.
"All of the staff clinicians have been trained in multicultural competence and part of my job is continuing to train my colleagues about power and privilege," Dr. Berbery said. "We, as a staff, value diversity, inclusion and social justice, and we are actively looking for ways to better serve students."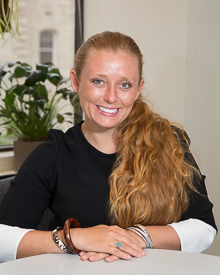 Sarah Skelton
Staff Clinician and Veteran Student Services Coordinator
Dr. Skelton brings nine years of experience in behavioral health among military communities to her position with the UCC. A graduate of the Hawaii School of Professional Psychology at Argosy University, Dr. Skelton is also a member of the Army National Guard.
"Just after 9/11, I joined the military because I realized there was such a need for quality mental health," Dr. Skelton said. "I've continued to work in the field since then."
Dr. Skelton said that her priority this year is to build relationships with members of GW's military and veteran communities. She intends to work closely with the Office of Military and Veteran Student Services and the GW Veterans Learning Accelerate Opportunities and Rewards (VALOR) program, which launched in 2013 under the direction of Associate Provost for Military and Veterans Affairs Vice Admiral (retired) Mel Williams Jr.
There were more than 1,353 self-identified military members, veterans and their family members enrolled at GW during the previous academic year.
GW's commitment to veterans attracted Dr. Skelton to the position. She said that as the number of student veterans nationwide has increased, so has the demand for mental health services that address the unique needs of veteran and military-affiliated students.
Between 2002 and 2010 nearly 51.7 percent of veterans earned a postsecondary degree, according to the Million Records Project, a research study of 1 million student veterans conducted by the nonprofit Student Veterans of America. 
"When I've worked with veterans who are transitioning to becoming students, they often tell me that the thing they miss the most about serving is a sense of community," Dr. Skelton said. "I want the military and veteran community at GW to know there is someone on staff they can talk to who understands the military experience."
Walk-in hours for veteran and military students are from 10 a.m. to 1 p.m. Tuesdays at the UCC K Street Northwest office.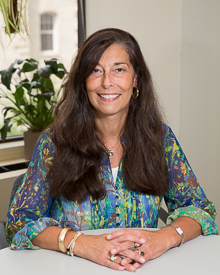 Marietta Phillips
Staff Clinician and Mount Vernon Campus Services Coordinator
Ms. Phillips, a graduate of Boston College and the University of Southern California, will oversee walk-in hours on the Mount Vernon Campus from 3 to 7 p.m., Monday through Friday, in Suite 119 of the Academic Building.
The UCC committed to an expanded presence on the Mount Vernon Campus last spring following the deaths of three students.  That commitment was expanded this fall with the addition of Ms. Phillips to staff and permanent walk-in hours on the Mount Vernon Campus set through the academic year.
"There are a lot of enhancements at the counseling center that will help us provide more individualized services to students," Ms. Phillips said. "Because of the spectrum of services offered— from short-term counseling to group counseling, referral services and more at the K Street Northwest office and walk-in services at the Mount Vernon Campus—we are truly able to match services with student need."
Ms. Phillips brings more than 20 year of experience to her position at the UCC. She specializes in life transitions, constructive living, crisis intervention, grief and bereavement and disaster mental health. She served as a research assistant at the National Institute of Mental Health and provided services for mobile crisis response teams and community-based programs in Anchorage, Alaska.
She said that she is excited to see the UCC grow to meet the need of the changing student population.
"College students in this age group have varying needs and in such a transient city, they can be at risk for transition and mental health issues," Ms. Phillips said. "I am really thrilled to join a bright, competent and compassionate staff who are ready to serve students in as many capacities as possible."
"We are all moving ahead together," she added.