The George Washington University Class of 2022 graduates were recognized Sunday at Commencement on the National Mall. GW Today chatted with some of the new graduates as they gathered before their procession to their seats, where they listened to dual alumna and Olympian Elena Meyers Taylor, B.S. '06, M.T.A. '11, HON '18, deliver the keynote address urging them to remember they can choose how to react to whatever hurdles come their way. Whether they are returning to the university to pursue advanced degrees, embarking on a new journey across the country or even the globe, graduates shared what or who they will remember most about their time at GW.
---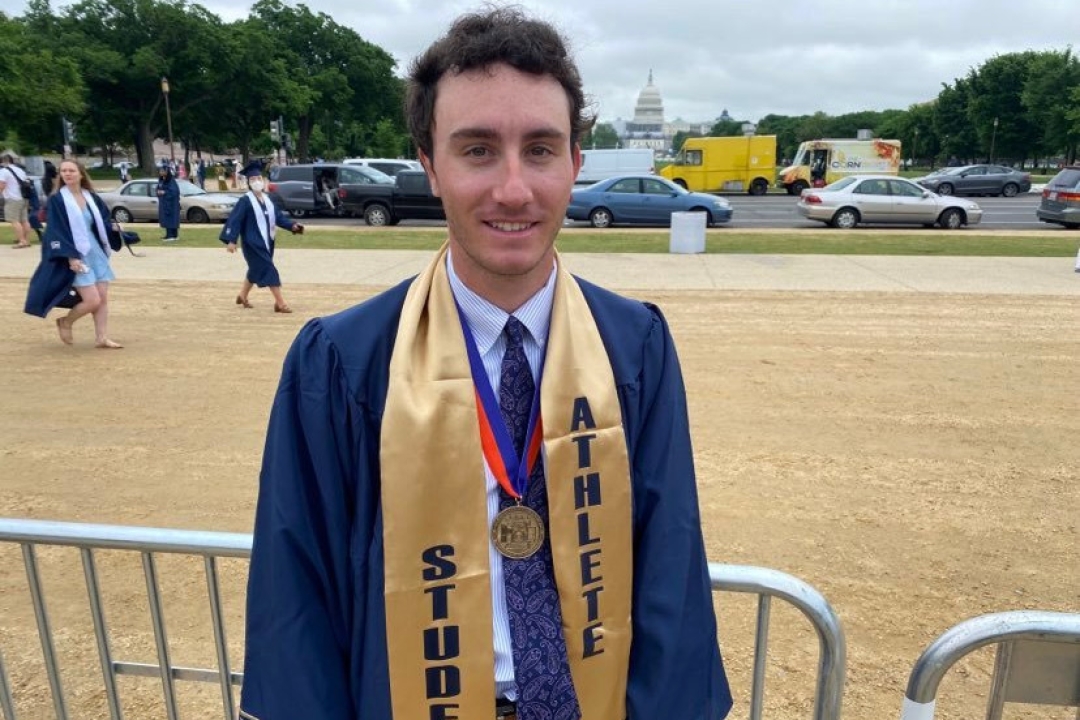 Michael Ehnot
School of Engineering and Applied Science
Future plans: Attending graduate school at GW in computer science
"I think just being in the city and having that city experience was something really different that I didn't really expect, and it just really changed a lot of things about being a student here. As a student-athlete on the sailing team, I just had really close relationships with all of my teammates and was really good friends with all of them. We are a tight community with other student-athletes also."
---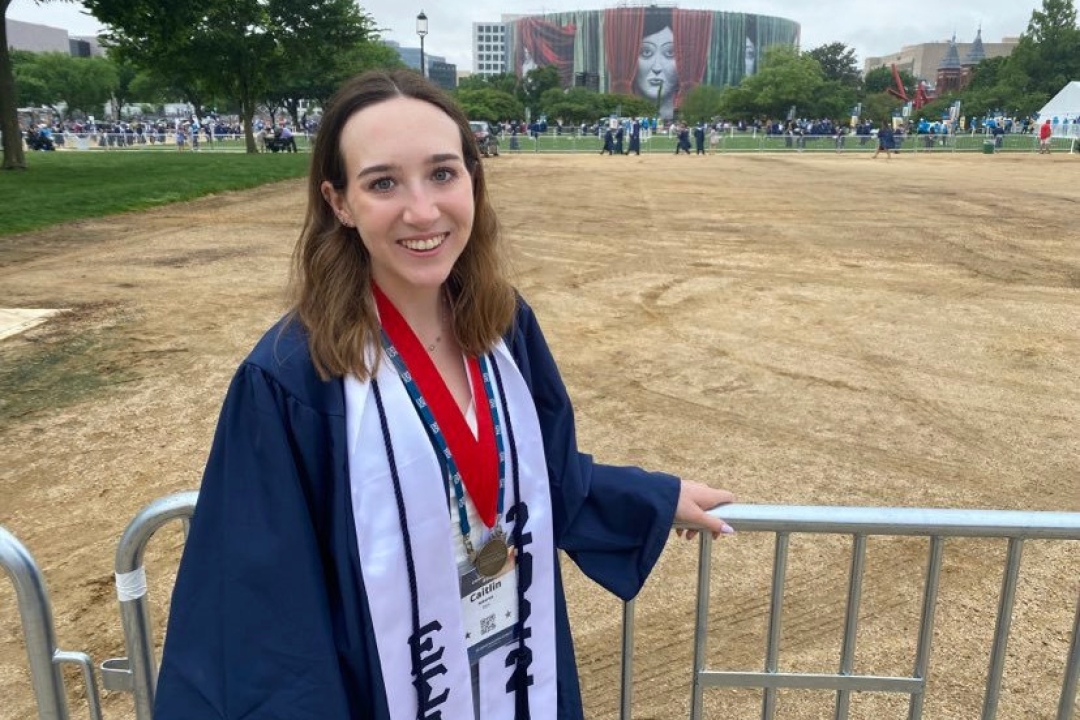 Caitlin Mittrick
Elliott School of International Affairs
Future plans: Attending graduate school at GW in international development studies
"I'm a member of the Epsilon Sigma Alpha community service sorority, so I think that really made my time at GW really special. I made most of my good friends from that. We do a bunch of different community service projects. Of course, with COVID, a lot of the stuff was limited, but before COVID some people would go to places like Martha's Table and the Ronald McDonald House. Then, our philanthropic [focus] was St. Jude's (Children's Hospital) during my time with ESA. I was appointed chair one year, so I planned fundraisers for that."
---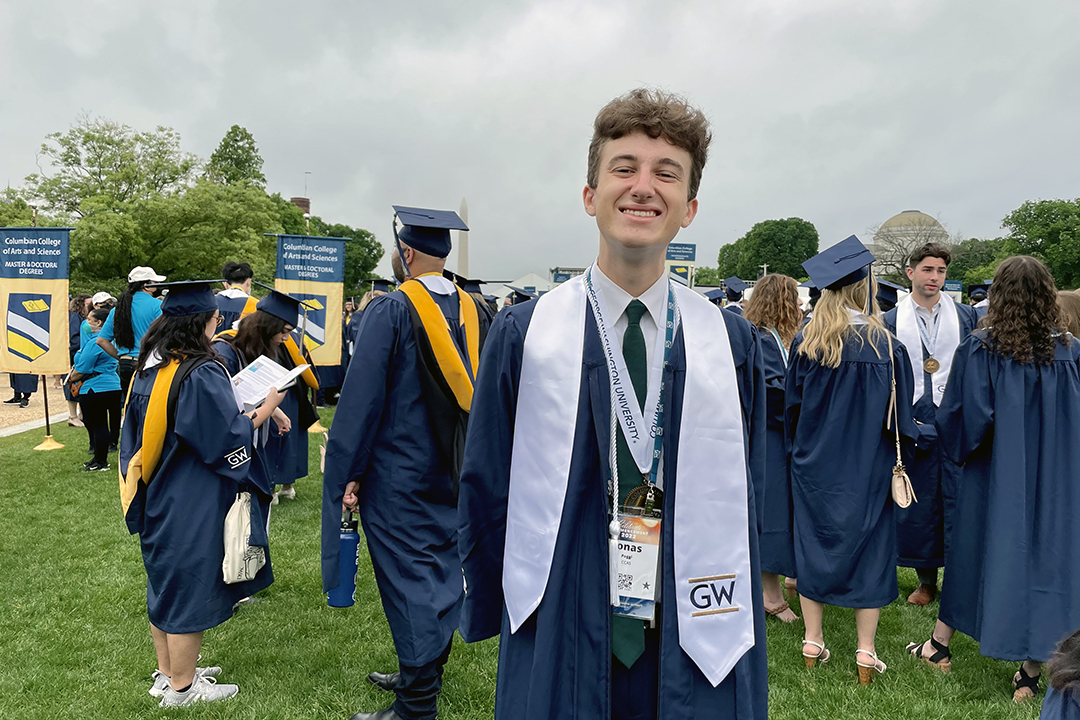 Jonas Koggi
School of Media and Public Affairs
Future plans: Interning with a political reform nonprofit organization
"I'm going to remember my classmates. There's a really unique type of student who ends up at GW. It's not a conventional school choice, and there's an even more selective group who end up in a program like SMPA or political communications. Those people are just amazing, and I've made some really good friends over the last couple of years, and that's what's going to be the most important thing I take away from my college experience—the people I met."
---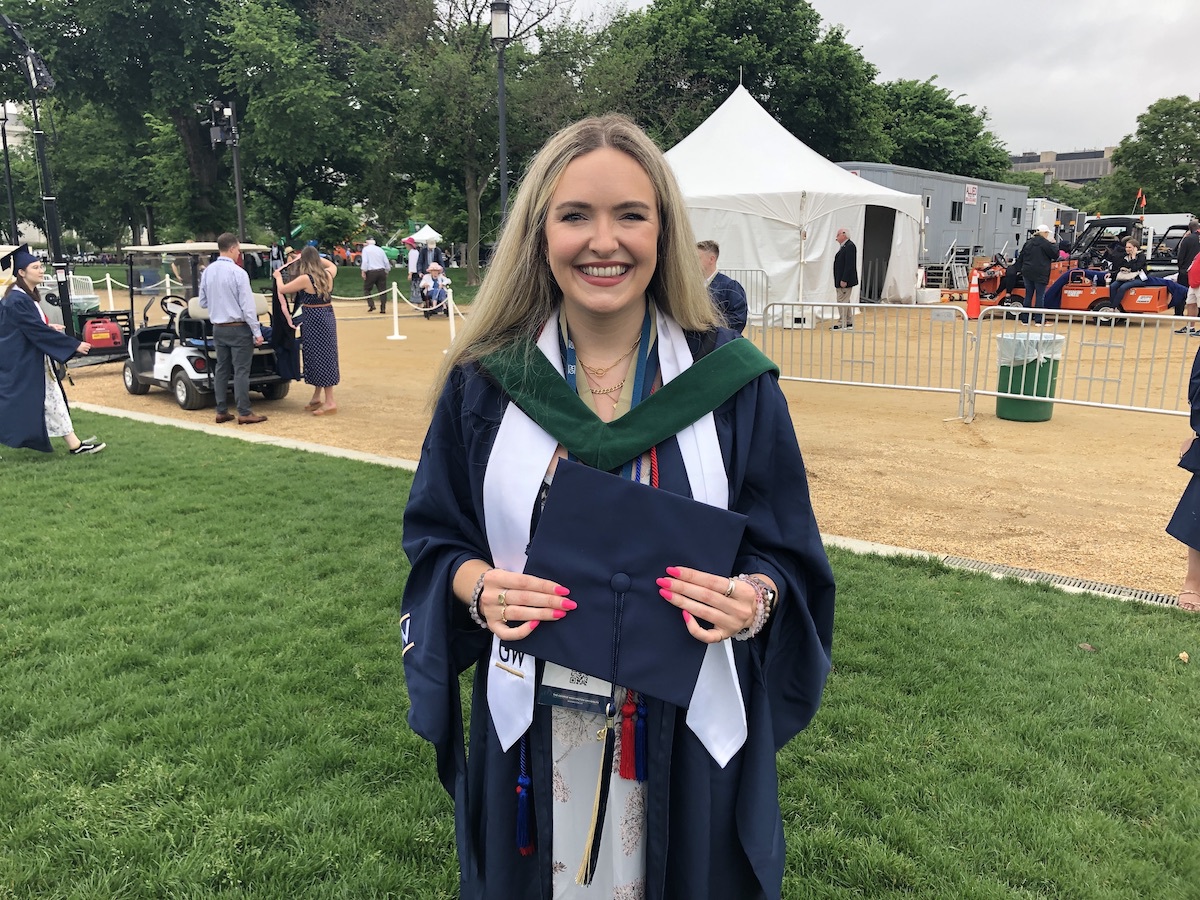 Carly Anderson
Milken Institute School of Public Health
Future plans: Working for Deloitte as a consultant in government and public services
"Definitely what will stick with me is the people—faculty and students. I was in a very small hybrid program, so when I was able to meet the faculty and meet my peers during our immersions, we could form really close friendships even though we were remote, as well as professional relationships, too, that I know I'll have far into the future. It was really special to be able to do that. The head of my program, Leonard Friedman, helped me so much through some personal and professional struggles, and I have a new job as a consultant with Deloitte beginning in July. It all worked out really well."
---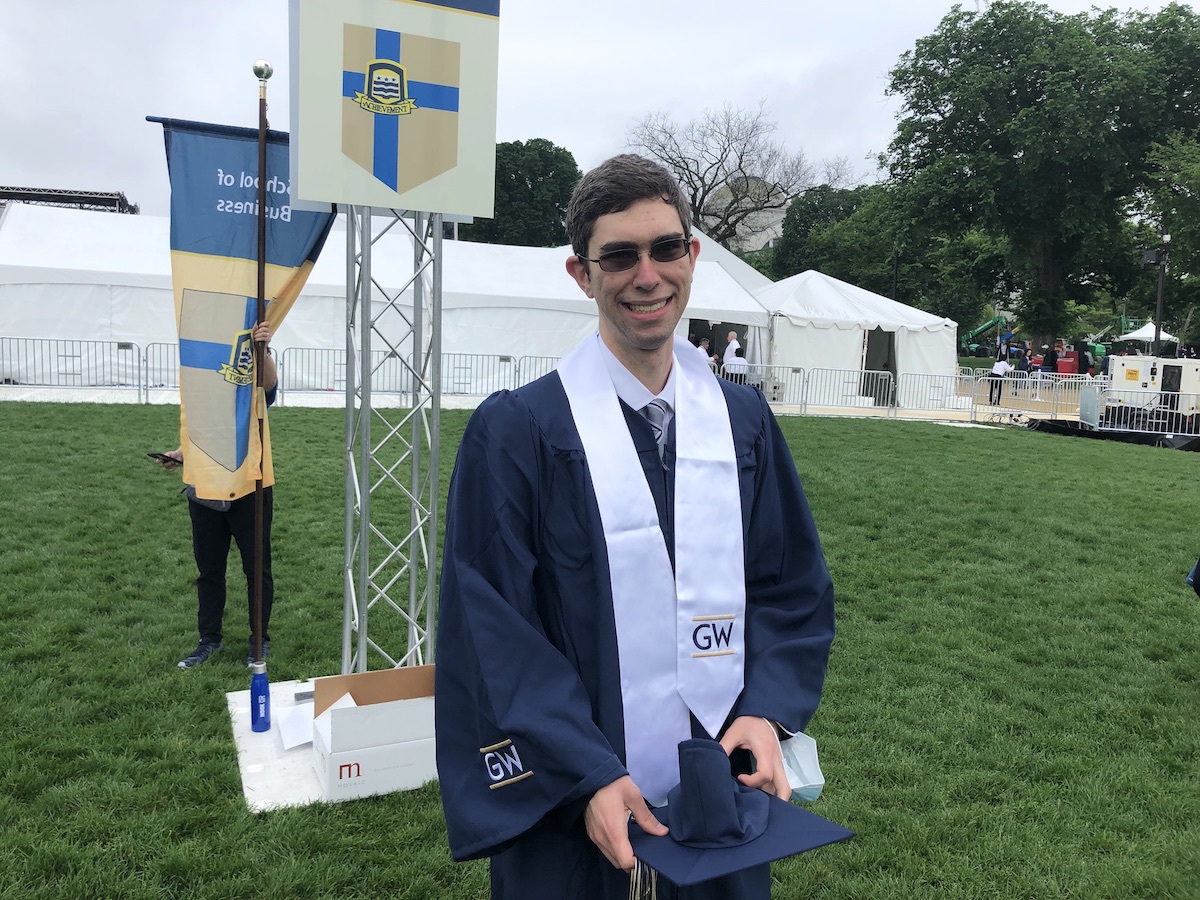 Nathan Frank
School of Business
Future plans: Working at a job not in my field but remaining flexible
"What I'll remember most is probably the pandemic. That's probably what I'll look back to most as just a crazy time. What made it bearable was probably the same thing that made it unbearable—my family!"
---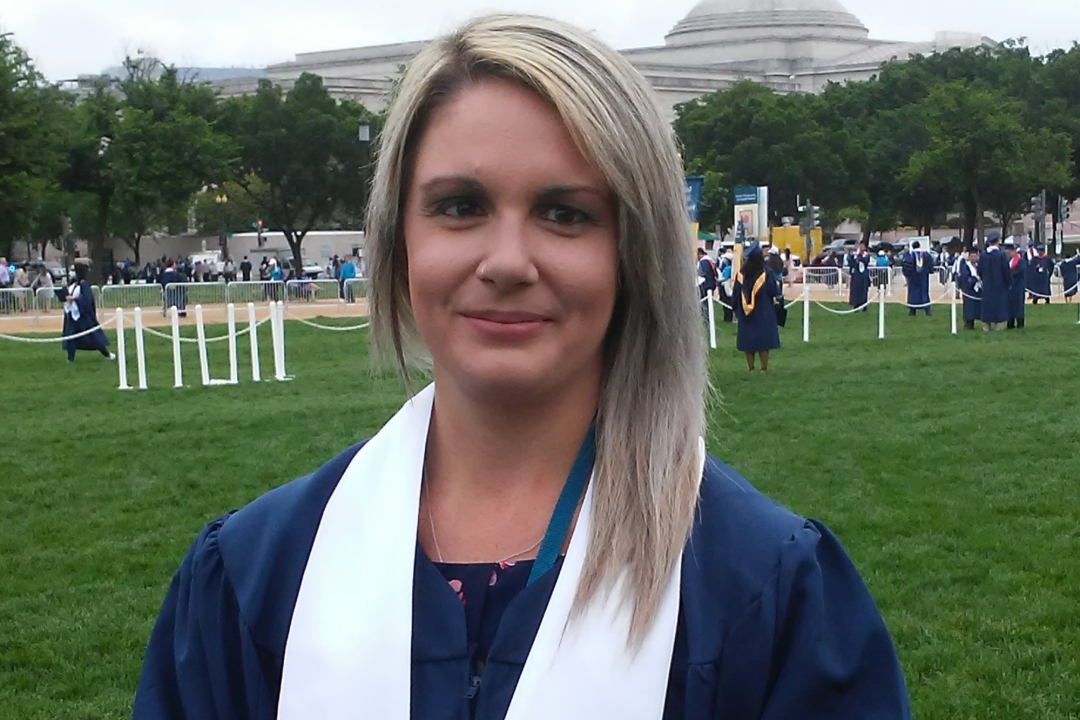 Alyssa Cross
School of Nursing
Future plans: Working in emergency nursing at Potomac Mills Hospital
"During my clinical rotation, I had a patient who was getting ready to pass, and I got to be a part of that experience. That was very humbling for me and reinforced that this was what I want to do. The thing that stuck with me as I prepare to go out there to practice is to always advocate for people's mental health. Healing really starts in the mind, and if you don't have a sound mind, you can't heal your body. That's always been a passion of mine but being in the nursing field during the pandemic brought it home to me."
---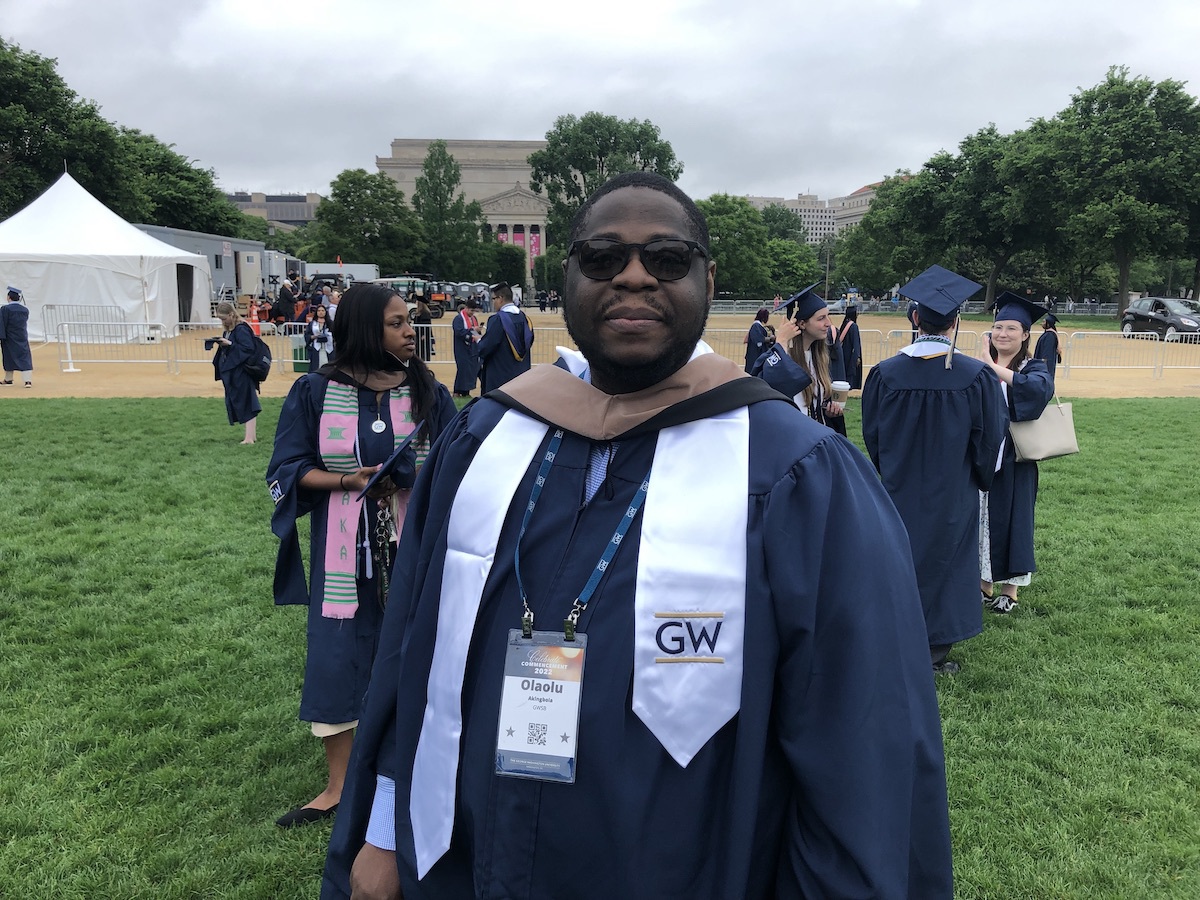 Olaolu Akingbola
School of Business
Future plans: Tourism consulting
"The academic experience has been awe-inspiring, as well as the ability to network with industry professionals. I think most memorable would be the faculty and staff. Dr. Larry Yu has been instrumental from day one in keeping the students both engaged in finding their path with the program and networking outside the program."
---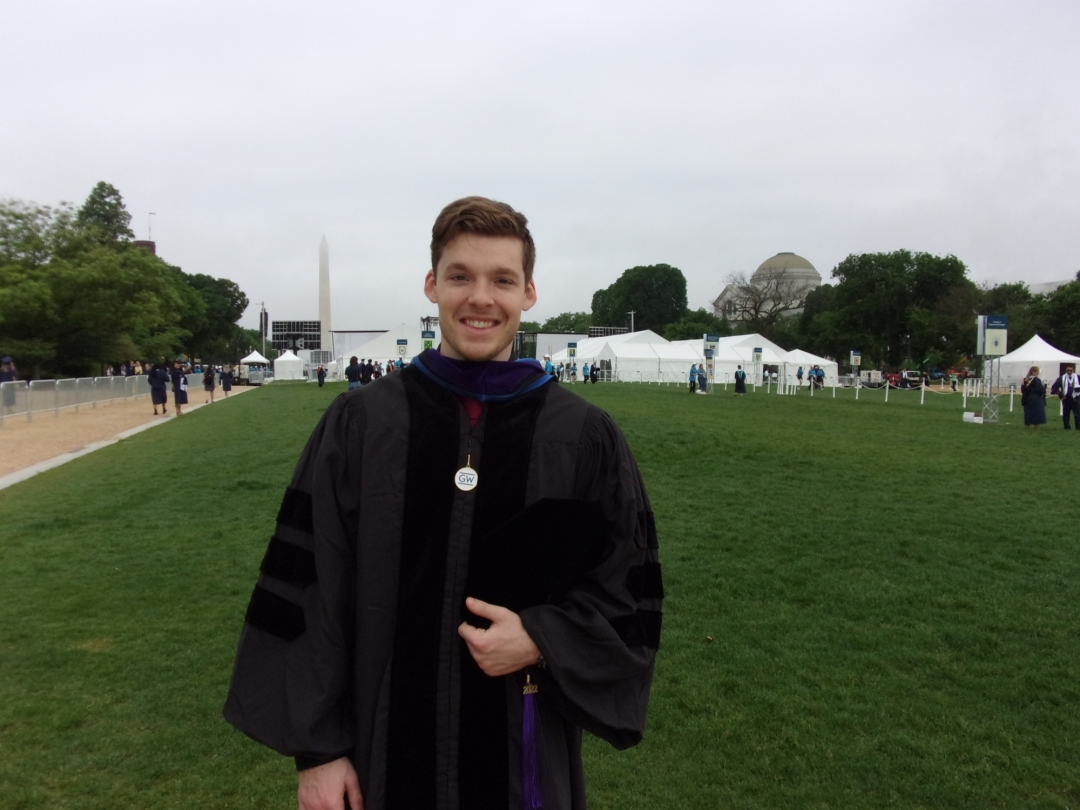 Alex Woodward
GW Law
Future plans: Moving to New York or staying in Washington, D.C., to find work in his field
"I already have my J.D.; I came here for the next step up. It just took one more year. I went to law school in Kentucky, so coming here there was a sense of prestige that was maybe missing from the schools that I attended before. Here we are right now in front of the Washington Monument and you have the Capitol right over there. When you get to see where the laws are actually written, there's a sense of grandeur. I'm still a little bit overwhelmed by it all after being here for about nine months. I hope to work in some sort of green energy program."
---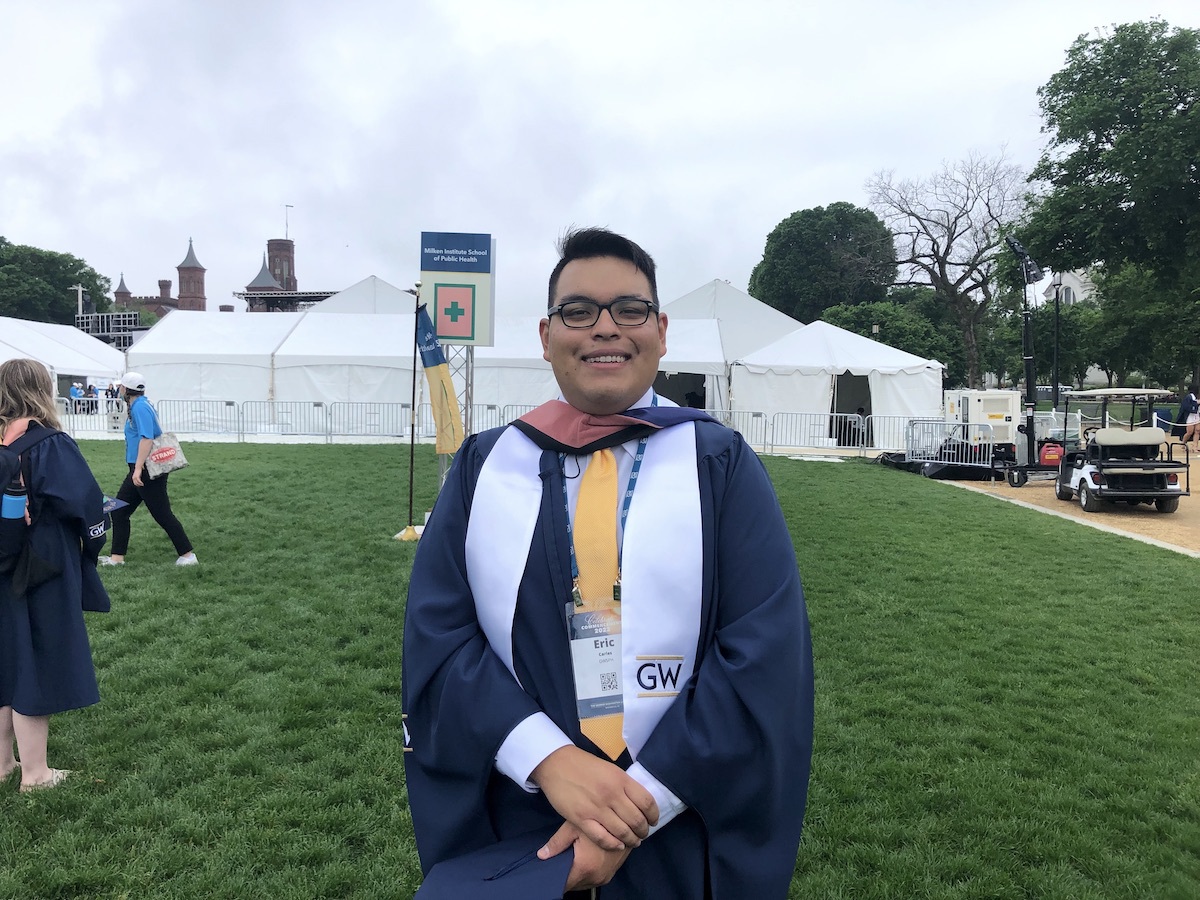 Eric Carles
Milken Institute School of Public Health
Future plans: Continuing to work in L.A.
"I think what I'll remember most is the faculty. They were all pretty awesome. I really appreciated hanging out with them and being able to talk to them about all the stuff that was going on [during the pandemic]. They were very interactive with all of us."
---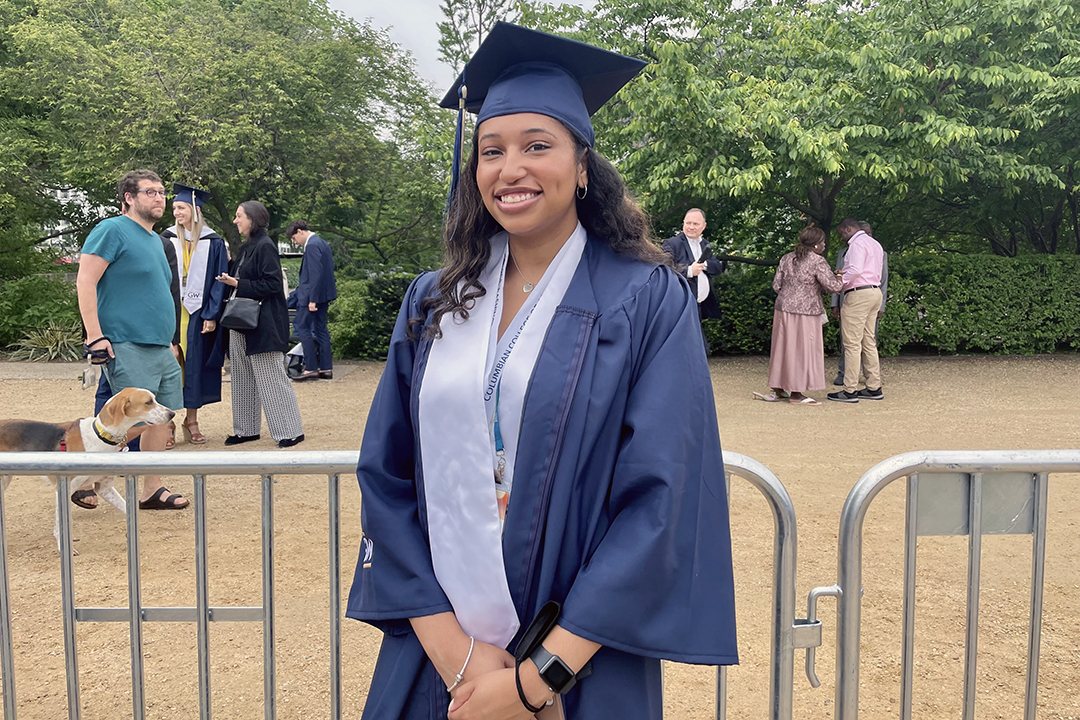 Nia Blackwell
Columbian College of Arts and Sciences
Future plans: Traveling abroad with a friend for a year, then attend law school
"My freshman year, my GW writing class professor had us go to Busboys and Poets often to see speakers, events and poetry there. I think that was a really good introduction to GW itself, you know, going into D.C., taking the Metro when we were just fall semester freshmen. That was one thing that was super memorable from my freshman year."
---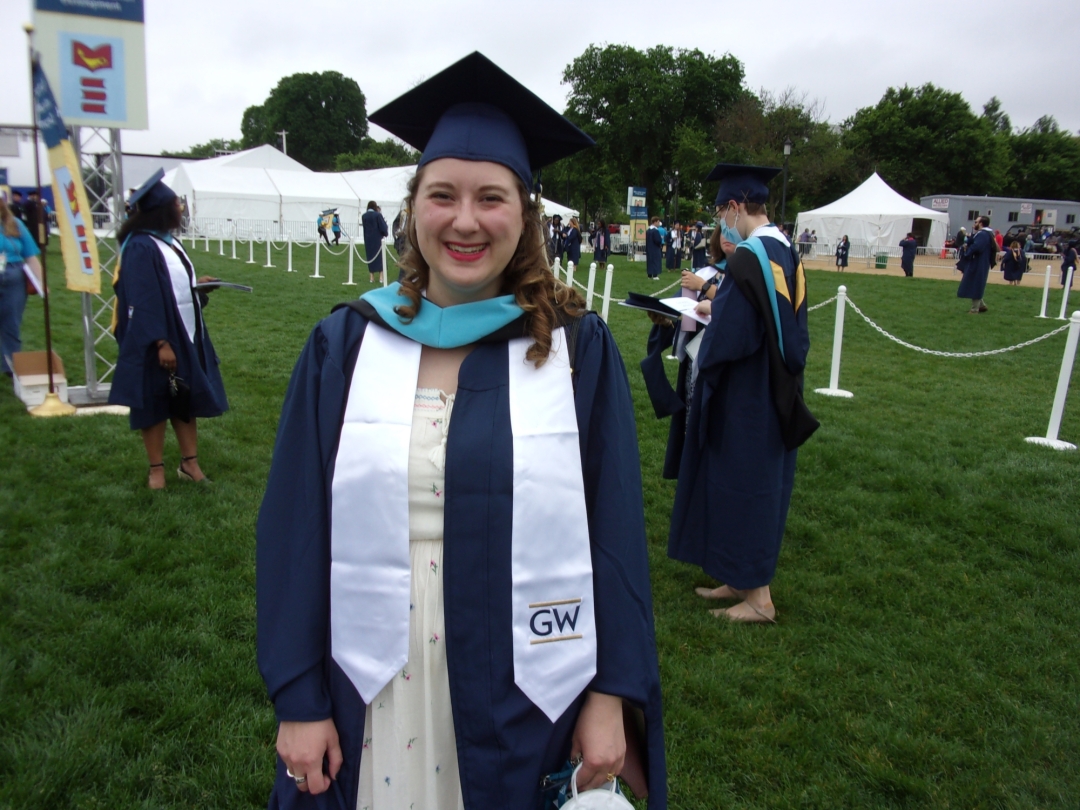 Jessica Crist
Graduate School of Education and Human Development
Future plans: Working at GW in the International Services Office
"Dr. Bernhard Streitwieser has helped me in so many ways—more than I can ever explain. We founded the Refugee Educational Advancement Lab (REAL) together, and we've been working on various publications about refugee access to education, and he just made this experience incredible. It all started with his Refugees in Education class. I wrote a paper for that class, and he contacted me and said, 'You obviously have a passion for this, so let's get together and try to start something.' And now we have about 15 members, from undergraduate to doctoral students, who are part of the lab, and we're working on a book project together. We have published a few articles as well. It's been great. I feel like we're helping so many people."
---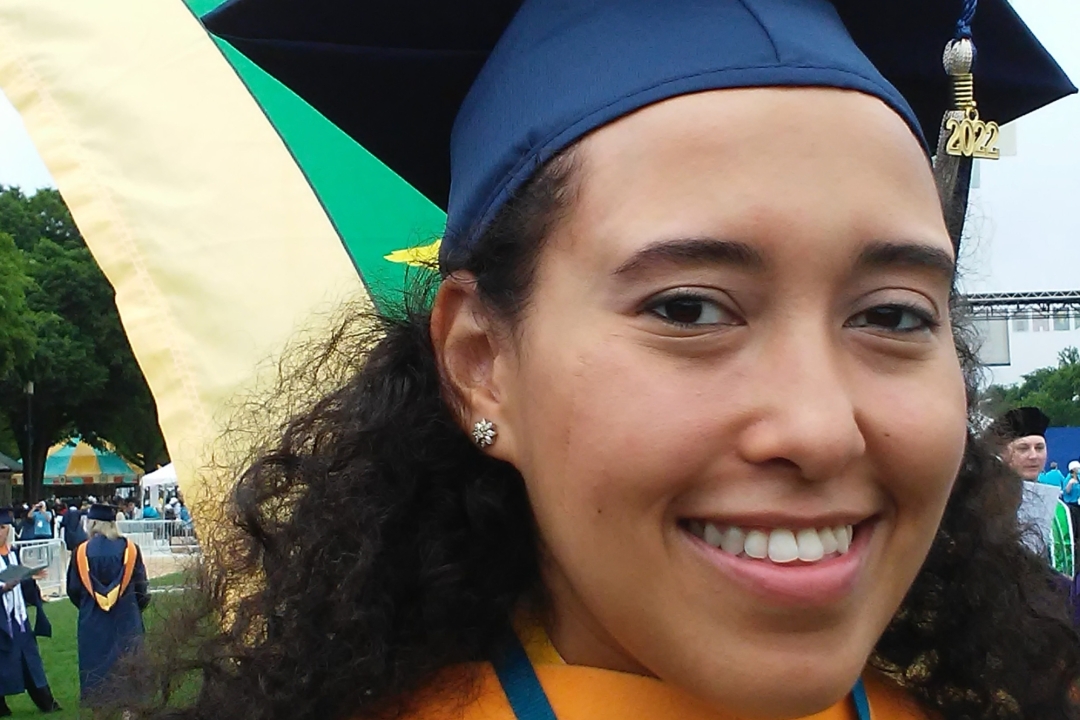 Jaimie Griffin
School of Medicine and Health Sciences
Future plans: Working in public health and vaccinology
"I had a professor for one of my classes, when the COVID numbers were high who said specifically if anyone needed any extra wiggle room or flexibility they should feel free to ask because everyone was going through the pandemic. It created a very loving and accepting face for the class. I really appreciated that."
---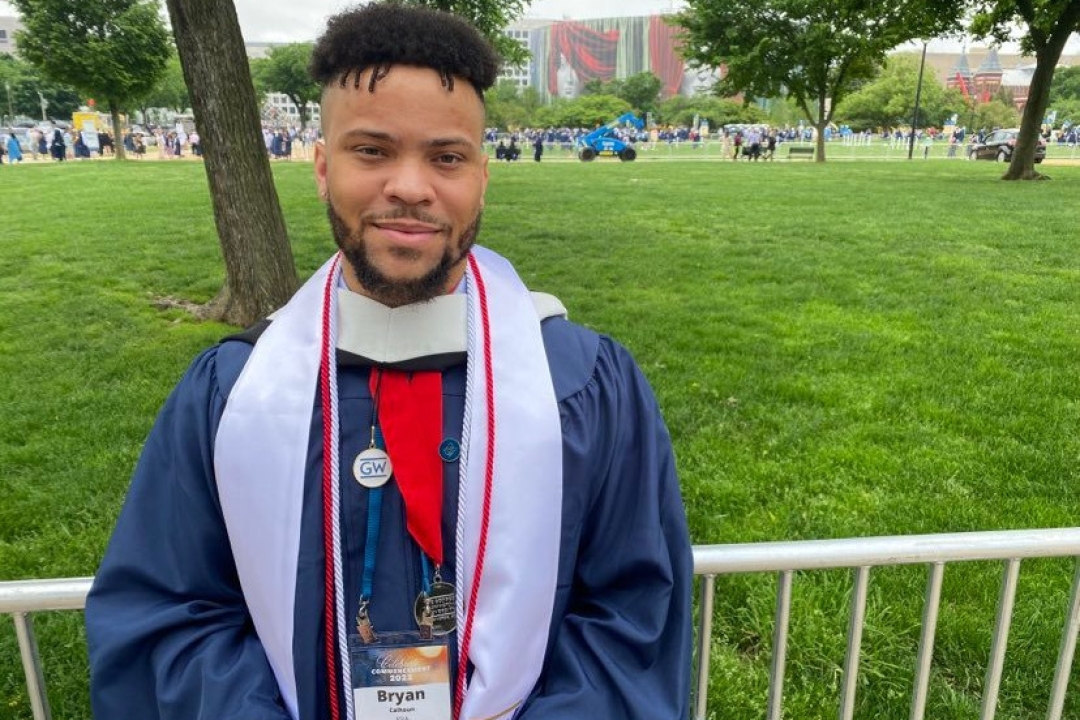 Bryan Calhoun
Elliott School of International Affairs
Future plans: Working in logistics management for the Logistics Management Institute in Tysons Corner Virginia.
"I remember two of the professors I had: Paul Williams and (adjunct professor) Lindsey Sheppard. I had Mr. Williams for a couple of my emergency security policy classes, and he was a great guy. I definitely will stay in contact with him on LinkedIn. Lindsey Sheppard, I'll remember her because she stoked my interest in artificial intelligence, so she's the kind of spur of that. I did one project basically making AI and ML algorithms to test the brainwaves of active soldiers abroad. That's one I did with Lindsey Sheppard, so that was awesome and was probably my favorite project."
---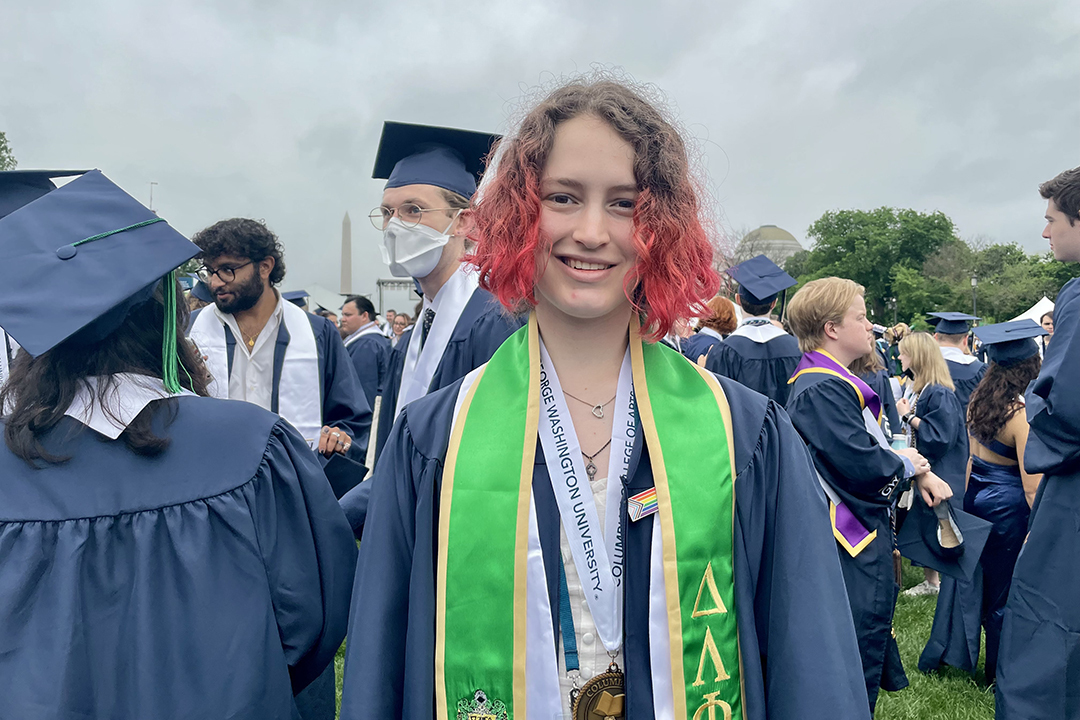 Charlie Knopf
Columbian College of Arts and Sciences
Future plans: Applying for master's programs
"I'm a philosophy major and our department is very small. You get to know the professors on a very different level than I feel you would in other majors, and obviously they get to know you, too. I've only had like three professors through the majority of my philosophy career, I've had them for three or four classes, so you know, that's just kind of how it goes. I feel like that's been one of the most memorable things for sure."
---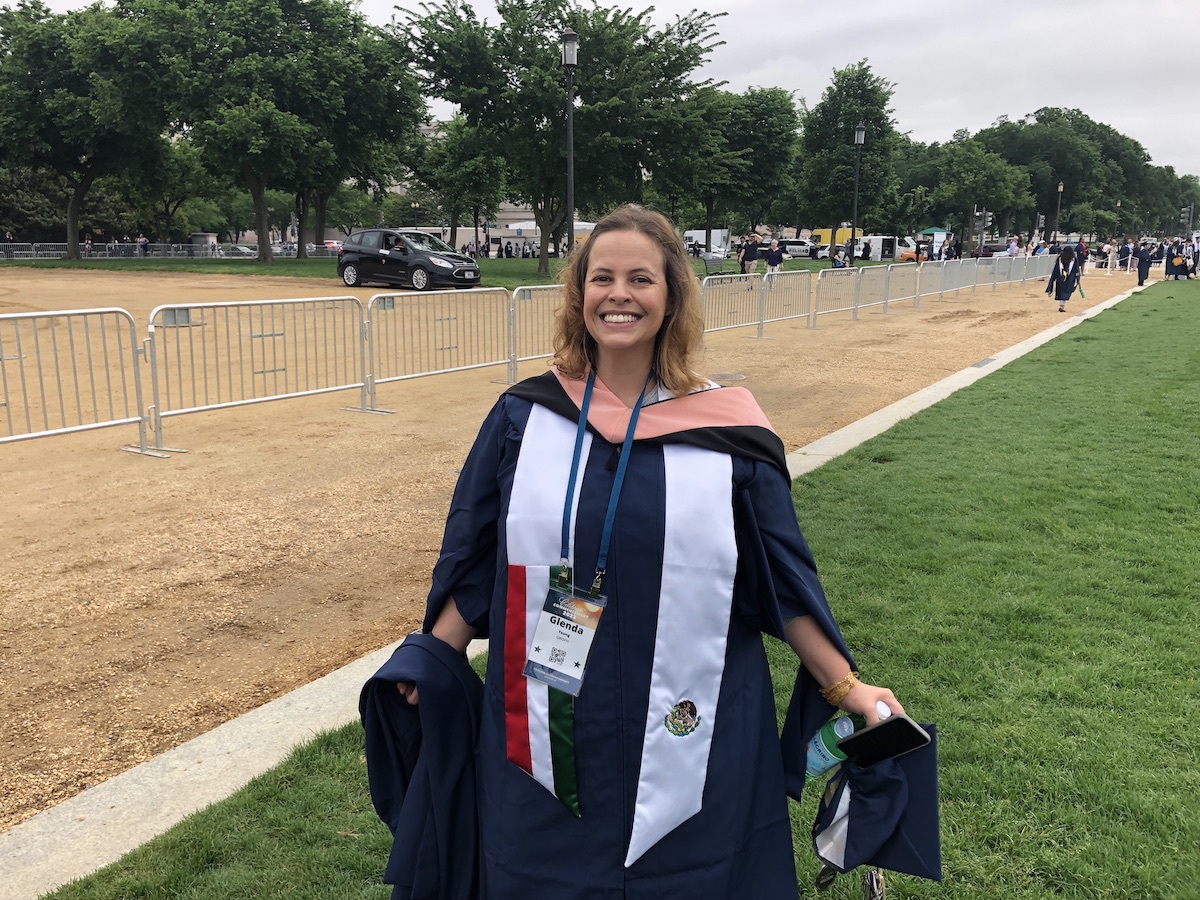 Glenda Young Márquez
Milken Institute School of Public Health
Future plans: Working at the National Association of County and City Health Officials 
"It's been a crazy experience. What I'll remember is probably the people I've met. I've had great professors and made really great friends. Even though I've been a public health student for the last eight years, I've only had one Latino professor. That's really kind of scary and kind of tells you how much more representation there needs to be within the space. But that one Latino professor that I had was at GW: Joan Manuel Claros. Dr. Claros really kind of opened up a new world to me. In fact, I'm thinking about going into teaching now. I'm applying for my Ph.D., and I've even guest lectured at Brooklyn College."
---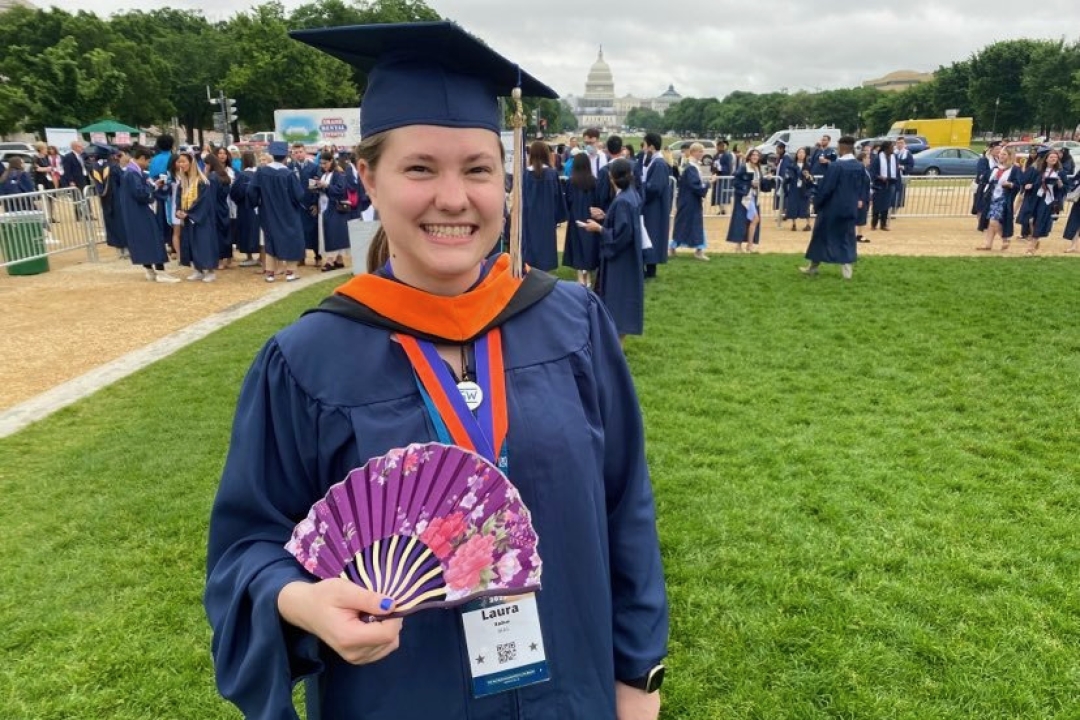 Laura Kadue
School of Engineering and Applied Science
Future plans: Focusing on job search after taking four classes in final semester
"So, after going to undergrad here, I was away for a little while and came back. I took a year off and then spent a couple of years working in Japan. But I love how GW is in the middle of D.C. There's so much to do. You're connected to so many things, and you can get to so many places. I also love how you can walk down the street and hear five different languages."
---
Jordan Mullings
School of Medicine and Health Sciences
Future plans: Starting residency in Oakland, California, in July
"There are so many moments at GW. I enjoyed just the number of speakers that have come, Health and Human Services Secretary Kathleen Sebelius coming to speak about health care law and her experience and the challenges she faced trying to uphold the Affordable Care Act when the bill was pretty contentious. French President Emanuel Macron and being able to chat with him for a bit, getting to see Nikki Haley's event and promoting her book and talking about how she led South Carolina through the Charleston shootings. There were so many prolific speakers who have had an impact on our country. It's been an amazing experience."
---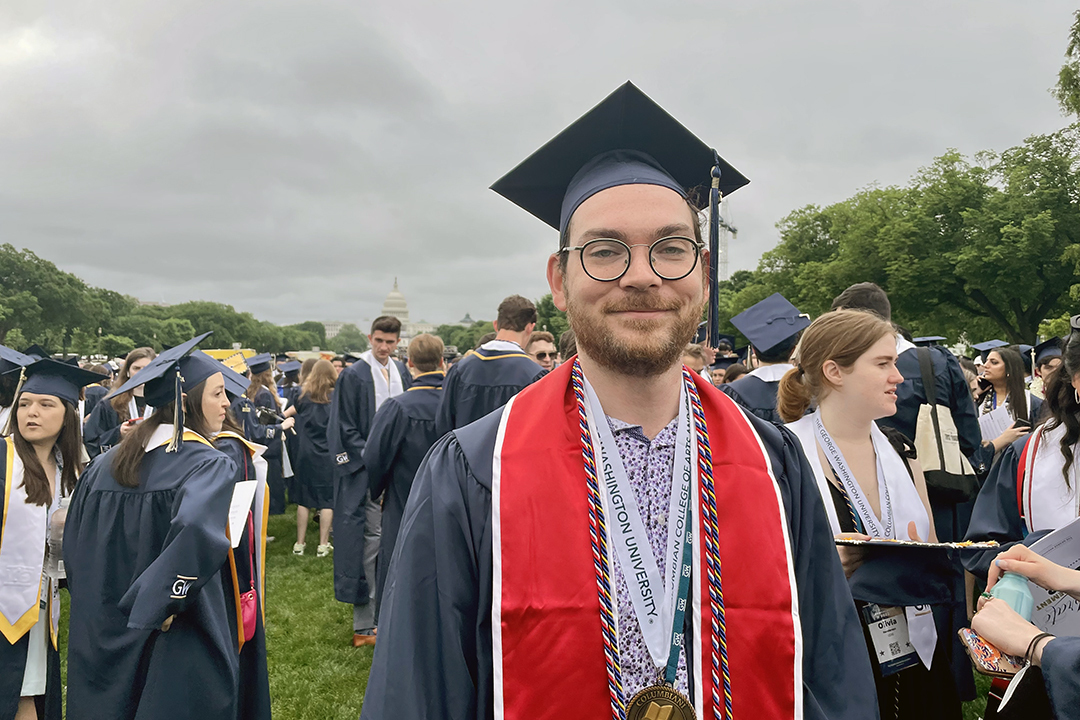 James Dingman
Corcoran School of the Arts and Design
Future plans: Applying for graphic design jobs
"I would say a lot of professors, specifically Professor Allyson Vieira. She really helped teach me, passing my limits of what I thought I could do to accomplish something that I'd imagined doing, and it's really nice to see that realized. Also, Professor Hyung Park, a graphic design professor, he's incredibly dedicated, passionate and compassionate, and I hope to bring that forward, those lessons that he and Professor Vieiria taught me."
---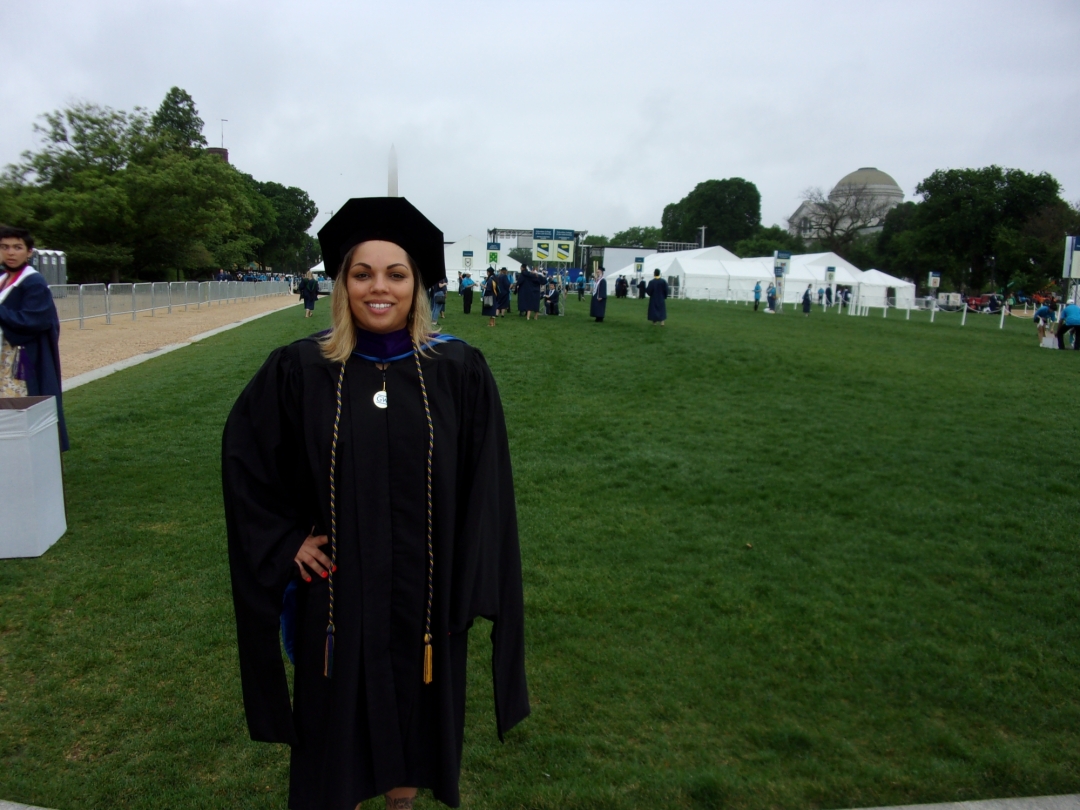 Carlina Smith
GW Law
Future plans: Working for the U.S. Department of Education
"I'm definitely going to remember Dean Jessica Tillipman and Stephanie, my academic adviser, for everything they've done for me. They were patient with me not being a J.D. student! I don't have the legal jargon that so many of my fellow law students have, so they helped me be able to get through that. The government procurement law program is one of the best in the country, if not the only such program in the country, and I would definitely recommend anyone interested in going in that direction to take a look at this program. And I'll just remember my experience at GW Law in general."
---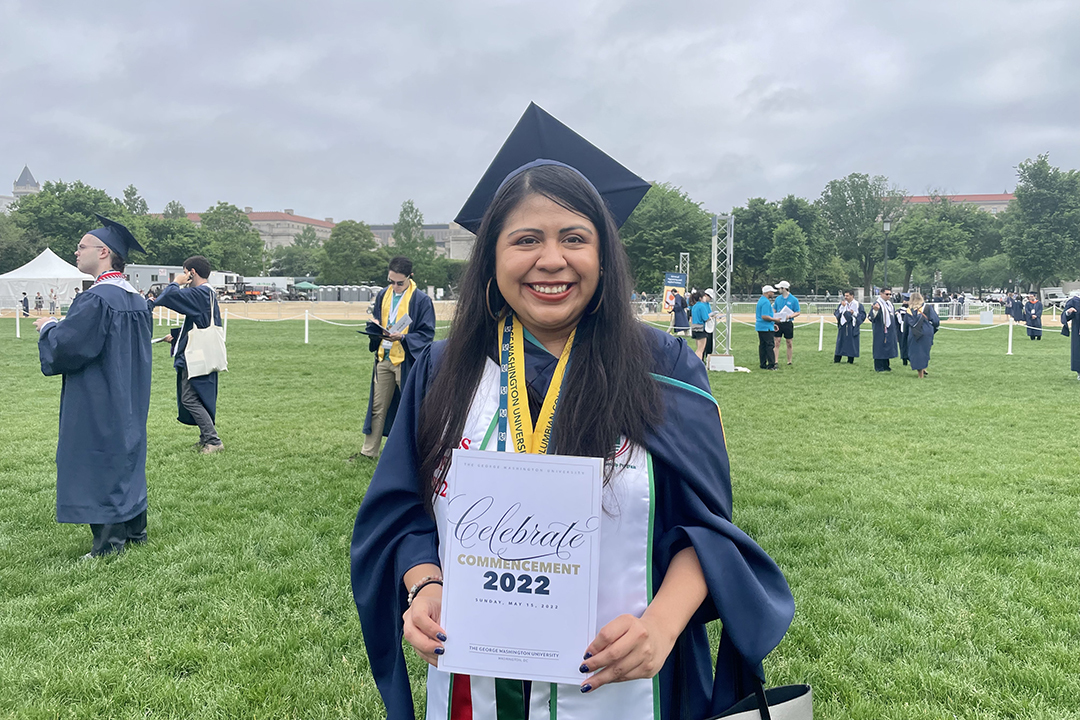 Maite Rubio
Trachtenberg School of Public Policy and Public Administration
Future plans: Continuing to work with the Federal Emergency Management Agency
"I think I'm going to remember a lot of the friendships that I gained from the Minority Leadership Program at Trachtenberg. I feel like I'm a very different person now, especially with the COVID-19 pandemic, the 2020 uprisings and a lot of the diversity, equity and inclusion work that was happening. I think the friendships and the work that we did together is probably going to be the most impactful part."
---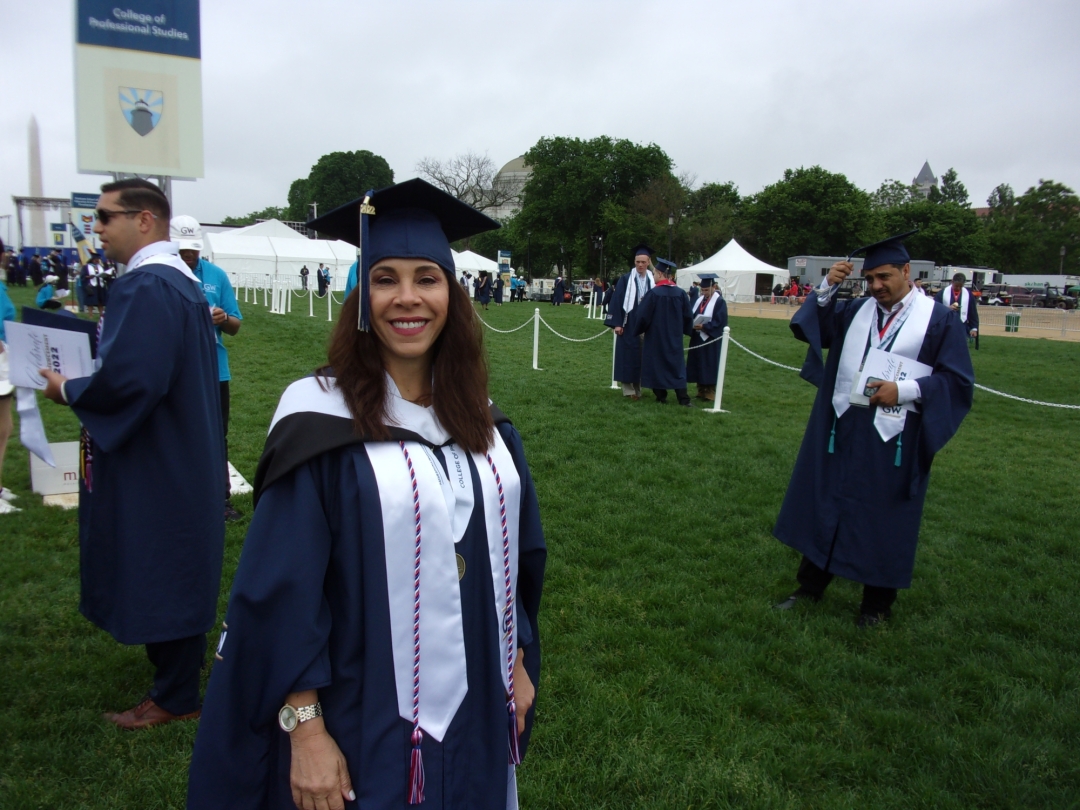 Angela Trujillo
College of Professional Studies
Future plans: Working in advocacy for human rights, specifically on immigration
"The majority of my professors were very inspiring and helpful throughout my time here. I'll remember them and also the fact that we did everything hands on, working in real time, responding to real events that were happening at the same time I was in school. For instance, in my class on audience research, we were able to do a study when the Russian invasion of Ukraine had just exploded, so we were able to use that as a reference for our final project with doing all the research and the studies and polls. We were able to compare our conclusions with what the national polls were saying in real time, and we were right on the money."
---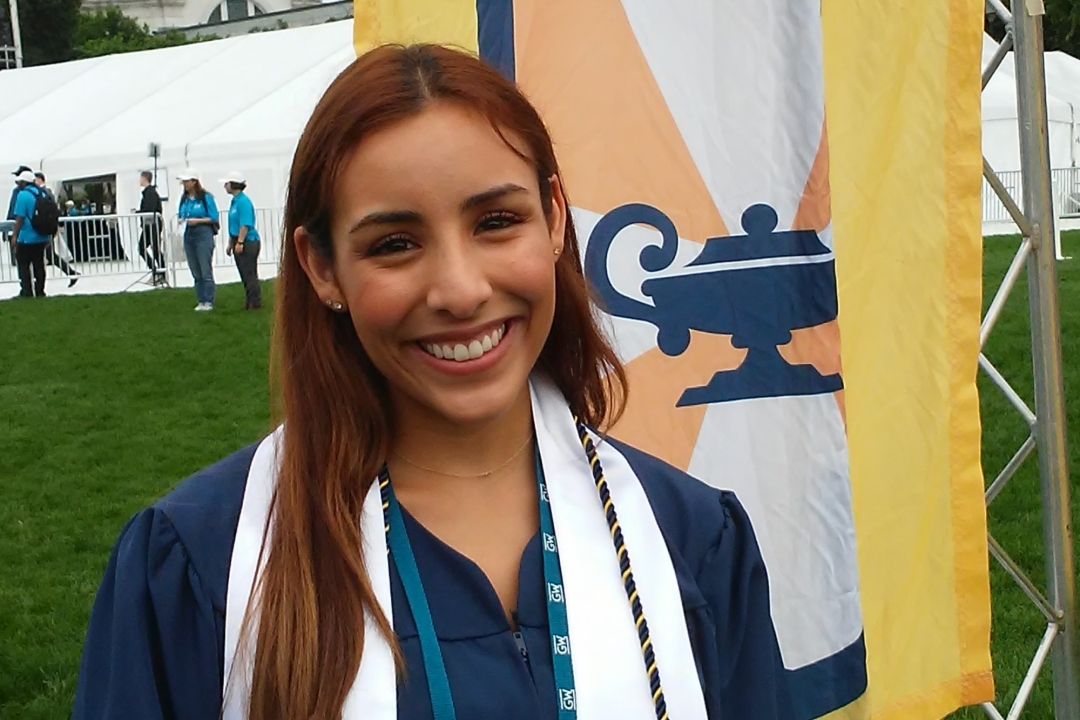 Jasmine Gonzales
School of Nursing
Future plans: Working in a hospital cardiac unit before moving to an intensive care cardiac unit
"I was the cohort representative, so I got to talk to faculty about making changes. It was special for me. We had a very difficult test on which many of us initially failed, and we talked to faculty about how they teach one of the most difficult subjects, for example, medical surgical-2, which includes complex surgical topics on our licensing exam. It was difficult for many of us to grasp the concepts, to make the connection between what's on the page and what you have to do. We were all afraid we were going to fail nursing school, but faculty went over it again so that we understood beyond just memorizing things. They gave us a retake, and we passed. It was a good learning experience for us and faculty."