The George Washington University Class of 2022 graduates will be recognized at Commencement on the National Mall on Sunday, May 15. Before their big day, GW Today chatted with a number of the upcoming graduates to share their favorite GW memories. This is the first of two in the series: 
---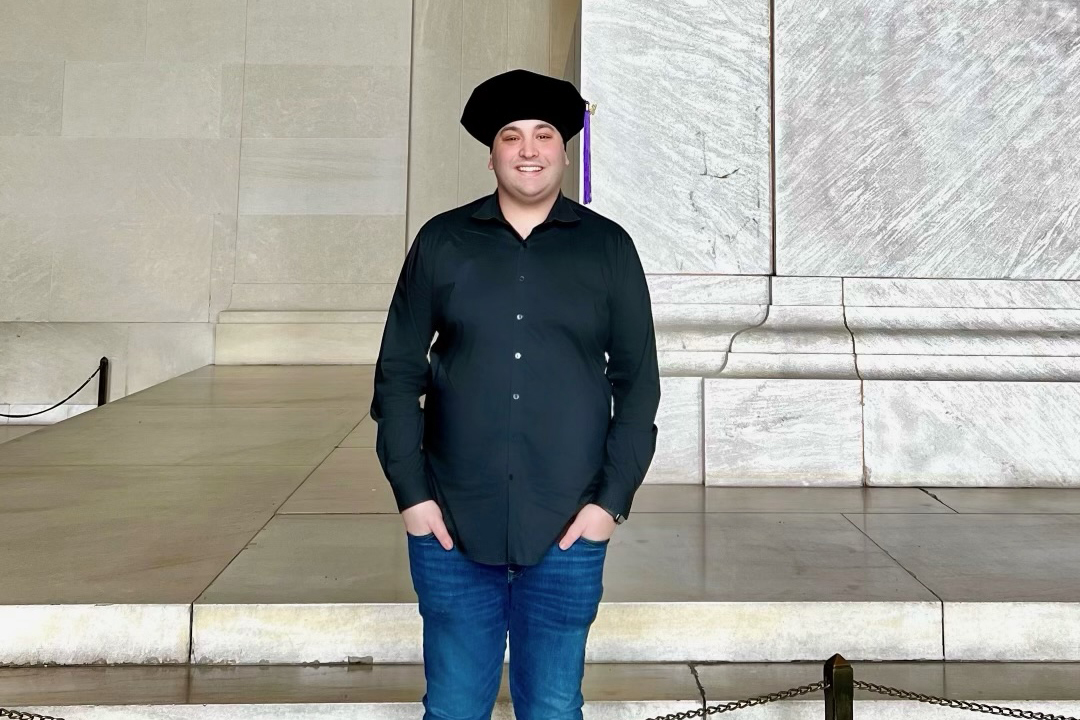 Jason Zubata, GW Law
Juris Doctor
"My favorite GW memory was attending the Inns of Court attorney networking session. I met an attorney at the event who had attended GW for his undergraduate degree and was employed at the Department of Justice's Office of Immigration Litigation (OIL). We met for coffee, and he ultimately helped me obtain an internship with his office. As an intern, I gained valuable skills and delivered a moot oral argument for an appeal brief I prepared. This helped me realize I wanted to do litigation and, more importantly, that I wanted to serve my community as a DOJ attorney. Looking back, I am so grateful for choosing to attend that Inns of Court session, because it changed my life, and the overall experience proved to me that I wanted to be a litigator. I am happy to report that I will be joining OIL as a trial attorney through the 2022 Attorney General's Honors Program." 
---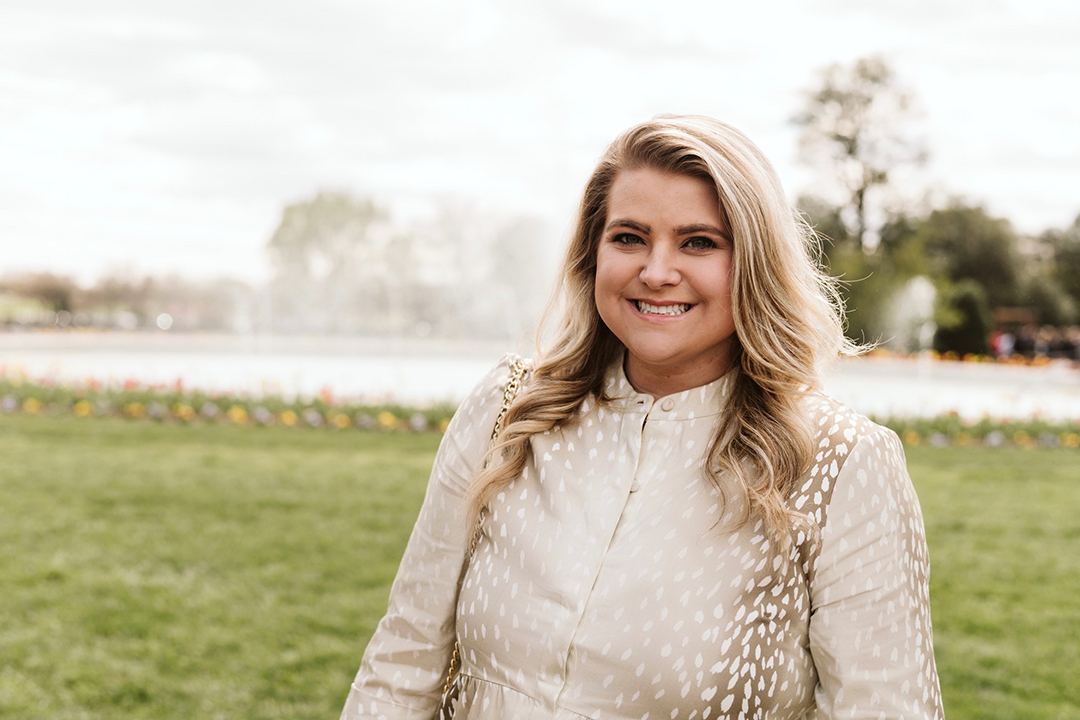 Payton Lang, Graduate School of Political Management
M.P.S. in Legislative Affairs
"After nearly two years of remote learning, the Graduate School of Political Management's beloved Capitol Hill luncheons started back up. These luncheons were a chance for students to learn from program graduates and hear about how they are applying their GW degrees. The original venue closed during COVID, putting the event's return in jeopardy. I immediately began brainstorming and remembered a connection at a new legislative tech company that mentioned obtaining a physical space on the Hill. I connected the company with our program faculty and the introduction led us to a successful new venue. I had the pleasure of attending the first, in-person Capitol Hill luncheon. Seeing my classmates in real life for the first time ever was amazing. We were able to finally shake hands and talk about our lives and careers. This long-awaited, in-person gathering was so special, and I could not believe how one networking connection made all the difference."
---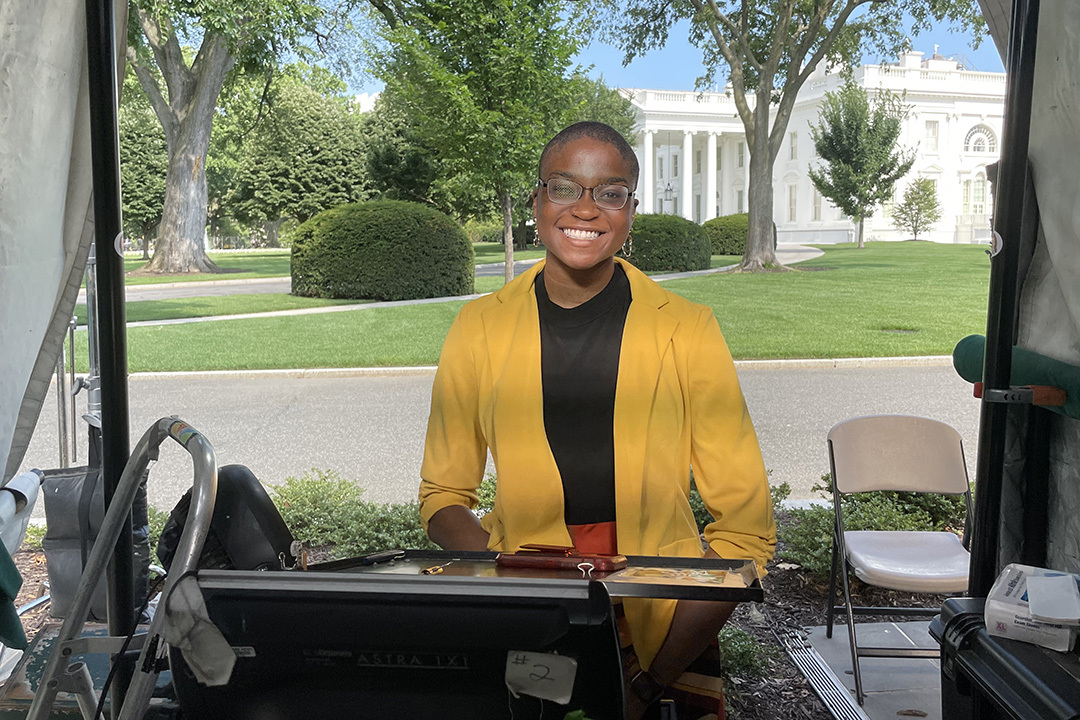 Nia Lartey, School of Media and Public Affairs
Major: Political Communication; Minor: Journalism and Mass Communication
"I have many #onlyatGW memories, from co-chairing Black Heritage Celebration to becoming a member of the Mu Beta Chapter of Delta Sigma Theta Sorority, Incorporated. However, the 2019 National Association of Black Journalists (NABJ) Conference I attended with my GWABJ chapter (thanks to our adviser Professor Cheryl W. Thompson!) will forever hold a special place in my heart. 
Earlier that summer, C-SPAN's Angie Seldon had taken a chance on this loud, extroverted girl from Philly, and I became an Emma Bowen Foundation Fellow with the organization. A CNN representative at the conference saw C-SPAN on my resume and allowed me into a professional workshop meant only for seasoned journalists. I would later intern with CNN's State of the Union (during election season!) and NBC–experiences I credit to NABJ. 
I was the first-ever intern for the White House Unit of NBC and MSNBC and will be working after graduation as a desk assistant in the NBC News Washington Bureau. 
Needless to say, I'm eternally grateful to everyone who's given me a chance while at GW. 
It only takes one person." 
---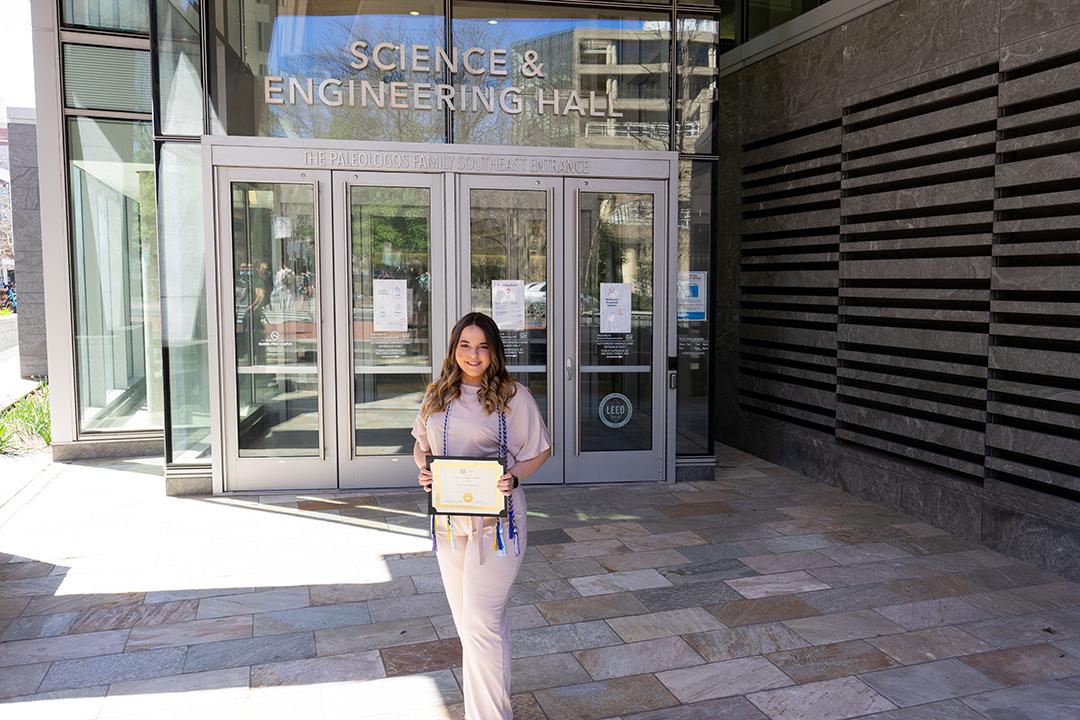 Giavanna Corazza, School of Engineering and Applied Science
Major: Biomedical Engineering; Minor: Mechanical Engineering and Political Science
​​"One of my favorite GW experiences came through my involvement in an organization known as George Hacks, an interdisciplinary innovation event-based organization. I got involved as a first-year student, and I just thought it was something that was really interesting, attending their Hackathon and designing and innovating in that space. A team of us came up with a rough prototype for a retractable tray table, designed for wheelchair-bound veterans to use and brought it to the New Venture Competition in 2019. Our team was the only all-freshmen, all-engineering team to be picked as finalists. That experience really set off the passion that I have for human-centered design in engineering.
I have accepted a business technology solutions analyst position at Deloitte."
---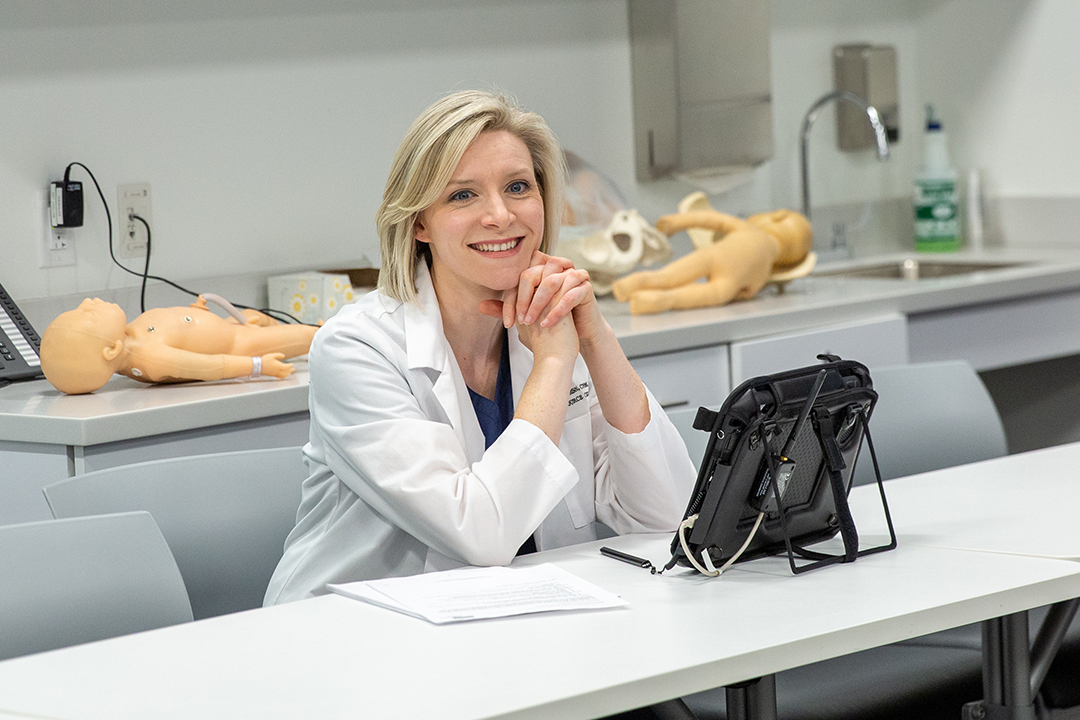 Sarah Beebe
Ph.D. in Nursing
Beebe is the first graduate of GW's Ph.D. in Nursing program. She works closely on research with Associate Dean for Scholarship, Innovation and Clinical Science Angie McNelis. Beebe's dissertation looks at factors that affect diagnostic reasoning in nurse practitioner students.
"I came on at the beginning of Angie's study, and I was able to carve out a niche for myself and add a few measures to develop my own dissertation study. The fact that I was able to do that, and that I've been so supported by her and by other faculty members has been just wonderful.
Pre-COVID, all of us in the Ph.D. program were meeting on campus twice a semester. My classmates and I would all share a house together every time we came to campus. They've become some of my closest friends. Just the fact that we all came together at the same time, it feels like it was almost fate that we all met each other.
I recently started a position as graduate medical education simulation lab program manager at Delaware-based Bayhealth Medical Center."
---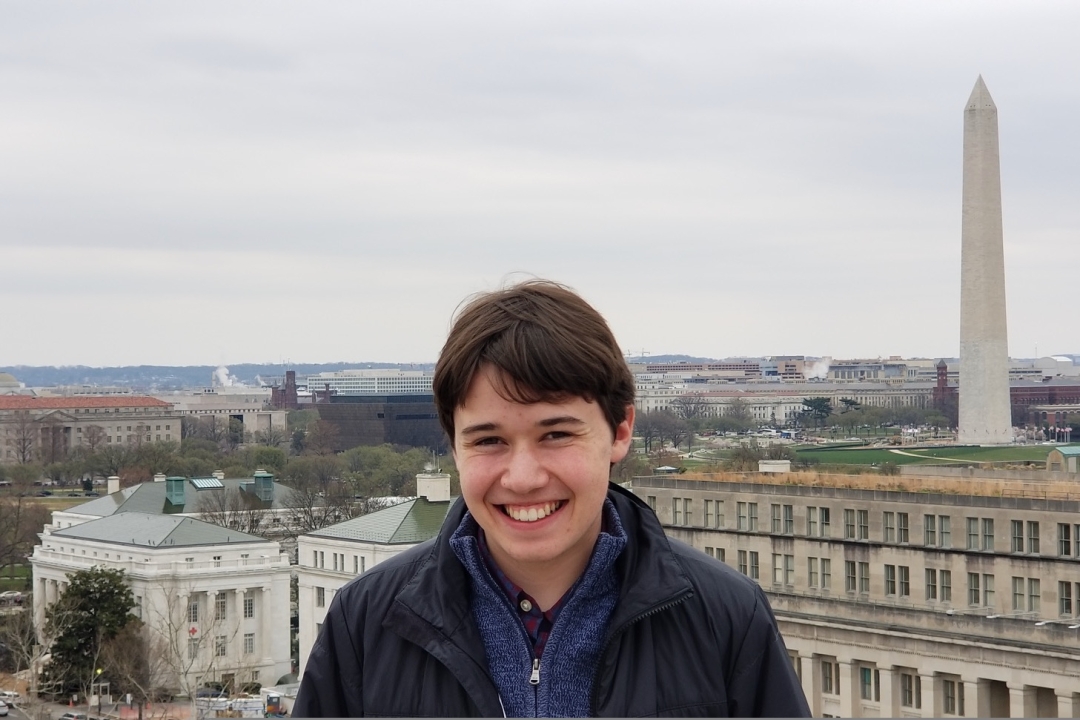 Matthew Stauder, Elliott School of International Affairs
Majors: Economics and International Affairs
"There are so many moments over my time here that have been really formative for me and things that I'm going to remember for the rest of my life. It's sometimes hard to pick just one. But I do remember greatly during my freshman year having the privilege to go to the Capitol building when both Senator (John) McCain and President (George H.W.) Bush were lying in state there. Having that opportunity to pay respects to both of them was really something that I feel fortunate to have been able to do during my time at GW, and to be able to participate within the country's democracy that way, I really got a sense of the immense influence that the U.S. has and the immense privilege it can be to be here in D.C. and at GW."
---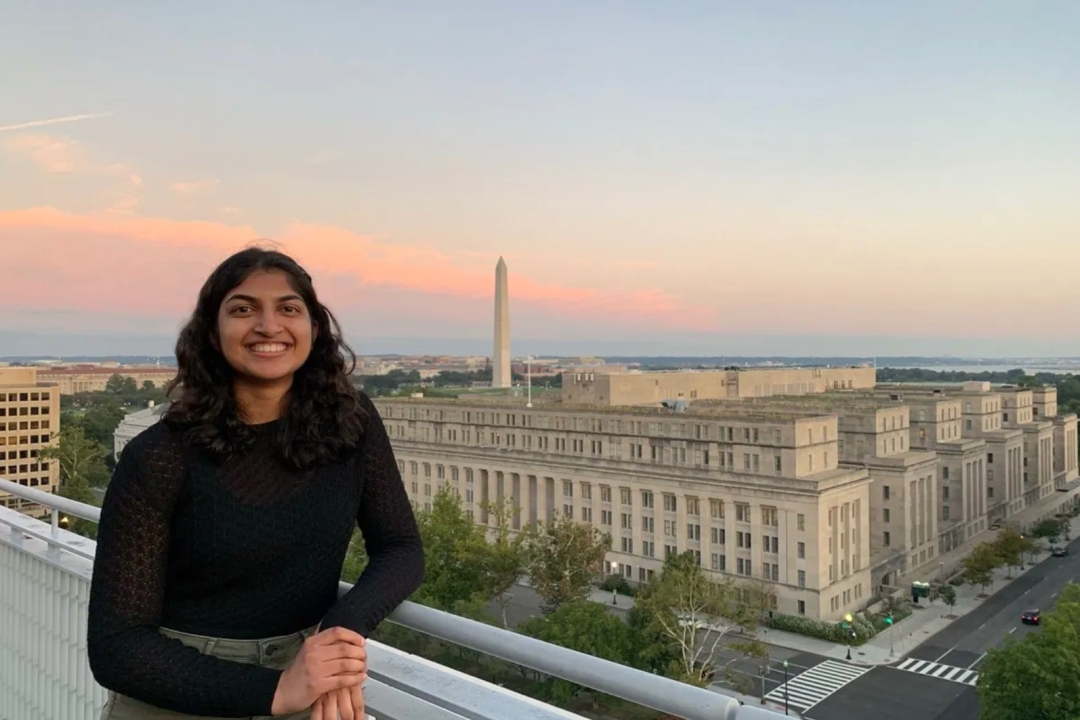 Laya Reddy, Columbian College of Arts and Sciences and the Corcoran School of the Arts and Design
Majors: Political Science and Music
"When I think about fond memories of my time at GW, I immediately think of the Music Department and all the opportunities I've had there. I play trumpet, and in high school I was in a brass quintet. GW didn't have one when I arrived, so I continued playing solo trumpet, and I joined other ensembles—band, orchestra—and I actually ended up working with a professor to create a brass quintet here. It ended up lasting just one semester because of COVID, but it was really fun. I can't believe that I got to do that as a freshman and that it was so easy to form a new ensemble.
I will always praise Fridays @ 5, because it's such a great opportunity for people who are new to their instrument or people who are established musicians to present their pieces. It's once every month, and I've tried to do it once every semester since I've gotten here. It's so much fun—everyone's so welcoming and inclusive, and it's just so fun. I don't think I would have gotten the opportunity at other universities to present my work like that."
---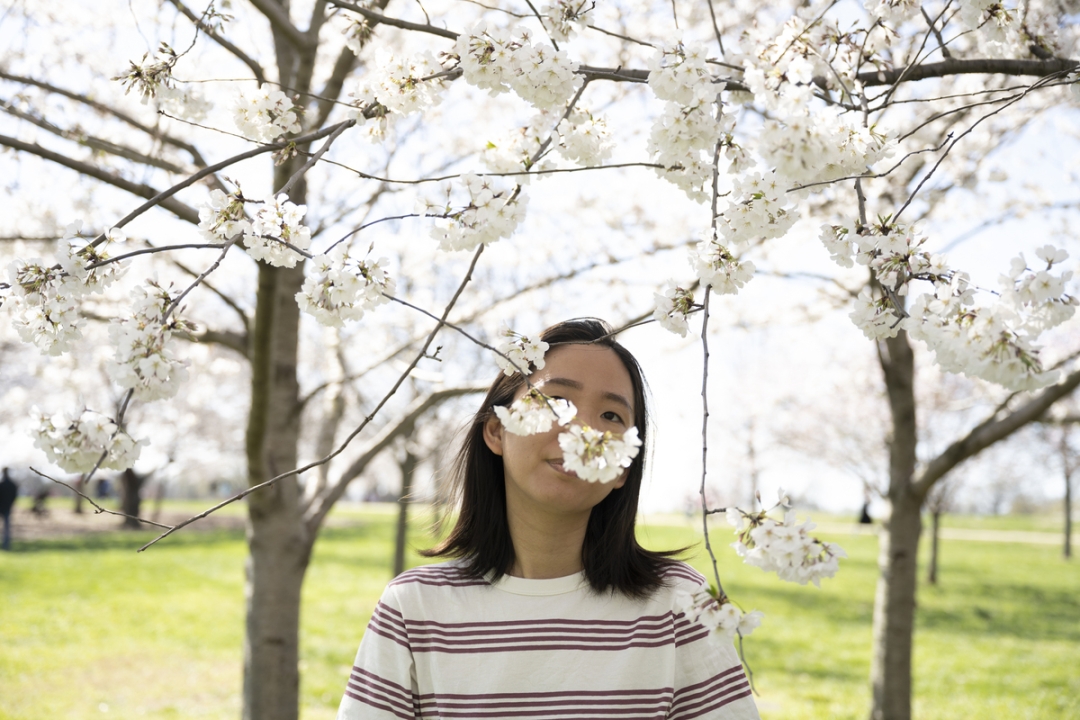 Yijo Shen, Corcoran School of the Arts and Design
M.A. New Media Photojournalism
"My fondest memories are of the support from my peers and my classmates. Students from my program are required to do a community media capstone project. It's hard to do it alone—you need feedback from your classmates to improve, and also you need support from your classmates after being judged or criticized by your professors. When I was doing my capstone project, 'Seeking a Homeland,' which is about passing down culture in the Tibetan diaspora, I was really struggling with capturing the intimacy of some interactions between families. But one of my peers reminded me that I had done a project between me and my grandpa, and she told me to use that same mindset to do this project. She drove me out to some of these sessions, she supported me with her equipment. I'm more of an introverted person, but thankfully she constantly pushes me out and gets me to talk to people and encourages me to tell them about my project, my stories. That's so important in doing this work."
---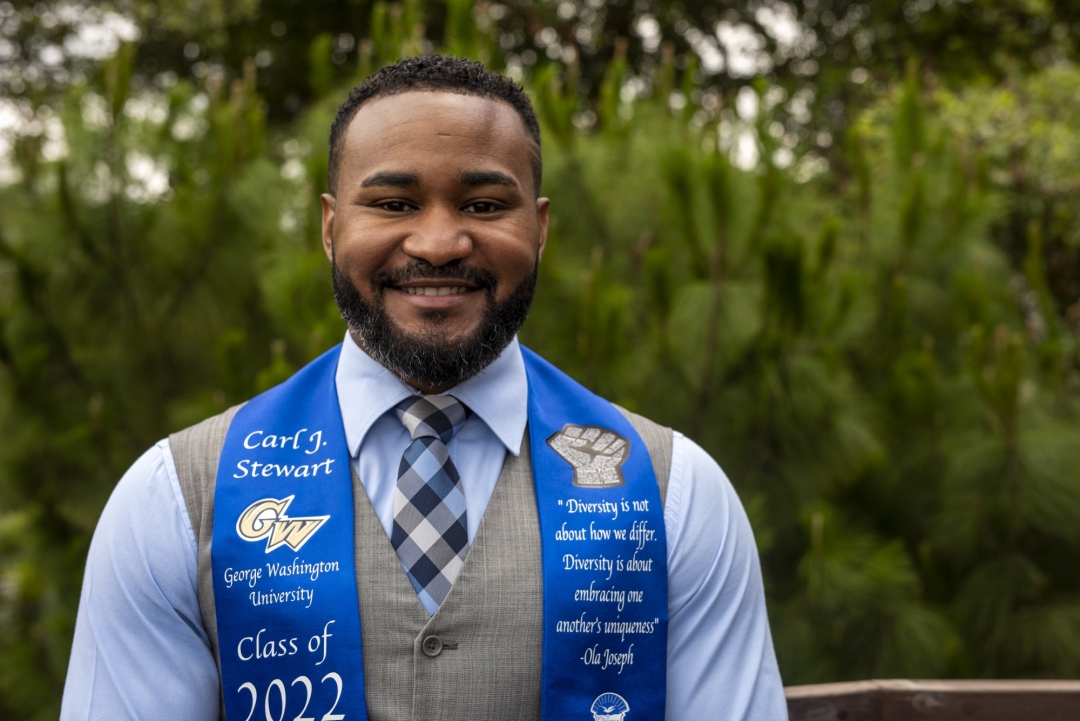 Carl J. Stewart, College of Professional Studies
M.P.S. Homeland Security
"My fondest memory from GW is undoubtedly the close friendships I made beginning on day one of my CPS program. GW has provided me with a critical support system that all started with one group project. Through this project, commonalities were identified and bonds were formed. For all our sacrifices, missed moments of rest, and times we had to race against the 11:59 p.m. EST clock, today we reap the benefits. We are a class of warriors capable of creating paradigm shifts unlike any the world has ever seen. Let us progress from our new milestone to be advocates for diversity and inclusivity against forces that promote division. To my friends-turned-family here at GW, remember: You are worthy of this moment and so many more. As Frederick Douglass once said, 'Without struggle there can be no progress.' Thank you for all the memories and congratulations Class of 2022."
---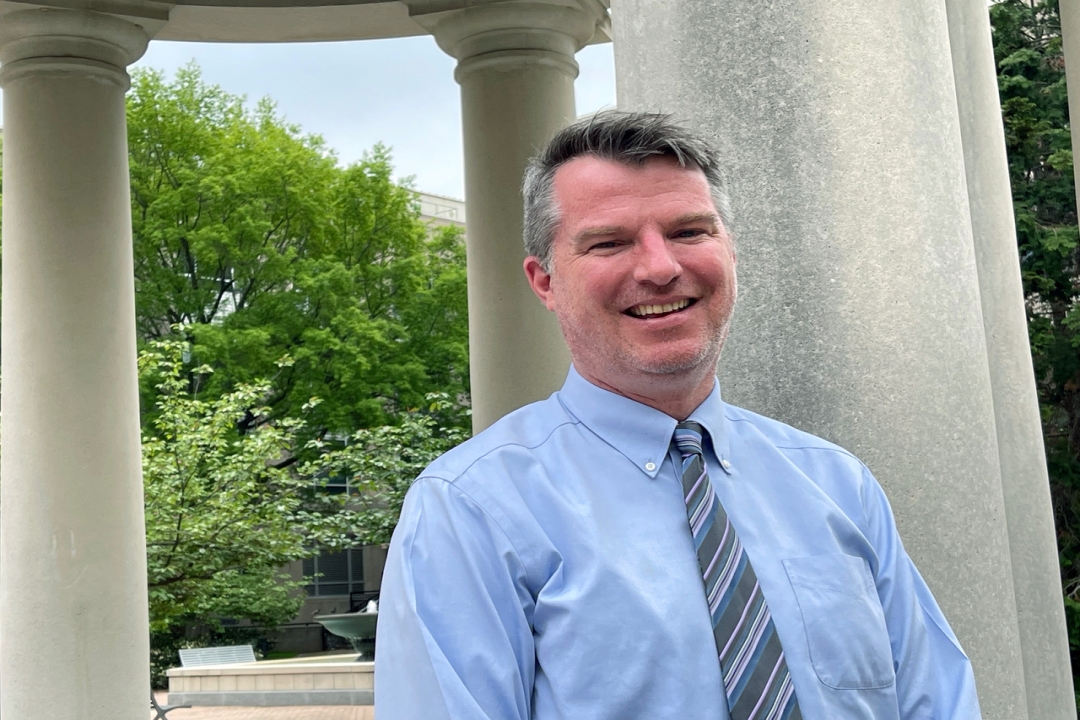 Jay Jones, Columbian College of Arts and Sciences
Major: English
"I've had both a traditional GW undergraduate experience and a not-so-traditional one that took longer than expected. I started my studies here in 1996. I lived in Thurston, bowled at the student center, spent late nights wandering around the monuments—all things that make GW so special.
But I stopped being a student in 1998. I've been a staff member for nearly 20 years. In 2018, I began working for Vice President for Student Affairs and Dean of Students Cissy Petty. She made it clear that I would finish my degree under her watch! With her support, I had a whole new GW undergraduate experience: Riding the Vex to the Vern, Zoom classes at home with my partner, Rob, at the desk next to me, researching in Gelman's online databases, taking a meditation class in Milken. My favorite GW moments have been volunteering for Commencement on the National Mall. This year, it's finally my turn to celebrate!"
---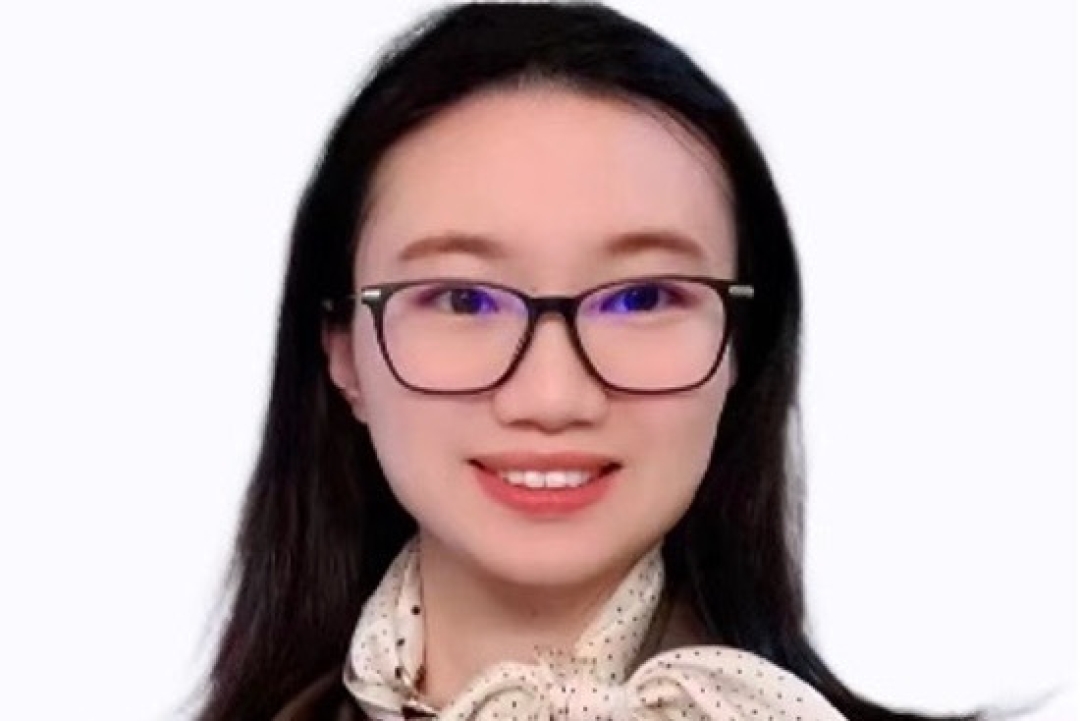 Jiayi Zhang, Elliott School
M.A. in International Affairs
"My favorite memory is that in my third semester, I took Professor Christopher Kojm's Leadership class where I could never have imagined we would have an in-class activity, as graduate students, with spaghetti and marshmallows. We were divided into groups of three and given spaghetti noodles, marshmallows and some tape to construct a tower. After we got our tower to stand up, Professor Kojm used a ruler to measure it. The result indicated that our group made the highest tower. However, while we were almost applauding for ourselves, we were then told that the kindergarteners were better than us. When we questioned why kindergarteners were superior to us, Professor Kojm replied that they learn to take risks and try new things without fear of failing. This activity will stay with me whenever I think about our graduate class. Life is like building a tower with spaghetti and marshmallows: it is filled with adventures and challenges. Since we are beginners and just starting out our careers, we need to learn to try new things and keep looking forward to new challenges." 
---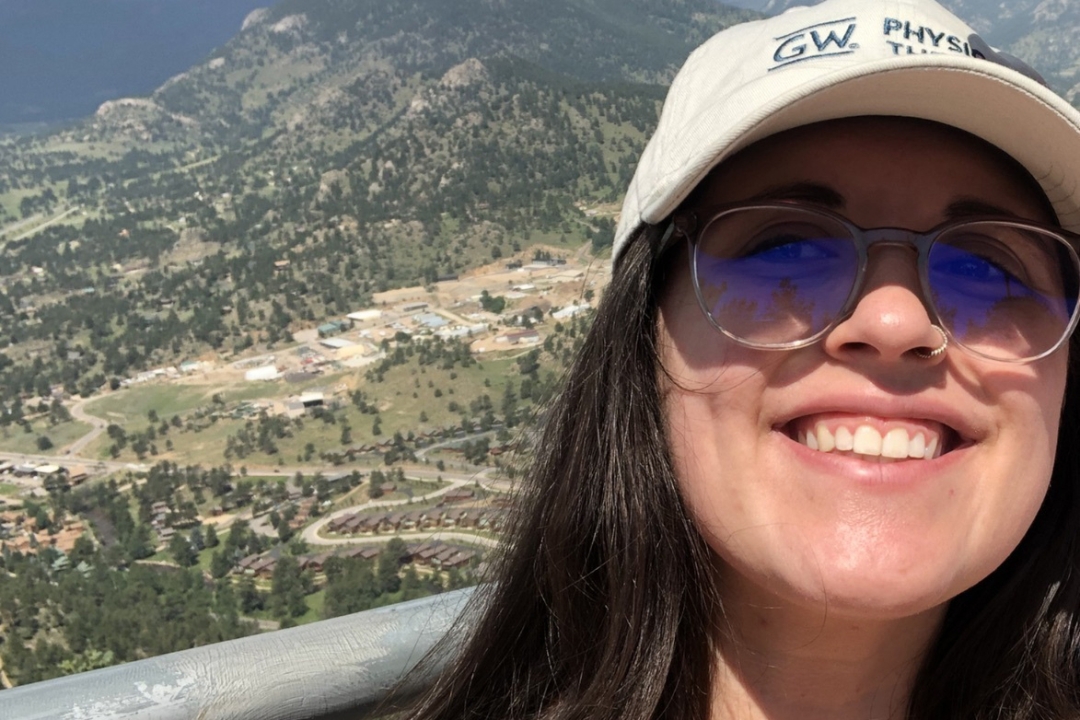 Angela Petretta, School of Medicine and Health Sciences 
Doctor of Physical Therapy 
"One of my favorite memories of physical therapy school at GW was being able to take walks at lunch or breaks between classes down to the National Mall. Seeing the Washington Monument, the Lincoln Memorial or the many other sites you'd find off Constitution Ave was always a nice reminder that I was attending school in our nation's capital—something I had dreamed of since I was a kid! I loved all the green space in and around the GW campus that made it easy to forget you were in the middle of a city. Not to mention the cherry blossoms at peak bloom around the Washington Monument is an incredible spot for a study break! 
I will be working as a physical Therapist for Excel Rehabilitation in Aldie, Virginia."