George Washington University graduates had their degrees recognized on the National Mall on Saturday as the Classes of 2020 and 2021 returned to the university for a Commencement event as part of the Centuries Celebration Weekend. GW Today chatted with a number of the recent graduates as they gathered  before their procession to their seats where they heard U.S. Sen. Elizabeth Warren (D-Mass.) urge the new alumni to "get into the fight."  We asked them to share their fondest memories of their time at GW:
---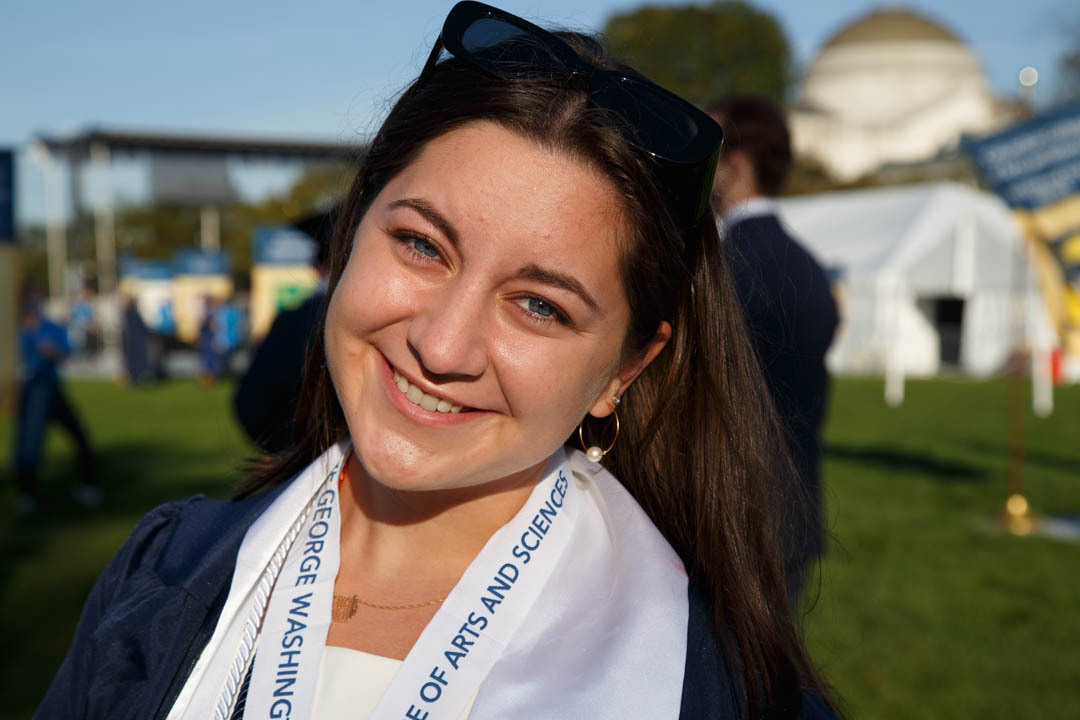 Hannah Garvey Class of 2021
Columbian College of Arts and Sciences
"My junior year I went with some classmates to the capitol, and we lobbied our legislators about speech and hearing issues. My representative is Joe Courtney from Connecticut. I spoke with him, and it was nice to be listened to. And it was really cool to have the platform, to be able to speak about these topics. We talked a lot about diversity and inclusion efforts and federal funding and more accreditation for our different programs across the country. They're very small, and it takes a long time for them to get accredited. We were just trying to make the field more accessible. There were seven of us, and we each met our different representatives on our own. This was right before the COVID pandemic."
---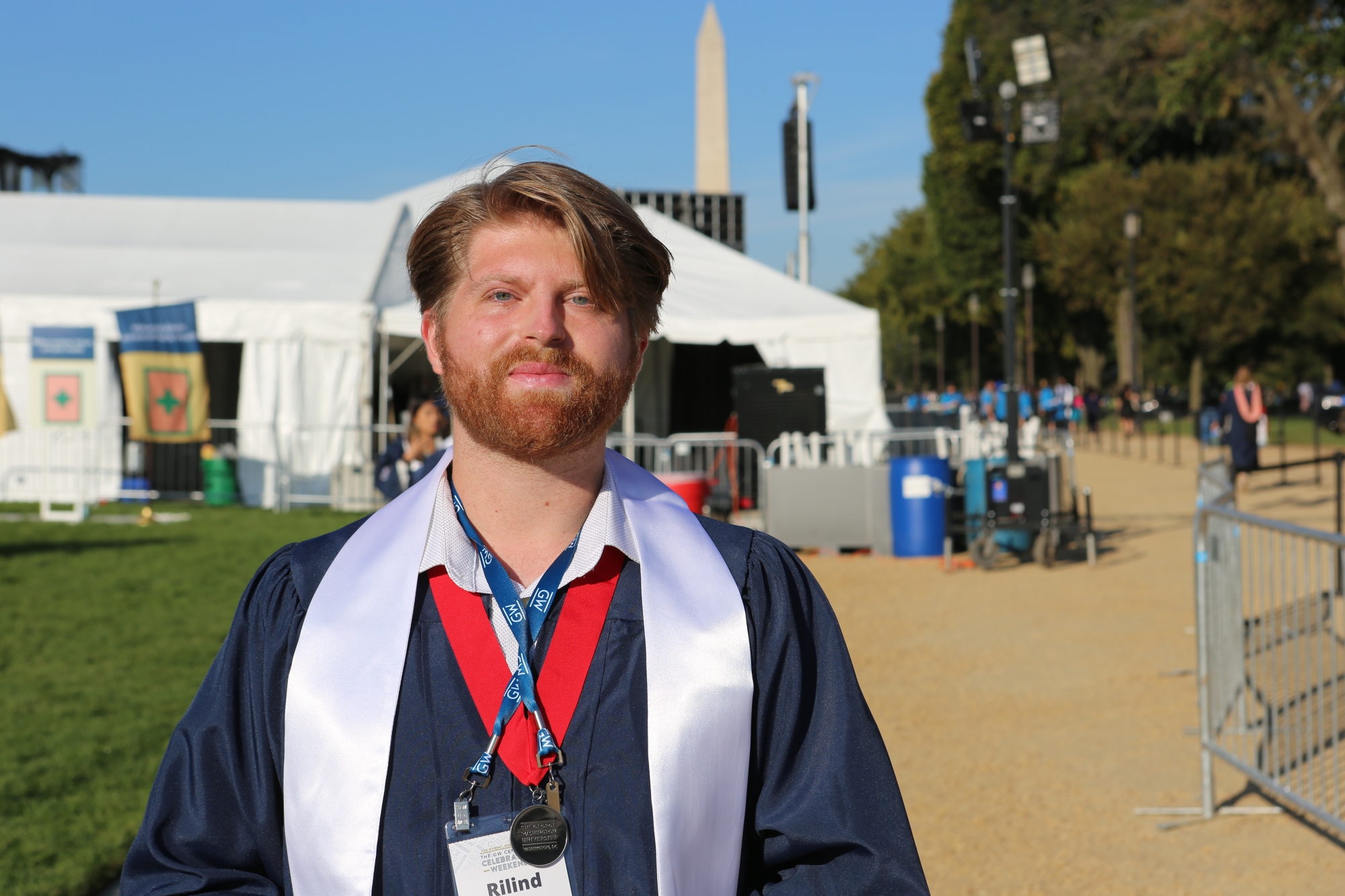 Rilind Abazi Class of 2020
Elliott School of International Affairs
"I would say probably just joining other GW students in the different community events like protests and activism with them. I think it really created a sense of community, and it united us in a lot of fronts. That was great to see that other people are concerned about making a positive impact on different issues."
---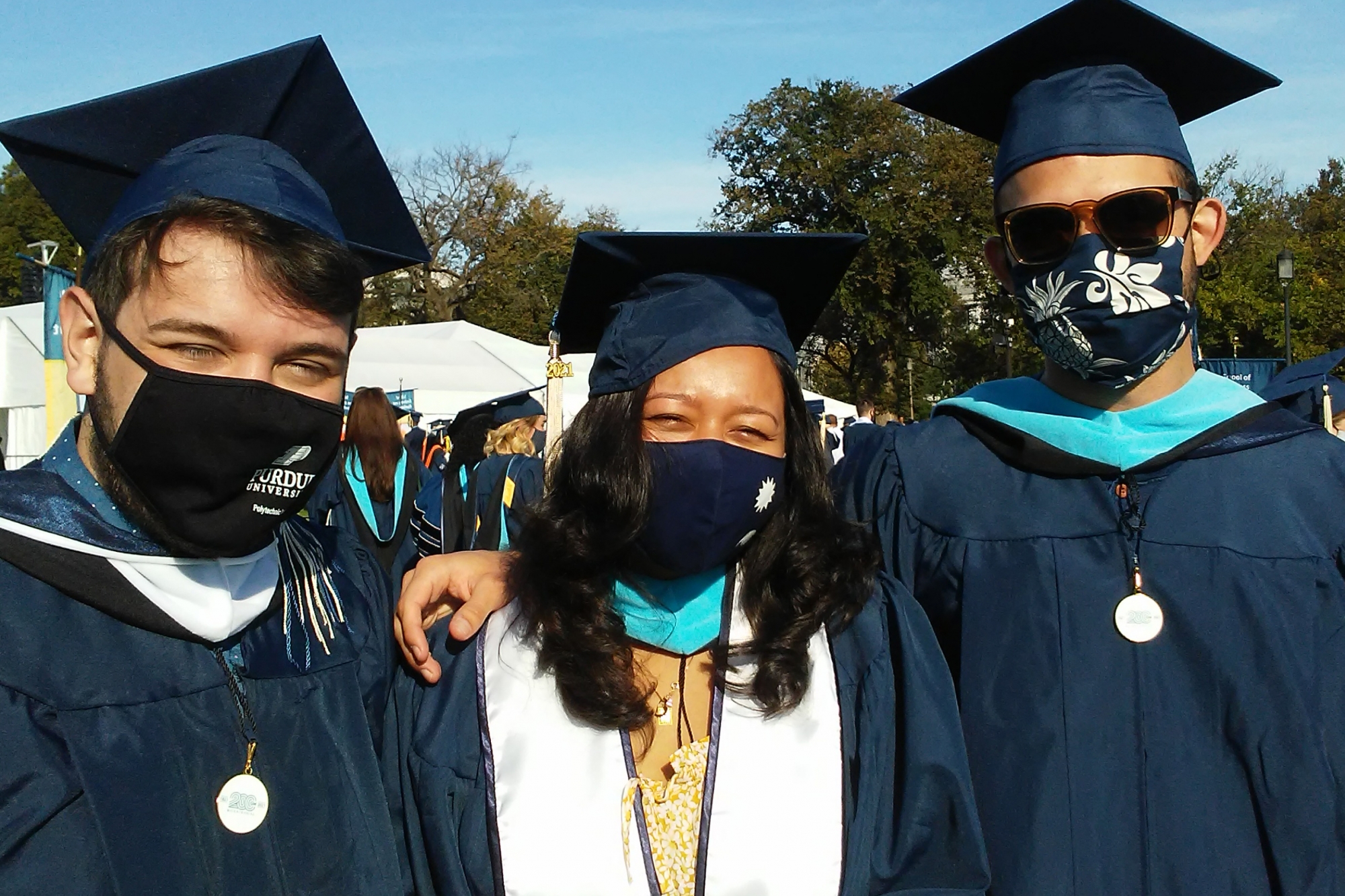 Daniel Kobren (l) and his fellow 2021 CPS graduates: Prakkiti Devja and Aaron Vogel. 
---
Daniel Kobren Class of 2021
College of Professional Studies
"All of my programs were online but I thought it was really cool how we were able to interact with our classmates while we were doing our Zoom classes. I have these classmates that I'm seeing for the first time [today]. I stayed in Indiana, and I got to meet people from across the country wherever they were staying and got to work with them and got to know them personally. It was really cool to be able to do that. It was important for us to connect while we were doing work if we ever needed support, they were only a text away. It was good having people to talk to. I felt like I was on an island off campus,  but it was good to know I wasn't alone."
---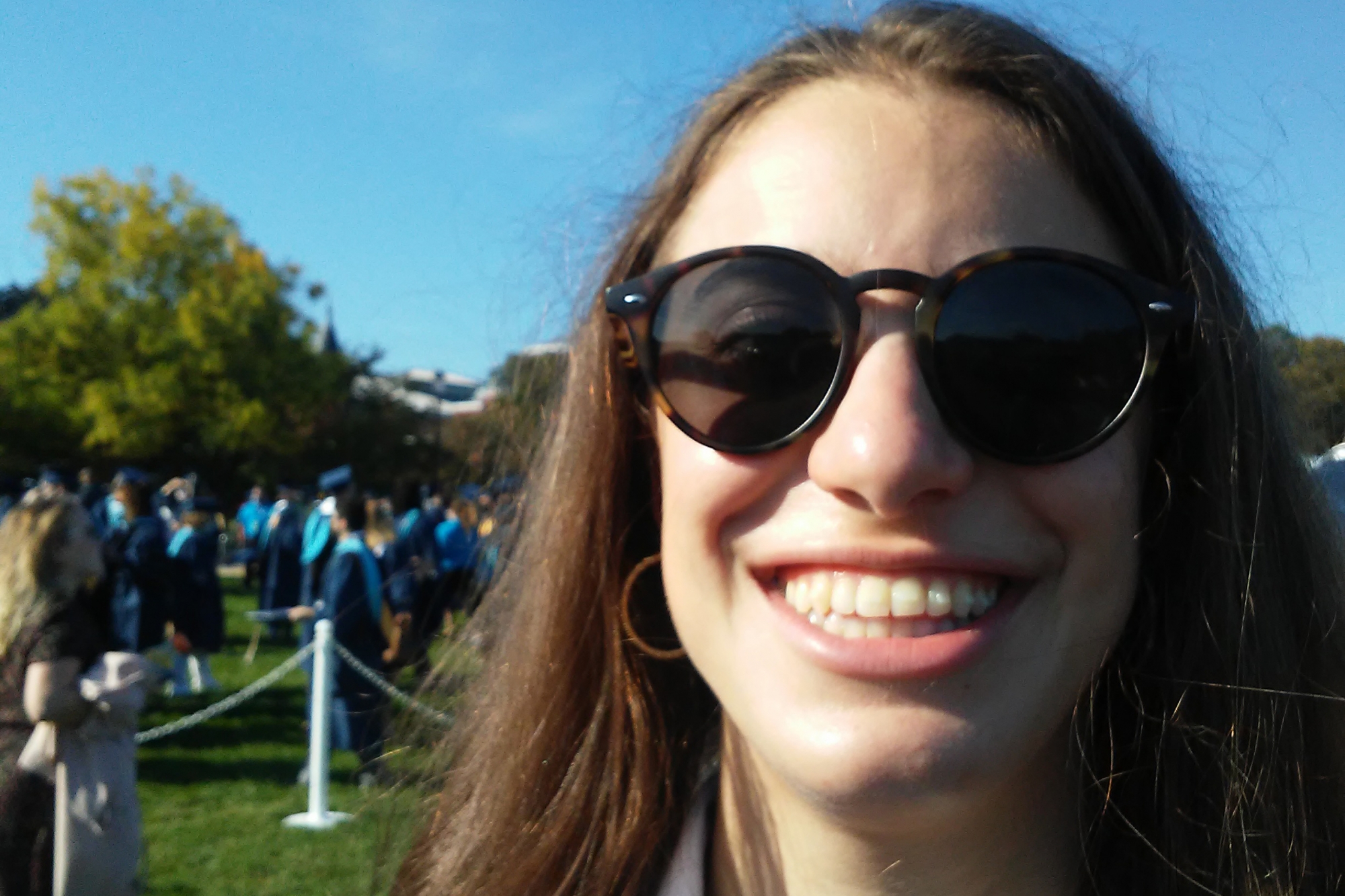 Elena Primes Class of 2020
School of Business
"For me the best part of the experience of being at GW is probably just all the great professors that we had. They were very hard working and helped us very much. I always liked business as a kid, and I thought there would be a lot of job opportunities. All of my friends are pretty much from GW. All of them have similar interests and are pretty driven."
---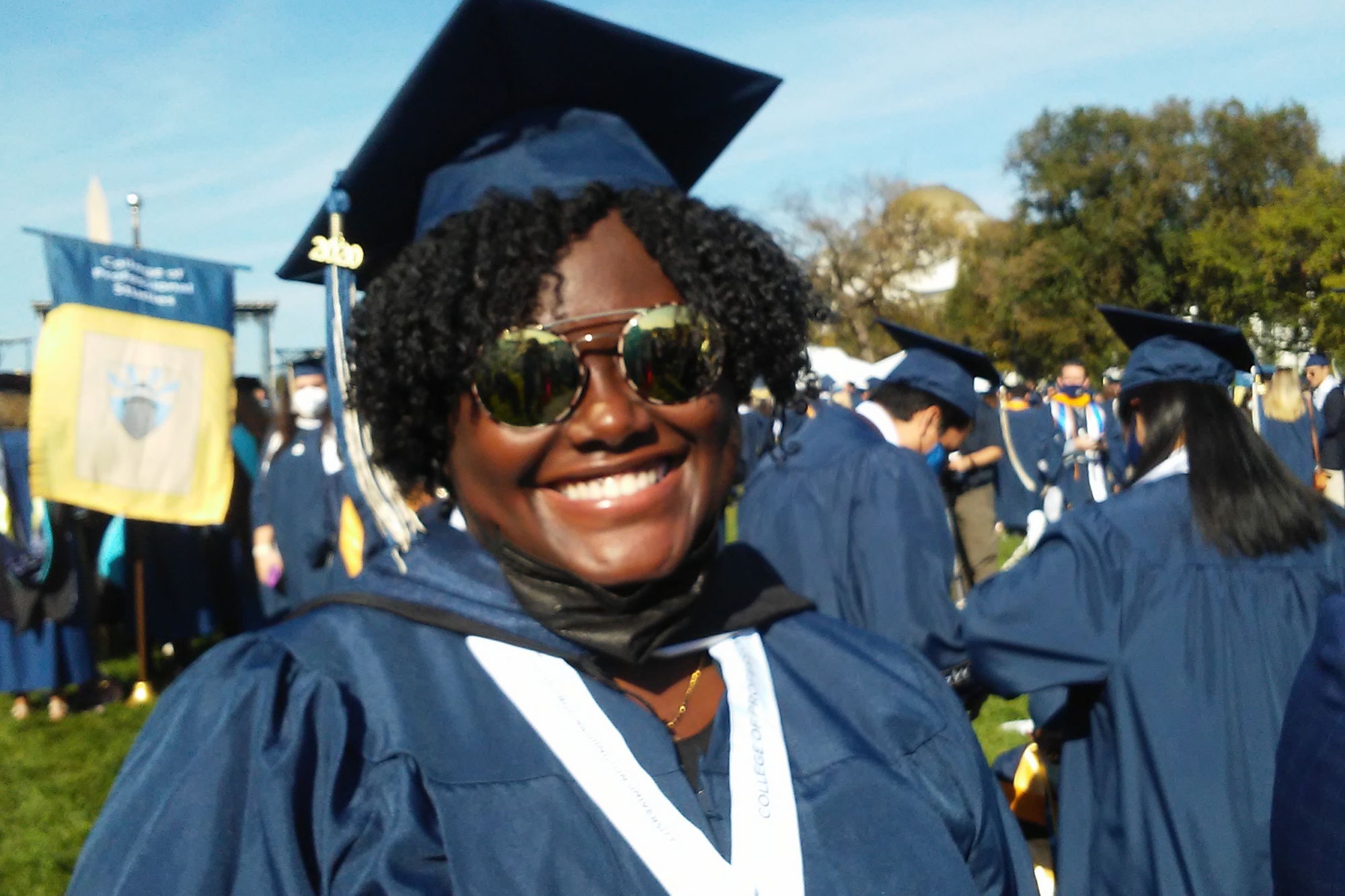 Kathiana Lejeune Class of 2020
Graduate School of Political Management
"Studying abroad in Beijing and Hong Kong through the GSPM global residency program. I was a global advocacy student. We went there and got to meet Xi Jinping, go to the Great Wall and just a great time to just still be in the classroom but also applying it, and being "in the room" as we like to say at GSPM. It was great.  I endured loss during the pandemic but as long as you keep your head on straight you can continue on. You do it for the ones you lost. My grandmother's family is originally from Haiti, and I'm living her wildest dream at this moment. She didn't get to go to school. To be able to do this is like a huge lift for my family."
---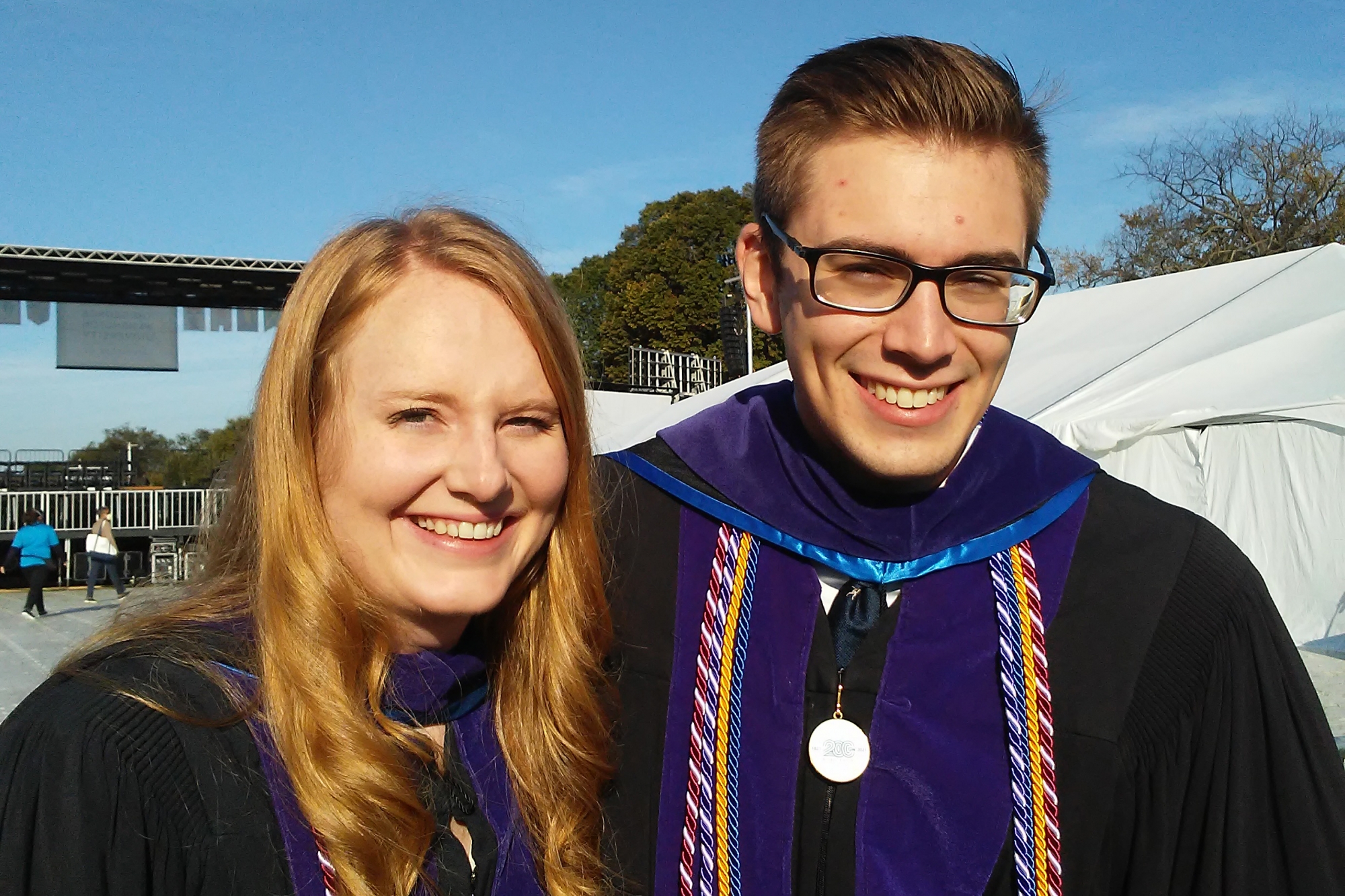 Ashlyn and Shayne Roberts Class of 2021
GW Law
"My wife, Ashlyn, and I both went through law school together. We were partners in the Moot Court competition, and I got to go all the way to the final round and winning in front of now Supreme Court Justice Barrett was a real highlight, a real moment. It was cool. We met in undergrad and came to law school. We got to end up at the same firm together, working for a judge on the 3rd circuit together, so it worked out pretty well."
Ashlyn
"The moot court competition and getting to do that with Shayne was my favorite moment. It was reflective of the opportunities that GW gives you. The professors invested in us and prepped us for the competition. We knew we wanted to go to law school together, so we applied to a lot of the same places and landed on GW because we wanted to stay in the city and take advantage of the opportunities that are here."
---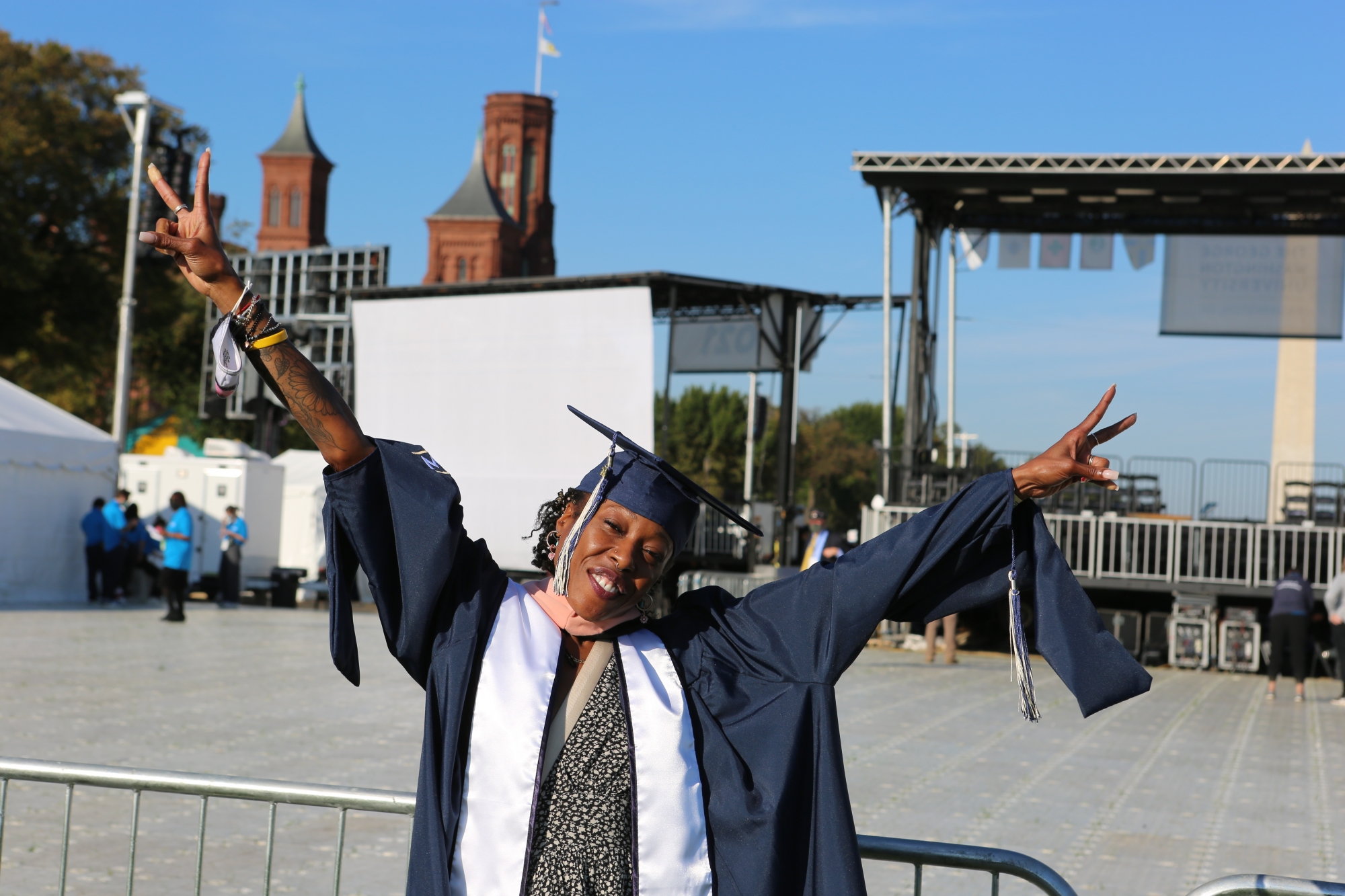 Tiwana Sears Class of 2020
Milken Institute School of Public Health
"One thing I want to say about GW is that it made me a completionist. I tackle some things in my life that I don't always complete. But I find with GW, especially with the [master's in public health] program, it was so interesting. It was the most fun ride from beginning to end. It was like a roller coaster. So, I was determined to complete this one thing in my life and complete it all the way. Even though I have other degrees, this is the very first time I'm wearing a cap and gown. This is the very first time I'm going to a graduation. This, of everything I've had, is my proudest degree to date yet. And I would say it's because of GW."
---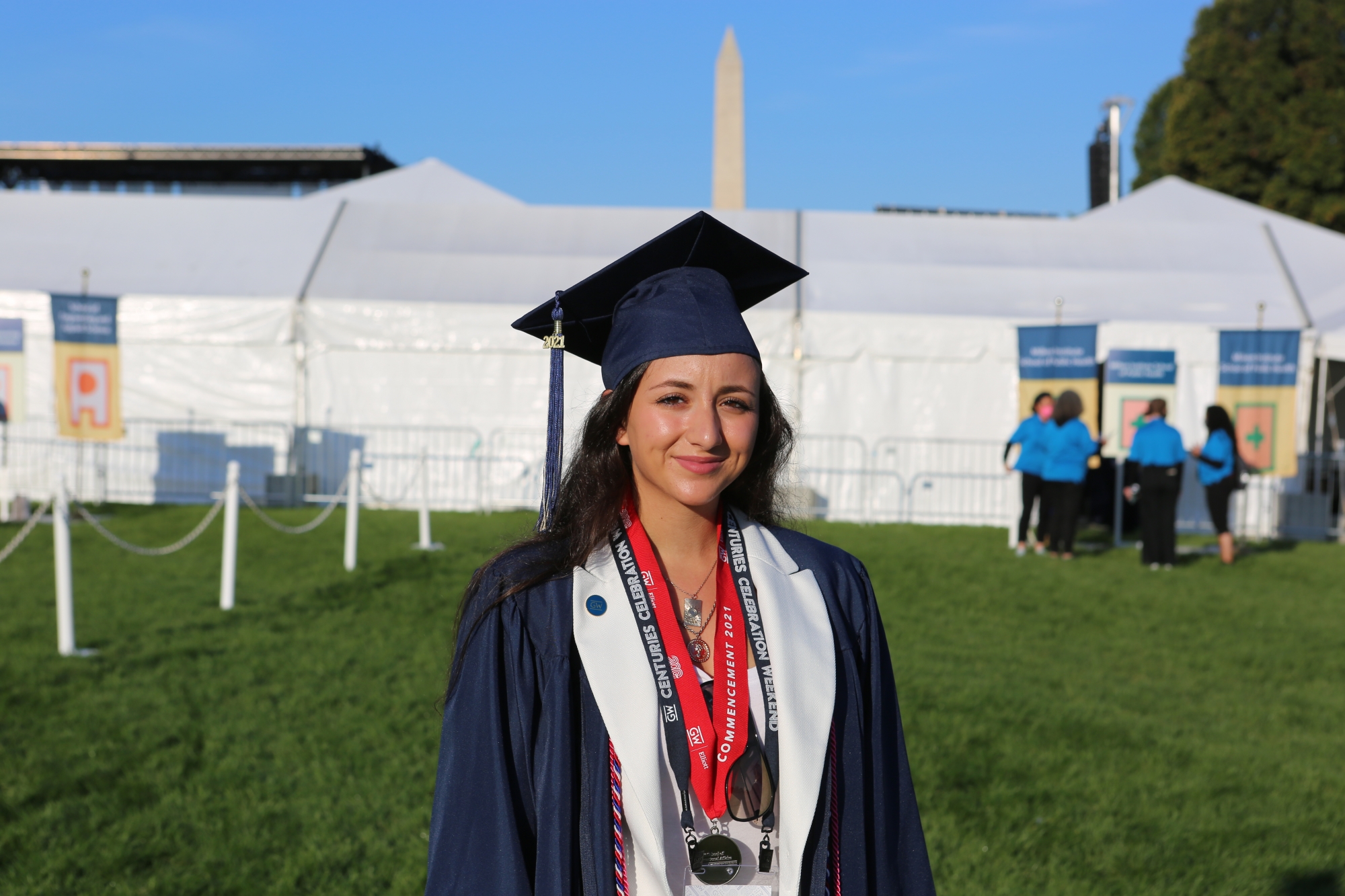 Kynda Alzoubi Class of 2021
Elliott School of International Affairs
"It's probably a collective, like networking and internship experience. I think that GW uniquely positioned us to have access to so many influential people and professors working in the federal government. Probably my favorite was working at the White House for a summer. And I think the connections at GW were the thing that kind of led me to that. I'm thankful for all that, and the people I met who were all super talented classmates."
---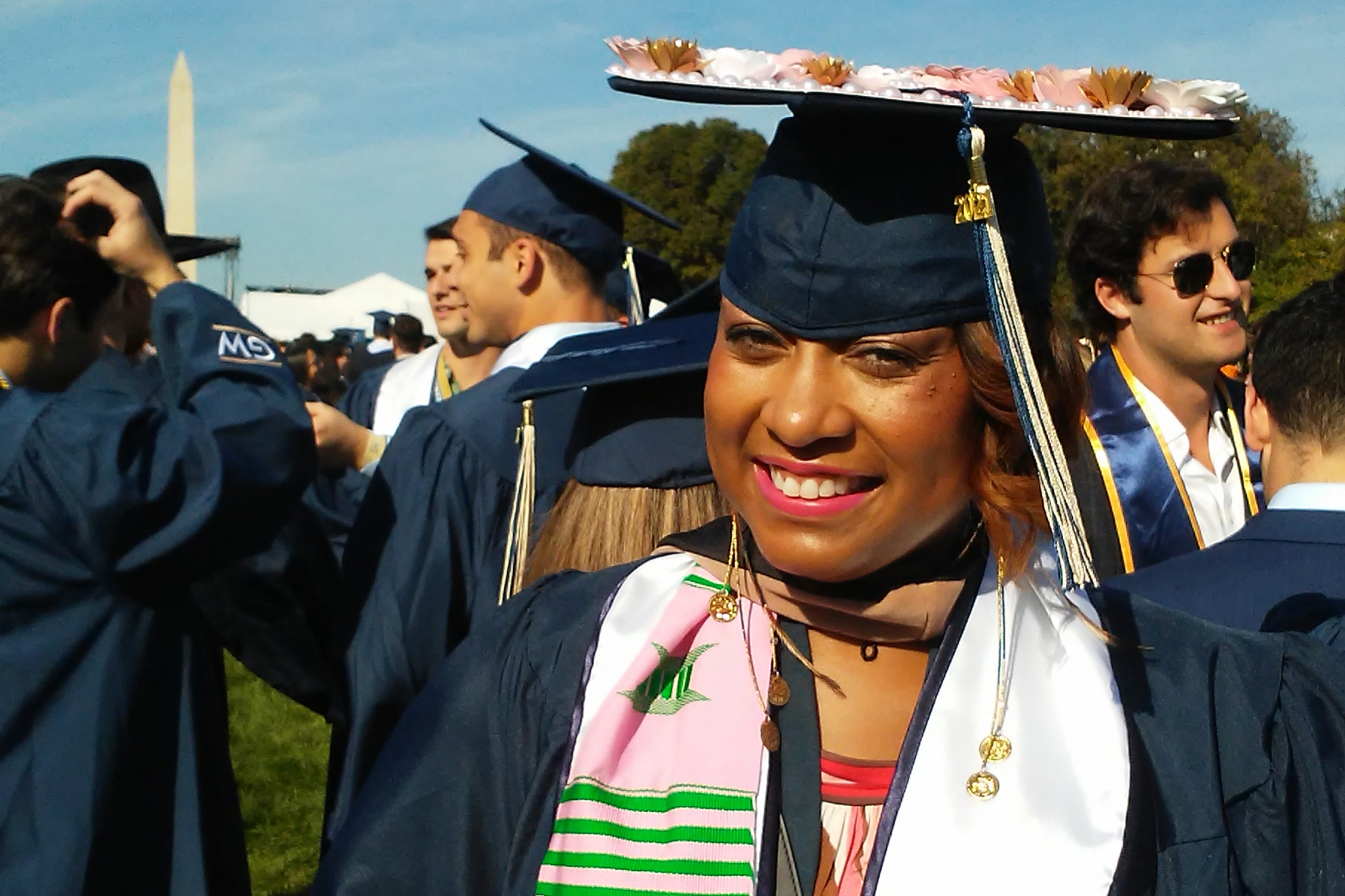 Lenita Gipson Class of 2020
School of Business
"I was remote, but it was a phenomenal experience. The professors were exceptional. They took the time out to explain things. When I started, we came to campus for orientation, the online MBA students and the professional MBA students, and we all kept in touch and tracked each other throughout the time we were here and helped each other with classes. My strategic management class was phenomenal. I just loved learning about strategic theories and applying the cases and working with my fellow classmates to come up with projects. Our final project we had to do a comparison of Dunkin Donuts and Starbucks and the different marketing strategies for both and taking a deep dive into their whole process. GW just does a good job of having you look at the whole process to put it all together and get out in the world and make your mark."
---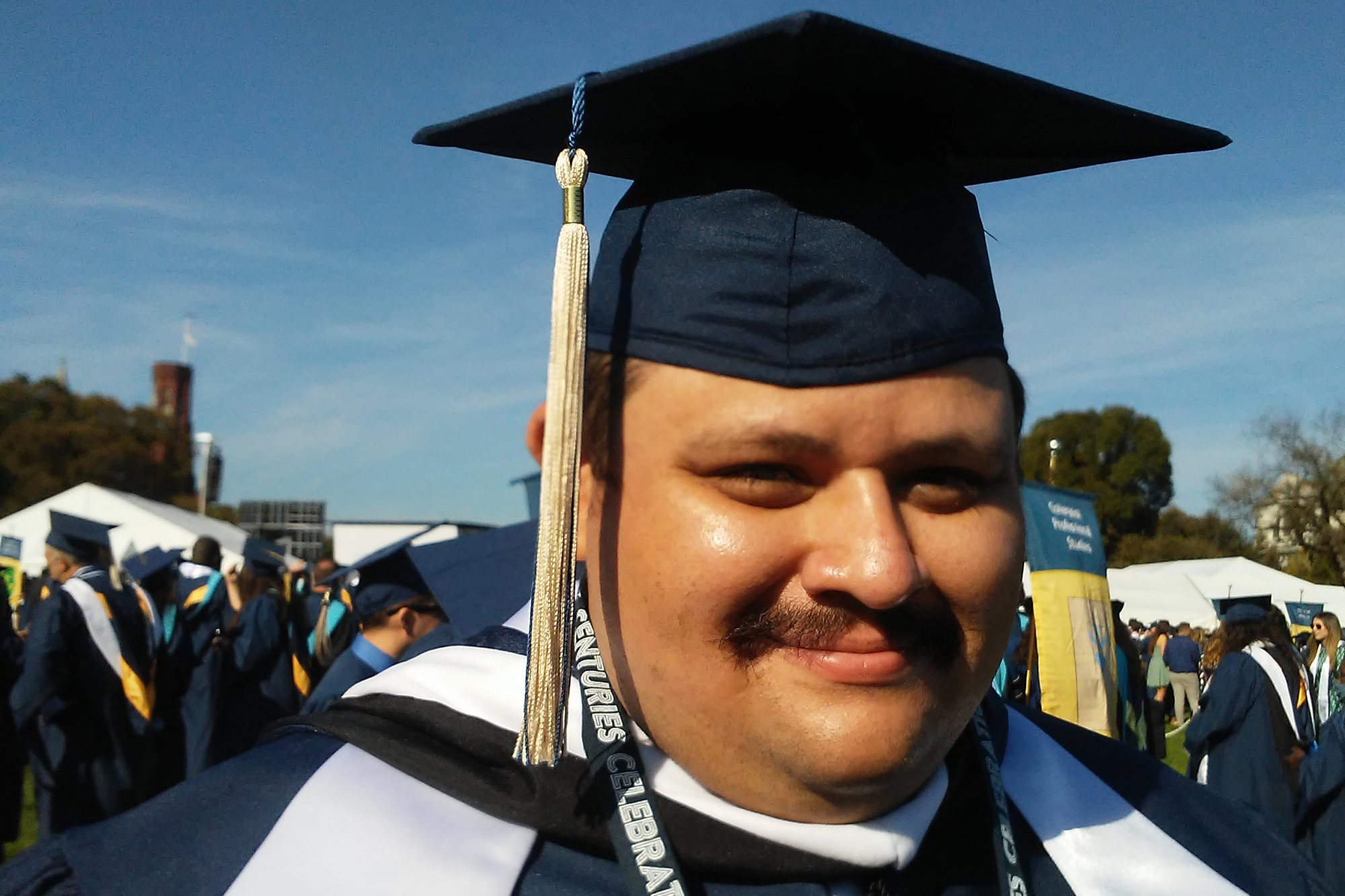 Sam LeDoux Class of 2020
Graduate School of Political Management
"I've worked on campaigns and politics for a long time, for example, Larry Hogan's campaign for governor in Maryland and in his administration while here at GW for three years. When you're working in politics, you always hear about D.C. I come from out West. I wanted to see if I could get in. I got in and I said, "Hey, I better take this opportunity." I came to D.C. and I worked and I learned at the same time, in Governor Larry Hogan's administration and for a D.C. public affairs firm. I learned all the ins and outs of the East Coast and a whole new pace of life."
---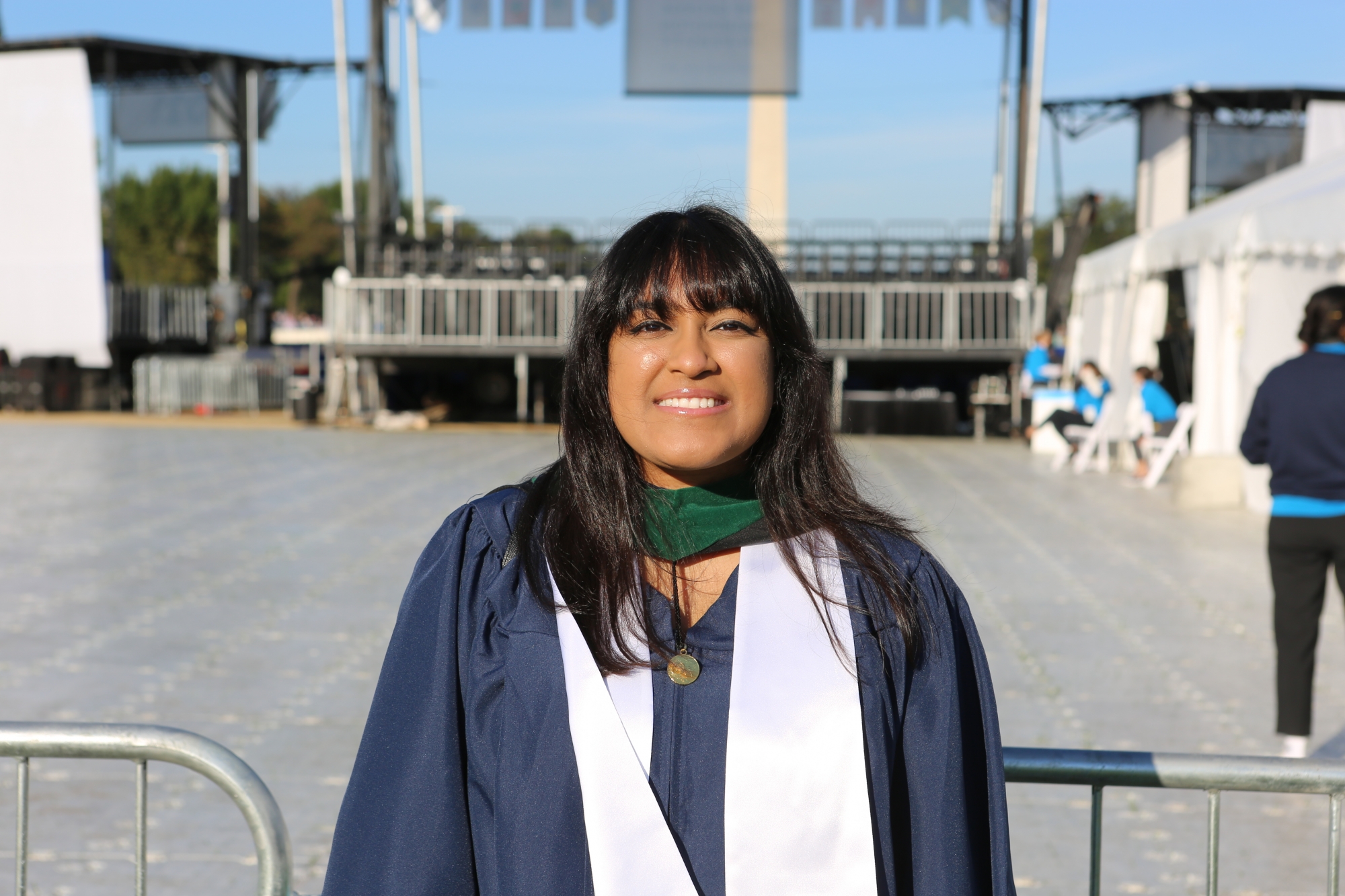 Pooja Alapaty Class of 2021
Milken Institute School of Public Health
"One of my earliest memories of my program is we did a scavenger hunt around campus to get us familiar with it, because none of us went to GW for undergrad. And my team won, so that's one of my earliest and best memories. It's also the first time I left home, so GW was a place where I got to find myself as an adult. It's also where I've started my career, so it's like the starting place for me.
---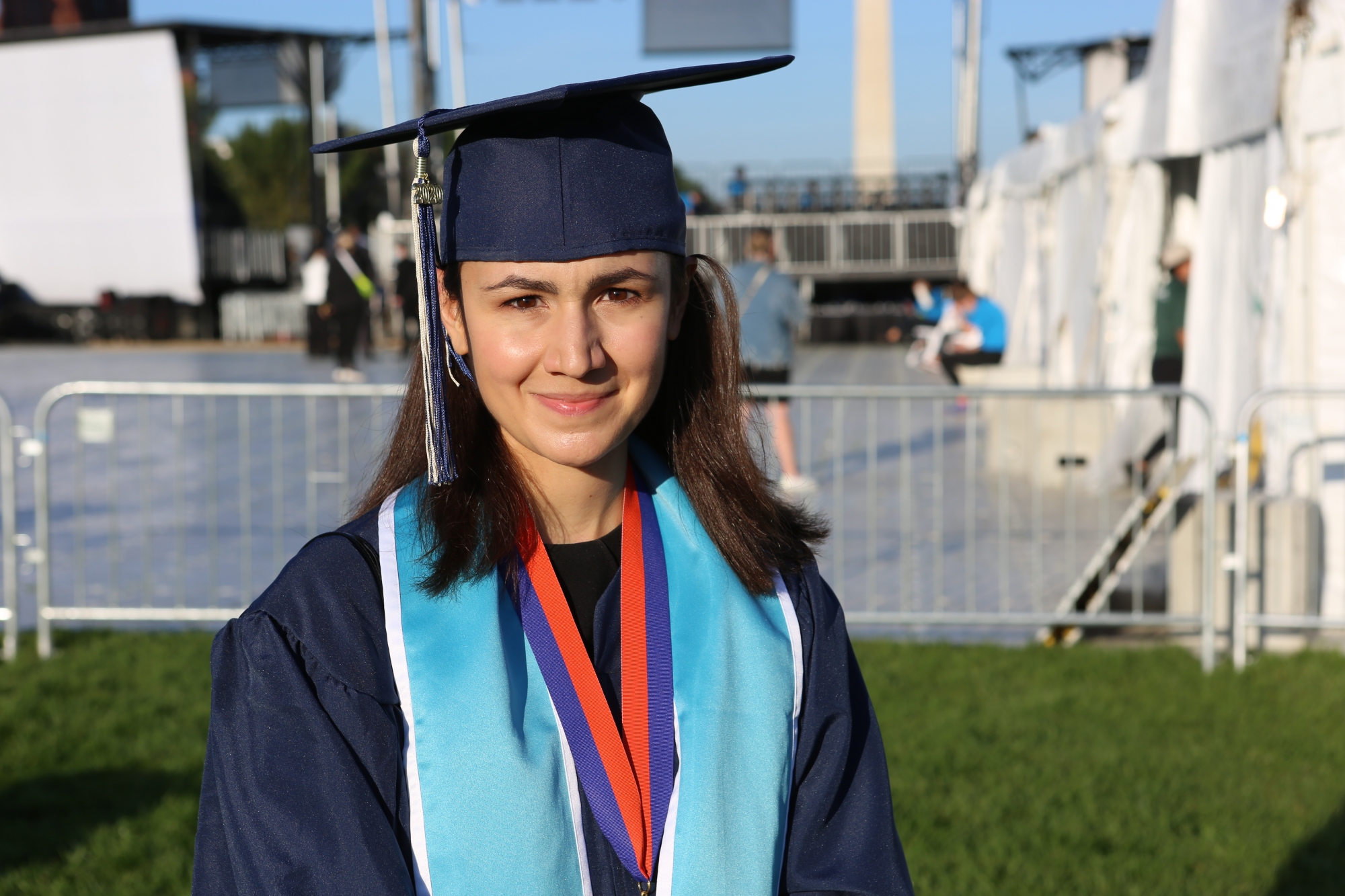 Samantha Paralikas Class of 2020 
School of Engineering and Applied Science
"The engineering building is one of the most beautiful buildings that we have, and I think something that I just will always cherish is the community of engineers that would always be meeting up to study there. There are some research labs, so I think just like the communal space being able to talk to people and getting that gorgeous window view. You get to see all of the Washington Monument as you're working."
---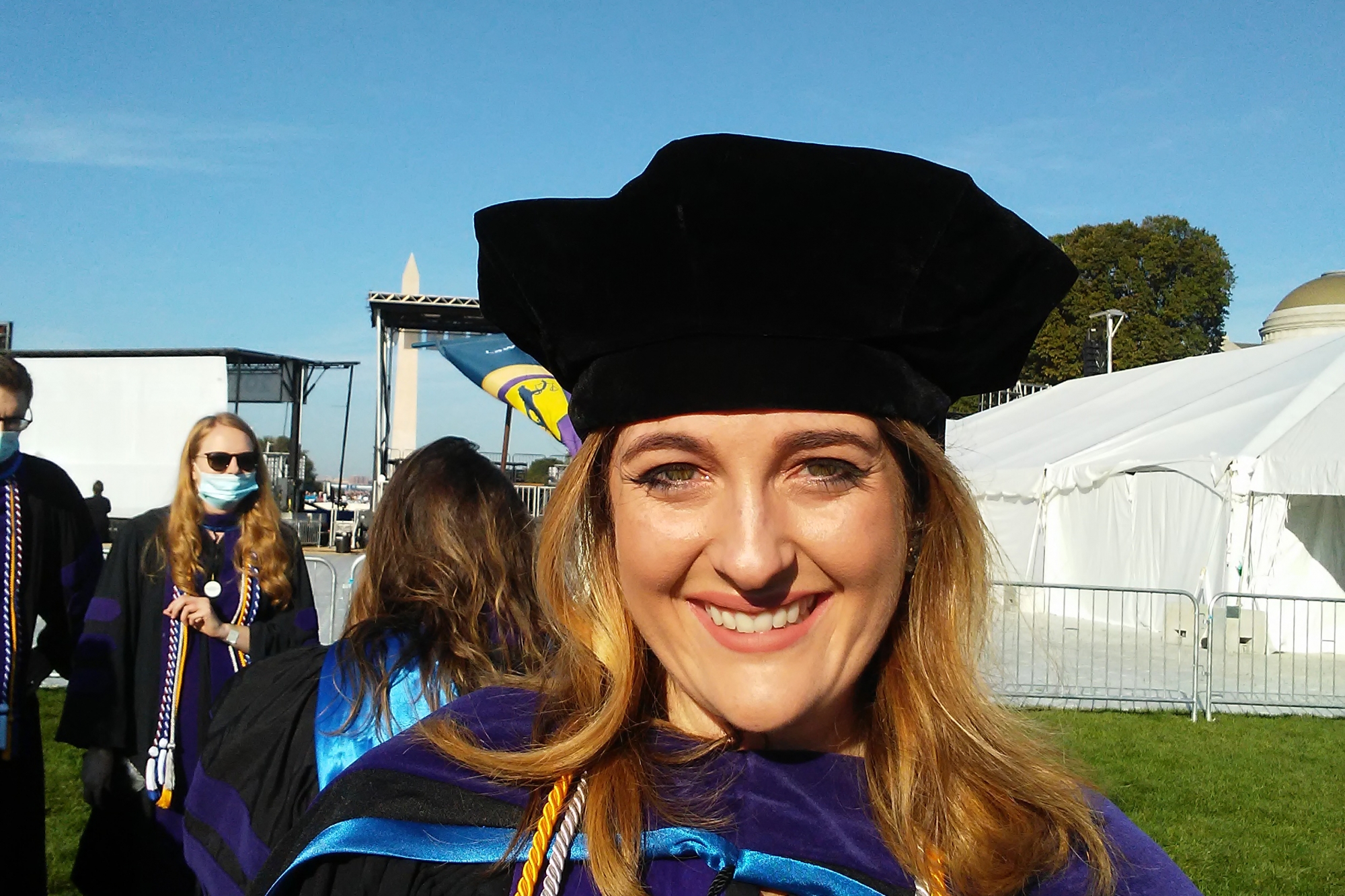 Devon Minnick Class of 2020
GW Law
"I met many of my closest friends at GW Law. A bunch of us live in the District of Columbia and we are all working. I met a great group of people who I think will be my friends forever.  Meeting a bunch of people who shared the same interests in law. I graduated from GW undergrad as a public health major and through taking public health policy class realized I wanted to become a lawyer to practice in that space."
---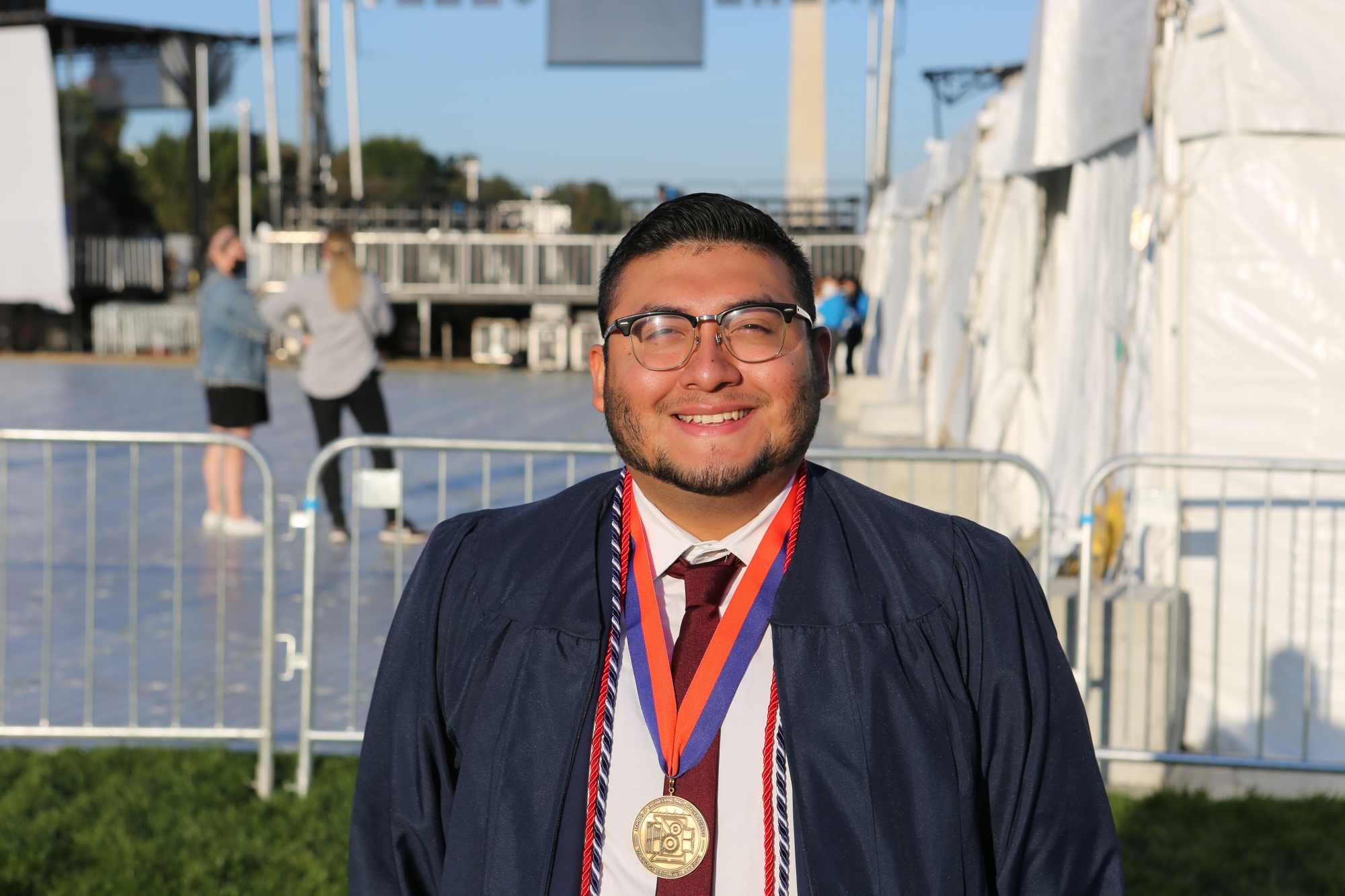 Mitchell Santos Class of 2021
School of Engineering and Applied Science
"My favorite GW moment was the late nights I would spend with my friends studying. It was a pretty great experience just bouncing ideas off of each other and building those relationships, not just first year here but forever. I still talk to them, and we are reuniting. I also really liked having the professors here be very knowledgeable and having them being there to help us. Specifically, Professor Murray Snyder. He was pretty good. I liked him a lot. Very knowledgeable, and any questions you had for him, he'd go up and answer them for you. And he was a very honest person, so if you needed an honest opinion on something or just someone to help guide you in the right direction, I knew he was someone I could go to."
---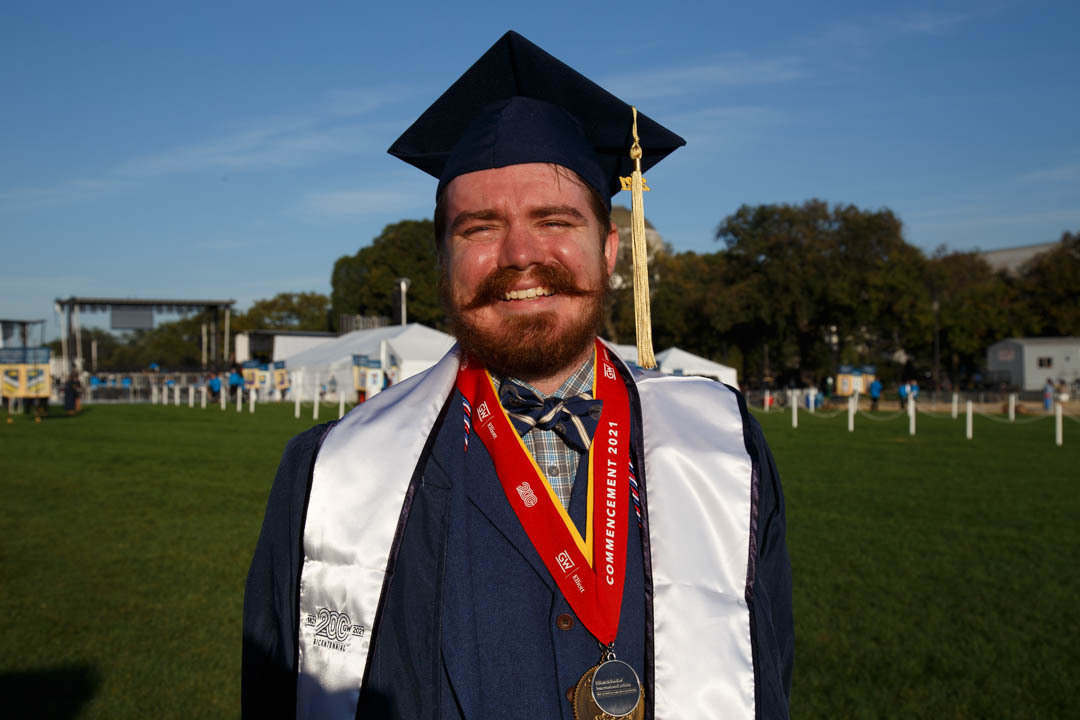 Kyle Nichols Class of 2021
Elliott School of International Affairs and Columbian College of Arts and Sciences
"I had a history professor I really admire. We often had lunch together during her office hours, and this last year she actually asked me to look at her book manuscript and give her my thoughts. I was really honored that a professor thought that I was worthy of looking at something as important as her book. It hasn't been published yet. It's about the English colonial empire prior to British unification—the Cromwellian period and the period immediately following. Her manuscript was incredibly well-written. She's brilliant, and I was really overjoyed that she asked my opinion on the events she was writing about. Discussing those events with her was an honor. It meant a great deal to me."
---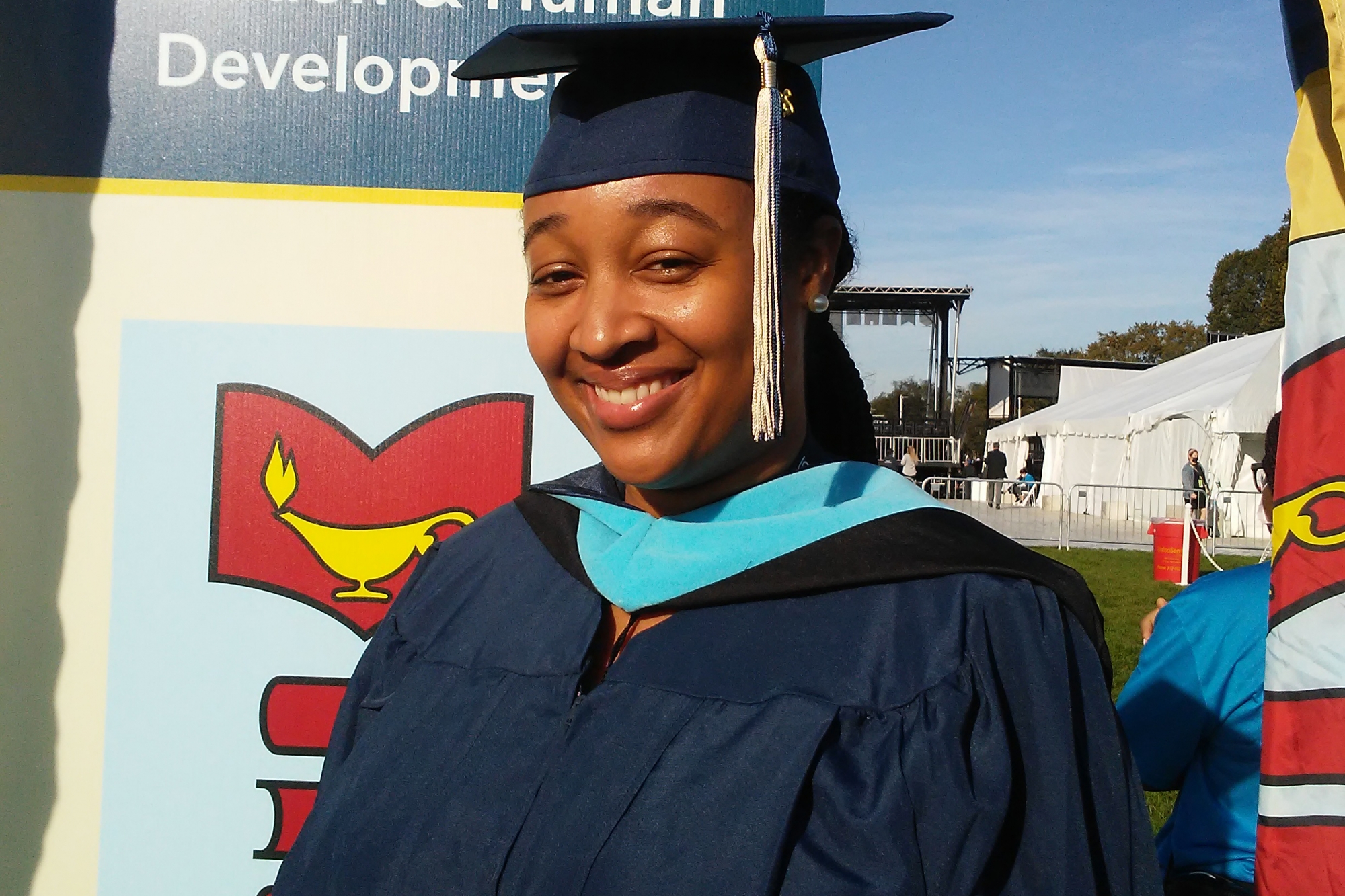 Brittany Johnson Class of 2020
Graduate School of Education and Human Development
"My greatest memory is the accessibility of my professors. They really helped me grow and use these tools toward my current position. From this program, my classmates are also colleagues that I've continued to keep in contact with. We watched each other grow and get jobs along the way. Navigating the process and my time here was actually good because we had a supportive team. It was a small program and all of our faculty members were truly accessible from our faculty director to all the professors we had. It was a great community."
---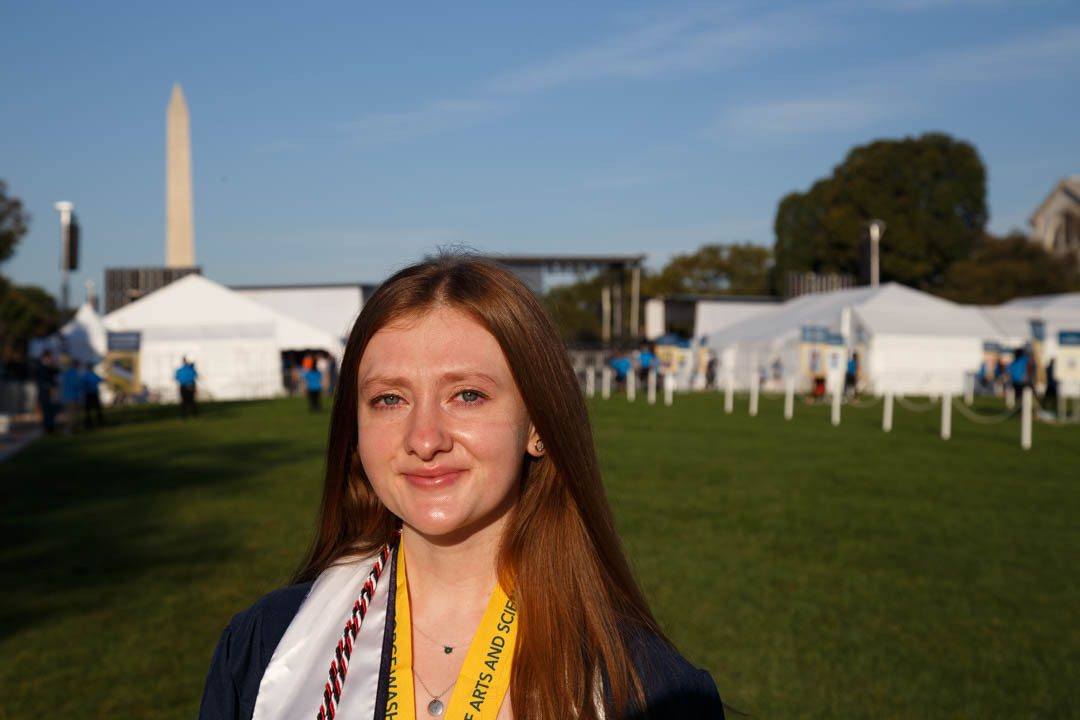 Jordan Dreisbach Class of 2021
Columbian College of Arts and Sciences
"Even though it wasn't as cool as this one, our virtual graduation was still really fun! My roommates and I came down to the National Mall and had our own little graduation celebration. Even though our senior year wasn't what I thought it was going to be because of COVID, it was still really fun to make those memories with friends in Washington, D.C.! My four roommates and I watched the screening of the virtual commencement ceremony, and then came down to the Mall and had champagne, and then it started to pour rain. We lucked out today that it's not raining. But the other ceremony was still really fun, even though we got soaking wet on the way home!"
---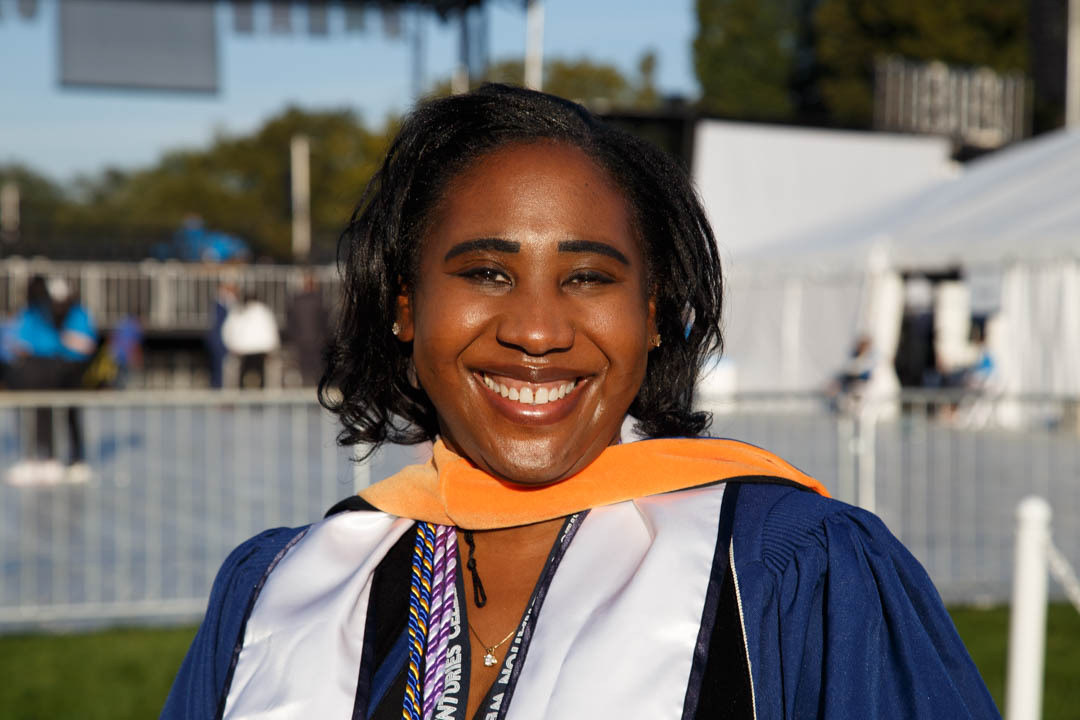 Ava Williams Class of 2021
School of Nursing
"My best memory was when we had to come to campus and got the chance to interact with classmates. My doctoral program was pretty much online. As part of my nurse practitioner program, we had an opportunity to engage with other classmates and rotate through our clinical check-offs. They check you off for clinicals before you move to the next portion of your program. We all had a shared experience being online together, so having the opportunity to engage with one another in person was great. You miss that when you're not in a classroom setting. That was my favorite GW moment. But it was an amazing experience being here at GW. I encourage other students to pursue a doctorate here because it's a phenomenal experience. And now I'm starting a postdoctoral fellowship here at GW!"
---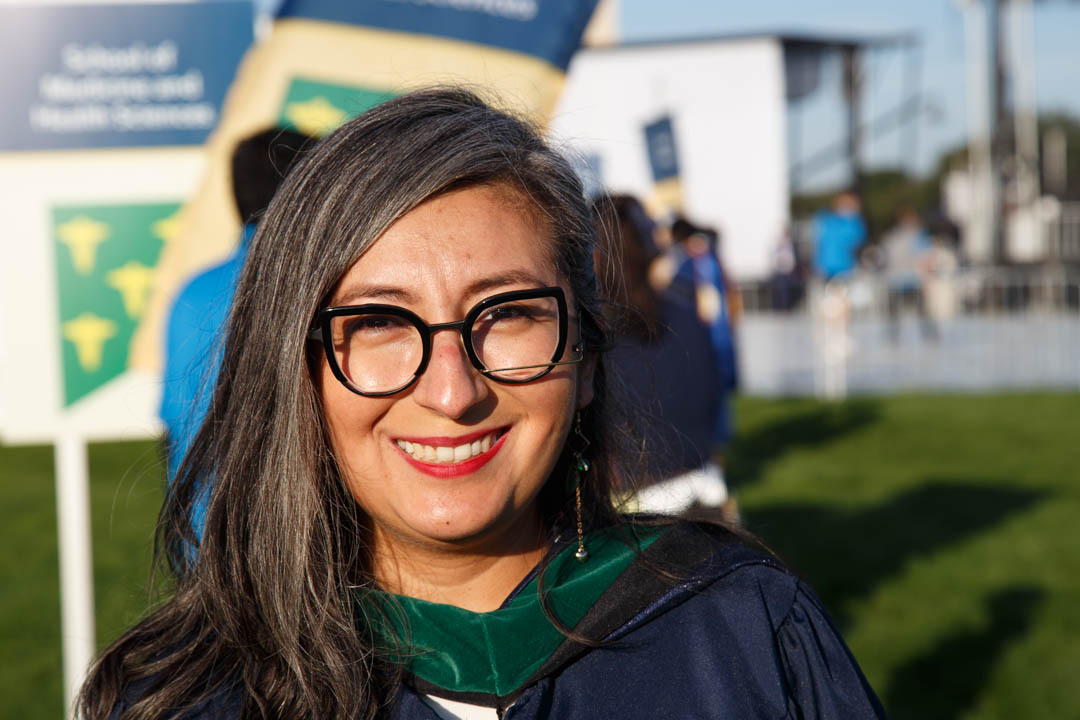 Elizabeth Montalvo Class of 2020
School of Medicine and Health Sciences
"I wrapped up my last class as COVID was starting. I was an online degree student, and I found that the community that was created through the online degree program was phenomenal, which was very surprising. The instructors, the staff, everyone was very friendly and super helpful. I created a couple of friendships online. It was surprising to find such a welcoming virtual community. I'm from Chicago, and I took classes from there. I'm just in Washington, D.C., for graduation. I'm sad that this is my first time visiting the campus, but I think the university did a wonderful job. The celebration is a really great opportunity to see some of those people that I met online and connect with them in person and get to know the city."
---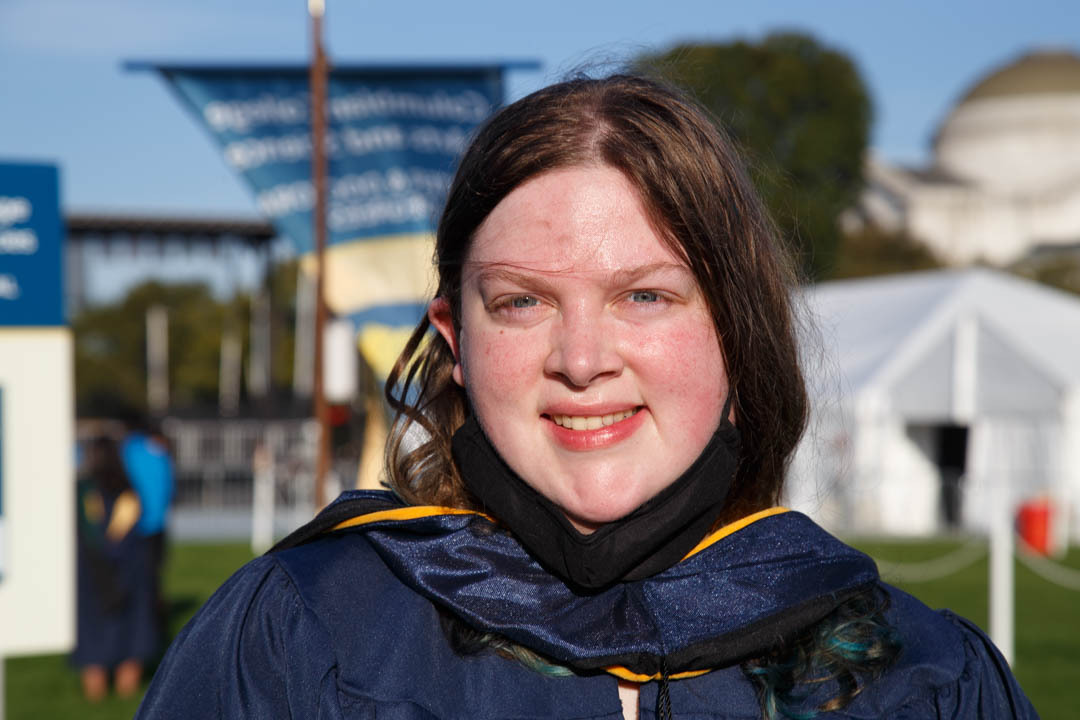 Genetta Young Class of 2021
Columbian College of Arts and Sciences
"I loved just being in the Washington, D.C., area and being able to experience all the history and the museums close by. I like the National Air and Space Museum. I like science, so I feel a general connection to the astronaut stuff and all the planes. I also like the National Museum of American History—I minored in history as an undergrad."
---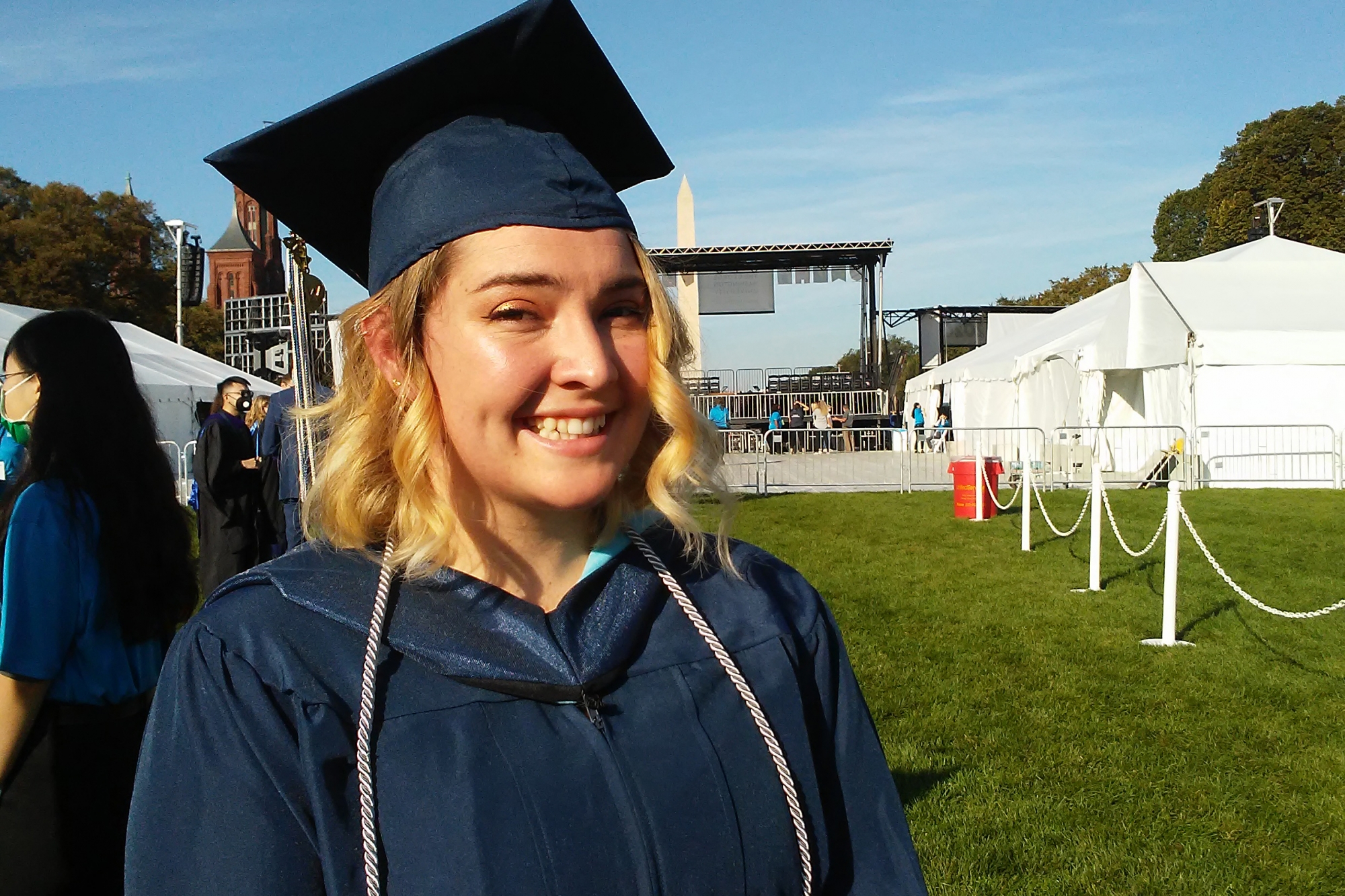 Maura White Class of 2021
Graduate School of Education and Human Development
"GW is set up in a unique community where we can make a real difference and talk about education in a community that is needing some support in public education because GSEHD is so supportive of the community and has so many relationships with the community. We are not just talking about it in theory. We're actually learning about things in the classroom and turning around and putting those things into practice in a way that helps people now rather than waiting until later."
---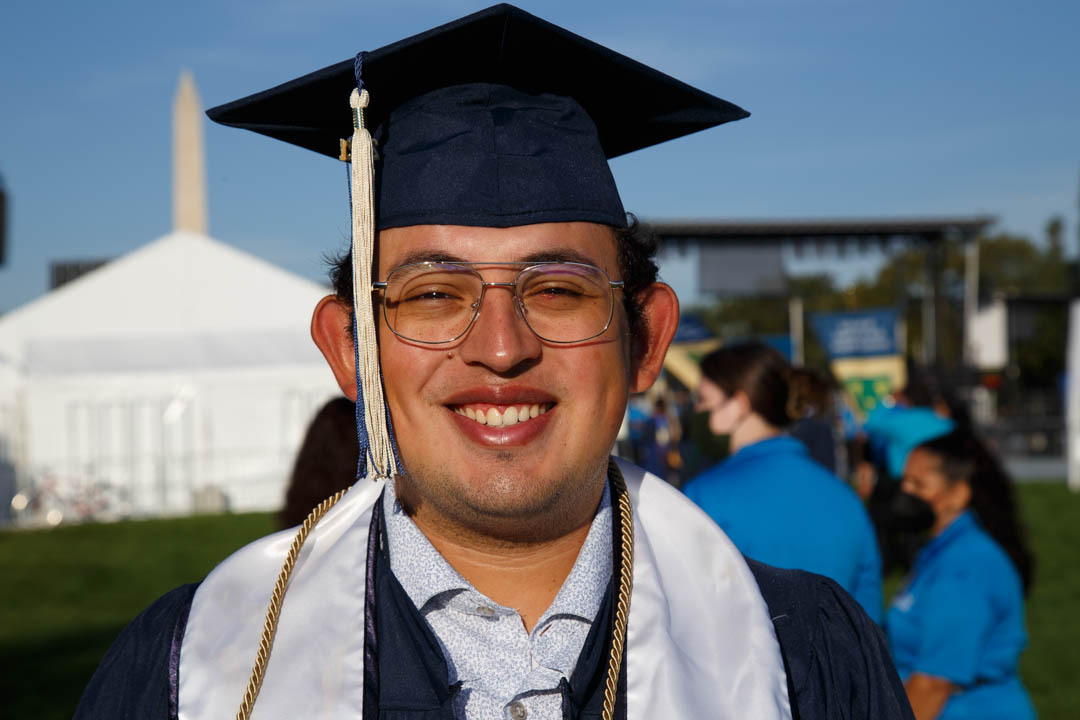 Jose Salazar Class of 2021
Columbian College of Arts and Sciences
"I worked for Michelle Obama during my freshman year. I got to meet her, and she gave me a job. It was a really incredible and amazing opportunity, and it was a lot of fun. I was part of the Cisneros Hispanic Leadership Institute through GW. The Institute works on getting us internships to make the Hispanic presence at GW more visible, and one of the opportunities was with Michelle Obama's foundation Better Make Room. We were doing a meet-and-greet with her where she was talking to everyone. All of the other Cisneros scholars that year were female. She was talking to them and calling them beautiful. I asked, 'Am I beautiful too?' She looked at me and said, 'Yes, you're beautiful too,' and gave me a hug. It was a little bit of a joke, and it was a little bold to ask her. But Michelle Obama called me beautiful."
---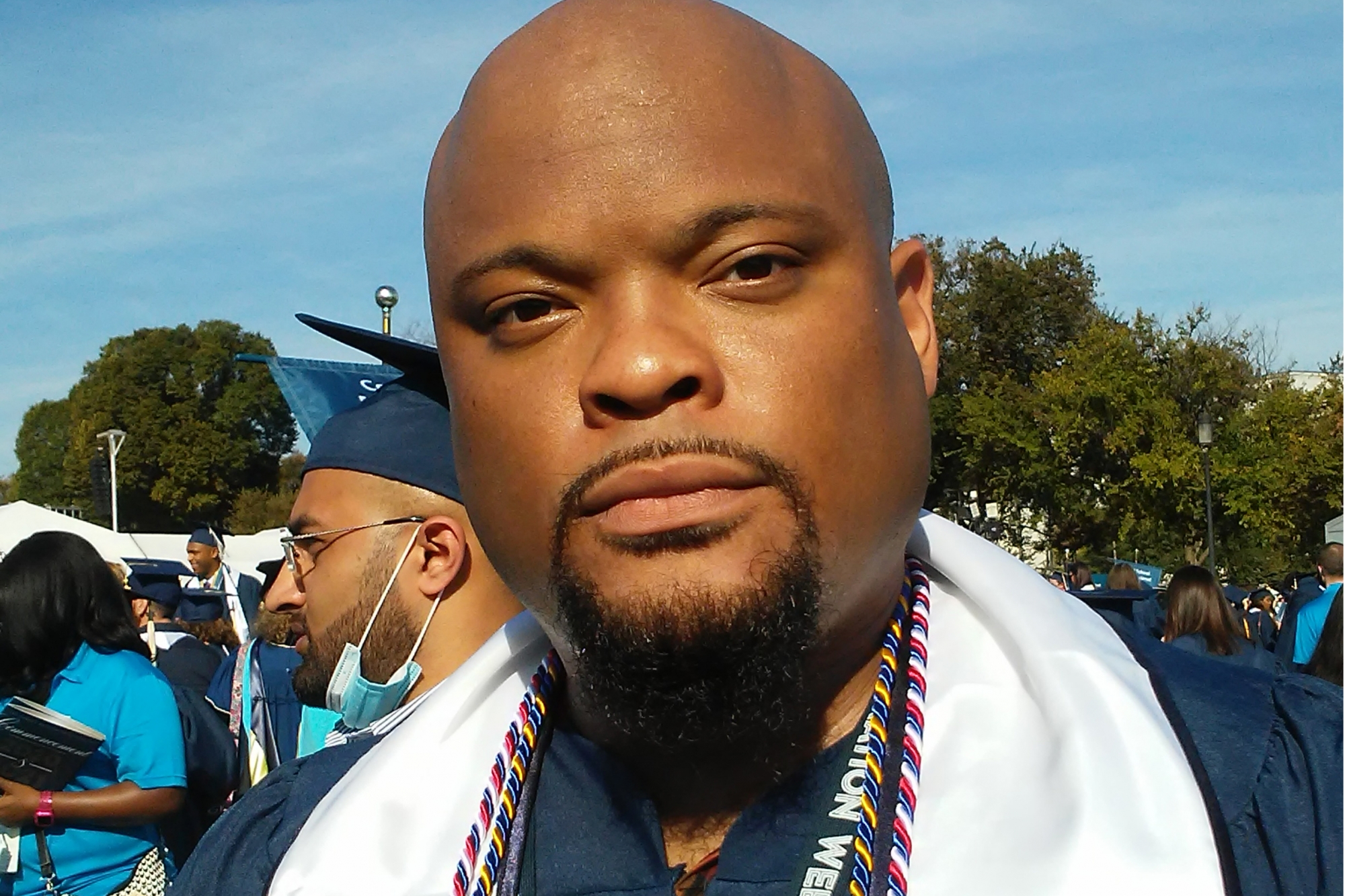 Farod Preston Class of 2020
College of Professional Studies
"The faculty and staff provided great instruction. I felt like I had everything I needed to be successful as I look forward to the workforce. If I had to do it again, I absolutely would. I've always been curious about cybersecurity and information security and I've always loved computers. I have a military background. I was in the Marines and a few years ago this whole cybersecurity was something I couldn't get out of my head. I said, why not me, why not now. Last semester, I did a forensics class, and we actually did a live forensics investigation in a simulated lab. It was very realistic to me. I had never done anything like that before in a school environment. I really appreciate the experience I had at George Washington."