The George Washington University Class of 2022 graduates will be recognized at Commencement on the National Mall on Sunday, May 15. Before their big day, GW Today chatted with a number of the upcoming graduates to share their favorite GW memories. This is the second installment of two in this series of interviews.
---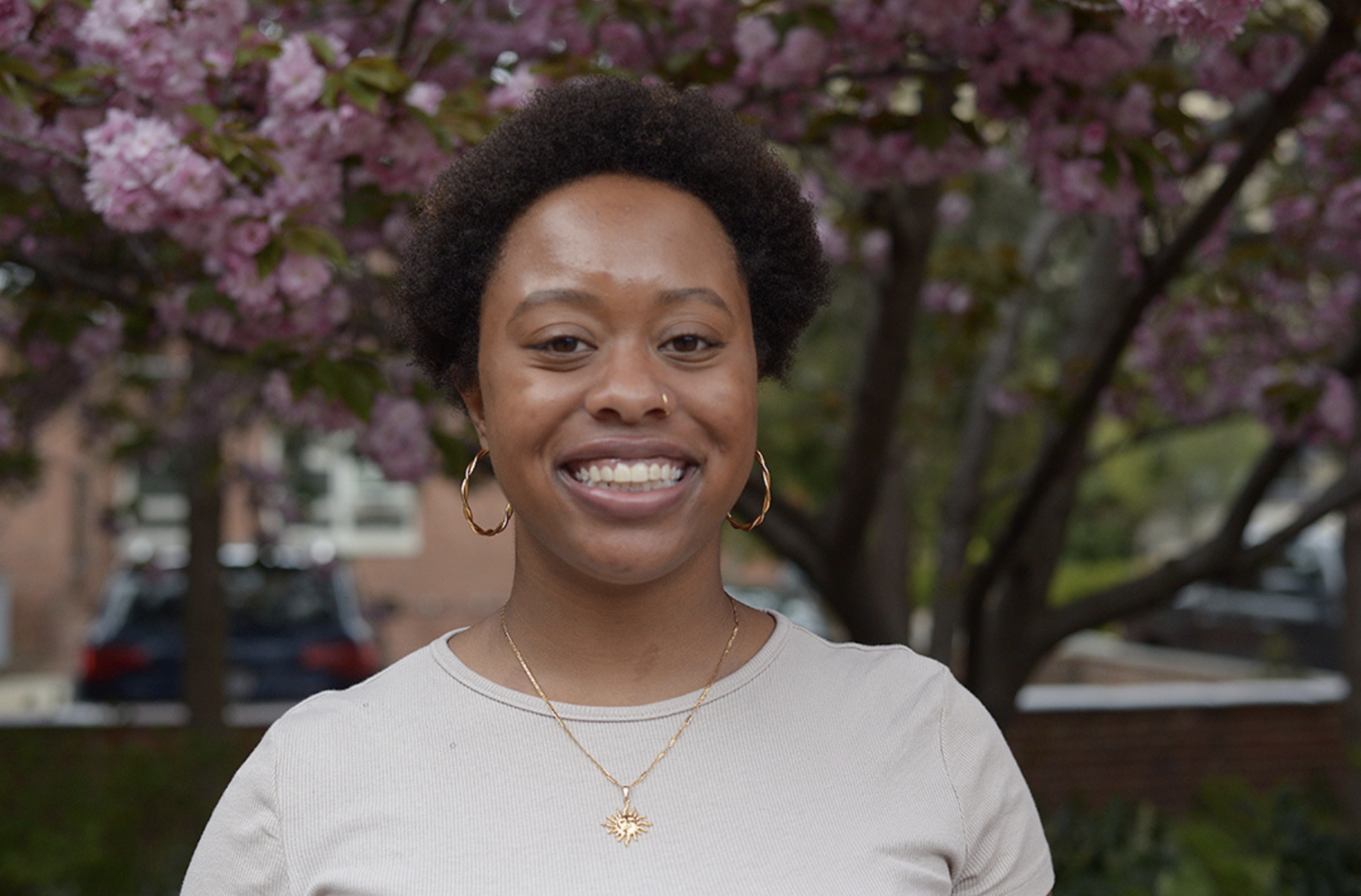 Jessica Baskerville, School of Media and Public Affairs
Major: Journalism and Mass Communication
"One of my (many) favorite GW memories is from my work with the GW Office of Undergraduate Admissions. I spent seven semesters working for the office in some capacity, and I was promoted to be a senior admissions fellow for my senior year. When I expressed interest in going into communications and public relations after graduation, my boss, Rebecca Durango, set me up to work with Mark DeLong to create scripts and pick employees for how-to videos for the admissions website. Using the skills that I've learned through the School of Media and Public Affairs and my internships, I was able to help with an office that I've spent so much time working for and making change with. Standing with the GW video team in Kogan Plaza as I watched my coworkers read my script solidified the pride and ownership that I established through working with the admissions office.
After graduation, I will remain in D.C., working as a media associate for the National Women's Law Center."
---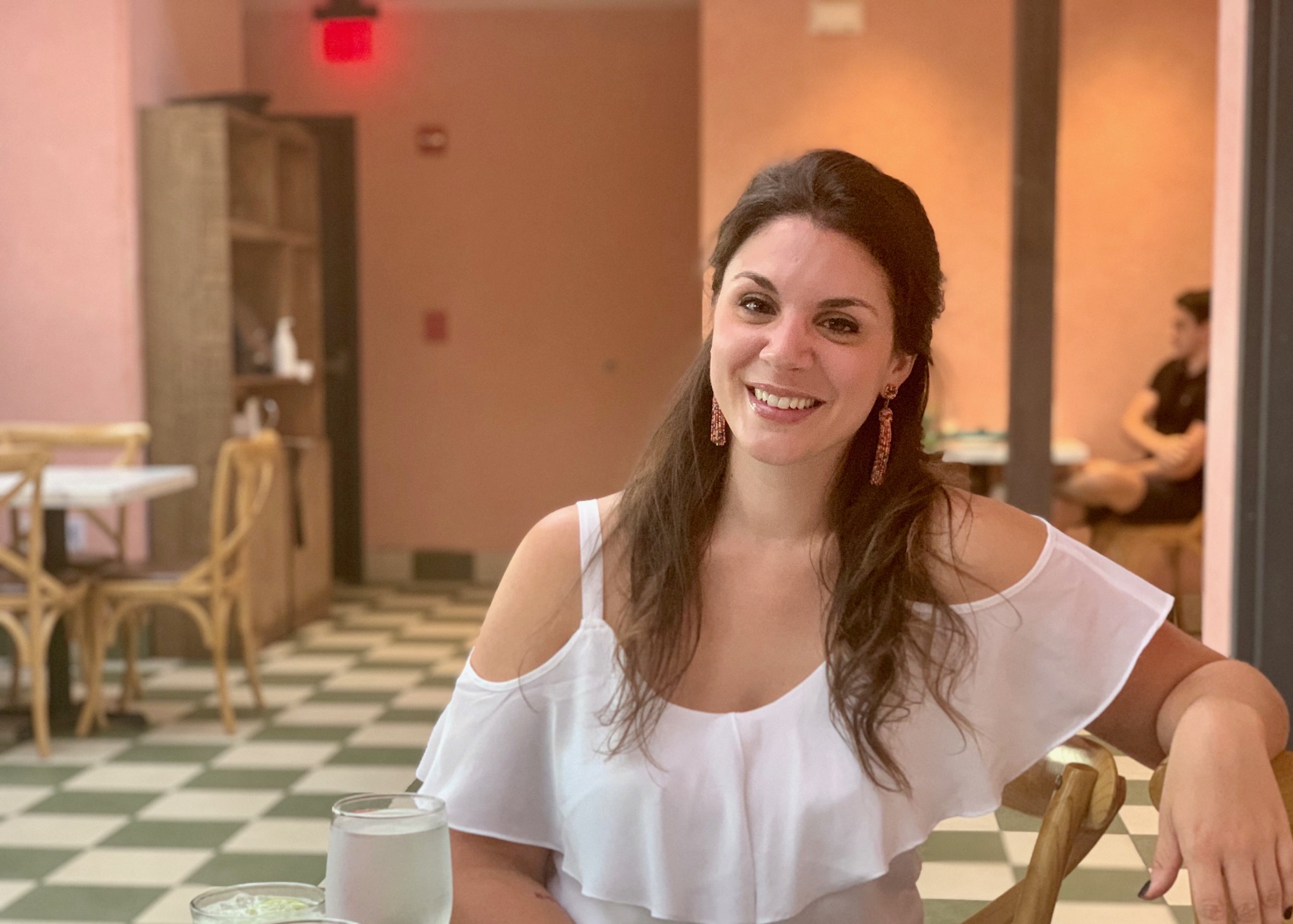 Kelly Loria, Graduate School of Education and Human Development
M.A. in Education and Human Development with a concentration in School Counseling
"My favorite GW memory is of the first in-person class we had at the start of the fall semester of 2021. We had only had online classes up until that point, but we had become close as a cohort and had gone through a lot together in that first year. Seeing my classmates in person after I previously had seen them only as a small box on Zoom was like being reunited with old friends—several of them were so much taller than I had imagined! With the excitement we all felt that day, you would have thought we hadn't seen each other in years. It felt so nice to share a physical learning environment. Learning from your couch is just not the same! Especially since we were studying counseling, relationships are crucial, and it was great to finally be able to solidify those relationships in person." 
---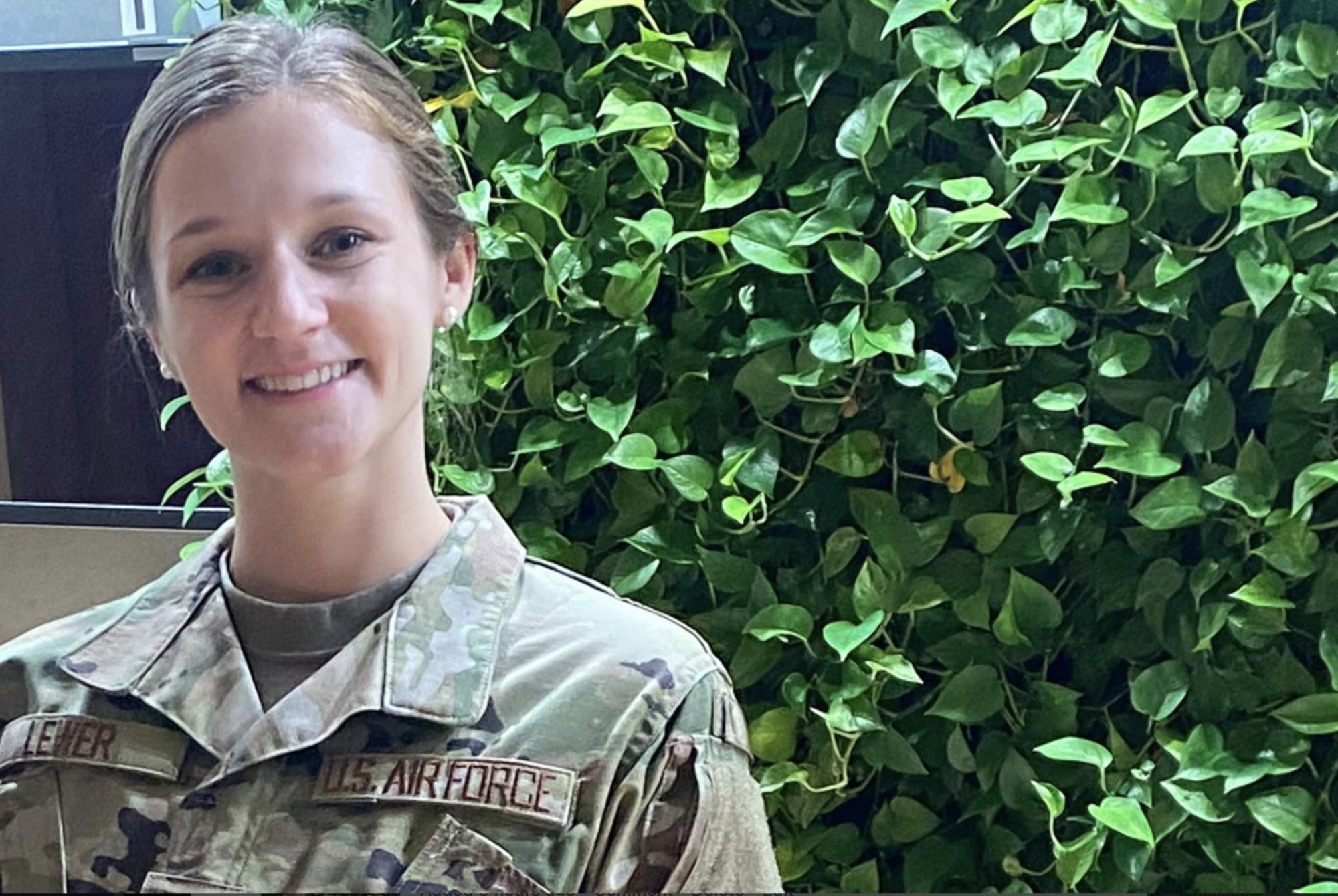 Jessica Lewer, Columbian College of Arts and Sciences
M.S. in Chemistry
"A special memory I experienced at GW was my promotion to captain in the U.S. Air Force. Most promotions in the services are accompanied by ceremonies, traditions and a unit of military members. But my promotion date fell right in the middle of my classes. I assumed I would simply not have a ceremony and just happily start my new rank on a random Wednesday. But friends from the Columbian College Chemistry Department held a non-traditional ceremony for me at Science and Engineering Hall. On short notice, a good friend and Air Force officer flew out to D.C. to perform my oath of office. My best friend in the program pinned on my new rank in front of a very supportive Chemistry Department audience. I was excited, proud and very thankful to share my Air Force traditions and celebrate this time in my life in our academic setting."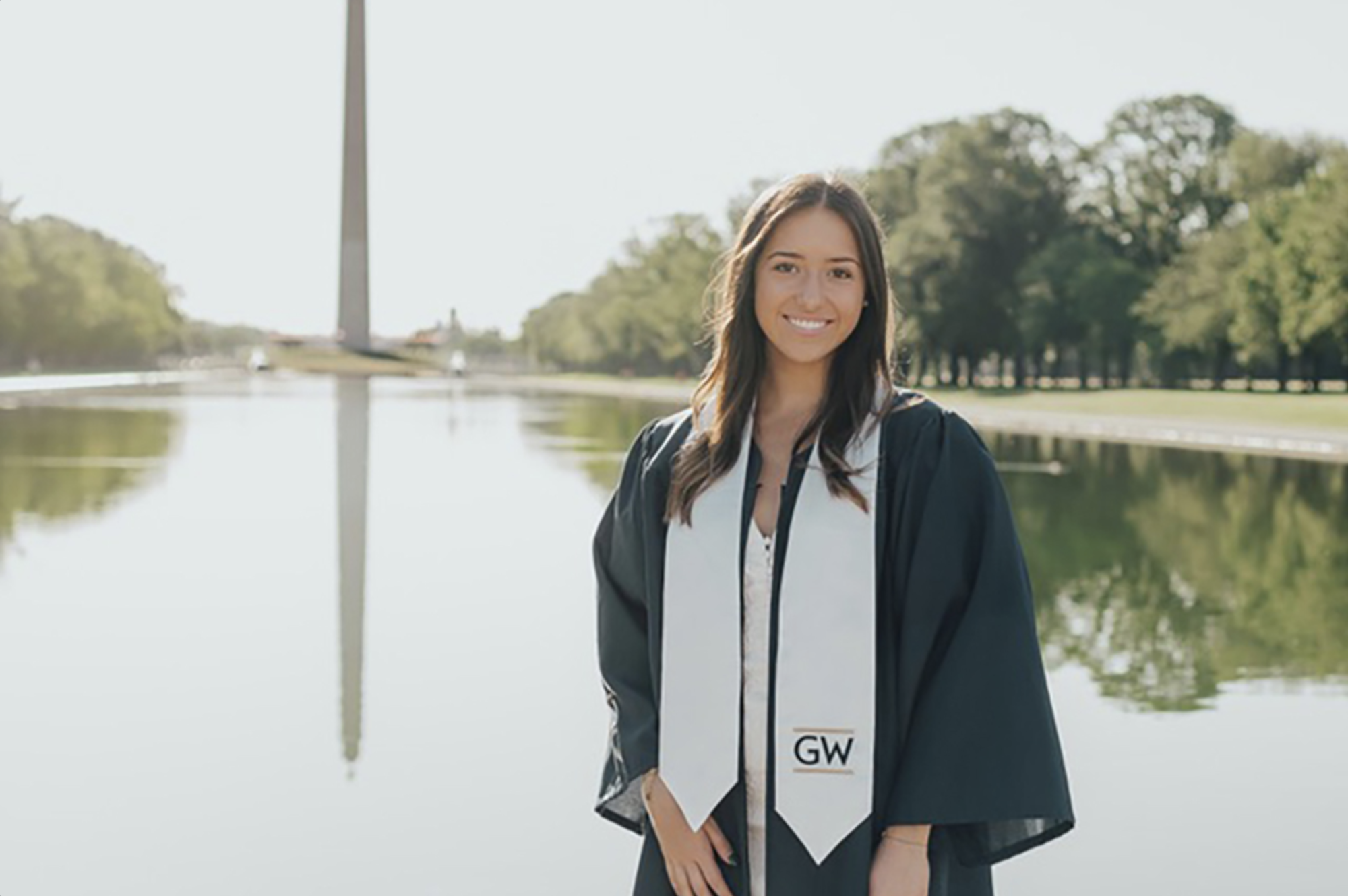 (Photo by Vitty Freitas)
Bronwen Pelish, Milken Institute School of Public Health
Master's of Public Health (B.S. in Public Health 2021)
"I was studying abroad in Amsterdam in March 2020 when the COVID-19 pandemic happened, and we were sent home. A group of us came back to D.C. during the summer of 2020, even though classes were online and the pandemic was still happening, I just had this group of people that made that time feel bearable. We didn't want to let the circumstances stop us from really chasing those only at GW moments. We were able to go to Black Lives Matter demonstrations, and we went to the White House when Joe Biden was elected, with masks, and had this makeshift celebration. My 'only at GW' moment was being able to still be in D.C. and take classes with my friends during that time.
I have accepted a federal management consulting role focused on the public health sector at Guidehouse Consulting."
---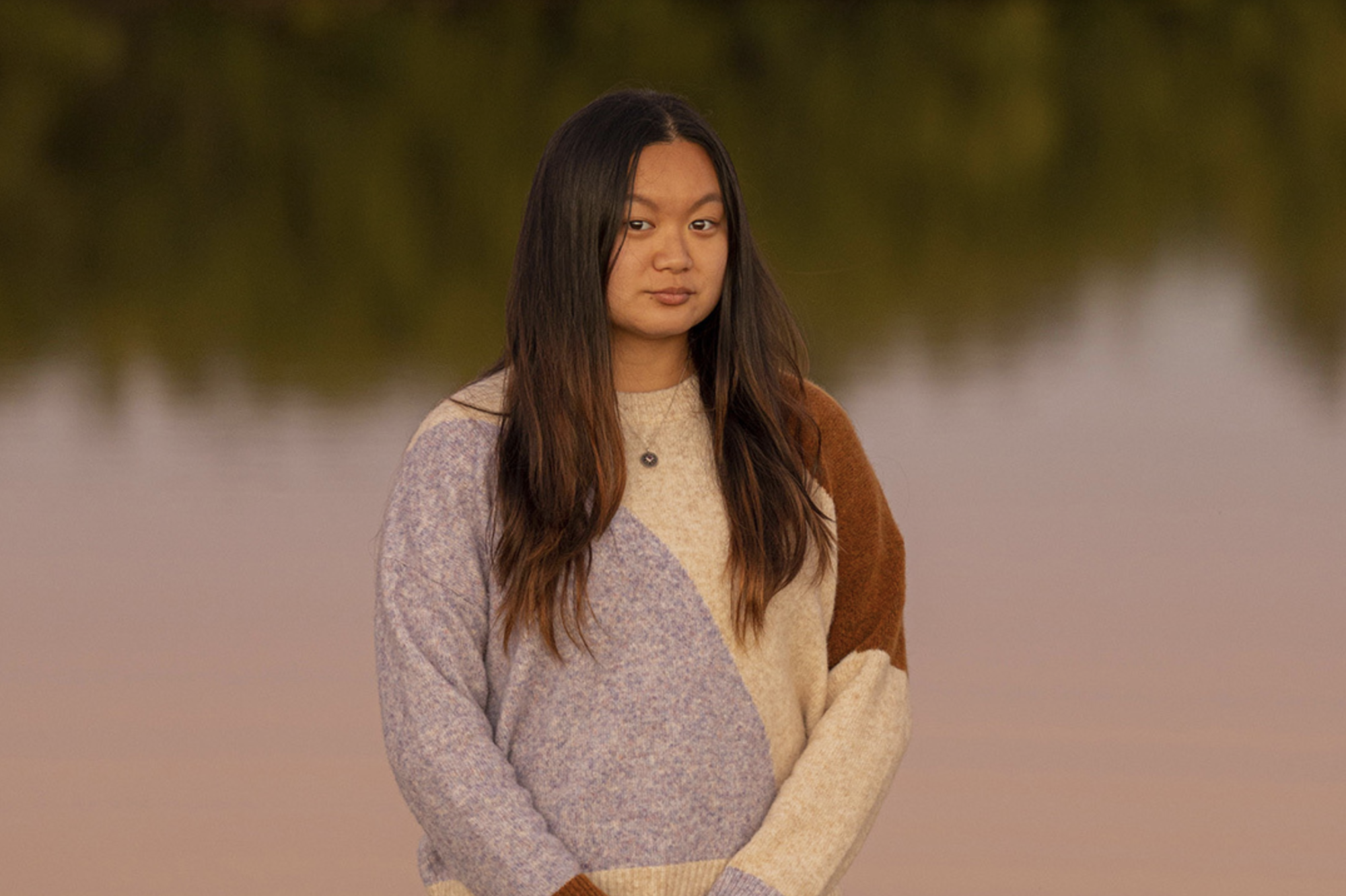 (Photo by Arielle Bader)
Sydney Walsh, Corcoran School of the Arts and Design
Major: Photojournalism
"My freshman year, Pete Souza—who was Barack Obama's White House photographer—came to speak to Corcoran students as an artist guest lecturer. Surprisingly not a lot of people were there, so we were able to ask him any questions we wanted. He didn't even have a presentation; he just sat there and talked with us. It was so cool to get to see who he was as a person and hear all the stories he had. I remember asking the reason he wanted to be a photographer in the first place, and his answer was something along the lines of when he went to the dark room, it felt like magic to him. He would put the prints in the developer and the image would appear and it felt like magic. That felt so true to me—there is definitely something magic about photography."
---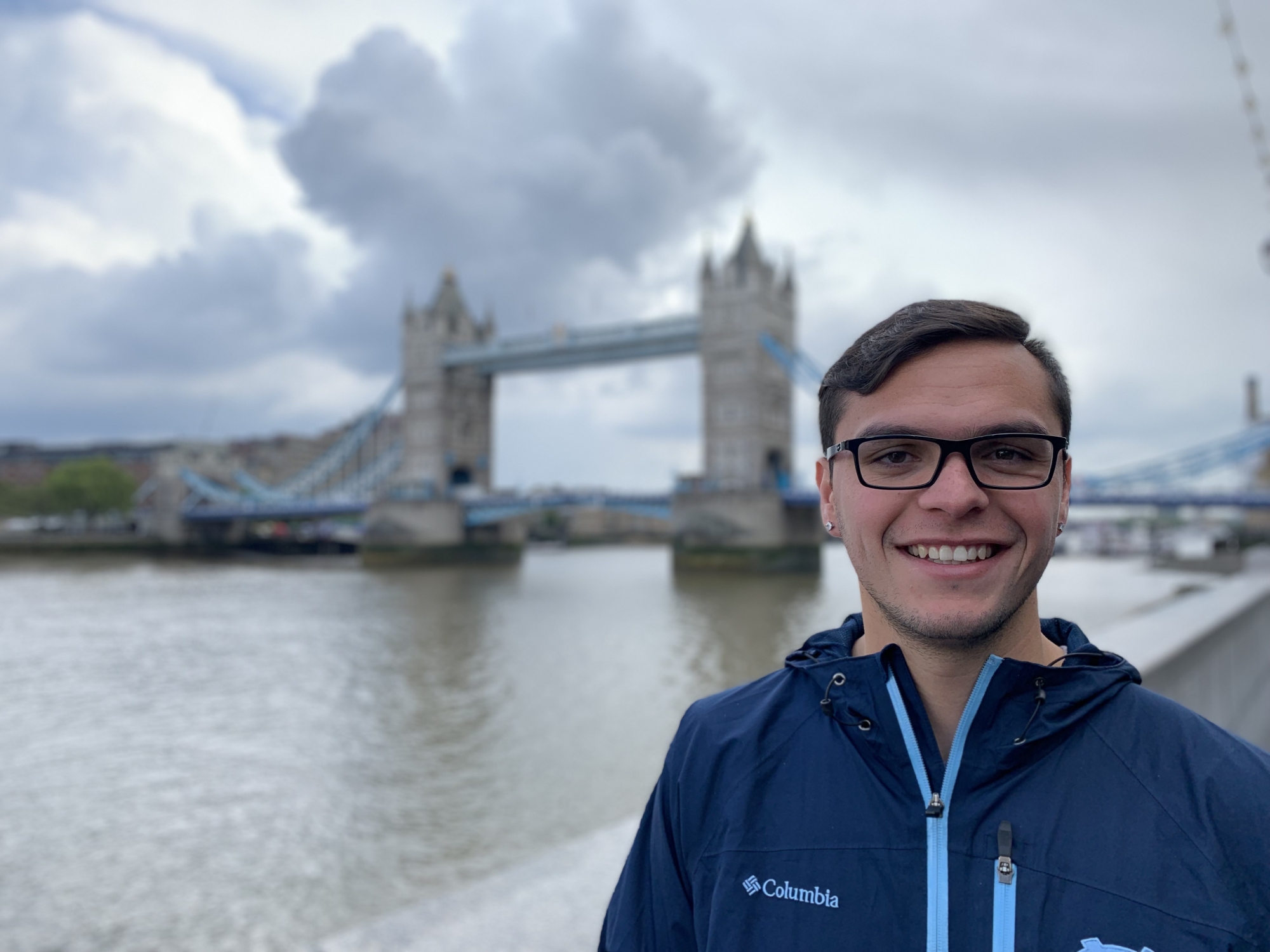 Diego Suarez Salazar, Trachtenberg School of Public Policy
Master's in Public Administration
"The first time since I started work on my M.P.A. that I was physically on campus to take a class was in the first week of my second year. Everything was virtual for my first year in the program, so I rarely found myself on campus, especially for class, but I made many friends during my first year. That's why my favorite GW memory is of the first week of my second year, because I finally got to see many of my friends in person. A lot of things can happen in one year, and while I enjoyed virtual learning because of the flexibility it provided full-time professionals, I did miss the personal interactions with classmates and friends. One of the things I love most about the M.P.A program is how it is such a close-knit community, and you really get to know almost everyone in the program."
---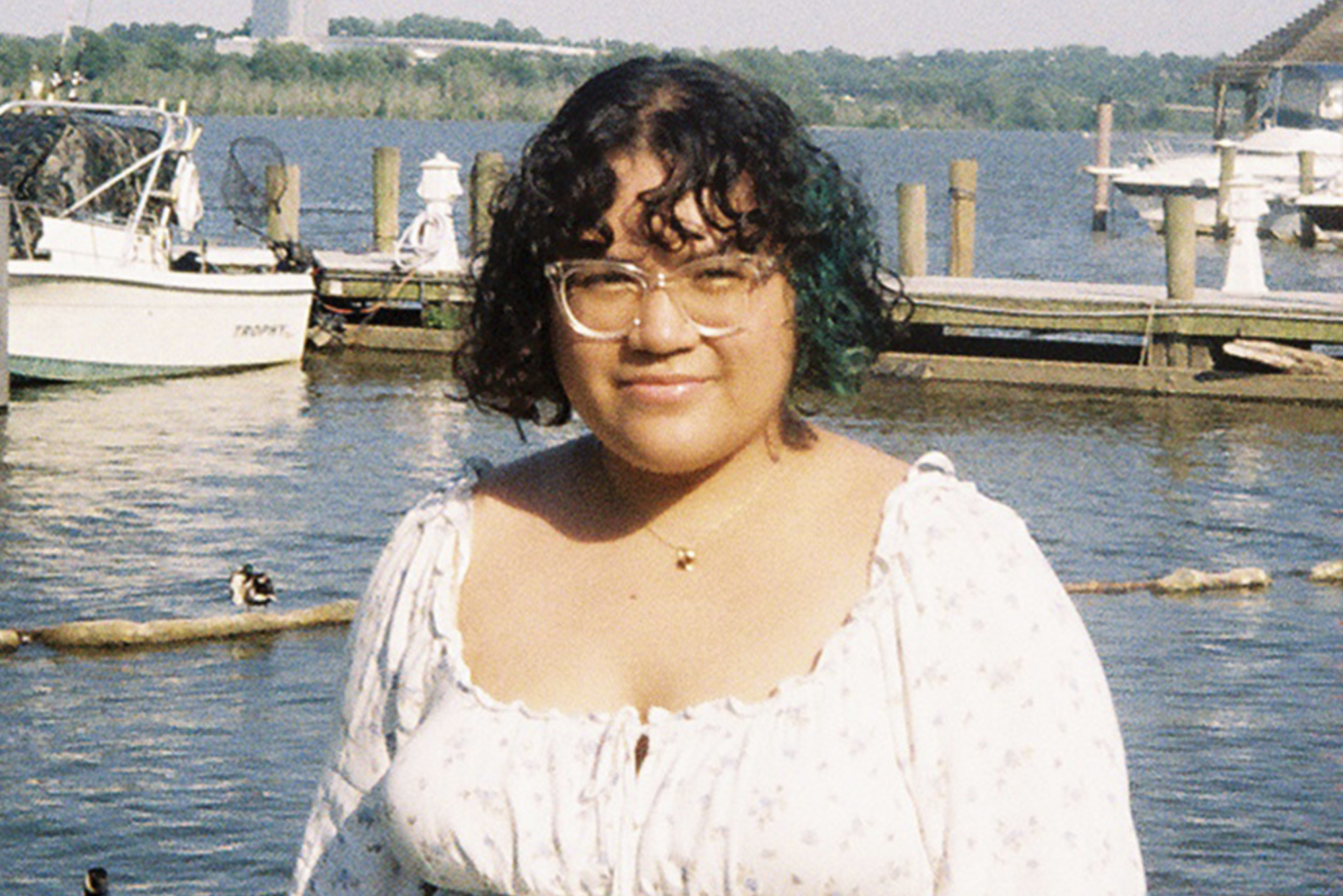 Lowella Lobaton, Columbian College of Arts and Sciences
Major: Women's, Gender and Sexuality Studies
"One of my fondest memories from GW is actually one of my most recent. I am part of the Philippine Cultural Society (PCS) on campus. Our organization has been a home for GW's Filipino-American students since 1986. This spring, we held our annual cultural event called Tandaan—"to remember" in Filipino. We showcased Filipino dances and performed a skit that focused on Filipino-American identity and experience. I played a grandmother in the skit! It was our first in-person show in two years, and it was especially meaningful for our members who hadn't experienced Tandaan at GW because of the pandemic. It was amazing to be in a room filled with friends and families. We all got a little emotional, especially the seniors who have been in PCS for their entire stay at GW."
---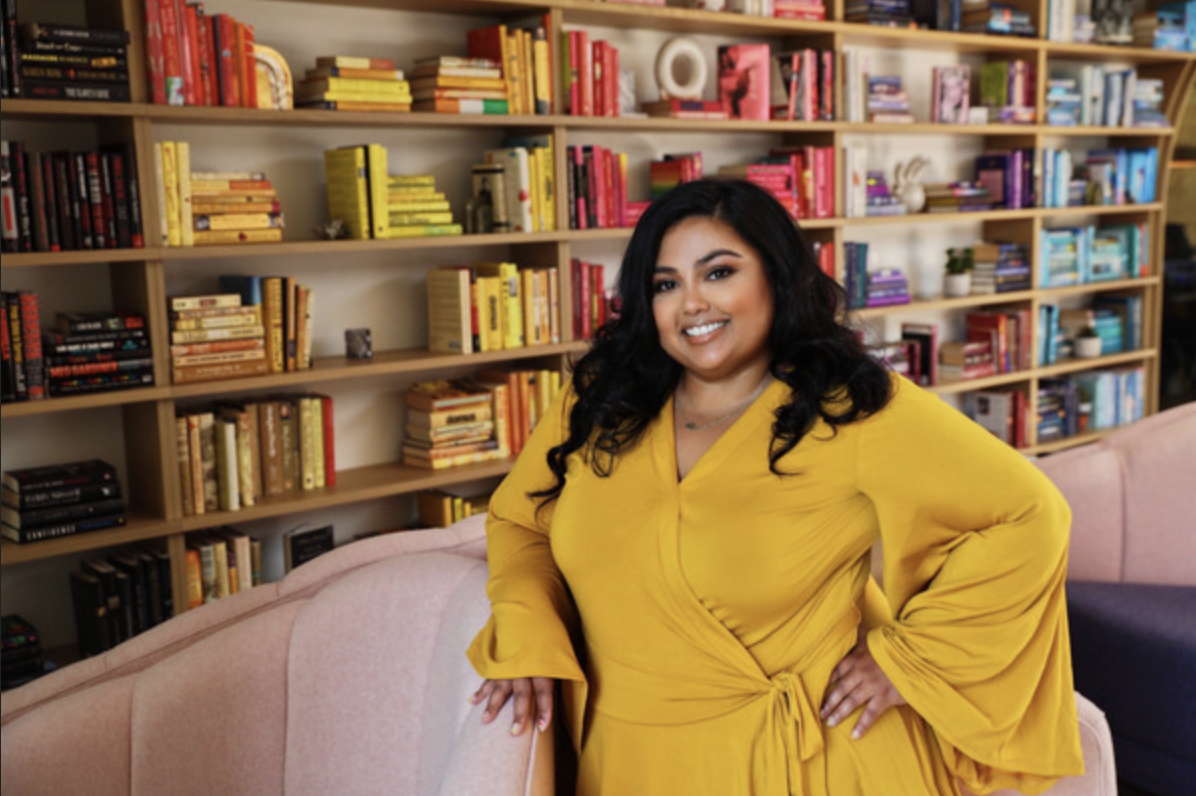 Diti Bhasin, School of Business
M.B.A.
"I will remember having to take a couple of tech classes for my business degree, and one of them was a Python class. I didn't know anything about Python or coding. My background is in marketing and communication, but I had to do this as a required course. I was just stuck. I am a Forte Fellow, and we have a group chat that I dropped in on one day asking if anybody had taken this class. I hadn't met any of them really due to COVID, but these women rallied behind me, and I got so many messages. I had people volunteering their boyfriends who worked in tech, I had people literally on FaceTime with me sharing the screen with me trying to teach me the material. I have never experienced something like that before in my life.  The commitment that the GW community really has to each other is something that you just really can't replicate and other schools there."
---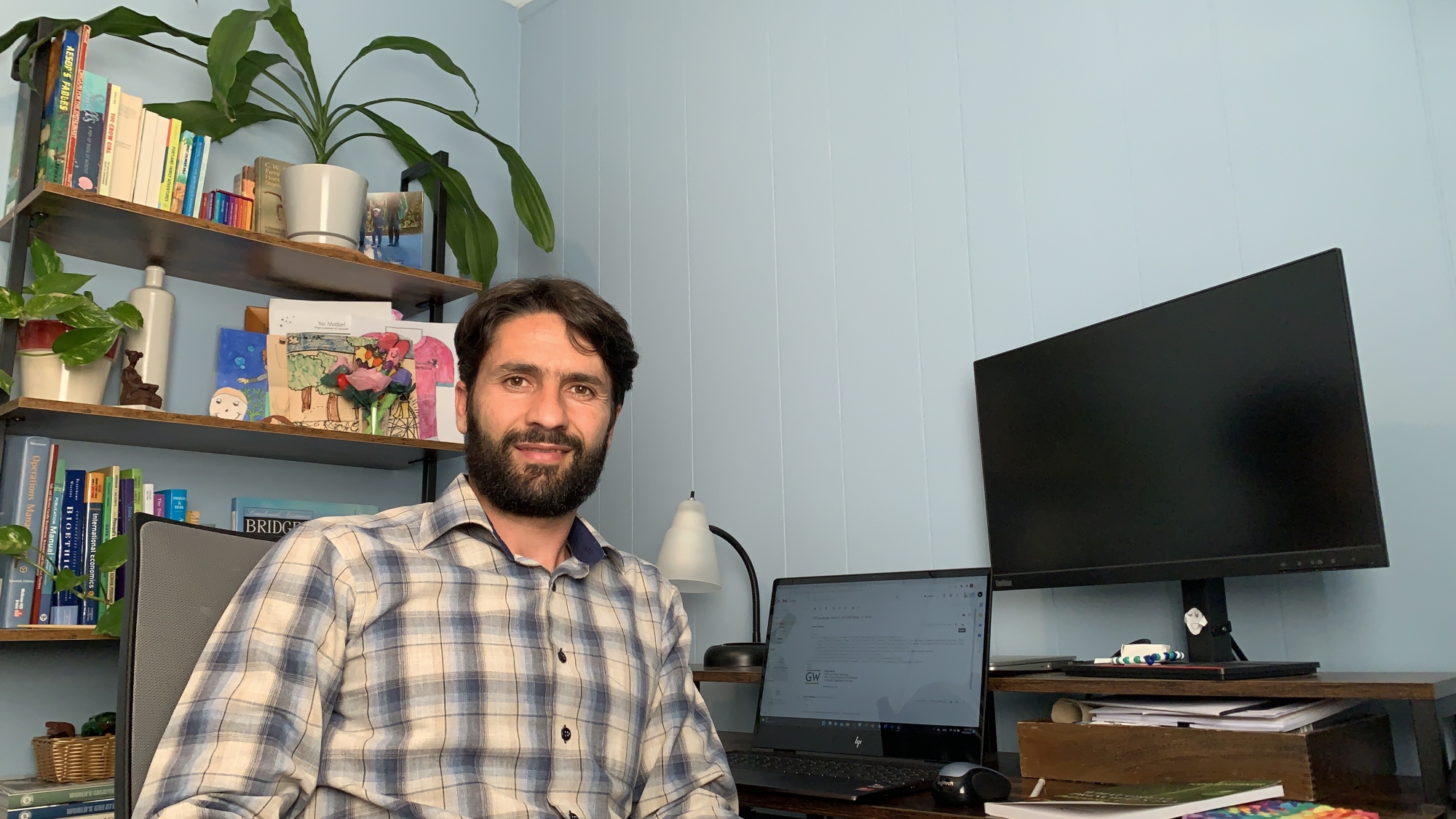 Karim Hafizov, Graduate School of Education and Human Development
M.A. in Education and Human Development; Major: Educational Leadership and Administration
"I enjoyed classroom discussions as well as out-of-context conversations during online class meetings. This socialization felt good amid the isolation during the COVID pandemic. However, my favorite memory of GW is sitting in a classroom, sipping tea and treating myself to cookies while listening to presentations and participating in discussions. A few times I reflected on why this moment was so significant for me. In Azerbaijan, even at the college level, I was unable to step outside of stereotypes and was too cautious to challenge the status quo and escape passive learning. At GW, I realized that effective learning includes comfort, independence and freedom. Having full control of my learning helped me to set a pace, explore extra topics and take part in discussions while enjoying tea and cookies. I soon realized that it is not just the freedom within GW, but the freedom of the society that is reflected in the school's practice."
---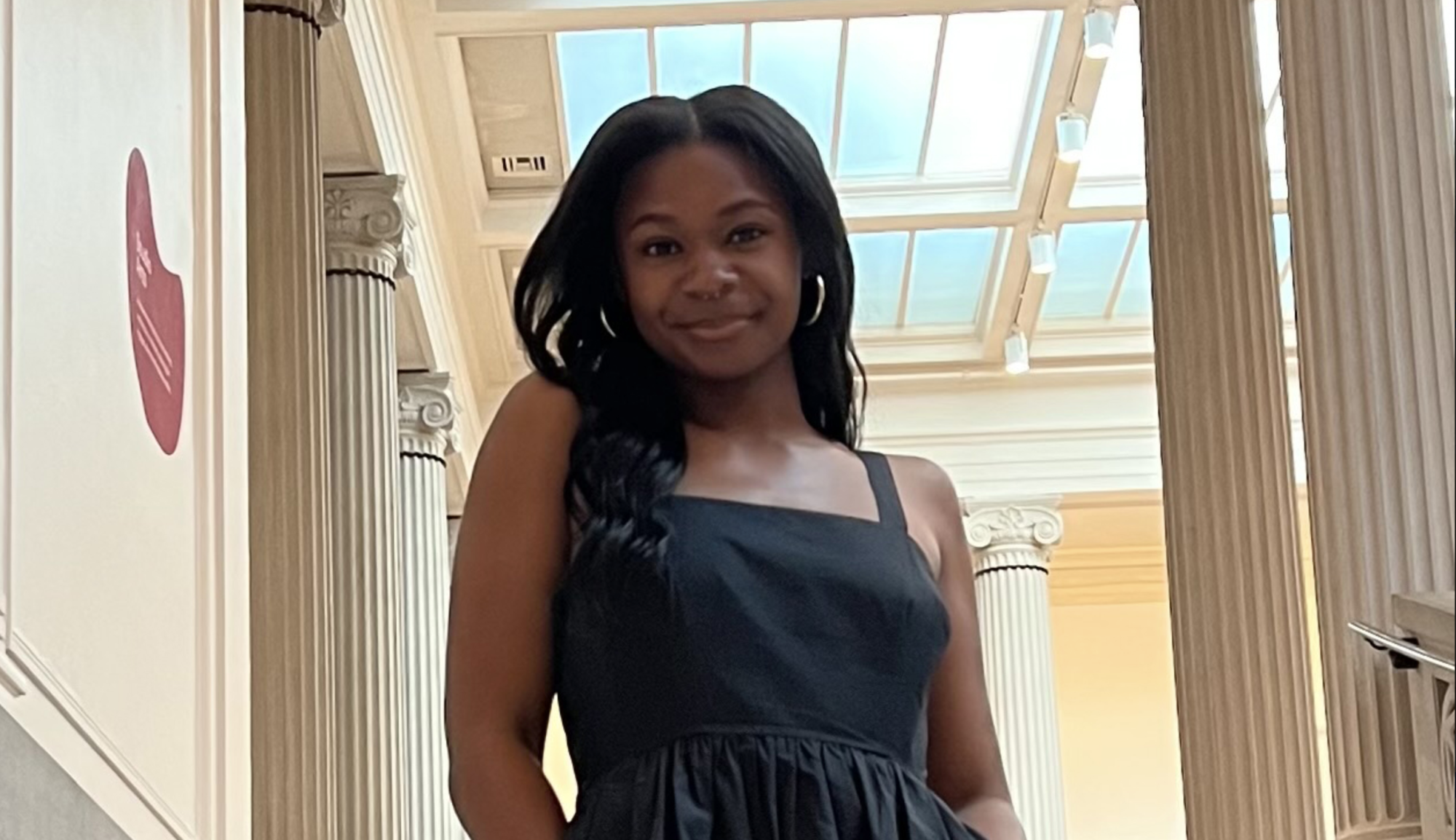 Natee Himmons, Corcoran School of the Arts and Design and School of Business
Majors: Business Analytics and Dance
"I'm very fortunate, because I think of three things. My first one would be that this past semester I was lucky enough to be cast in a historical work called Cantilever with the Eric Hawkins Dance Company. We were filmed, and the video that I'm in performing this work is in the Library of Congress. That's a moment I'll always remember. Last semester as well we had a company member from the Paul Taylor Dance Company visiting, and I was able to be cast as a soloist in that work and work intimately with someone from this prestigious company. And then the third moment I think of is being cast in a work by my professor, Dana Tai Soon Burgess. This work was about the first Black opera singer, and the performance was accompanied by a live opera singer and live musicians—that's something that will always stick with me. To be cast in a repertory work of that high caliber felt like a really huge honor and opportunity. I'll definitely never forget that."
---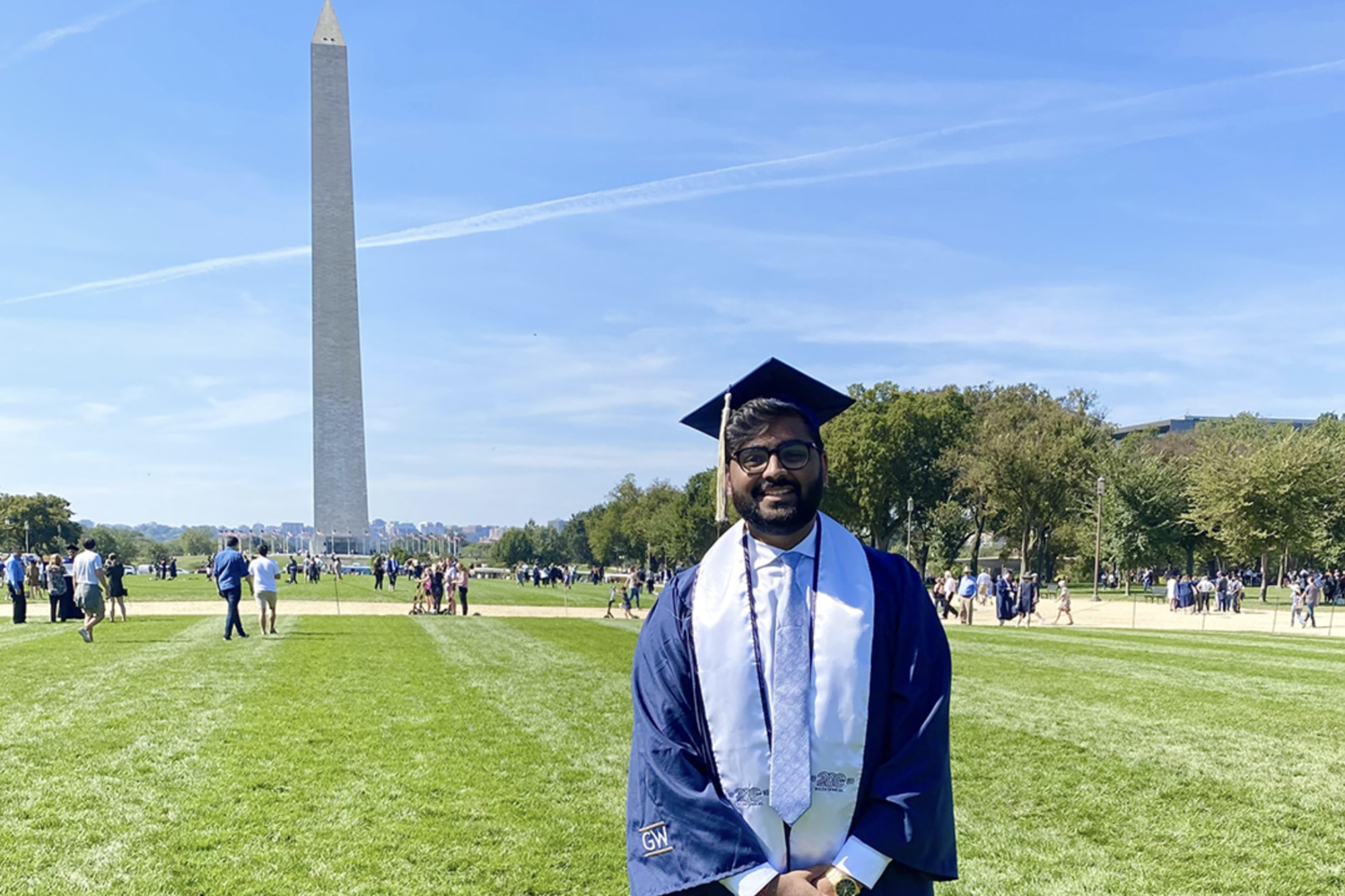 Rishi Jarmarwala, School of Engineering and Applied Science
Master's in Structural Engineering (B.S. 2021)
"As a first-year student I participated in the SEAS New Student Getaway, which was really cool. We got to go on a trip out to West Virginia, where you get to meet all the fellow engineers that are coming in with you. That was a really fun time, and I made a lot of friends through that. Coming into school, it was really important to be able to make friends and have a community and feel supported.
Later, I ended up becoming a peer mentor through the SEAS Student Peer Advisory Network (SEASSPAN) and as a Dean's Fellow I was able to be involved with planning that and helping first-year students get accustomed to student life. It was really great to give that back and help facilitate that.
I have accepted an associate project consultant position at a Washington, D.C. structural engineering consulting firm."