By Kristen Mitchell
George Washington University students are working to build a new educational platform that will use virtual reality to spread renowned animal behavior expert and conservationist Jane Goodall's message of environmental conservation to future generations. The project, a partnership with the Jane Goodall Institute, is housed in the GW Innovation Center.
The "Virtual Jane" project was born out of conversations with the Jane Goodall Institute on how to best engage the next generation of students on conservation themes and Dr. Goodall's research. Throughout last year, an interdisciplinary group of GW students involved with the Innovation Center's worked on the framework and technology. The "Virtual Jane" team is a groups of students who are studying computer science, business, marketing, anthropology, art and more.
Dr. Goodall, founder of the Jane Goodall Institute and UN Messenger of Peace, is a pioneer in wild chimpanzee behavior and led the now longest-running continuous research study of chimpanzees Tanzania's Gombe National Park. Dr. Goodall's focus shifted from research to conservation during a plane ride over Gombe in 1992 when she saw the rampant deforestation of the once-lush forest Gombe forests, and knew that in order to save chimpanzees, save the forests they lived in. Today Dr. Goodall advocates on behalf of conservation of all species and travels nearly 300 days a year to share stories from her five decades of scientific exploration. She advocates for community-centered conservation and spreads a message of hope to inspire people everywhere, especially young people, that they can create a more hopeful future for our world. 
Ryan Steed, a sophomore majoring in computational economics, said the students aim to empower young people— who may never set foot in the rainforests of Tanzania—to lead on conservation awareness and activism. 
"We're trying to bridge the generation gap between Jane Goodall and young people today," he said. "We want to see how we can take that message of essentially compassion that she spreads and put it in the language of youth and on a platform that everyone is excited about."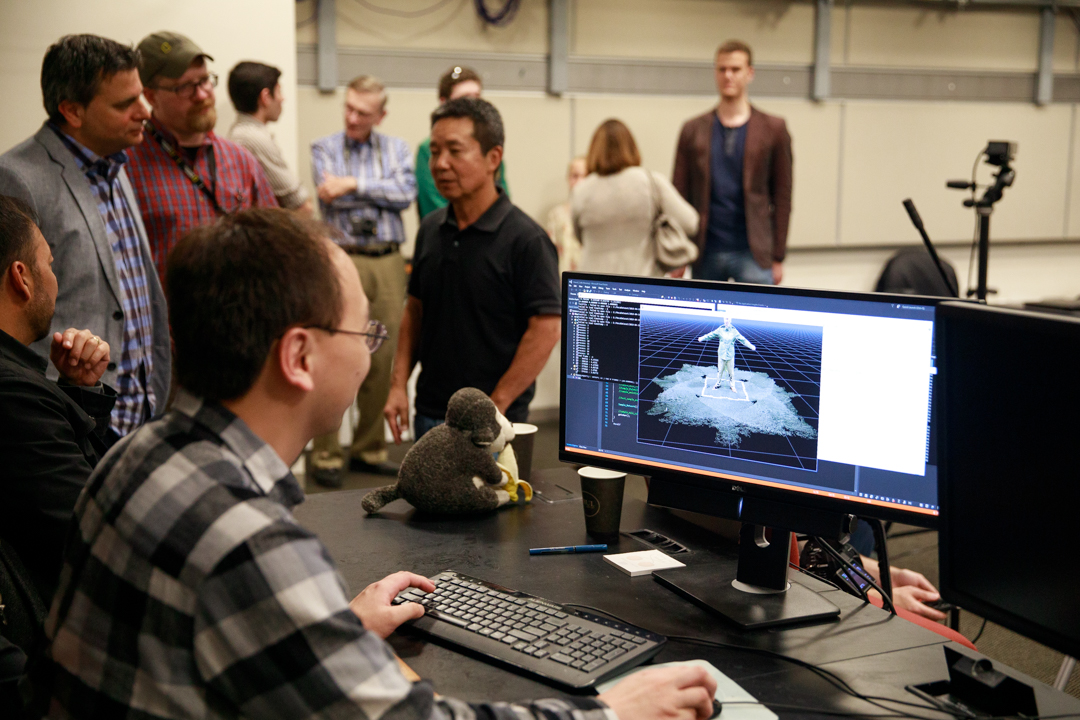 Researchers examine captures taken of Dr. Goodall in GW's Motion Capture and Analysis Laboratory. Dr. Goodall visited Foggy Bottom to speak with students working on the "Virtual Jane" project. (William Atkins/ GW Today)
---
Dr. Goodall recently visited GW's Motion Capture and Analysis Laboratory (MOCA), run by SEAS Professor James Hahn, where researchers were able to accurately capture her likeness and movements. These captures will be critical to recreating Dr. Goodall's image on the "Virtual Jane" platform. She also spoke with students about the "Virtual Jane" project and her vision for its design. She suggested different kinds of animals that could be added to the virtual ecosystem and ideas for new interactive components.
"Jane is really excited about students being involved in conservation education, and she's really cognizant of the ways students can contribute," Mr. Steed said. "We got a lot of new ideas. It's very energizing to be reaffirmed like that from somebody you respect."
The students hope to launch a minimally viable version of the "Virtual Jane" platform by the end of 2020. Nine GW students are currently working on the project, but Mr. Steed hopes next semester new students join the project. 
The team already has put together the first design elements, concept art and a storyboard that explores Dr. Goodall's early field work. They have been working with students at the School Without Walls to get feedback on the ideal user experience for student learners.
"Dr. Goodall's message of hope and her expertise in conservation are more important today than ever before,"said Linda Berdine, vice-chair of the Jane Goodall Institute's board of directors.  "The GWIC Virtual Jane project is a good example of the kind of partnerships that JGI is pursuing to help scale sharing of Dr. Goodall's message around the globe and to new generations."
Annamaria Konya Tannon, executive director of the GW Innovation Center and chief evangelist for innovation, entrepreneurship and invention in the School of Engineering and Applied Science, said she hopes the project is just the beginning of a long and productive partnership.
"This project will bring classroom concepts to life and enable students to apply what they learn in the classroom in an unusually meaningful way," she said. "This project creates an opportunity for the entire university to engage on one topic and advance the GWIC mission to create socially responsible projects."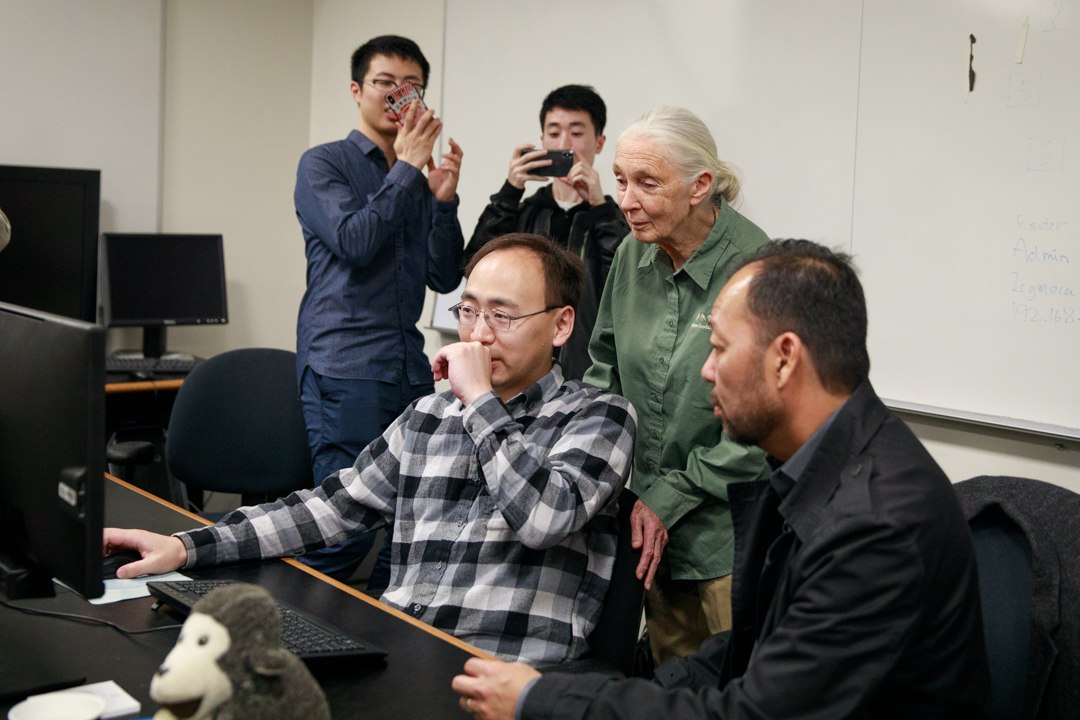 Dr. Goodall and GW researchers examine captures taken of her in the Motion Capture and Analysis Laboratory last month. These images will be critical to recreating Dr. Goodall's image on the "Virtual Jane" platform. (William Atkins/ GW Today)