By Kristen Mitchell
An interdisciplinary student organization is working to create a culture of innovation for all George Washington University students, regardless of their academic backgrounds. Through a series of hackathons centered on important issues, George Hacks rejects the idea that you have to be an engineer or computer scientist to make a difference.
George Hacks held its first event, a medical device hackathon, in March. Since then the group grew quickly within GW and spread to other universities. George Hacks' emphasis on bringing together students from all backgrounds, disciplines and skill sets is what sets the organization apart from other hackathon hosts, said Eve Wellish, a junior majoring in real estate at the GW School of Business and geography.
"Often times people hear the word hackathon, they think it's an event only for coders, so George Hacks really wants to show the world that hackathons are for everybody, and you don't need to know how to code to solve an issue," she said. "You can't just solve a problem using one part of society, you have to use all different disciplines in order to make a solution."
Michael Ready, a senior majoring in economics and international affairs, said that George Hacks encourages a spirit of creative problem solving on campus and creates a positive environment for collaboration.
"There's not a huge representation for innovation in every field. The idea doesn't really exist," he said. "The second you start advertising innovation around certain big events happening around campus people get really interested."
Konstantin Mitic, B.S. '18, and Isabella Sardegna B.A. '18, were inspired to launch George Hacks after Mr. Mitic participated in a medical hackathon at another university. He won a prize at the event, but his solution was never implemented in a meaningful way that reached users. He wanted to find a way to redirect the work students achieve at these events into the real world.
"The best solutions are coming from interdisciplinary teams, as opposed to just all engineering teams. With that being said, we're not excluding engineers, we're just introducing the engineers to other majors, which is a more real-world representation," he said.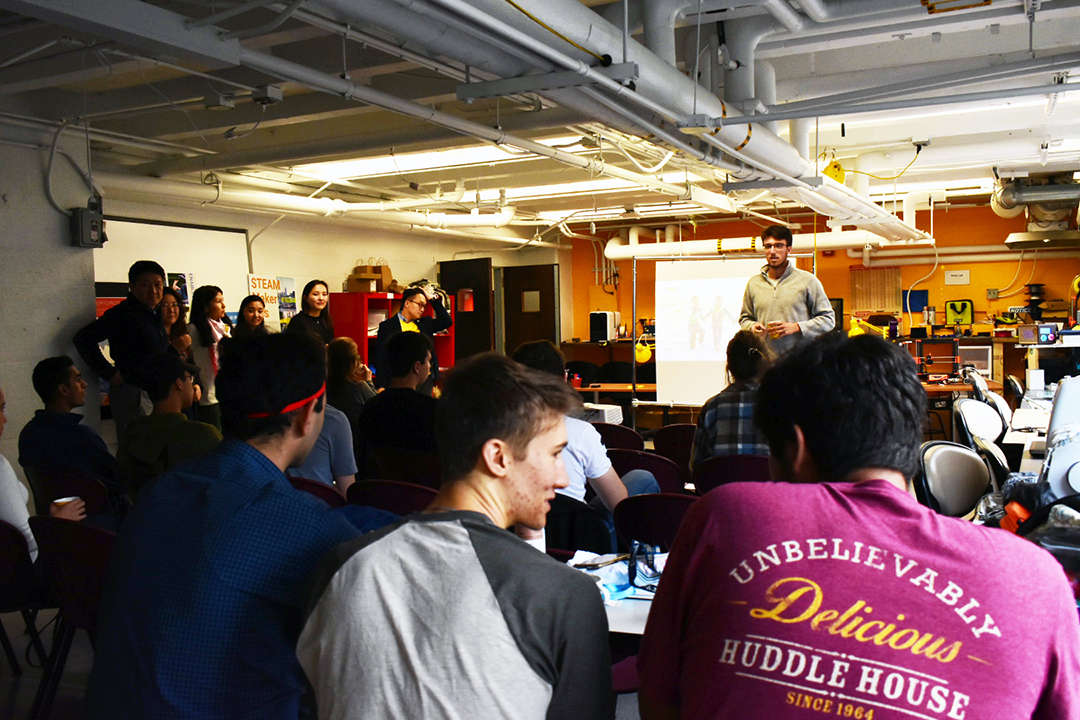 Students collaborate in the GW Innovation Center as part of the two-week George Hacks Fights Human Trafficking hackathon. (Photo courtesy of George Hacks)
---
George Hacks will build on last year's success by bringing back the medical device hackathon as a flagship event on Jan. 26. They are also planning an event for February and plan to partner with the local accelerator 1776 for an event in March.
New this year, the group has launched issue-focused "pop-up hackathons." Earlier this semester, the group held an event around Hurricane Florence, which caused severe damage in North and South Carolina. The event attracted 15 to 20 students who came up with a smartphone app, a government program and a few other well-thought ideas on how communities can better prepare and respond to natural disasters.
The pop-up hackathons aim to encourage students to think creatively, give them a taste of the hackathon experience and drive interest to their larger events. They encourage students to see how far their innovations can take them after the events end, including pitching their ideas in the annual New Venture Competition.
These events also have the potential to pique the interest of students and campus organizations that are passionate about specific topics. George Hacks aims to foster open mindedness about the problems and potential solutions, and bring attention to the subject, said Brianna Cathey, a senior majoring in biomedical engineering.
Earlier this month, the group wrapped up its first major event of the year, a two-week human trafficking hackathon in partnership with nonprofit organization Lantuun Dohio. While traditional hackathons focus on developing ideas over the span of a weekend, the George Hacks Fights Human Trafficking hackathon was a case study to see how successful the model could be with a less-condensed timeline.
The group was launched through the GW Innovation Center, a university hub for creative collaboration that brings together students from all disciplines to utilize disruptive technology for positive social change. The center is located on the mezzanine level of Tompkins Hall and is part of the university's greater effort to foster a culture of collaboration in and provide opportunities for every student to achieve success.
George Hacks is growing organically for now, but Mr. Ready sees a future where schools around the world implement the foundational ideals of interdisciplinary collaboration and  establish chapters of the organization on their own campuses. George Hacks launched the 'Innovators in Action' program, which aims to send students to local hackathons to represent George Hacks. This year, the group sent seven GW students to the medical hackathon at Virginia Commonwealth University, which Mr. Konstantin attended in 2017. The organization is well positioned to start a chapter at every Washington, D.C., university in the next year, and has already established a chapter at George Mason University.