By Kristen Mitchell and Ashley Rizzardo
Eric Boulter, a junior majoring in astrophysics and music, is using virtual reality (VR) technology to bring the solar system to life. Wearing a headset, users can stand among the stars and study how they are formed.
The simulation is the closest thing to being in space without becoming an astronaut, he said.
Mr. Boulter started working on this project last summer with fellow student Adellar Irankunda and Sylvain Guiriec, assistant professor of physics. His job is to make sure the solar system design incorporated accurate spatial information using real images from NASA and orbital data. The team hopes to eventually bring this learning tool to George Washington University classrooms to help visual learners better understand fundamental concepts in astrophysics.
"Astrophysics has always been something that is much harder to explain visually. You have to be able to imagine what is going on in your head, kind of like reading a book," he said. "This is the movie."
Mr. Boulter was one of more than 600 students who presented research at the Marvin Center for the 24th annual Research Days. Students presented 302 posters on Tuesday across fields of engineering, international affairs, education, biology and other topics. On Wednesday, students presented 317 posters focused on health and medicine. A full list of winners is available online.
In addition to poster prizes by discipline, presenters could also opt-into special award categories sponsored by several GW offices and organizations. Some participants were also selected to receive $3,000 AccelerateGW I-Corps Site Program Grants. That funding can be used to explore commercial possibilities for their research.
Forty students entered this year's essay contest for undergraduate research. They were prompted to write about how participating in research or working with a research mentor contributed to their GW experience. Five student winners were announced Tuesday and were awarded $500 each.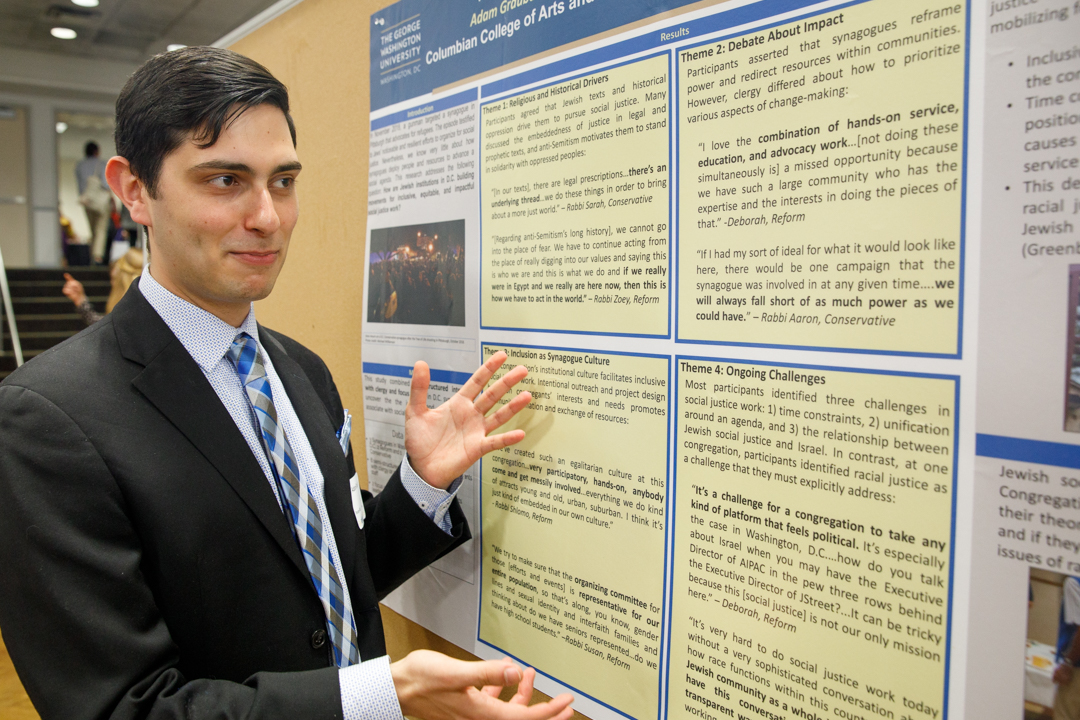 Senior Adam Graubart researched how local synagogues organize for social justice efforts. He was inspired to pursue this topic after the Tree of Life synagogue shooting in Pittsburgh. (William Atkins/ GW Today)
---
Priyanka Ali, a second-year graduate student studying civil and environmental engineering, presented her research on alternative nitrogen removal from Blue Plains Advanced Wastewater Treatment Plant in Southwest Washington, D.C. Right now the plant is spending millions of dollars every year on treatment techniques that require significant amounts of methanol. Her research suggests that by using primary sludge fermentation, they could cut this chemical cost by about 75 percent.
"The methanol they're using, it's a chemical that they are buying from other companies. If they can implement fermentation, they'll have in-house production of this substituted chemical," she said. "It would not require building of equipment or tanks, it's just there."
Ms. Ali has been testing her "short-cut nitrogen removal" method using bacteria called Anammox in temperature-controlled lab reactors. She won the top prize in the engineering category for graduate-level presenters at Research Days.
Adam Graubart, a senior majoring in human services and social justice with a minor in Judaic studies, researched how D.C. synagogues organize for equitable, impactful and inclusive social justice efforts. He was inspired to pursue this subject in the aftermath of the Tree of Life synagogue shooting in Pittsburgh, where 11 people were killed last October.
"I saw that community, which was targeted for their social justice work, their advocacy with refugees, double down and say, 'as Jews we have a duty to stand for those in need,'" he said. "I was inspired by that and wanted to see how that played out locally and how our local institutions are civically engaged."
Mr. Graubart did six interviews and held two focus groups at three D.C. synagogues working on advocacy in the community. He found that religious and historical drivers combine to influence inclusive social justice efforts but challenges remain. For example, there is some debate over whether synagogues should be a refuge from politics—especially in D.C. where so many people work for the federal government.
"Synagogues would be well-served in D.C. to more explicitly articulate their theory of change, identify the form that their social justice takes and how it addresses issues of partisanship, race and the Israeli-Palestinian conflict," he said.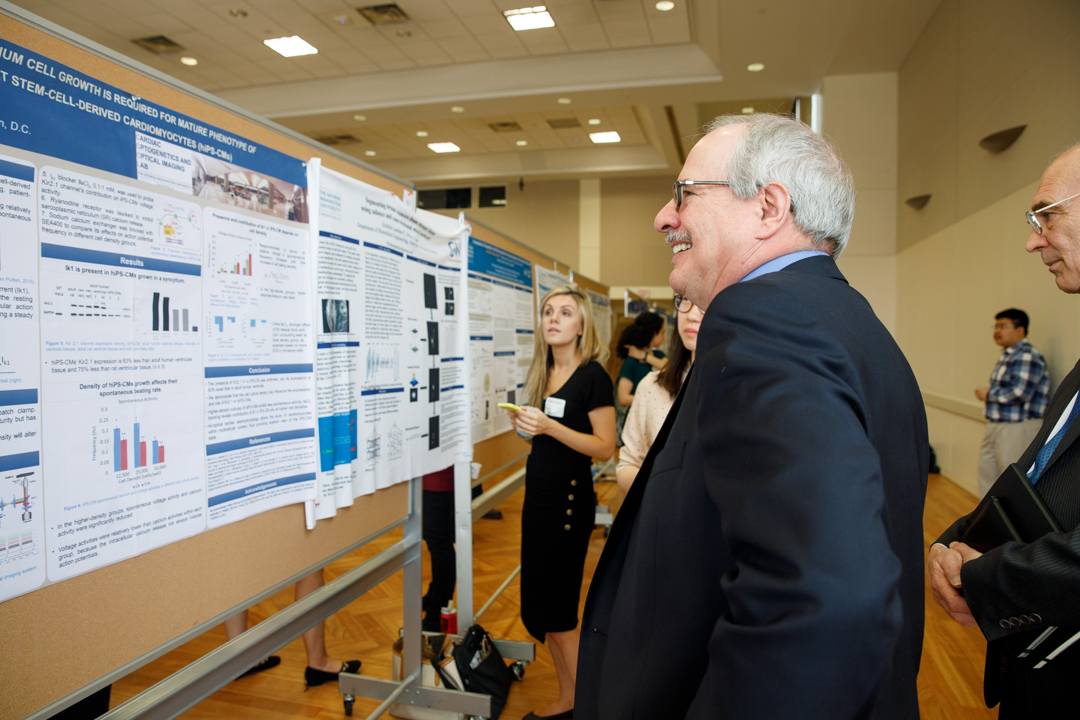 GW President Thomas LeBlanc examines a student's poster at Research Days on April 9. (William Atkins/ GW Today)
---
Health and Medicine Research Day
In his welcoming remarks at the start of the presentations that focused on health and medicine, Jeffrey S. Akman, M.D. '81, RESD '85, vice president for health affairs, Walter A. Bloedorn Professor of Administrative Medicine, and dean of the GW School of Medicine and Health Sciences, said that there is an opportunity daily "to generate knowledge, and today we get to celebrate that."
Monica Kraft, who serves as the Robert and Irene Flinn Professor of Medicine and chair of the Department of Medicine at the University of Arizona College of Medicine in Tucson, was the keynote speaker for the second day, which included poster presentations from students from SMHS, the Milken Institute School of Public Health, GW Nursing, the Institute for Biomedical Sciences (IBS). She focused her address on the research that she and her team are doing on innate immunity in asthma.
"We are at a very interesting time in regard to treatment of asthma because we understand immunology," she explained. "It's because of research that we are able to translate this to patient care."
The SMHS keynote event also served as a forum to recognize the medical student winners of the William H. Beaumont Research Award, who had an opportunity to present their research to their peers. Among this year's winners was second-year medical school student Maria Abigail Cerezo, who placed first for her research, "Evaluation of Longitudinal Antibody Responses in Zika-Infected Individuals from Colombia."
Ms. Cerezo said that winning the award "reminded me that I can still pursue my interests aside from medicine."
In college, she said, "I worked on projects using bacteriophages, a type of virus, and worked on mutating DNA to study viral propagation and adaptation. I love basic science. There's just something about the unknown and the hope of discovering something new that I find truly exciting."
Sharjeel Chaudhry, a third-year medical school student, received the second-place award for her research "Prevention of Cardiovascular Thrombosis through Inhibition of Coagulation Factor XII."
Mr. Chaudhry said that Research Days participation "is critical for medical students because it allows us to engage in personal and professional self-assessment."
"Getting feedback from seasoned researchers in the field, and quite frankly, taking that leap of faith to get out there, try our best and learn from each experience is important for our training as physician-scientists," he said.
Among other award winners were IBS doctoral students Allison Powell, who received first place for her study, "Antibody-Secreting T Cells Engineered for Tripartite Immune Response Against HIV;" Jacqueline Howard, who placed second with her study, "Analysis of DNA Break Repair Inhibition in Trypanosoma Brucei; and Debbie Ledezma, who received the third-place award for her research "Combined Nanoparticle-Based Photothermal Therapy and Epigenetic Immunomodulation for Melanoma."
The Milken Institute SPH welcomed Anselm Hennis, director of the Department of Non-Communicable Diseases and Mental Health at the Pan American Health Organization/World Health Organization, to deliver the keynote address to public health students.
Dr. Hennis spoke on his history of research and used his experience, such as traveling to Uganda to study AIDS, to encourage students to take chances and not let fear of failure keep them from research pursuits. "No one said that pursuit of knowledge is without risk," he said. "If you at first don't succeed, then try again."