By Kristen Mitchell and C.J. Trent-Gurbuz
Jillian Dipersio, a junior majoring in international affairs, saw the impact of climate change firsthand while living in a region of Namibia over the summer that has been experiencing extreme drought since 2012. As part of an undergraduate research project, Ms. Dipersio interviewed local farmers and community members about governmental efforts to intervene.
Ms. Dipersio presented her findings at GW Research Days, a two-day student research showcase. She found that local and government-employed farmers generally approved of drought relief programs and had an "incredible awareness" of land degradation and climate change. That alone, however, is not enough.
"While government-led efforts have been largely successful in helping farmers recover from drought and get through drought, they are unsustainable and won't be able to sustain their population long-term," she said. "Climate change is an enormous issue. It's very difficult to solve, and it's really important to look at the cultural factors and the people who are actually affected by these issues."
Ms. Dipersio is part of the Elliott School Undergraduate Scholars Program and plans to pursue a Ph.D. in anthropology some day. She was one of more than 650 students who presented research at the Marvin Center for this year's Research Days. Participation reached a record high for the 23rd annual event.
Students presented 288 posters on Tuesday across fields of chemistry, education, engineering, economics and other topics. On Wednesday, students presented 374 posters focused on health and medicine. A full list of winners is available on the Research Days website.
In addition to poster prizes by discipline, presenters could also opt-into special award categories sponsored by several GW offices and organizations, including a new one this year for use of microscopy and nanofabrication techniques, sponsored by the GW Nanofabrication and Imaging Center. Also for the first time, some participants were selected to receive $3,000 AccelerateGW I-Corps Site Program Grants. That funding can be used to explore commercial possibilities for their research.
Also new this year the Office of the Vice President for Research debuted an essay contest for undergraduate researchers. They were prompted to write about how research has contributed to their experience at the university. Ten student winners were announced on Tuesday and were awarded $500 each. Submissions were reviewed by a panel of judges and evaluated based on written content, quality and creativity.
Alex Wang, a second-year master's student in applied economics and a Presidential Administrative Fellow researched how Walmart Supercenters impact local grocery stores in a community. He found that when the number of Walmart supercenters located in a city doubled, food prices in traditional grocery rose more slowly than other sectors of the economy.
Mr. Wang believes increased competition for customers forces stores to keep prices low and quality high.
"It's a win for consumers," Mr. Wang said.
While city officials often focus on the negative side effects of bringing a Walmart to town—including negative impacts on health and neighborhood crime—this research highlights one potential benefit for the community, Mr. Wang said.
Isaac Finberg and Samantha Racan, both sophomores studying mechanical engineering, researched how a specific polymer can be used as part of a 3D-printed scaffold to regenerate bone and repair facial injuries. Repair with a scaffold requires less patient recovery time and is more customizable than traditional screws.
Mr. Finberg and Ms. Racan looked at how long it takes for the polyvinyl alcohol-based scaffolds to dissolve in various solutions to simulate the human body and estimate an ideal balance between the rate of dissolution and cell regeneration. They were awarded the top prize for undergraduate presenters in the engineering category.
"We're trying to see if this polymer would be a good fit for the bigger idea of the biological scaffolding," Ms. Racan said.
Katherine Hurley, a doctoral candidate studying counseling in the Graduate School of Education and Human Development, presented the first phase of her research on adults with autism spectrum disorder (ASD) seeking job training and employment in the agricultural sector. A review of existing research shows that only 14 percent of adults with ASD who want community-based employment have jobs, which means there is underutilized labor pool looking for opportunities.
Individual farms and agricultural hubs have started working with adults with ASD. These valuable opportunities to contribute provide individuals with social engagement, exercise and interaction with animals. Many of these programs have cropped up when a person with ASD finds meaningful work in their family of farmers, and that family, realizing more people could benefit, opens its door to more individuals.
Ms. Hurley found that many of these programs have scraped traditional formal interviews for a hands-on assessment of how potential employees would complete tasks. There is no existing research that looks at the barriers, methods and best practices for these types of programs. In the second phase of her study, Ms. Hurley plans to work with farmers, individuals with ASD, families and other stakeholders to develop guidelines for best practices for these types of programs.
"This is really looking at the field in a new and comprehensive way that could hopefully bring new opportunities for employment for persons with autism spectrum disorder," she said.
Ms. Hurley was awarded second place in the psychological and behavioral sciences category for graduate-level presenters at Research Days.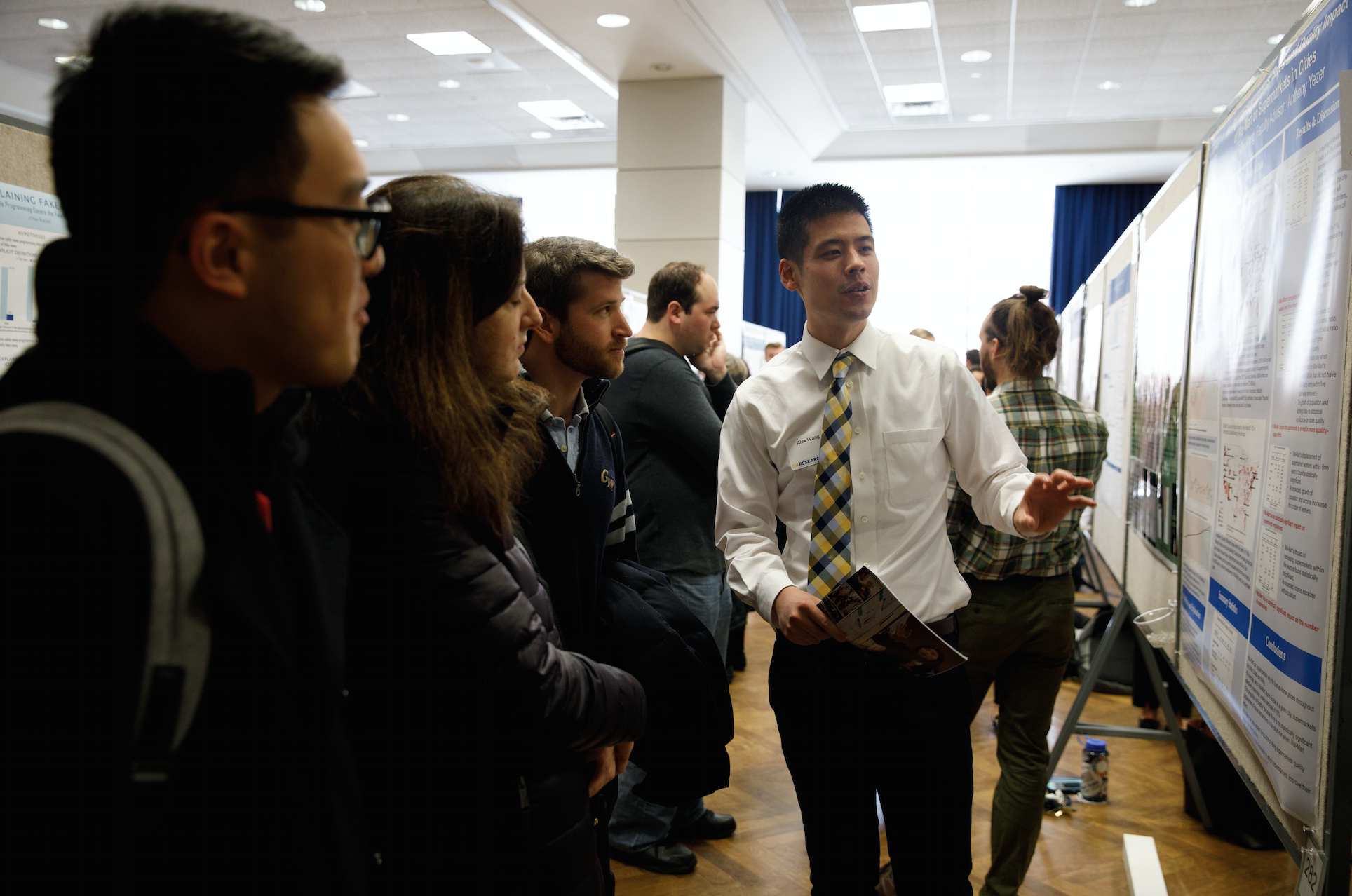 Alex Wang, a second-year master's student in applied economics, presents his work on how Walmart Supercenters impact prices at local grocery stores. (William Atkins/ GW Today)
---
Health and Medicine Research Day
Christina Pugliese, now a second-year student at the GW School of Medicine and Health Sciences, is researching cryptosporidium, a parasite that causes diarrhea in a large proportion of children under age five, in Gabon, Africa.
Ms. Pugliese also conducted an individual study, a general assessment of how children with diarrhea are treated.
"For me, it's been the highlight of my schooling so far. That's a huge thing, to take advantage of the [research] opportunities that are here," she said, "supplementing your education with things you're passionate about makes it more exciting and enriching."
Ms. Pugliese, whose abstract is featured in student-led journal Fusion, was also selected as one of the winners of the William H. Beaumont Medical Society Student Research Award. The prize is given annually by research faculty to three research abstract authors, coinciding with GW's Research Days.
"Research, discovery, innovation and knowledge advancement is a core part of the mission of every medical school, every academic medical center," said Jeffrey S. Akman, MD '81, vice president for health affairs, Walter A. Bloedorn Professor of Administrative Medicine and dean of SMHS. "Today is our day to celebrate as we hear … about your own interests in research and potentially building your own research careers."
Ms. Pugliese, along with winners Nicole Casasanta, Sarit Toltzis and Dara Baker, presented their research to their peers, an experience both nerve-racking and rewarding.
"It's extremely exciting to share the work we did with the school community," said Ms. Casasanta, whose research with co-author Ms. Toltzis focused on Oncotype DX, a prognostic and predictive test for breast cancer and its relationship with hereditary cancer syndromes. "As you work on your own study and you're critiqued by experts in your field, you learn how to better evaluate other clinical studies that can play a role in your patients' care. I think it's an important part of medicine."
Ms. Baker, who studied the mechanisms behind the drug DFMO and how it interacts with Helicobacter pylori, bacteria that can cause gastric cancer, likened her peers' response and the award to "a little gold star to my research. You work so hard on this for two months, and people recognize that."
Their reactions are precisely what keynote speaker Mary Woolley, president of Research!America, believes researchers need to do: advocate for their work by talking about it.
"Advocacy is about making the case—enthusiastically, I might add—for something that we're passionate about and proud of being part of," she said. "Like anything else, when you're trying to convince people to be on your side of a movement, something giant or something smaller, it's about building relationships."
What's key, she explained, is talking to non-scientists: the public and policymakers. "Put your face on what you do so that other people know about it," she said. "And remember that the most important four words that you, a researcher, can say and convey are: I work for you."
Research!America, the largest U.S. nonprofit grassroots organization aiming to make medical and health research a higher national priority, found that the public wants policies to be based on science and that research drives economic growth. Learning how to articulate the value of research and emphasizing what researchers can do for the nation is essential, she said.
"People want to have others working for them, they want you to be working for them. I want you to make my life healthier, I want you to make my family's life healthier and stronger, I want our nation to be more prosperous, I want research to drive our economy as it has in the past many decades."