By Kristen Mitchell and Katie Dvorak
George Washington University doctoral student Kate McGrath is fascinated by mountain gorillas. With less than 900 individual animals alive today, little is known about this elusive subspecies living high among the peaks.
During Research Days, a two-day student research showcase, Ms. McGrath presented her research on the visible stress mountain gorillas endure, preserved over the years by deep grooves in tooth enamel.
"Teeth grow somewhat like trees," she said. "One layer is a week of growth, and grooves indicate stress."
Ms. McGrath, a fifth-year Ph.D. student in human paleobiology, came up with a new way of documenting the grooves in gorilla teeth through imaging. The grooves can indicate stress triggers during childhood like short food supply and poaching. Animals in captivity display deep grooves in their teeth that can be dated to when they were captured, Ms. McGrath said. Wild mountain gorillas displayed fewer defects in their teeth, indicating fewer lifetime stress events.
"This is really the first data of its kind," she said on Tuesday.
Ms. McGrath was one of nearly 600 students who presented research at the Marvin Center for this year's Research Days, an initiative of the Office of the Vice President for Research. Participation reached a record high for the 22nd annual event.
"Research Days is a reflection of the vibrant research community at GW. The quality of student scholarship on display was inspiring," said Leo Chalupa, vice president for research. "It is always gratifying to see the GW community come together and celebrate the accomplishments of these students and their mentors."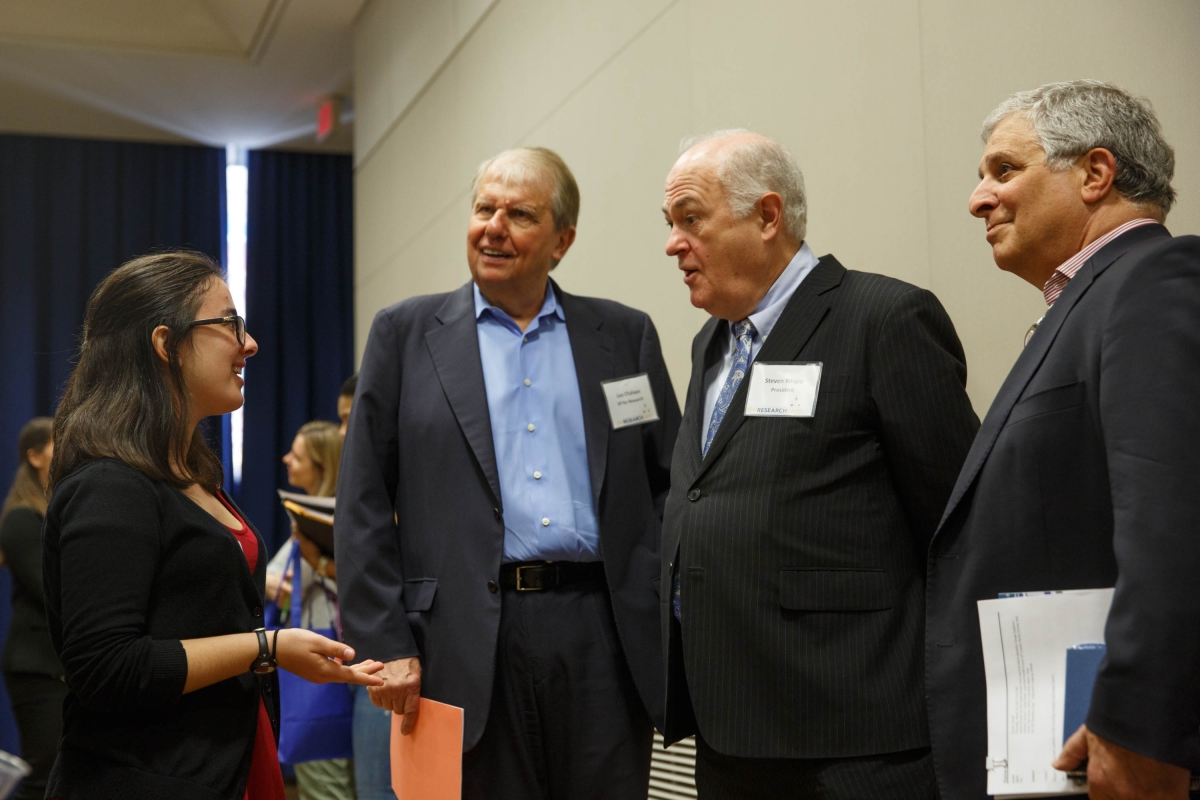 School Without Walls student Hannah Docter-Loeb (left) shares her work with Leo Chalupa, vice president for research, GW president Steven Knapp and Tom Russo, assistant vice president for industry and corporate research, at Research Days 2017. (Logan Werlinger/ GW Today)
---
On Tuesday 230 students presented research across fields of chemistry, education, engineering, economics and other topics. On Wednesday 356 students presented research in health and medicine. (A full list of winners is available on the Research Days website.)
In addition to poster prizes by discipline, presenters could also opt-into special award categories sponsored by several GW offices and organizations. New this year was the equity, diversity and inclusion award sponsored by the Office for Diversity, Equity, and Community Engagement; the innovation and entrepreneurship award sponsored by the Office of Innovation and Entrepreneurship; the women's rights and gender equality award sponsored by the Global Women's Institute and the sustainable development award sponsored by the GW Sustainability Collaborative.
The Honey W. Nashman Center for Civic Engagement and Public Service sponsored the community-based participatory research award for the second year.
Senior Rebecca Levy, majoring in human services and social justice, researched weight bias in elementary schools. She tested local fourth and fifth grade teachers to see if they displayed bias against overweight people and found that every teacher surveyed showed an automatic preference for thin people.
More research is needed to determine if this affects students in the classroom, she said. Most teachers go through training to assess racial bias, but Ms. Levy said, "no one even considers discussing weight in these biases."
"There is an implicit bias with weight, but we don't know if that negatively affects interactions with students," she said. "It should be addressed sooner rather than later."
Second-year medical student Sharjeel Chaudhry received the first place William H. Beaumont Research Award on Wednesday. The award was given out for the first time last year by editors of Fusion, GW's William H. Beaumont Medical Research Honor Society's student-led publication.
Mr. Chaudhry said making new connections and learning about different kinds of research is the best part of Research Days. He presented his work on "Protecting the Endothelium from Thromboinflammatory Injury Using Parmodulins."
First-year medical student Brendan Campbell earned the second-place William H. Beaumont Research Award for his research on hepatitis C screening and testing at community-based hospitals.
"A lot of my peers…do so much outside of the classroom and bring so many different experiences to medical school, so it's great to see what they are doing," Mr. Campbell said. "Learning about different people's research and what they are involved in gives you a good sense of how our education is being applied."
Jeffrey S. Akman, dean of School of Medicine and Health Sciences, gave welcoming remarks before medical and health sciences posters were presented. Christopher Plowe, director of the Institute for Global Health at Maryland School of Medicine and associate director of the division of malarial research at the Institute for Global Health, also gave a keynote address on efforts to eradicate malaria.
Lynn Goldman, dean of the Milken Institute School of Public Health, said Wednesday the quality and volume of this year's research posters was impressive. Next to commencement, Research Days is her favorite time of the year, she said.
"I love it when I see students engaged, developing their ideas, creating posters," Dr. Goldman said.
Several awards were given out to SPH students Wednesday, including designations for judges' choice awards at the undergraduate, master's and doctoral levels. The first ever community engagement award was given to master's student Atlang Mompe for research on the effectiveness of a health campaign aimed at black women in Washington, D.C. 
LaQuandra Nesbitt, director of the Washington, D.C. Department of Health, gave the SPH event's keynote address. She talked about the importance of community investment in public health and community partnerships.