By Tatyana Hopkins
Zaniya Lewis has long been devoted to service.
Since high school, Ms. Lewis, now a senior studying political science at the George Washington University, has held numerous leadership positions in organizing and managing service projects and has participated in such efforts since she was a young child.
Ms. Lewis currently runs the YesSheCanCampaign, a student-run nonprofit she started as a college first-year student to help her and other young women cope with challenges they faced while pursuing higher education. 
"I'm not trying to be a savior," Ms. Lewis said. "We are climbing together."
This sentiment gives the organization its tagline: "The climb is our story."
The blossoming social enterprise, which began as an online campaign, now operates college readiness and professional development programming, mainly through social media, online courses and live events, with the mission to empower, inspire and share the stories of young women who are overcoming adversity while striving to complete their education.
The climb is our story
Michelle Obama encouraged Ms. Lewis to pursue her dream of inspiring young women around the world.
As a high school senior, Ms. Lewis was invited to the White House to meet Ms. Obama after she won an essay contest sponsored by Seventeen magazine, where she wrote about how starting a student club dedicated to community service helped young women assert leadership and find their placing.  She ,herself, had struggled to do so when she was the only African-American girl in her grade at her private New Jersey high school.
As a result, she appeared on the cover of the magazine's May 2016 issue alongside the then-first lady and a co-winner, and she had the opportunity to interview Ms. Obama.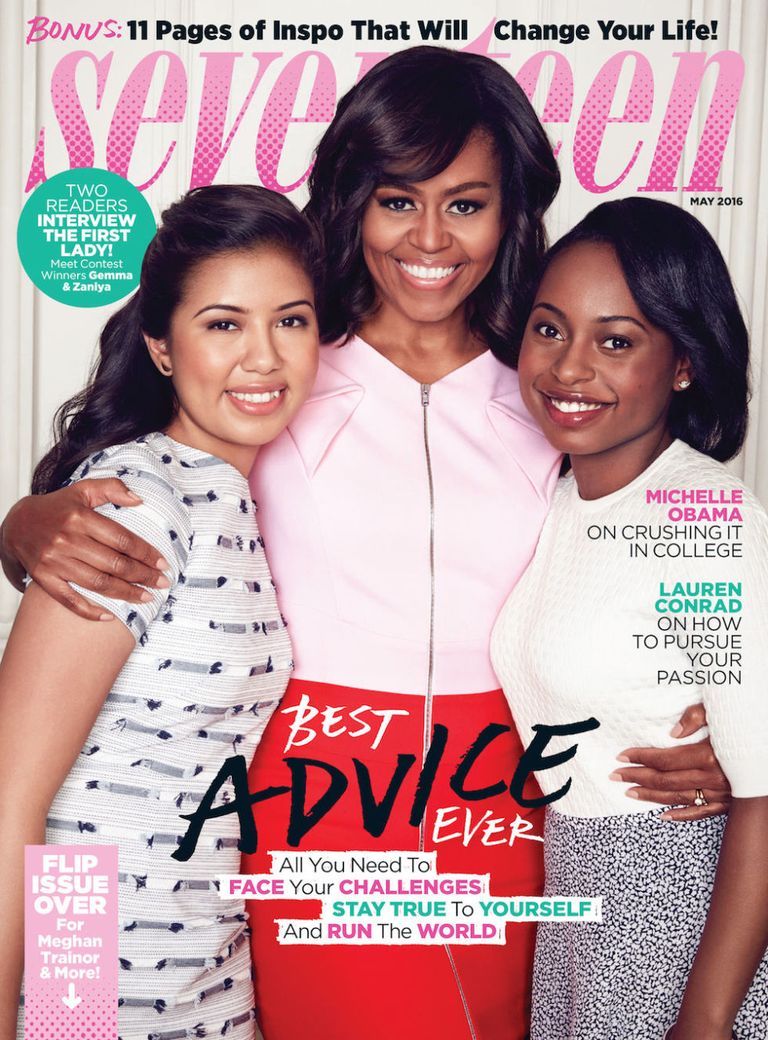 Ms. Obama left her with some advice.
"She told me you can't do college alone, and that really stuck with me because as young people, sometimes, we are afraid to ask for help," Ms. Lewis said. "She also said we have to reinvent ourselves, and during that time I was a senior and had done a lot of great things but didn't know what my next step in life would be."
A few months later she started the YesSheCanCampaign, which began as a collection of stories from collegiate women pursing education in the face of adversity on Instagram.
As she began applying for college, she found herself unprepared for the admissions process. She  was waitlisted and rejected from several schools, including GW.
"The YesSheCanCampaign was inspired by my own personal story," Ms. Lewis said. "I wondered if anyone else was going through what I was going through. Throughout my life, I have had many successes as well as hardships. No matter how much you accomplish, it's going to be hard, especially if you're a young, black woman in America."
From the ground up
Through the stories, Ms. Lewis noticed that many of the young women that engaged with her platform lacked financial resources for higher education, did not know where to find needed resources and lacked leadership experience due to obstacles they faced when pursuing internships such as transportation when the opportunities were unpaid.
 "If you want to help your community, you need to understand what they need," Ms. Lewis said.
YesSheCanCampaign now operates a program that exposes students to various job sites, hosts pop-up career and college readiness workshops across the country, runs a remote internship that allows students to assist in YesSheCanCampaign operations for volunteer credit and job experience as well as a college and job readiness program at the School Without Walls in partnership with The Taco Bell Foundation, GW Honey Nashman Center for Civic Engagement and Public Service and the GW Multicultural Student Services Center.  
It also participates in advocacy, including getting a bill introduced in the New Jersey state legislature to eliminate the practice of loan displacement—when students receive outside scholarships and the college reduces their federal financial aid package the same amount as the outside award—at its public colleges and universities as well as urging members of the federal government to do the same.
But before she could develop programming, Ms. Lewis spent a year fundraising online for the hundreds of dollars it would cost to register her nonprofit in her home state of New Jersey and receive 501(c)(3) status through the IRS. She worked with a mentor to get through the process.
Through the incorporation process, she reached out to mentors to serve on the board of directors.
"You should be careful who you select to be on your board," she said. "They vote on the budget and programs. But you should be careful because they can vote you out."
She said since YesSheCanCampaign focuses on providing educational resources and professional development, she sought board members with relevant experience such as teachers, doctors and other nonprofit leaders.
"You can also have family members on your board, I would suggest at least one because they know your mission and will make sure no one crosses you," she said. "My sister, who just graduated college, and my mom serve on my board."
Scaling to dizzying heights
Although Ms. Lewis and her work with YesSheCanCampaign has been internationally recognized, having received the Princess Diana Award for service, Ms. Lewis said she still learning how to run her nonprofit like a business.  
She said while for-profit businesses have investors, nonprofits have sponsors.
"We not only represent the YesSheCanCampaign, we represent every single sponsor that donates to our organization," Ms. Lewis said. "They're donating to our mission—telling young people that when it comes to their dreams, that nothing is off limits. That's a business deal."
Ms. Lewis, who initially taught herself to write grants through YouTube before taking a course at GW, has secured sponsorships for YesSheCanCampaign from the National Basketball Players Association Foundation and a grant from the Taco Bell Foundation as well as the GW Knapp Fellowship for Entrepreneurial Service-Learning.
However, as a participant in the 2017 GW New Venture Competition, where she made it halfway through the competition to the round before semifinals, she was encouraged to find other ways to make money.
Some judges suggested charging for the organization's programming. But Ms. Lewis wanted YesSheCanCampaign's programming to remain at zero or low cost for its participants.
So, she developed ideas to become a social enterprise—a nonprofit that operates businesses in order to generate revenue to fulfil its mission. Ms. Lewis decided to sell branded merchandise with uplifting messages, a concept she developed with one of the organization's remote internship students.
As a participant in the GWomen program earlier this year, she sought ways to expand the business including retail.
"We don't want anyone to be denied resources because of their socioeconomic status," Ms. Lewis said. "But I learned that I had to find different ways to find money for my organization."