By Tatyana Hopkins
As a student in the Milken Institute School of Public Health pursing a master's degree in health administration, Khang Vuong's primary career goal was to become a health system executive. And he was on a path to become junior management staff at a multi-billion-dollar health system reporting directly to the CFO as a corporate fellow. But while researching health care in Washington, D.C., for a class, he learned troubling information that made him rethink his career path—to find a solution that would get uninsured and underinsured people affordable primary health care.
 "I grew up in an area in Atlanta where there were large underserved populations," said Mr. Vuong, M.H.A. '18. "When I moved to D.C., I thought things would be better, but it turned out that it's not."
Mr. Vuong's research showed there was a deep disparity in the supply of primary care providers between neighborhoods in Southeast Washington and other parts of the city. In addition,  the cost of health insurance had become  unsustainable for many. The research pushed him to develop a concept for a cash-based primary health care marketplace.
Mr. Vuong had little entrepreneurship  experience. So, he took his idea to the George Washington University's Office of Innovation and Entrepreneurship (OIE) during office hours with one of its mentors-in- residence. From there, the OIE helped him refine his idea, conduct customer surveys, find mentors, compete in pitch competitions and seek funding—steps that Mr. Vuong said were critical to his business development.
 "There is only so much that you can navigate yourself," Mr. Vuong said. "The Office of Innovation and Entrepreneurship will help you choose the program that is right for you."
Established in 2010, the Office of Innovation and Entrepreneurship serves as hub for innovation at GW for students, faculty, staff and alumni.
"The vast majority of students don't think of themselves as entrepreneurs, and that's ok," said Lex McCusker, director of student entrepreneurship programs.
He said the office tries to give every student the opportunity to "try it out" by connecting them with resources they need to pursue their ideas, including alumni who often provide mentorship and free services to GW startups.  
Mr. McCusker said there are a variety of entry-points for students at any stage in the process to pursue their ideas, including:
Mr. Vuong began in the Mentors-in-Residence program, then applied for I-Corps, where he conducted more than 100 customer surveys to refine his idea and compete for funding. He then joined the New Venture Competition for access to its workshops and mentor opportunities.
"The Office of Innovation and Entrepreneurship has had the experience of working with thousands of startups so they know what works and what doesn't," Mr. Vuong said. "They are going to increase your chances for success. They have free resources that are more accessible than you think."
After nine months of working with the office, he secured a $100,000 Google Cloud Startup package and $10,000 from Amazon's cloud service to launch TalktoMira, an online platform that allows doctors to post their schedules and prices, upfront, so patients can find affordable, same hour-primary care using the system's over-the-phone virtual assistant—all without a fee to the patient.
"We have lots of experienced people who can tell students what the next step is, and we have this great network of mentors and businesspeople," Mr. McCusker said.
In addition to resources, he said the office teaches students how to "fail fast."
"Failure is an opportunity," he said. "If it's not working, change what you're doing and quickly…You've got to constantly be gathering data and adapting—we call that a pivot."
---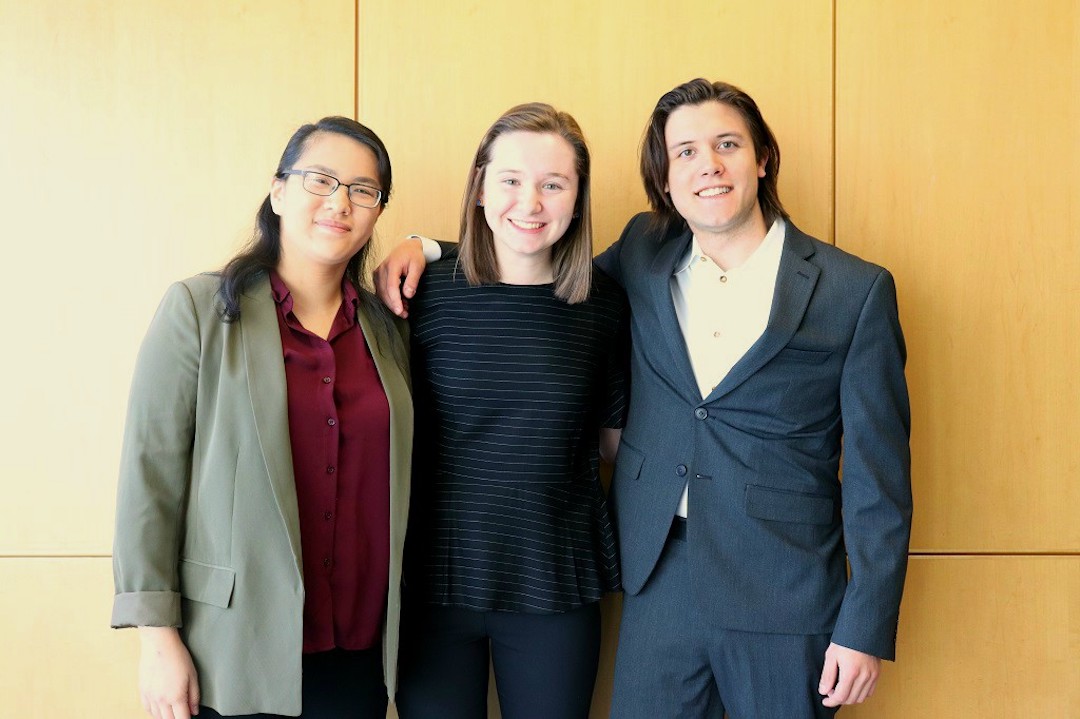 From left to right: Sydney Bailes, Caitlyn Pratt and Solomon Abrams will represent Takin' It Easy in the 2019 New Venture Competitions finals on Thursday. (Photo courtesy of OIE)
---
Caitlyn Pratt, a sophomore biomedical engineering student, is the director of George Hacks, a student-led organization at GW that organizes medical hackathons for social impact. Ms. Pratt said George Hacks' close collaboration with OIE is why her own venture, Takin' it Easy, has progressed so far.
Her team developed an automatic pill dispenser at a medical hackathon last November to alleviate the burden placed on caregivers looking after their loved ones. OIE and George Hacks provided her with the "confidence, expertise and guidance to take the initial prototype and develop it into an actual company."
After her team of four women undergraduate engineers placed third at the Pitch George business competition, Ms. Pratt's team entered the New Venture Competition. She said the office also provided her with local contacts from AARP and the GW Hospital, which have been paramount in the continued customer discovery and market research of her venture.
Takin' it Easy has a working prototype and will be competing in the final round of the New Venture Competition this Thursday. After developing a more refined prototype, Ms. Pratt's team hopes to launch a pilot program with their local Veteran Affairs contacts, previously established through George Hacks, before launching a Kickstarter campaign.
But the work to transform the team's idea into a tangible product was not easy, Ms. Pratt said. She said aside from the "overwhelming" product development phase, trying to manage the business aspects of the venture, such as marketing and sales tactics, made her feel like she was going to "burnout."
Adding a senior electrical engineer and senior business student to the team made the workload more manageable.
"I had never taken a business or entrepreneurship class, but now I've had this incredible learning experience without having taken one," Ms. Pratt said. "No matter what happens this Thursday at New Venture Competition, I am excited to continue working on this venture and am grateful to all who've helped get us to this point."