The university earned LEED Gold certification for the George Washington University Museum and The Textile Museum—marking the university's 11th LEED project across three campuses.
According to Nancy Giammatteo, director of facilities planning and design review in the Division of Operations, the green building strategy has been integral to university practices since GW established a focus on sustainable building in the 2007 Campus Plan.
"It started to change when [George Washington] President [Steven] Knapp came to the university and made sustainability a priority," Ms. Giammatteo said. "Now, we start thinking about it from day one of design for each project. We are able to save a lot of energy and a lot water and help the university's bottom line."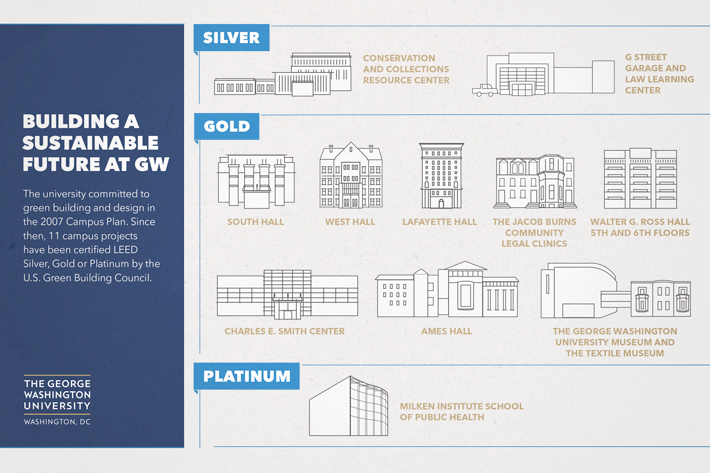 ---
The U.S. Green Building Council created LEED, or Leadership in Energy and Environmental Design, 15 years ago. It has become the industry standard for green building and design, Ms. Giammatteo said. The system assesses each project based on sustainable approaches to water efficiency, energy use, air quality, waste management and other features.
For example, Ms. Giammatteo said that the university has excelled in water use reduction—typically conserving 40 percent more water compared to similar buildings in the area. Features such as green roofs with vegetation and rainwater cisterns reduce storm water runoff, which can contribute to waste contamination in the Potomac River when D.C.'s combined sewer system overflows during heavy rainfall.
Additionally, lighting controls and the "skin" of the building, including windows, the roof and walls, are designed to maximize energy efficiency.  The Smoke-Free GW campaign has contributed to improving air quality and the university's urban setting offers more access to public transportation.
There are four building projects in development—the Science and Engineering Hall, District House, SEH 7th and 8th floors and the Hall on Virginia Avenue—that are targeting LEED certification.
George Washington Today rounded up the university's 11 LEED-certified building projects.