By Kristen Mitchell
Former Secretary of State Hillary Clinton said that American democracy is under attack, with gerrymandering, voter ID laws and the possibility of election system hacking all jeopardizing voting rights and threatening to strip Americans of their voice in the electoral process. 
Put simply, she said, defending democracy cannot be a spectator sport. 
"I really believe we are at a moment of national soul searching," Ms. Clinton said. "To anyone who has ever wondered what you would have done during previous defining moments in our history; whether you would have risked arrest to demand votes for women or bled on the Edmund Pettus Bridge to demand voting rights for all, the answer is what you're doing right now is of historic significance.
"This is one of those moments, we stand at a crossroads of our own, a crisis in democracy."
Ms. Clinton delivered the keynote address at "In Defense of American Democracy," a day-long event sponsored by the Albert Shanker Institute, the American Federation of Teachers and Onward Together, an organization founded and led by Ms. Clinton. The event was held at the George Washington University Marvin Center on Tuesday. To mark Constitution Day, the 2016 Democratic presidential nominee laid out the obstacles she thinks candidates will face leading up to the 2020 election.
There were "sweeping efforts" to prevent Native Americans living on reservations from casting ballots in the 2018 midterm election, and Stacy Abrams would be governor of Georgia right now if registered voters weren't kicked off the rolls, Ms. Clinton said. Voter suppression and voter purging are pressing concerns in the face of unsubstantiated claims about rampant voter fraud.
"The president of the United States is lying to Americans to delegitimize the democratic process," Ms. Clinton said. "Yes, of course it's abhorrent, it's delusional, but it's also strategic, and that should bother every one of us."
The result has been a deliberate and ongoing effort to undermine the integrity of our elections and to silence the voices of millions of Americans, she said. All the while, those same individuals have stayed mostly silent on the real voter fraud uncovered in North Carolina.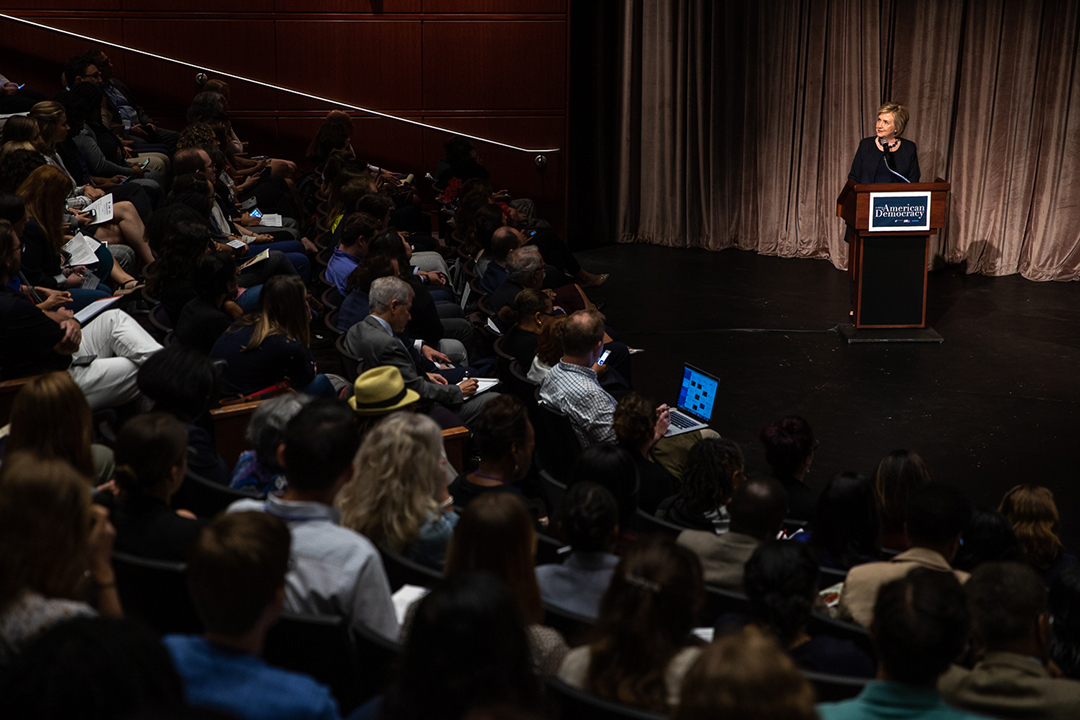 While speaking at the Marvin Center, Ms. Clinton said the United States needs to take concrete steps to protect American elections from hacking and foreign interference. (Harrison Jones/ GW Today)
---
Ms. Clinton also warned candidates that if they haven't had their personal and campaign emails hacked yet, it is only a matter of time. Cyber security is an essential component to protecting a modern democracy, but it's a challenge for campaigns to manage this task on their own. She called for a national commitment on cyber security to address this issue.
Leaders should also be concerned about false online stories that use technology to change or misconstrue their words. Earlier this year, a computer-altered video of Speaker Nancy Pelosi circulated online. Many social media and entertainment platforms were slow to remove the video, and Facebook declined to remove it, saying there was no stipulation that content posted on the platform had to be truthful. President Donald Trump's reelection campaign has invested heavily in Facebook advertising, which Ms. Clinton said he uses to "spread fake endorsements and outright lies" about Democratic candidates.
The fourth obstacle to a free and fair election in 2020 is the lack of security in the election system itself, Ms. Clinton said.
The Mueller Report found that the Russian government interfered in a "sweeping and systematic fashion" in the 2016 election. Many states are not prepared to defend themselves against threats like remote access software in election management systems or Internet-connected ballot scanners vulnerable to being hacked.
The House of Representatives passed a bill that aims to address election security concerns, however, there is little hope it will get through the Senate. Without changing the law and real investment, there is no way for the United States to have secure elections, she said.
"When we add this all up, we have a fundamental set of threats to the bedrock of our democracy," she said. "Anyone who stands in the way of confronting those threats, from Mitch McConnell and his allies to the president himself, is abdicating their responsibility to protect and defend the Constitution."
Ms. Clinton's address was followed by a series of panels related to the concerns she outlined. Speakers included Eric Holder, former attorney general of the United States, and Andrew Gillum, 2018 Democratic nominee for governor of Florida, who participated in a discussion about voter rights and suppression. Sen. Ron Wyden (D-Ore.) also gave remarks.