By B. L. Wilson
Former Attorney General Eric Holder has enjoyed a career of notable achievements as the first African American deputy attorney general, U.S. attorney for the District of Columbia and, most recently, attorney general.
His noteworthy career was the focus Saturday night of "An Evening with Eric Holder," hosted by the HistoryMakers, a nonprofit organization that has collected and preserved thousands of interviews with noted African Americans.
The event, an interview with Mr. Holder conducted by Jonathan Capehart of The Washington Post, was held at the Jack Morton Auditorium before a full audience of family, friends, former work colleagues and noted figures who played key roles in his career.
From childhood, Mr. Holder explained, as a gifted student he was sent to school outside of the black community where he lived. He learned to navigate between the black community and the majority society.
"I had feet in both worlds, which I think in some ways was advantageous to me because it equipped me for the world I was going to have to deal with as an adult," he said. "I never wanted to lose my roots and my sense of myself as a black man."
Mr. Holder attended Columbia University during the period of the Vietnam War. Anti-war protests, student takeovers of the university and witnessing injustices led him to law school, according to his wife, Sharon Malone.
His first job out of law school was in the Justice Department's Public Integrity Section. He remained in that section at Justice a dozen years.
In 1988, President Reagan appointed him as a D.C. Superior Court judge.
"That was a formative experience. It is something that I carried with me, and it is something that animated my work as an attorney general," said Mr. Holder. "I had all these mandates, these mandatory minimum sentences that I simply had to impose. And some people went to jail for far longer than I thought was appropriate."
His experience on the bench in D.C. influenced his push for criminal justice reform, a priority that he said he and President Obama share.
In 1993, President Clinton appointed Mr. Holder U.S. attorney for the District of Columbia, the largest U.S. attorney office and considered the most powerful with jurisdiction over both federal and local felony criminal prosecutions. A few years later, he was appointed deputy attorney general to work under Attorney General Janet Reno.
The capstone of Mr. Holder's public career came as a consequence of a meeting in 2004 at a dinner in Washington. That is where he met the then just elected senator from Illinois, Barack Obama.
"You could see that he was going to go places, be a force in the Senate, a force in Washington. He was impressive, engaging, and he is still all of these things. He was funny. He was a person I liked and respected," he recalled.
At the time, Mr. Holder had been out of government for several years and was a partner with Covington & Burling, the same law firm to which he returned after leaving the Obama administration.
Later, Mr. Holder said, Senator Obama called to say he planned to run for the Democratic presidential nomination and asked for his support.  
"I cut him off midway through the conversation," Mr. Holder remembered. He said he told the senator, "Oh yeah, I'm in."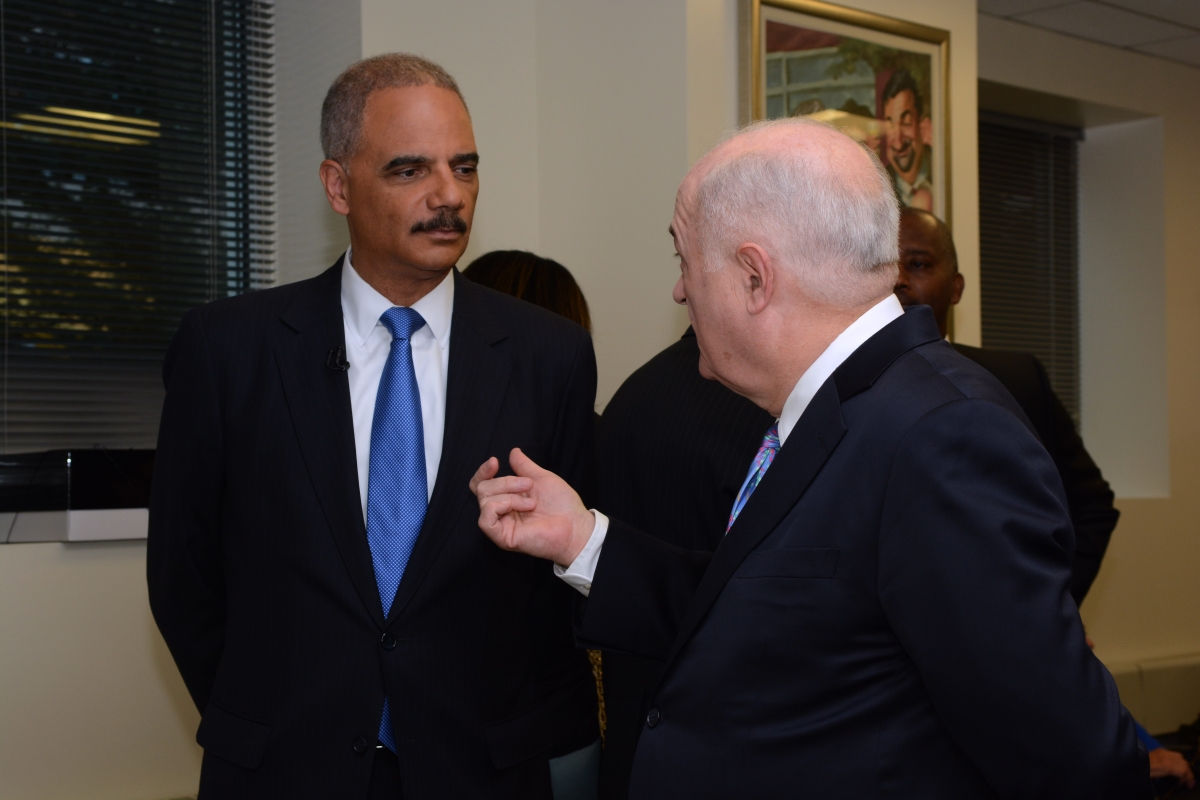 Mr. Holder with George Washington President Steven Knapp.
---
With President Obama's election in 2008, Mr. Holder returned to the Justice Department as its leader. Mr. Holder was installed as attorney general in 2009 in a ceremony at GW's Lisner Auditorium.
Among the highlights of his tenure, Mr. Holder cited the Supreme Court ruling declaring the Defense of Marriage Act unconstitutional.
Among his disappointments, he said, was the Supreme Court decision vacating a provision of the Voting Rights Act, a ruling that allows nine states to change requirements for voting without advance notification of the federal government. Mr. Holder called the ruling "one of the worse decisions the Supreme Court has issued in the last 50 years."
Asked by Mr. Capehart about his legacy, Mr. Holder paused for a moment.
"I like people to think of me as a person who believes in this country… as an advocate for people who too frequently were voiceless, (and) as a man who tried to change institutions in our country that needed reform and as a man who left this country (more) fair and more just," he said.