In the early 1940s, famed painter Norman Rockwell turned his brushes toward a project that would capture the hearts of Americans across the country. He began working on a set of oil paintings interpreting the four freedoms that President Franklin Delano Roosevelt outlined in his 1941 State of the Union.

The images—reflecting freedom of speech, freedom of worship, freedom from want and freedom from fear—were reproduced in the Saturday Evening Post and, as the New Yorker said in 1945, "received by the public with more enthusiasm, perhaps, than any other paintings in the history of American art."

The public will have a rare opportunity to see the original pieces at the George Washington University Museum and The Textile Museum in "Enduring Ideals: Rockwell, Roosevelt & the Four Freedoms," the first international touring exhibition of Mr. Rockwell's Roosevelt-inspired work. The Norman Rockwell Museum announced the details of the tour at a press briefing earlier this week.

The exhibition will be at GW from February to April 2019.

The George Washington University Museum and The Textile Museum is one of six venues that will host the exhibition. The show will open at the New‐York Historical Society on May 25, 2018, and travel to the Henry Ford Museum in Michigan, GW, the Caen Memorial Museum in Normandy, and Houston's Museum of Fine Arts before ending its run at the Norman Rockwell Museum in Massachusetts.

"The exhibition's organizers approached our museum with a conviction that Mr. Rockwell's masterpieces on America's Freedoms belong in our nation's capital," Museum Director John Wetenhall said. "They were especially attracted by GW's commitment, as stated in the provost's strategic plan, to 'expand our role in the larger community as a forum for thought and debate about citizenship and leadership.' "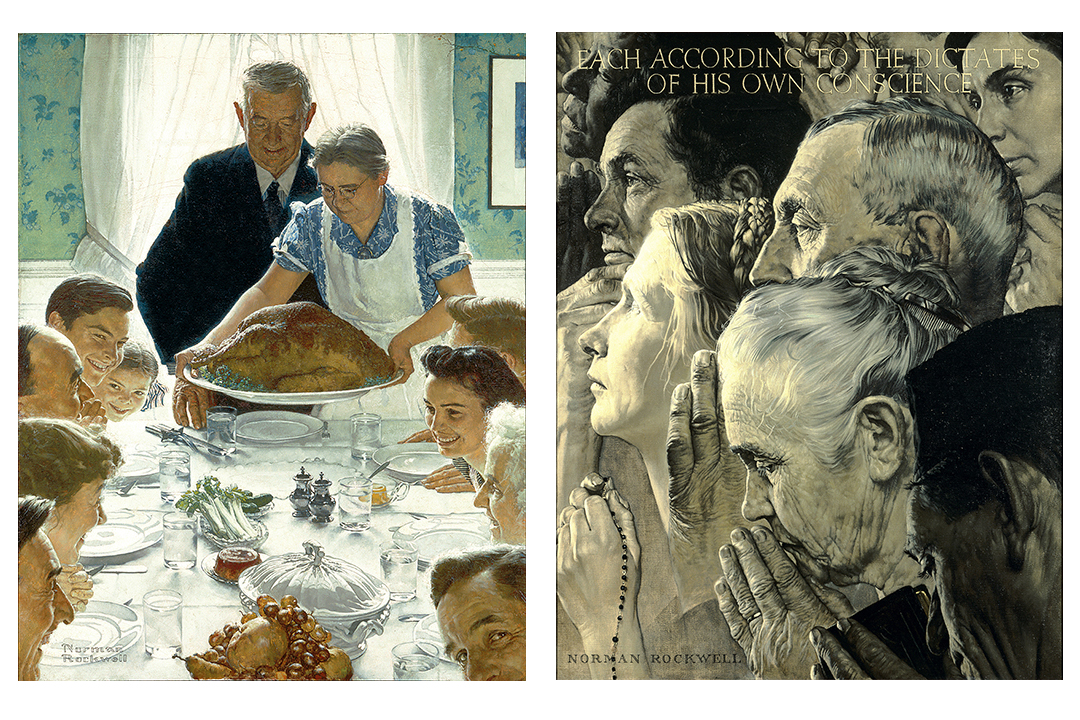 Mr. Rockwell's "Freedom from Want" and "Freedom of Worship." 1943, Norman Rockwell Museum Collections. ©SEPS: Curtis Licensing, Indianapolis, Ind.
---

"Enduring Ideals" will feature other pieces by Mr. Rockwell to show how his Four Freedoms paintings kicked off three decades in which the artist addressed social concerns in his work. Iconic paintings from later in Mr. Rockwell's career will include 1963's "The Problem We All Live With," his powerful interpretation of Ruby Bridges, the first African American child to integrate New Orleans' William Frantz Elementary School.

The show will also consist of art by Mr. Rockwell's contemporaries, such as Arthur Szyk and Dorothea Lange, and documents, videos, interactive displays and even virtual reality technology that illuminate the historic context that brought the Four Freedoms to life. The show will conclude with a section of art by contemporary artists whose work explores freedom today. The GW museum will also supplement "Enduring Ideals" with exhibitions and programs generated by its Albert H. Small Center for National Capital Area Studies.

Support for the exhibition came from the Jay Alix | The Alix Foundation and George Lucas Family Foundation, and by national presenting co‐sponsor the Travelers Companies, Inc. Additional support is provided by the National Endowment for the Arts, Helen Bing, Elephant Rock Foundation, Ford Foundation, Annie and Ned Lamont, Ted Slavin and an anonymous donor.  Media sponsors include Curtis Licensing, a division of The Saturday Evening Post and Norman Rockwell Family Agency.

Dr. Wetenhall emphasized how important educational programming will be to the exhibition.

"Our academic community at GW can supplement this important exhibition with exceptional content," he said. "In the months ahead, we will be working across GW colleges, schools and departments to generate programs and dialogues to expand this exhibition of art into a campus-wide—if not nationwide—conversation on freedom in America."