By Julyssa Lopez

Few events have been as influential in the American fashion world as the Ebony Fashion Fair, the traveling show that ran for 50 years and shattered racial boundaries while permanently altering the runway.
When publishers Eunice Walker and John H. Johnson launched the fair in 1958, their original goal had been to help raise funds for a charity event organized by Dillard University and gain a wider audience for their lifestyle magazines Jet and Ebony.
What they ended up doing was unprecedented. Their annual show introduced black models to the runway for the first time and exposed African-American communities to haute couture and top designers who had previously been unwilling to show off their clothing on black skin. The Johnsons used their influence to purchase exclusive pieces from the world's most renowned fashion houses, including Givenchy, Valentino and Yves Saint Laurent. They also celebrated black accomplishments by catapulting black designers, such as Patrick Kelly and Stephen Burrows, to fame.
"People in the communities saw themselves in these shows, and they saw fashion they wouldn't normally see in their local stores. Much of the clothing was flamboyant and extravagant, and the fashion show itself became a unique, theatrical performance with live music," said Camille Ann Brewer, curator of contemporary art at the George Washington University Museum and The Textile Museum.
The story of the Ebony Fashion Fair is told in "Inspiring Beauty: 50 Years of Ebony Fashion Fair," the newest exhibition at the George Washington University Museum and The Textile Museum. It opened on March 18. The show was originally organized by the Chicago History Museum in cooperation with Johnson Publishing Company and came to D.C. in coordination with International Arts & Artists Washington, D.C.  
The D.C. version of the exhibition features 40 ensembles from the Johnson Publishing Collection and includes original archival material from the Ebony Fashion Fairs held in Washington. The nation's capital offered the fashion show one of its largest venues: It started at the Washington Hilton Hotel before moving to the Kennedy Center, where it sold out every year.
Ms. Brewer took George Washington Today through some of the exhibition's most striking designs and explained how each ensemble reflects the spirit and enduring cultural impact of the fair.
---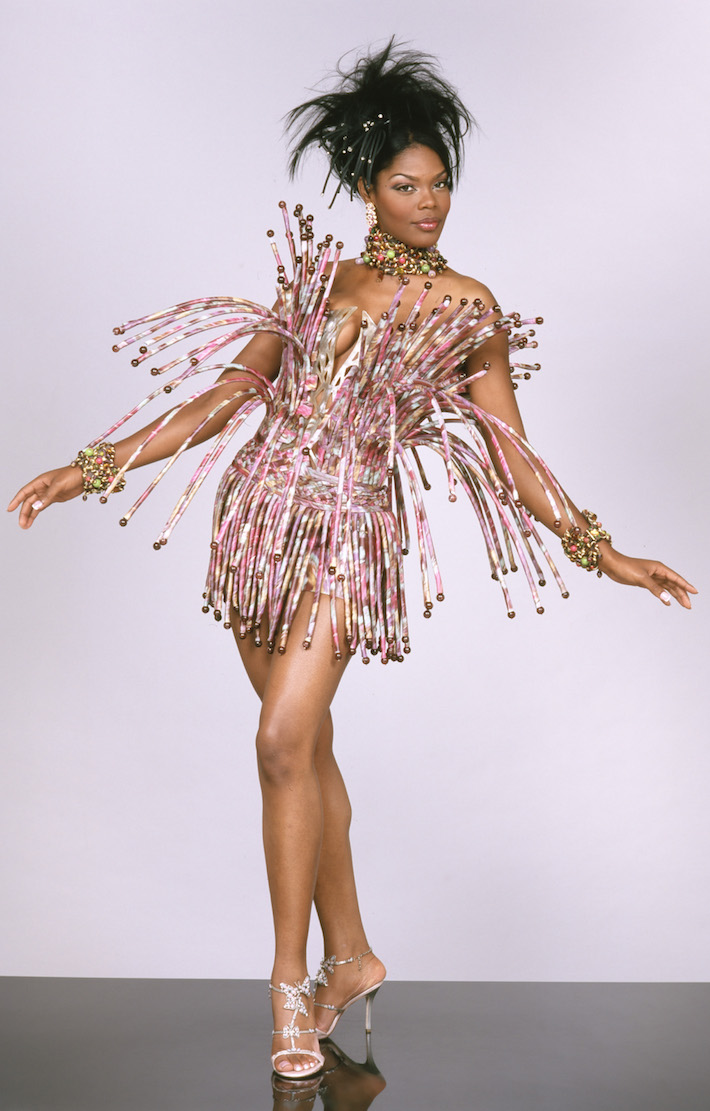 Tilmann Grawe (France), cocktail dress, special order, fall/winter 2003-04. Silk chiné taffeta, horn, plastic and glass beads, horsehair tubing, plastic boning. Appeared in Living It Up. Photo courtesy of Johnson Publishing Company, LLC.
This is a one-of-a-kind special order that was produced specifically for Mrs. Johnson by the German-born designer Tilmann Grawe. The dress is plaited, which allows for movement without putting stress on the seam. The construction is very intricate: Each individual plait has a bead about the size of a grape on the end of it.
One of the most profound changes spurred by the fashion fair was its introduction of black models. In the early 1970s, Mrs. Johnson couldn't find any make-up that worked for her models, so she created her own line, Fashion Fair Cosmetics, that featured shades from very fair all the way to the deepest browns.
---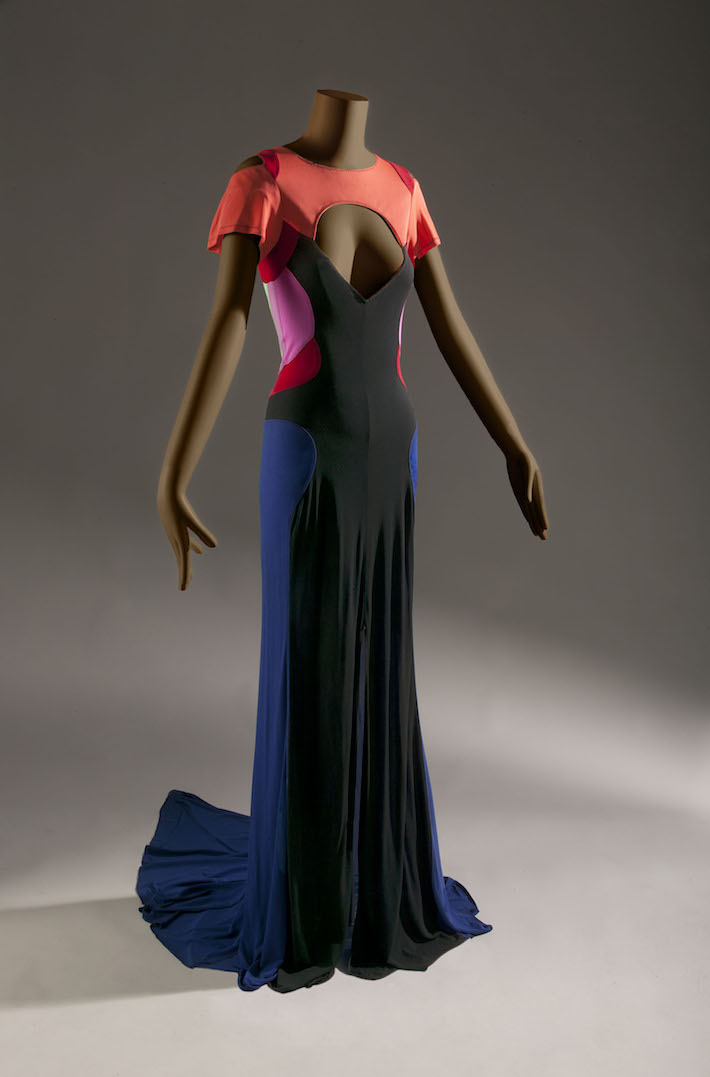 Stephen Burrows (United States), evening dress, ready-to-wear, spring/summer 2007. Rayon jersey. Appeared in Glam Odyssey. Photograph by John Alderson © Chicago Historical Society.
Stephen Burrows is an African-American designer who rose to fame in the late 1960s and early 1970s and really hit his stride in the disco era. He used bold colors—no prints or patterns—and his signature has been a seam of red piping. It's hard to see in the photographs of the dress, but the red lets you know that it's a Stephen Burrows piece.
Mr. Burrows was one of five American designers featured in the historic Battle of Versailles Fashion Show in 1973. This was a fundraiser organized to restore the French Palace of Versailles, and Mr. Burrows was invited, along with Oscar de la Renta, Halston, Bill Blass and Anne Klein, and gained international exposure.
---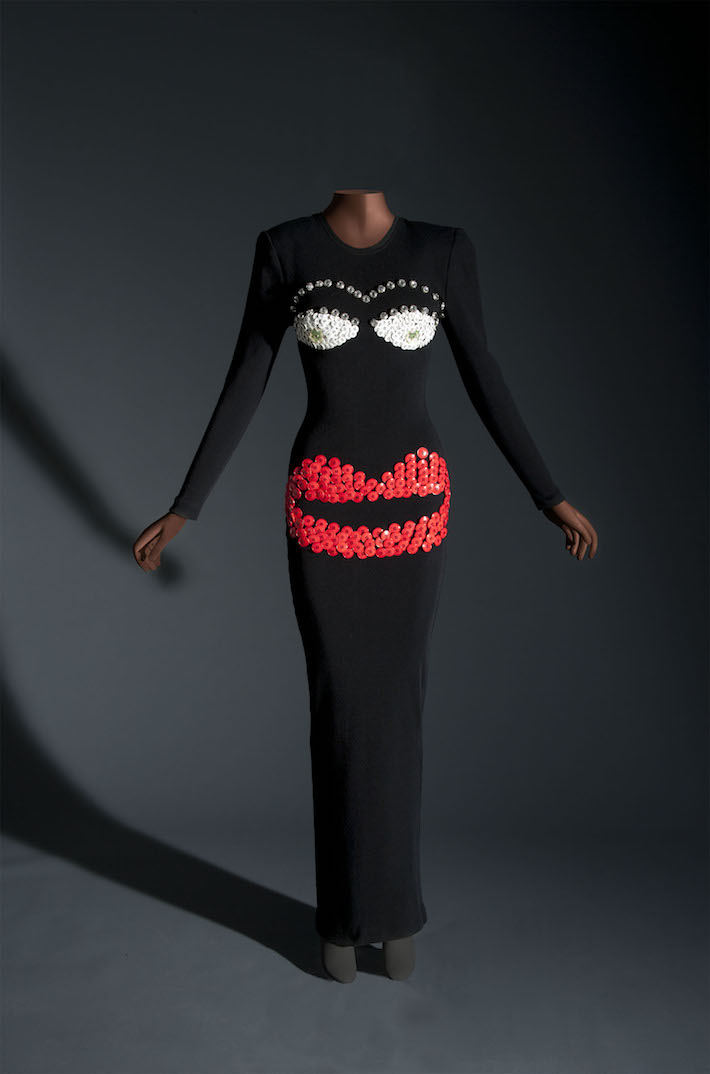 Patrick Kelly (France), "I love Fashion Scandal" evening dress, special order, fall/winter 1986. Wool knit, plastic buttons. Appeared in Fashion Scandal. Photograph by John Alderson © Chicago Historical Society.

Patrick Kelly was born in Mississippi and moved to Paris to launch his fashion career after attending New York City's Parsons School of Design. He struggled: He had a runway show in Paris and didn't sell anything. No one was interested in the ensembles he produced. But he invited Mrs. Johnson to his studio later, despite not having enough money to buy hangers for his clothes. He ended up displaying everything on the floor.
Mrs. Johnson loved his work and purchased every piece to ensure that he could jumpstart his career. His work was always incredibly playful and colorful, and he did a lot of work with buttons. He would even wear his signature overalls covered in lots of colored buttons.
---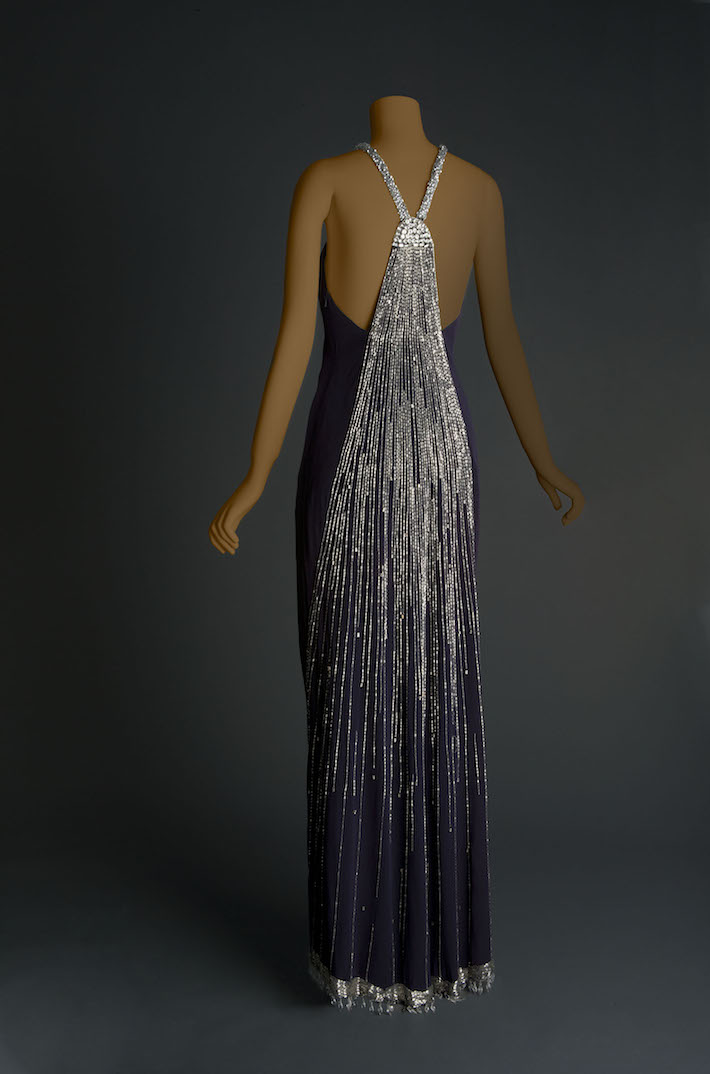 Chloé (France) by Karl Lagerfeld, evening dress, ready-to-wear, fall/winter 1983-84. Acetate/rayon blend, glass beads and rhinestones, plastic sequins. Appeared in Fashion Extravaganza. Photograph by John Alderson © Chicago Historical Society.

This piece, in conjunction with the show's Givenchy dress by Alexander McQueen, illustrates how Mrs. Johnson was able to spot talent and find designers who would later become major players in the industry.
There's a wonderful photo of Karl Lagerfeld and Mrs. Johnson. She's sitting and talking to him while he's sketching. He has a beard in the image, and you don't normally think of him with a beard—he has such a formidable look and personality now.
---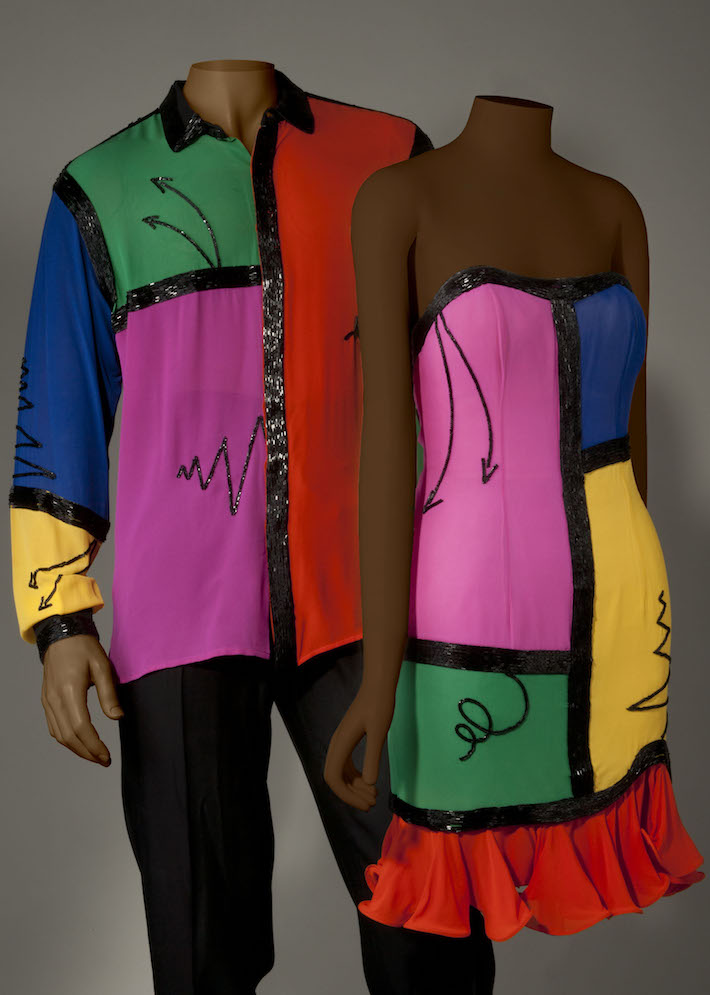 Fabrice (United States), cocktail dress and men's coordinating dress shirt, ready-to-wear, spring/summer 1990. Silk crepe, glass beads. Appeared in Freedom Explosion. Photograph by John Alderson © Chicago Historical Society.
This is a joint ensemble that featured men's wear. The focus was always on women's fashion, but there would be a few male ensembles in every show since men would sometimes escort the female models. The men would walk out with the women on their arms and wait at the start of the runway while the female models made their way down. Occasionally, they would walk down the runway together.  Several models got their start at the fair—the actor Richard Roundtree was one of the male escorts one year.
This designer is Fabrice, who was born in Haiti. His early work was in black and white, but he soon began incorporating colors and later become known for hand-sewn embroidery, sequins and jewels. 
"Inspiring Beauty" is on display through July 24.