By James Irwin
When he stepped to the podium Saturday night, at an event in his honor, Luther Brady wanted to talk about the George Washington University he enrolled at in fall 1942, when he arrived in Foggy Bottom as a "wet-behind-the-ears 16 year old" from Wilson, N.C.
"It was a revelation to me," Dr. Brady said. "Immediately, I was gathered together into the arms of an incredible faculty. Elmer Louis Kayser taught European history. He was an incredible teacher, and his classes were huge—they occupied every seat in Lisner Auditorium and even the steps up and down the auditorium."
Nearly 73 years after he first stepped foot on campus, Dr. Brady, A.A. '44, B.A. '46, M.D. '48, recalled Dr. Kayser's discussions with clarity—and humor.
"His lectures on Antony and Cleopatra were so salacious that the university censored them," he said. "Today, it would have not made any difference whatsoever."
These days, Dr. Brady is as sharp and charming as ever and remains heavily involved in the affairs of his alma mater. Saturday, the alumnus and emeritus trustee received the President's Medal—the highest honor the university president can bestow—at a Commencement-eve ceremony attended by members of the Board of Trustees, the university's senior leadership, deans, students, family and friends.
"We're very proud to include Luther W. Brady among our [President's Medal] honorees," George Washington President Steven Knapp said. "I'm delighted so many of his fellow trustees, as well as so many other members of our community—students, staff, faculty of the university—are here to join us for this very fitting occasion."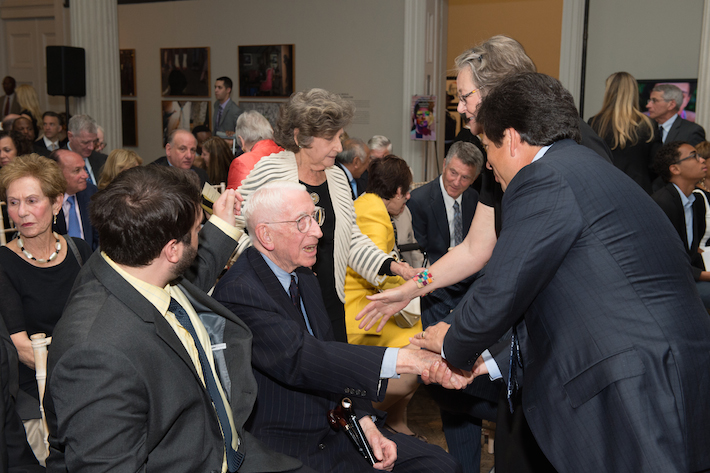 Board of Trustees Chair Nelson Carbonell congratulates Dr. Brady following Saturday's ceremony. (Dave Scavone/For GW Today)
---
A longtime GW volunteer and donor—and one of the world's foremost oncologists—Dr. Brady, through his estate, has provided for the establishment of a named professorship in radiation oncology at the School of Medicine and Health Sciences. He is the namesake of the Luther W. Brady Art Gallery, which has attracted internationally recognized artists Sean Scully, Howard Hodgkin, John Hubbard and Michael Craig-Martin, among others. Dr. Brady also serves on the George Washington University Museum and The Textile Museum Board of Directors.
The arts patron and medical practitioner has been honored with numerous awards, including the American Medical Association's Distinguished Service Award Gold Medal and the Strittmatter Award, granted by the Philadelphia County Medical Society. Dr. Brady also is a recipient of the GW Distinguished Alumni Achievement Award, the GW Society Medal and received an honorary Doctor of Fine Arts degree from the university in 2004.
The President's Medal, he said, represents a high point in his life. He said he was happy to share the honor with those who have supported his passion for the arts and endeavors in medicine.
"I really cannot begin to tell you how pleased and delighted I am to be here and to receive this accolade from the university," he said. "It is, I think, the pinnacle of all the awards I've ever received from any institution or any organization. And I'm deeply grateful to everyone who's made it possible."
Previous recipients of the President's Medal—established in 1988 to recognize individuals who have exhibited courage, character and leadership in their chosen fields—include Nobel laureate and former Soviet Union President Mikhail Gorbachev, musicians Dave Brubeck and Judy Collins, former Israeli Prime Minister and Nobel laureate Shimon Peres, philanthropist Albert H. Small and journalist Walter Cronkite. Swiss diplomat and social justice advocate Carl Lutz, B.A. '24, and entrepreneurial engineer Simon Lee, M.S. '05, are among the GW graduates who have received the award.