By James Irwin
James Wade was excited when he learned he would be coming to Washington, D.C. The strategic management professor's research interests are in corporate governance, regulation and executive compensation, and the city is a perfect fit to study those topics.
"Obviously the SEC is here, and a lot of policies are formulated here," Dr. Wade said Thursday at a ceremony installing him as an endowed professor at the George Washington University.
Then he cracked a knowing smile.
"I also do research on scandals," he said. "Turns out Washington is pretty good at that also."
In front of an energetic crowd of colleagues, students and members of the School of Business Board of Advisors, Dr. Wade was formally installed Thursday as the inaugural Avram S. Tucker Endowed Professor in Strategy and Leadership. An expert in organizational management, Dr. Wade came to GW in August from Emory University.
The professorship was created through a donation from GW Trustee Ave Tucker, B.B.A. '77. The co-founder and CEO of TM Financial Forensics, LLC is a School of Business alumnus and former GW baseball player. In 2014, nearly 40 years after he chased down fly balls on the Ellipse as a speedy outfielder for the Colonials, Mr. Tucker made a $2 million donation to the Department of Athletics and Recreation, the School of Business and GW Law School. GW recognized him last fall by renaming the playing field at Barcroft Park in his honor.
"I am deeply grateful to Ave Tucker, for his generosity, his vision and continuing support of the university and the School of Business," George Washington President Steven Knapp said Thursday.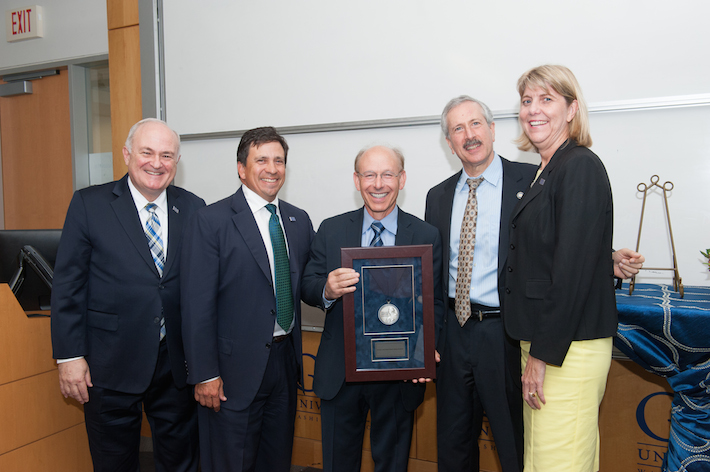 (From left) George Washington President Steven Knapp, Board of Trustees Chair Nelson Carbonell, Trustee Ave Tucker, Provost Steven Lerman and School of Business Dean Linda Livingstone pose for a photo during the installation ceremony. (Allison O'Brien/For GW Today)
---
Baseball and business were central to Mr. Tucker's GW experience. He said the donations—$1 million to athletics for scholarships and the construction of a baseball clubhouse, $750,000 to the business school for faculty research and $250,000 to the law school to support the Government Contracts Associate Dean endowed fund—are about creating opportunities for others.
"I personally want that to continue and increase," he said. "GW took a risk on me and gave me a baseball scholarship. And the business school really set me up for a great career. GW taught me how to think and to be creative and deal with issues and solve problems."
In finding the right person for the professorship, Mr. Tucker said he and GW were looking for a great professor, and a great researcher. Dr. Wade has served as senior editor of Organization Science and on the editorial boards of the Strategic Management Journal and Administrative Science Quarterly. He views his new role at GW as one that supports and bolsters the business school's research infrastructure.
"If you look at the elite universities and think about what makes them different, one of the critical differences is often in the development and support of research capabilities," he said. "And that's one reason I'm excited to be at GW. It's really on an upward trajectory."
---
Enhancing academics is a key pillar of Making History: The Campaign for GW. Endowed professorships and scholarships—often established through donations from individuals or organizations—create opportunities for faculty and students in perpetuity. The oldest endowed professorship at the George Washington University, the Congressional Professorship, was created in 1832 by an act of the United States Congress.