By Craig Burdick
Nearly 40 years after he chased down fly balls on The Ellipse as a speedy outfielder on the George Washington University baseball team, Avram "Ave" Tucker is making a $2 million donation that will enhance athletics and academics at his alma mater.
Mr. Tucker, B.B.A. '77, a member of the GW Board of Trustees, is donating $1 million to the Department of Athletics and Recreation, $750,000 to the School of Business and $250,000 to the GW Law School. Half of the athletics gift will go to the Buff & Blue Fund for unrestricted support of student-athletes. The other half is slated for construction of a baseball clubhouse.
"I am delighted that Ave Tucker has chosen to support the university in such a range of important ways, each of which means so much to him personally," said GW President Steven Knapp.     
In recognition of Mr. Tucker's generosity and support, the GW Board of Trustees voted Sept. 24 to name the baseball field at Barcroft Park in Arlington, Va., in his honor.
"Ave's generosity and spirit of philanthropy will have a profound impact on all of our student-athletes," Director of Athletics and Recreation Patrick Nero said. "His commitment to the physical well-being of our student-athletes, as well as to our baseball facility, will help our programs to continue the momentum of these past few years. We are forever grateful to Ave for his commitment to his alma mater, and thanks to him, we will be proud to compete for championships on Tucker Field year in and year out."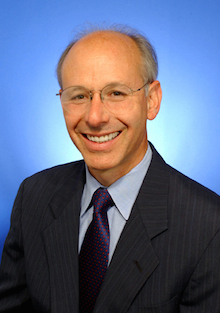 Ave Tucker spent 16 years on the School of Business Advisory Board and was elected to the GW Board of Trustees in 2013. 
Why the triple play of athletics, business and law? Mr. Tucker, co-founder and CEO of TM Financial Forensics, LLC, attended GW on a baseball scholarship during his junior and senior years and long has wanted to repay GW for giving him an opportunity to play baseball at a Division I school. He said the School of Business taught him how to be a creative problem-solver. And as a renowned forensic accountant at the top of a business and litigation consulting company, he spends hours in court as an expert witness in procurement cases, giving him a strong appreciation for law.
"While at the time I didn't really understand it, [the School of Business] spent a lot of time teaching us how to think, and be creative and come up with solutions," he said. "That's served me very well in my career. [And] GW Law is one of the most preeminent law schools in the country for government contracts and procurement law, and so I actually interact with them quite a bit in my business."
The School of Business gift will support faculty summer research, a strategic funding priority for GWSB in GW's Making History campaign. The GW Law School donation will support the Government Contracts Associate Dean endowed fund, the subject of a current fund raising drive at the law school. The university's Government Procurement Law Program is the only one of its kind in the United States. Including Mr. Tucker's gift, more than $1.4 million of the endowed fund's $2.5 million goal has been raised. 
Mr. Tucker, who spent 16 years on the School of Business Advisory Board, was elected to the Board of Trustees in June 2013.
Tucker Field at Barcroft Park will be dedicated Oct. 18. The park has been the home of GW baseball since the team relocated off The Ellipse in 1993. Barcroft Park underwent a multi-million dollar renovation in 2012 to install a new press box, concession area, dugouts, bullpens and stadium seating. 
"Having Ave's name on the new baseball field will be an inspiration to student athletes for generations to come," Dr. Knapp said.