By James Irwin and Craig Burdick
The first player Mike Toomey signed when he took over as head coach of the George Washington University baseball team in 1976 was a small, speedy center fielder from Montgomery College named Ave Tucker. Mr. Tucker, B.B.A. '77, hit at the top of the lineup and chased down fly balls on the Ellipse for two seasons at GW.
He also was responsible for Mr. Toomey receiving a parking ticket during a game.
"We were playing Howard University one day, and all of a sudden a park police officer came up to the third base coaching box and asked if I was in charge and gave me a ticket for $200," Mr. Toomey said. "Ave Tucker, who was the hitter at the time, had fouled a ball off and it had broken the windshield of a Mercedes behind the backstop.
"We've come a long way, baby," Mr. Toomey said.
Old stories and gratitude marked the dedication of Tucker Field at Barcroft Park on Saturday, as GW recognized Mr. Tucker, a member of the university Board of Trustees, for his $2 million donation to athletics and academics at his alma mater by naming the university baseball field in his honor. The dedication, held at the foot of the pitcher's mound and attended by friends, family, members of the GW community and the current GW baseball team, featured remarks from GW President Steven Knapp, Board of Trustees Chair Nelson Carbonell Jr., B.S. '85, Athletics Director Patrick Nero, Mr. Tucker and Mr. Toomey, B.S. '74.
"Trustee Tucker has a long and distinguished association with George Washington," Dr. Knapp said, drawing on Mr. Tucker's 16 years of service to the School of Business Advisory Board. "He's become a very valuable and trusted adviser to me and a great supporter philanthropically to the university. Today, it's an honor for us to honor Ave's unwavering commitment and the inspiring example he's set for all Colonials."
Mr. Tucker's gift—"I call it an investment in GW students and GW athletics," he said—will support the Department of Athletics and Recreation, the School of Business and GW Law School. The School of Business gift is marked for faculty summer research. The GW Law School donation will support the Government Contracts Associate Dean endowed fund.
"He made his commitment to support students in academics, to support athletes and to break new ground—the three pillars of our Making History campaign," Mr. Carbonell said. "Ave exemplifies the best in intercollegiate athletics: He came to play baseball and to study business, and he applied the lessons he learned on the field and the knowledge he gained in the classroom."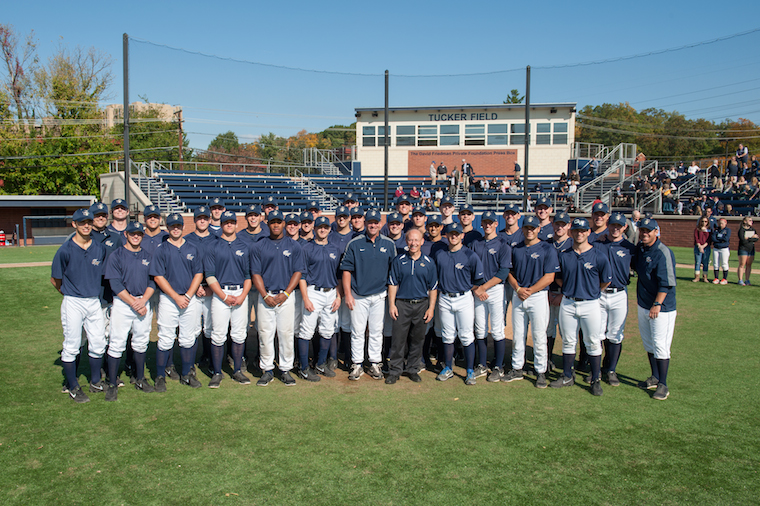 Members of the GW baseball team pose for a photo with Ave Tucker at the dedication event for Tucker Field at Barcroft Park.
---
A speedy outfielder in his playing days, Mr. Tucker raced across the Ellipse from 1976 to 1977 as GW's everyday center fielder. He tracked down several fence-clearing blasts—had there been actual fences.
"Ave could really run," said Mr. Toomey, currently the special assistant to Kansas City Royals General Manager Dayton Moore. "He was an exceptional defender in center field and you had to have guys who could run because there were no fences. Ave made so many great catches in center field. People were hitting balls 500 feet, and Tuck was running them down."
The Ellipse, located between the Washington Monument and the White House, was a special place to play, Mr. Tucker said.
"It wasn't much of a stadium, but it had some very unique aspects," he said. "Games would be stopped for the president's helicopter to land. The national Christmas tree was there. And I'd say you'd get unusual bounces that sometimes were helpful and would sometimes decide games."
Barcroft Park in Arlington, Va., has been the home of GW baseball since the team relocated off the Ellipse in 1993. The facility underwent a multi-million dollar renovation in 2012 to install a new press box, concession area, dugouts, bullpens and stadium seating.
Part of Mr. Tucker's gift is slated for construction of a baseball clubhouse.
"For us to have a home out here will be great for our young men," Mr. Nero said. "I believe Ave's generosity will really set a precedent for student-athletes to give back to the university and really make a difference for a long time to come for GW."
Mr. Tucker, who went to work for Arthur Andersen and Co. after graduation, credits his parents and mentor, Alan Peterson, with instilling him with a desire to be philanthropic.
"I had always grown up thinking it was good to give something back to society," Mr. Tucker said earlier this month. "[And] Alan said not only is it good to give back to society, it's good to give back to education."
Now a renowned forensic accountant at the top of the business and litigation consulting company TM Financial Forensics, LLC, Mr. Tucker said he knew long ago that he wanted to give back to his alma mater.
"It's a great institution, and I want to help GW make history in my own little way," he said Saturday. "I vowed when I was here in the 70s to pay them back for taking a chance on a short center fielder."