By Tatyana Hopkins
As hospitals cope with a shortage of personal protective equipment due to increased demand during the COVID-19 pandemic, groups of students and faculty members from across disciplines at the George Washington University have come together to find immediate responses to the needs of health care professionals at GW Hospital.
"Across the university, across disciplines and across programs, there's a group of really energetic people who are hustling to deal with COVID-19," said James Huckenpahler, an adjunct digital lab instructor in the Corcoran School of Art and Design.
He worked with a group of GW community members from various schools and departments—including the School of Engineering and Applied Science, GW Hospital, the GW Innovation Center (GWIC), student organization George Hacks and others—who collaborated to develop and manufacture much needed protective gear and protocols for workers at GW Hospital.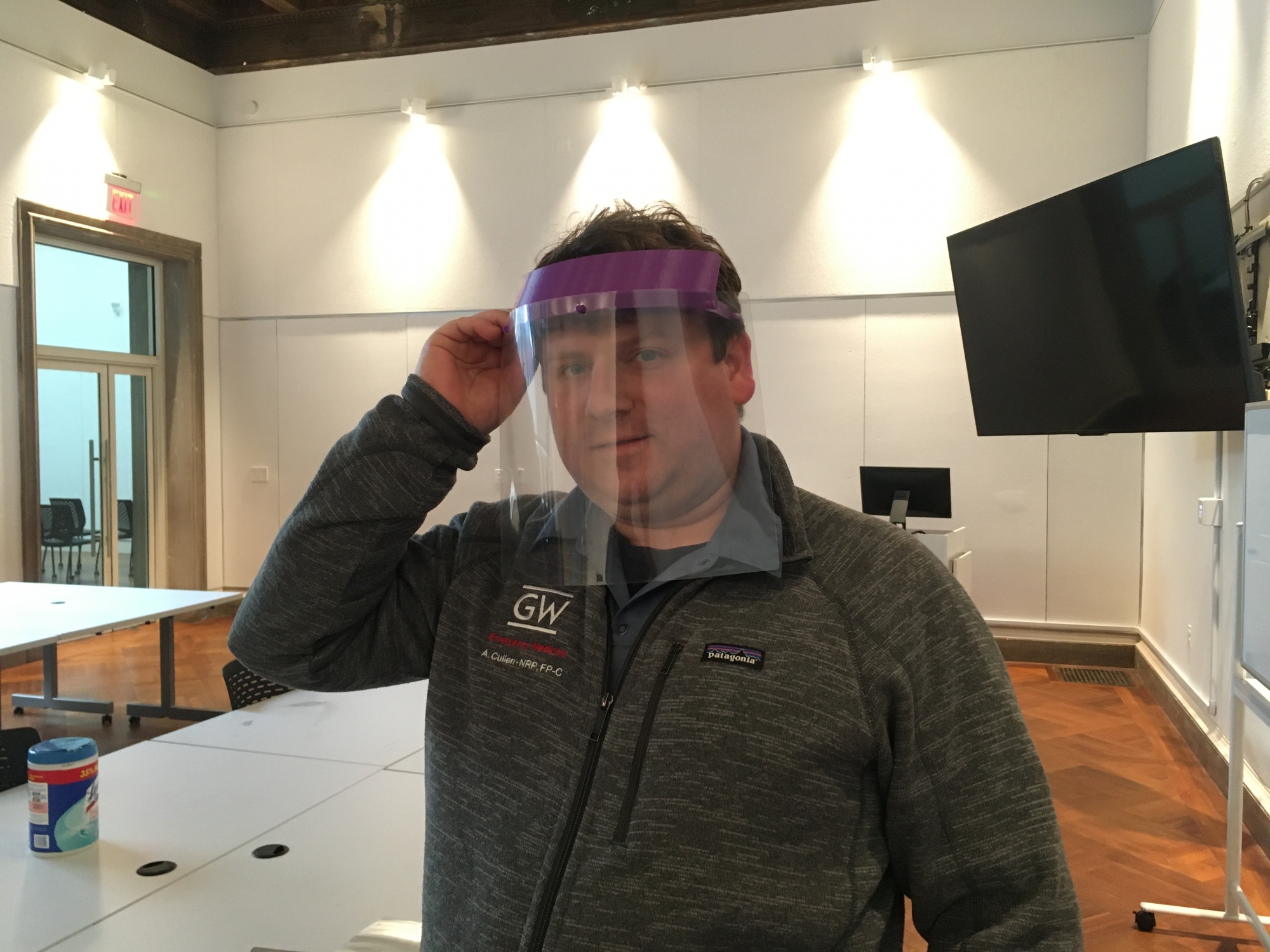 Mr. Huckenpahler runs the group's 3-D printing farm, which worked to produce 200 face shields for GW Hospital staff in just under a week, to ensure everyone at the hospital who needs one gets the protective equipment.  
The team also includes Alex Cullen, an emergency medicine instructor in the School of Medicine and Health Sciences; Neal Sikka, an associate professor of emergency medicine; and Konstantin Mitic, a graduate student studying biomedical engineering.
After field testing four prototypes, including one developed by an engineering student, they decided to modify a model from the National Institutes of Health, Mr. Huckenpahler said.
"Essentially, we're printing a plastic visor, then attaching a piece of clear plastic—literally the design calls for overhead projector plastic sheets that are punched with a three-ring-binder punch—and adding a rubber band to secure the whole thing," Mr. Huckenpahler said. "The part we print is more than single-use, and the clear plastic sheet can be replaced as needed."
The team produced about 40 shields a day since last Tuesday to complete the project on Sunday.
The Corcoran's 3-D printing lab, which used 12 of its available 3-D printers for the projects, is the largest of its size on campus, said Mr. Mitic, a GWIC fellow.
"We don't have any other facility on campus that has that capacity for this scale of mass production," he said. "That's only in Corcoran."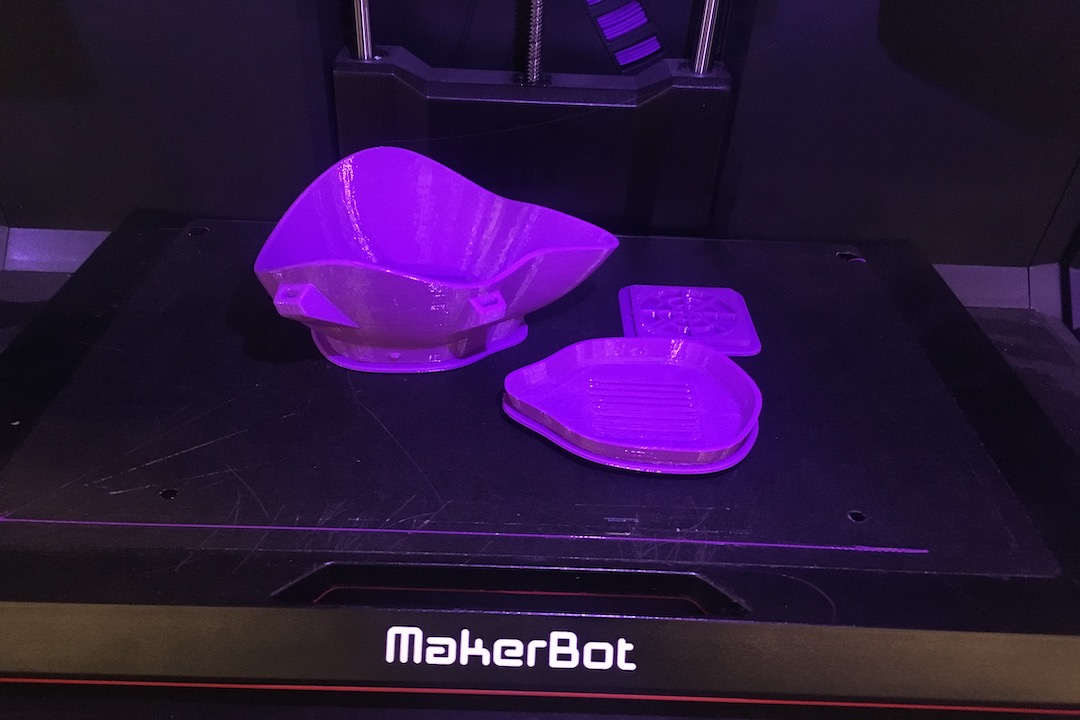 Mr. Mitic, who also had access to six of the George Hacks and GWIC's 3-D printers, is also working on a project to 3-D print reusable N95 comparable respirators.
The team includes Yuan James Rao, director of brachytherapy at the GW Cancer Center and assistant professor of radiology at the SMHS; Sharad Goyal, director of radiation oncology at the GW Cancer Center and professor of radiology at the SMHS; Jeffrey Berger, professor and chair of anesthesiology and critical care medicine at the SMHS; Murray Loew, chair of the biomedical engineering department; graduate students Sofian Obaid and Destie Provenzano; and others.
""We produced and tested numerous designs in just a couple of days, and we identified an effective solution," Mr. Mitic said.
Within a week, they had a design that passed the hospital's rigorous suction and fit tests.
Hoping to mass produce the design, which has removable and replaceable units, some of which can be sanitized and reused unlike most N95 respirators, the team continues to look for ways to standardize and scale the prototype into small, medium and large sizing options.
Meanwhile, another group of faculty and students, being led by current and forme SEAS professors David Lee and Carl Wick, are developing a touchless hospital screening system to help protect staff during the check-in process.
The interdisciplinary team is composed of the following members: Mr. Mitic; Mr. Huckenpahler; GWIC Director Annamaria Konya Tannon; Erica Wortham, Elliott School of International Affairs lecturer and GWIC project lead GWIC; and Robert Pless, chair of the SEAS computer science department. Electrical and computer engineering student Matt Taylor; biomedical engineering students Caitlyn Pratt, Karen Rius and Maria Sidulova; and Corcoran exhibition design student Alex Morpurgo were also involved.
Currently, the screening process happens at an arms-length distance and consists of hospital staff asking incoming staff, the only group with general access to the hospital, which has restricted visits, questions related to recent travel, COVID-19 exposure and symptoms before taking their temperature with a hand-held thermometer.
Hoping to automate the process, the group is developing a kiosk that will measure temperature and signage that will help staff entering the hospital self-direct themselves based on their answers to screening questions.
The overall goal is to prevent the spread of the virus within the hospital by helping screeners reduce their interactions with those entering the hospital.
Mr. Huckenpahler is working with Dr. Wortham on signage that will direct visitors and assist with crowd management.
"This has been a great collaboration," Mr. Huckenpahler said. "We're working together, and we're pivoting to deal with COVID-19."
SEAS has created a page for the school's COVID-19 related projects, where students and faculty can connect and share their work during the pandemic.