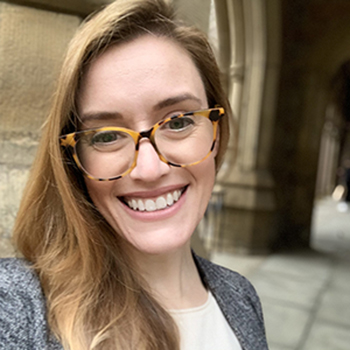 By Kristen Mitchell
George Washington University alumna Maura Welch, B.A. '13, was recently named a Class of 2022 George J. Mitchell Scholar. The prestigious scholarship program, administered by the US-Ireland Alliance, sends future American leaders to the island of Ireland for a year to pursue graduate studies.
Ms. Welch, a speechwriter for Boston Mayor Marty Walsh, said it is an honor to be selected for the scholarship and to have the opportunity to study in Ireland. She plans to study comparative social change at Trinity College Dublin. The program focuses on the social, cultural and economic forces that are driving social change in the world.
"As a speechwriter for Mayor Walsh, I've seen firsthand how progress and change happens at the city level," she said. "A lot of my work has focused on communicating the urgency of climate action and the benefits of investing in community resources through writing and other creative communications. I joined Mayor Walsh's office a week before Donald Trump was elected, and it's been inspiring to see Boston rally together around immigrants' rights, women's rights, LGBTQIA rights and racial justice, especially over the last four years.
"It's been an incredible education seeing how coalitions form and how they achieve their goals, whether that's passing legislation, creating new programs or changing the culture around a given issue. At Trinity, I want to deepen my understanding of social and political movements and continue to work toward social progress."
Ms. Welch majored in environmental studies at GW. After graduation she worked for the Nature Conservancy's Islands Program on Martha's Vineyard where she managed communications for a new citizen science program, developed educational curricula for the public school system and coordinated sustainability projects. She then spent two years directing youth programs for Portland Parks and Recreation in Oregon. 
As a speechwriter, Ms. Welch has written about a host of local and national issues, including climate action and racial justice, and developed creative outreach materials including videos, opinion columns and a podcast. She is experienced at handling challenging topics, such as President Trump's administration's changes to Title IX protections for survivors of sexual assault, the mayor's commitment to protecting immigrants and refugees and the city's response to the opioid epidemic.
Ms. Welch is one of 12 students from around the United States to join this year's scholarship cohort. A record 453 candidates applied for this year's program.