The George Washington University held its sixth annual Faculty Honors Ceremony on Wednesday, celebrating excellence in teaching, writing and research. (See a full list of awardees here.)
Two of the winners spoke to George Washington Today's Ruth Steinhardt about their teaching philosophies, the challenges they face and what they love about their work.
---
The Teacher/Researcher
Denver Brunsman, associate professor of history
Politics and social history of the American Revolution and early American republic
Winner, Morton A. Bender Teaching Award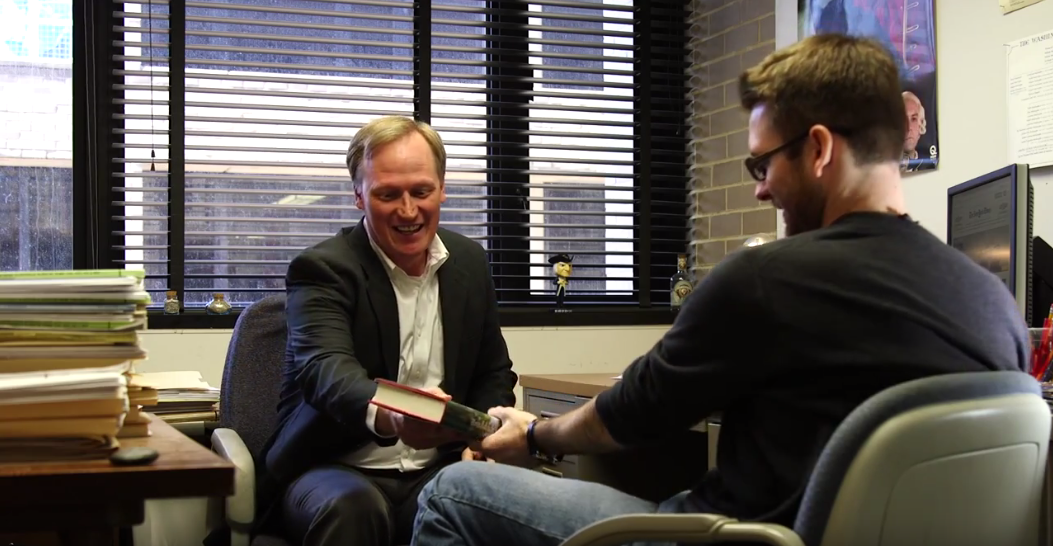 What did teaching feel like at the beginning of your career? Were you excited? Scared?
I was always really excited to be a teacher. My mother was a high school English teacher, so I grew up around teachers. They were kind of my heroes growing up.
That doesn't mean I was completely confident! I remember the first college class I ever taught, which was at Wayne State University. I remember suddenly finding my teaching voice—it felt like it came out of nowhere. It was like the teachers of my youth channeling through me.
I think a characteristic of my teaching now is that I try not to lecture that much. I prefer to get my students involved in as many other activities as I can. But based on that day, I still know I can if I have to.
What did you admire about those teachers who were your heroes?
My godmother, Gerri Sorben, was also my sophomore English teacher. She had so much passion for literature and history. It was actually in her class that I first saw 1776, the musical, which is fun to think about now that [Pulitzer Prize-winning musical] Hamilton is such a rage. I fell in love with the American Revolution and with the founders. A lot of that was due to her enthusiasm. She had a huge effect on me.
One comment I love to get on my evaluations is students saying that they didn't think they liked history until they took my class, and that I kind of had that same effect on them. That's really exciting to hear.
What is the biggest challenge about teaching?
Well, it's a fun challenge: teaching in Washington, D.C., figuring out how to take advantage of that location. I try to use the city as a laboratory as much as possible, because I think it's the best place in the world to learn American history.
Of course, there are logistical restraints on what you can do with a large intro or survey class of 100 to 150 people. It's not necessarily practical for all of us to hop on the Metro. But I can design time when students have to visit a monument, a memorial, a museum, a place of historical significance. That's patterned after "George Washington and his World," the course I teach each year at the Mount Vernon Estate.
When I started teaching that class, I wanted students not only to learn but also to contribute, in different ways, to the life of Mount Vernon. So for example, each student adopts an artifact from the Mount Vernon museum. They can't take it home, obviously, but they get to know it and research it for several weeks.
Then the students give a tour for the museum staff. Afterwards, there's a Q & A with the curators, so the students learn if they were correct and the areas of weakness. Then they write a curatorial report that becomes a permanent part of the museum.
Students also do an entry in the library's digital encyclopedia. These are scholarly essays, so if they do everything correctly they can graduate with a publication credit, and they've had an impact on the place they learned about.
Who is your favorite founder? Or do you have to say George Washington?
George Washington is actually the honest answer! When I began teaching this course, I admit I wasn't sure he'd remain interesting to me year after year. But the more I study and engage with him, the more complex and human he becomes.
In class, I really try to emphasize his humanity. Today he can feel so remote—like the Washington Monument. But even George Washington was a teenager once. He made mistakes. He had girl problems. His father died when he was 11. He was born into a certain amount of privilege, but he still had struggles.
He was rough around the edges into his 20s. He wasn't born the person he became. He developed into it and it was a lot of work. I think that's inspiring to our students.
How have your students influenced your teaching?
Well, actually Hamilton is a funny example. The YouTube video of [writer and star] Lin-Manuel Miranda at the White House in 2009—I've been showing that since I started teaching the class in 2012, because a student put me onto it. Honestly it was a life-changing little YouTube video! That's an example of how students change the way you see things.
I love getting messages from former students. Social media definitely helps with that. That's just a really nice thing, and it reminds me to connect once in while with my own former teachers and let them know what I'm up to.
It's something I emphasize in my classes: Just as one day you'll be alumni of GW, you're also now alumni of this class. I always have a few spaces open on the class bus to Mount Vernon, and you're always welcome. Some people have actually come back and taken advantage of the offer, so I hope that will continue.
---
The Researcher/Teacher
Oleg Kargaltsev, assistant professor of physics
Winner, Office of the Vice President of Research Early Career Researcher Award
High-energy astrophysics, X-ray astronomy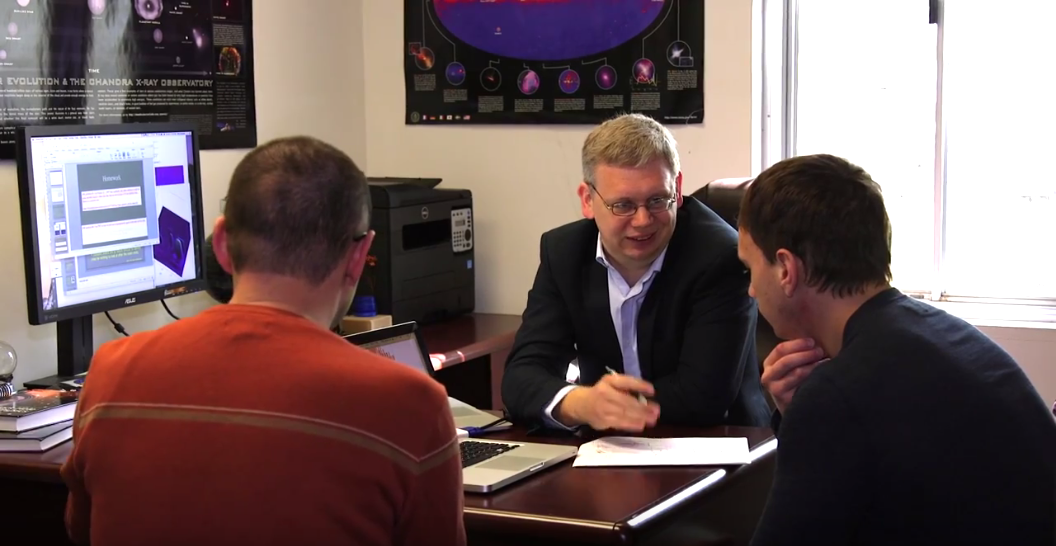 How do you balance teaching and research?
It's difficult for me to draw a dividing line between them I consider research a powerful education tool. From my own experience, the core of both my teaching and research philosophy is that students should be involved in research as early as possible. I think it's one of the most powerful educational motivators, especially when it's combined with excitement to learn about the universe, which is what astronomy and astrophysics can do. If you have the opportunity to participate, to do astronomy, that's powerful.
It's really important to awake in students' minds an interest in learning about the world around them. That's the defining characteristic of a good scientist and educator: being able to transfer this curiosity, this desire to learn to students. When students start being involved in research very early, it is easier for them to acquire and develop these qualities.
They also learn things that are maybe a little bit boring, the problem-solving skills and so on. But the bigger thing, the driving thing is to develop that interest. That can motivate students and attract them both to the astronomy program and to GW.
We can even start in high school to really get students involved in science—not just astronomy, although astronomy is my area, and it's an exciting area. I currently have some high school students doing an astrophysics research project in my group. The earlier the better.
Do you remember the first thing you had that consuming curiosity about—the first scientific question you wanted answered?
I do, actually. I liked reading sci-fi books in high school, and I had a book that was something about travel between the stars. They got in trouble because their spaceship passed too close to a neutron star, and they had to land on a planet orbiting this star. I became curious about this mysterious "neutron star" object and wanted to learn about what is out there in the universe.
And actually, I'm still doing neutron stars! It's a major part of my research.
Have your students contributed to or changed the direction of your research?
Once they develop that curiosity they start noticing things not directly aligned with my research, so they bring my attention to new things.
For instance, one of my students is really interested in data science—specifically in machine learning, also known as artificial intelligence. Basically making computers learn and make predictions from data collected in the past. Normally that's thought of as a branch of computer science, but it can apply to astrophysics as well, there's an emerging field in that.
I've gotten more and more interested, and now this student is doing most of his Ph.D. research on machine learning under my supervision.
What were the challenges of moving from full-time research to teaching?
I had to completely revise my schedule. Before coming to GW I was a research scientist at the University of Florida, so I did some mentoring and guest lectures, but it was not a large amount of my time.
When I came to GW, I realized I would have to set aside a large chunk of my time to make sure I deliver classes in a quality way. I had no idea how much of time investment that would be. That was hard, especially when I had to develop a course from scratch like Space Astrophysics. That had an impact on the time I could devote to research, and I had to learn to plan my time much more efficiently.
But after you teach a course once, it's less challenging. I think I'm adjusting.