By Julyssa Lopez

Richard Golden grew up on pop and rock music, but the course of his entire life changed from the moment he heard the sound of jazz.

He was about 8 years old, he recalled, when a series of dizzying, confounding arrangements began pouring out of the radio. The notes seemed magical, and they led Mr. Golden down a path of learning about artists from the Great American Songbook—people like Ella Fitzgerald, Tony Bennett and Duke Ellington, who would inspire his career.

"I thought, 'Boy, if this music makes me feel this good, wouldn't it be terrific to spend your life, if you could, playing it on the radio and bringing the same joy you're feeling to listeners?" Mr. Golden said.

And he has. For the past 50 years, Mr. Golden has worked in radio stations in Boston, Cape Cod and Washington, and he has brought jazz music to the masses as an on-air host. His latest role has been as the George Washington University's special assistant for broadcast operations and events, a job that entails planning major events and hosting the radio program GW Presents American Jazz. The show, which airs for two hours every weekend on SiriusXM, won a gold medal this month at the New York Festival International Radio Awards.

After working at Boston's WCOP radio as a Northeastern University student, Mr. Golden began his career on Cape Cod, a place he describes as a charmed peninsula in which artists from all genres intersected. Kurt Vonnegut settled his family on the Cape in the '50s, Walter Cronkite lived on a 1.3-acre spread near Chappaquiddick Island, and the Kennedy family compound was just two miles from the radio station Mr. Golden led as program director. Mr. Golden also hosted the WQRC evening show "Nightlights," which became a staple among renowned jazz musicians like Mr. Bennett and Frank Sinatra.

"Cape Cod was an exciting place to be," Mr. Golden said. "It never felt like work. It was just so fulfilling, and the audience was very engaged. You were aware of the impact you were having every day."

Mr. Golden's passion for jazz has always come through both in his broadcasts and in regular conversation. His memory is an arsenal of dates and facts that most people easily forget. He can quickly recall the years of his favorite Ella Fitzgerald and Frank Sinatra recordings and marvels at the stories that endure in jazz history. One of his favorites is about Louis Armstrong, who grew up not knowing his birthday and told everyone he was born on July 4th. After his death, a musicologist discovered that Mr. Armstrong's true birthdate was on Aug. 1, 1901—60 years to the day before Barack Obama's.

"That's an American story. In 60 years, America goes from Louis Armstrong, a genius who was subjected to racism and prejudice in his own country… to an African-American president. It gives me chills," Mr. Golden said.

Listeners seem to pick up on Mr. Golden's love of jazz and history, and they form close ties to him over the airwaves. In 2002, Mr. Golden brought his ability to connect with audiences to GW. Former Vice President of University Communications Michael Freedman suggested starting a GW radio program to leverage the university's proximity and connections to the John F. Kennedy Center for the Performing Arts and the Duke Ellington School of the Arts. Mr. Bennett supported the program through his nonprofit organization, Exploring the Arts.

Mr. Freedman tapped Mr. Golden to be the show's host, and Mr. Bennett, who received a GW honorary degree in 2001, helped facilitate meetings with then-CEO of XM Hugh Panero to launch GW Presents American Jazz.

Mr. Golden joined the university full-time in 2005 in a hybrid role that allowed him to continue his work on the program while helping with events. He has assisted in organizing logistics at major university functions, including many jazz-related activities that GW President Steven Knapp planned during his tenure. Mr. Golden said Dr.  Knapp bolstered the presence of jazz and music at GW by collaborating with the Smithsonian's National Museum of American History's Jazz Appreciation Month celebration and bringing live performances to campus.

At many events, Mr. Golden coaches student speakers, reviews programs and checks sound systems—effectively dotting the I's and crossing the T's on all aspects of stage production, from Freshman Convocation to Commencement. Mr. Golden also helped produce the Kalb Report for several years and currently hosts the U.S. Air Force jazz band in the annual Airmen of Note heritage series.

On weekends, he turns his attention to GW Presents American Jazz. The show is now in its 15th year, and it's also broadcast on the renowned jazz radio station, WBGO Jazz 88.3, with studios in Newark, N.J., and transmitters in New York City's Times Square. Throughout the week, Mr. Golden takes notes and brainstorms what music to play. He wakes up early on Saturdays and Sundays, and heads to the School of Media and Public Affairs to tuck away in the Flash Studio. In the quiet of the building, he conducts the show for SiriusXM's more than 30 million subscribers.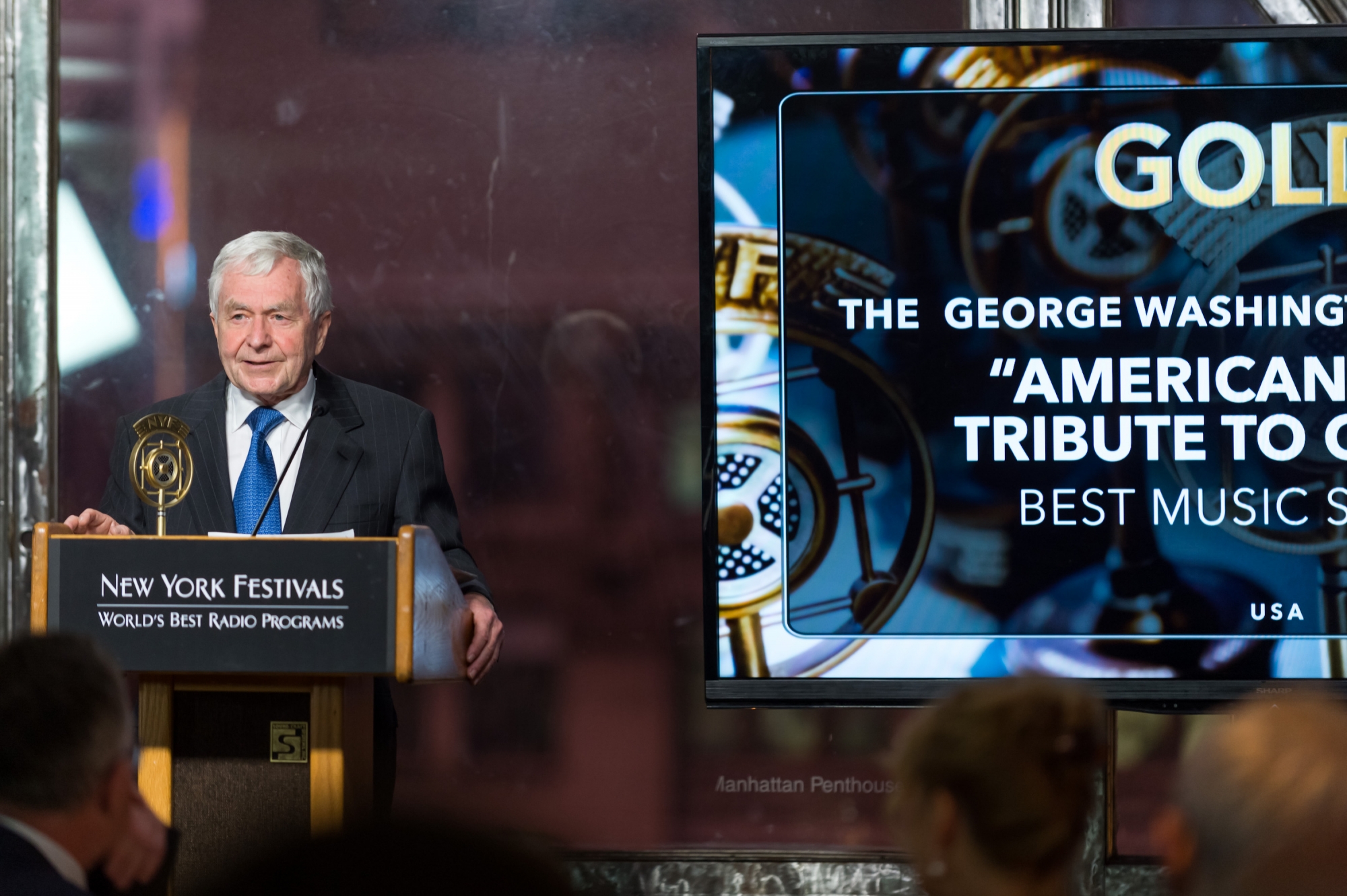 Mr. Golden accepts the Gold World Medal in the category of Best Music Special at the New York Festival International Radio Awards (Photo by Marc Bryan-Brown).
---

Last July, he stepped into the studio to produce an episode called "Tribute to Genius," in time for Mr. Bennett's 90th birthday and what would have been Mr. Armstrong's 115th birthday. Mr. Golden included a citation Dr. Knapp read in 2015, when he honored Mr. Bennett and his wife, Susan Benedetto, with the President's Medal to recognize their efforts subsidizing art programs through the Frank Sinatra School of the Arts and the Exploring the Arts Foundation. The New York Festival International Radio Awards recognized the show with a Gold World Medal in the category of Best Music Special, which Mr. Golden accepted at a ceremony last week.

Mr. Golden says he was surprised, but, in his endlessly modest way, explains that the biggest prizes come from fans of the show. "I like to focus my energy on producing the program, and my reward is hearing back from listeners from all over the country," he said.

The fans he's attracted are a vocal bunch who send letters and emails from coast to coast. "Thanks for your contribution to keeping the finest music alive and well, not only here but worldwide. Even on a cold, snowy day here in the heartland, we feel the warmth that you bring with your program," one listener wrote. "Your show on SiriusXM this past Saturday was, as always, a highlight of my weekend," another shared.

These notes reflect the feelings jazz music evokes, Mr. Golden said. For him, jazz and music from the Great American Songbook are immutable traditions that move the human spirit. "It originated in the United States, and it has brought joy to many people all over the world," Mr. Golden said. "It represents us so beautifully."