When comedian Bob Hope discovered a young jazz singer named Anthony Dominick Benedetto performing in Greenwich Village, he gave him some life-changing words of advice: 
"Your name is too long," Mr. Hope said. "Let's call you Tony Bennett."
And with that, Mr. Hope gave Tony Bennett the stage name that launched him to stardom. It's a name that Mr. Bennett has always liked: It's attached to 18 Grammy Awards and shines from a star along the Hollywood Walk of Fame. But when Mr. Bennett and his wife, Susan Benedetto, received the George Washington University President's Medal on Wednesday, the singer spoke from a personal place and fondly recalled his family surname. 
"In Italian, 'Benedetto' is about the best name you can have because when it's translated into English, it means, 'the beloved.' And that's how I feel tonight," Mr. Bennett said as George Washington President Steven Knapp presented him and Mrs. Benedetto with the university's highest honor. 
"Benedetto" also happens to be the name Mr. Bennett uses when he paints. He is an accomplished artist whose work is part of the Smithsonian Institution's permanent collection. Thursday night's President's Medal ceremony, held at GW's
Corcoran School of the Arts and Design
, featured a private one-night-only exhibition of Mr. Bennett's renowned art, including a bust of Harry Belafonte and paintings of Duke Ellington and of Central Park. 
Born in Queens in 1926, Mr. Bennett is among the most legendary recording artists in American history. He has sold 10 million records, received a Grammy Lifetime Achievement award and was named a National Endowment for the Arts Jazz Master. His six-decade career includes duets with Ella Fitzgerald, Count Basie, Amy Winehouse and, most recently, Lady Gaga—who attended Wednesday's ceremony at the Corcoran School with her parents Joe and Cynthia Germanotta, M.A. '78. Clad in a dramatic wine-colored gown, she greeted Mr. Bennett with a warm embrace. The iconic duo teamed up again over the weekend to showcase their jazz album, Cheek to Cheek, at the Kennedy Center.
Lady Gaga joined guests in a standing ovation as Mr. Bennett and Mrs. Benedetto received their medals. Mr. Bennett has not only dedicated his life to creating art through music and painting: He and his wife have committed themselves to making arts education a priority in American public schools. They founded the Frank Sinatra School of the Arts in Queens, and later founded the nonprofit arts education organization Exploring the Arts, which now has partnerships with 23 public high schools in New York City and Los Angeles. 
"It's a particular pleasure to recognize the contributions of Tony Bennett and Susan Benedetto to arts education at the home of the Corcoran School of the Arts and Design, one of the most iconic buildings in our nation's capital," said Dr. Knapp at Thursday's ceremony.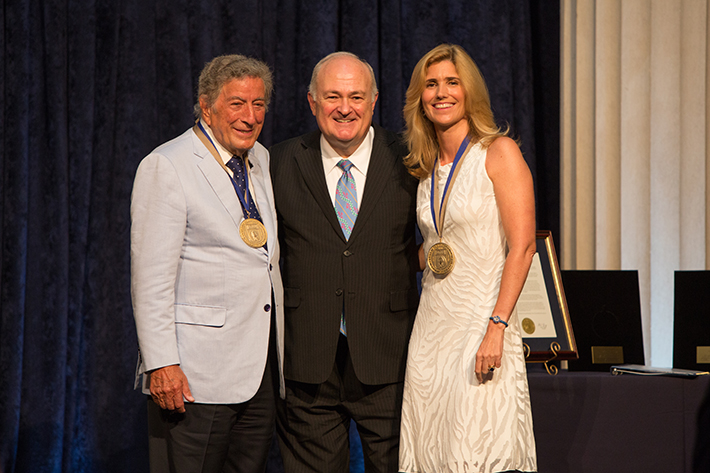 Tony Bennett, GW President Steven Knapp and Susan Benedetto at the President's Medal ceremony. Photo by William Atkins.
---
Mr. Bennett and Mrs. Benedetto spoke about their passion for opening the doors to the arts to all students. Mrs. Benedetto is a graduate of Fordham University and Columbia University's Teachers College and also owned Creative Artists Management, where she advised artists on management of their careers and coordinated publicity, bookings and recording projects. She began her career in education as a social studies teacher at the Fiorello H. LaGuardia High School of Music & Art and Performing Arts, and now is a social studies teacher and assistant principal at the Frank Sinatra School of the Arts. 
"All students deserve access to a high-quality education, and a belief in the profound impact of the arts is what fuels our work," she said.  
Mr. Bennett encouraged the arts in education because it marks what he called a "human experience" that brings people of different backgrounds and experiences together.
"I just think that the more artists there are in America, the more hopeful it will be for the United States in the long run," he said.
Mr. Bennett and Mrs. Benedetto join the ranks of previous President's Medal recipients, who include Nobel laureate and former President of the Soviet Union Mikhail Gorbachev, journalist Walter Cronkite and NASA astronaut Charles J. Camarda. 
"I could never dream of anything this beautiful happening to me. After years of work and wondering where it is all going to end up, this is a great experience in my life," he said.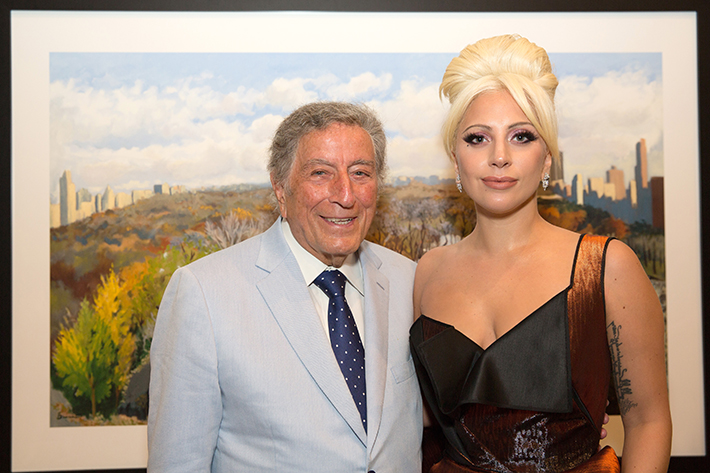 Tony Bennett and Lady Gaga. Photo by William Atkins.
---