Parents, students and alumni peppered George Washington University President Thomas LeBlanc with questions at a Colonials Weekend event Saturday in the Jack Morton Auditorium, directing a wide-ranging discussion focused largely on the student experience and alumni engagement.
"Making sure our students have a first-rate experience is a key part of our mission," Dr. LeBlanc told attendees during the hourlong event, moderated by Student Association President Ashley Le, on the Foggy Bottom campus. The university streamed the event live online.
Here are some key takeaways from the discussion: 
1. Wins for students
"It's really only the students who know what it's like to be a student," Dr. LeBlanc said, so it's important for administrators to listen to them.
Dialogue and collaboration between students and the university is what led to an increase in the cap on students' per-semester credit hours, changes to meal plans, health care enhancements and the commitment to build a new residence hall and launch a major renovation of Thurston Hall.
2. Alumni engagement
On the road, Dr. LeBlanc has met alumni, family and friends in Chicago, Boston, New York and Los Angeles, among other cities. Enthusiasm for the university remains high, he said, noting the stories he hears from parents about their students' experiences or questions from alumni asking whether a favorite faculty member is still teaching. He described the meetings as  "energizing."
"I call my trips out of town a B-12 shot," Dr. LeBlanc said.
GW is also working on strengthening ties with alumni in a newly structured Alumni Association.
"We're committed to supporting our alumni—all 290,000 of them," Dr. LeBlanc said.
3. Diversity and inclusion
Students come to GW looking for a diverse community, Dr. LeBlanc said, and the university values building that kind of community.
"But what happens once they get here? Do they feel included?" Dr. LeBlanc asked. He noted recent concerns students have voiced and the university's actions and ongoing commitment to better support inclusion. "Our society is not particularly focused on inclusion, and I think that's something we have to work really hard on."
4. Academics
Dr. LeBlanc emphasized the importance of the comprehensiveness of GW's offerings from the arts and humanities to social and physical sciences and building up academic programs, scholarship and research.
"I came to strengthen the entire university," he said.
On a day-to-day basis supporting academics means taking a close look at any "artificial barriers" that may impede students' academic goals—long course wait lists or difficulty with double majoring, for example.
5. Affordability and financial aid
Continued investment in financial aid and a concerted effort to raise money for student scholarships, as well as the university's fixed-tuition policy, remain high priority for Dr. LeBlanc, who himself went to college on a scholarship and has heard countless stories of lives changed by the opportunities a scholarship brings for a student who may not have otherwise been able to attend GW. 
"The greatest force for social mobility in our society is education," he said.
---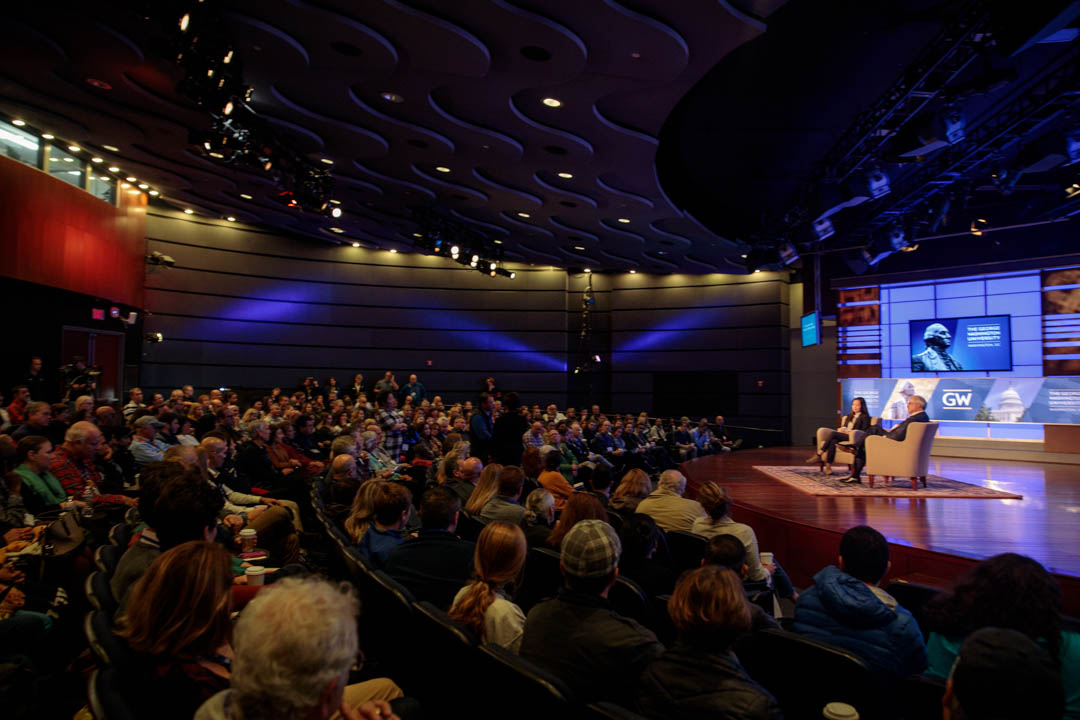 Members of the GW community ask Dr. LeBlanc questions during a Colonials Weekend event. Students, parents and alumni asked about plans to renovate Thurston Hall and Dr. LeBlanc's trips across the country. (William Atkins/GW Today)
---
6. Location and role in civil discourse
Living in the heart of the nation's capital is intrinsic to the GW experience. "Our students use this location as a living-learning laboratory," Dr. LeBlanc said, later adding that staff is brainstorming ways to better integrate activities in and around the District into the experience of first-year students.
On campus, appearances from leaders like President of the Republic of France Emmanuel Macron and U.S. Secretary of Education Betsy DeVos are not uncommon. Such events bring out both supporters and protestors, and these opportunities allow GW to be a "role model for civil discourse," Dr. LeBlanc said.
7. Sustainability
Amid ever-growing concerns of the damaging effects of climate change and student interest in and activism around sustainability issues, the university "needs to lead in this effort," Dr. LeBlanc said. A renewable energy project, green buildings, sustainability academic programs and research and the Sustainable Investment Fund are among a few of GW's commitments so far.
8. Presidential advice
Dr. LeBlanc said he tries to share some of the wisdom he has accumulated over the years with new undergraduate students. This year, he has focused on the dangers of social media and encouraged delaying off-campus internships during students' first academic year.
9. How to help
Toward the end of the discussion, an audience member asked about university rankings and helping GW improve. But instead of focusing too much on rankings Dr. LeBlanc asked that families, students and alumni share their GW experiences in their communities back home.
"How can you help? You can be brand ambassadors for GW," he said. "You know us better than anyone else."