By Kurtis Hiatt
President Thomas LeBlanc attended a town hall discussion on Tuesday where George Washington University students emphasized the stress and frustration they often experience as black students on campus and urged administrators to take swift action to improve racial climate and inclusivity.
GW community members—including students, faculty and staff—filled the standing-room-only multipurpose space on the ground floor of the Marvin Center to discuss racism and bias at the university, offer feedback on the steps the university is taking and propose additional ideas.
The town hall was one of several suggestions students made after an offensive social media post circulated online.
Over the course of the hour-and-a-half-long discussion, students described how other students, faculty or staff perceive them or treat them differently because of their race, and the stress and worry it adds to their lives. Many noted the importance of making policy changes and implementing meaningful and ongoing diversity training. 
The university previously announced that it will make diversity training mandatory for all incoming students in fall 2018 and require diversity training for residential life staff, resident advisors, Colonial Inauguration leaders, admissions staff, tour guides and other staff members who work closely with students.
Caroline Laguerre-Brown, vice provost for diversity, equity and community engagement, and President Thomas LeBlanc speak at the town hall on Tuesday in the Marvin Center. (William Atkins/GW Today)
---
 Caroline Laguerre-Brown, vice provost for diversity, equity and community engagement, told students that specific details of the training are still under discussion, but it will be practical and ongoing—not a "one-and-done" approach. University officials are considering best practices and talking with experts and students to determine what would be most impactful.
"We think that our training will be better and stronger if our students shape what it looks like," Ms. Laguerre-Brown said.
Junior Faith Hudson, who attended the town hall, said although the discussion was important, she would like to "see more action from the administration."
"They have heard what we want to happen in all of these meetings, but we have not heard definite directions from them on how they are going to prioritize the black experience and make people of color feel more accepted and comfortable on this campus," Ms. Hudson said.
The university will continue to find ways to engage with students on implementing action items and additional suggestions, including by following up with all those who signed in to Tuesday's town hall, Ms. Laguerre-Brown added.
Responding to a student question about what white GW community members are doing for students of color on campus, various staff members who attended the discussion said they have a responsibility to reflect on their privilege, rebuke racism and bias and create inclusive spaces for others on campus.
"I challenge all of my white colleagues and white students to think about how you engage in your daily world," said Vice Provost for Enrollment Management and Retention Laurie Koehler, who also added that the search for the new dean of the student experience will include a diverse search committee "aggressively pursuing diverse candidates."
In his opening remarks Dr. LeBlanc told attendees that he and other administrators were at the town hall to listen to students and reaffirm their support for them and the hard work ahead.
"We need to take this on as a shared commitment for our community," Dr. LeBlanc said.
Echoing that sentiment, Helen Cannaday Saulny, associate provost for diversity, equity and community engagement, reflected on the progress she has seen the university make as a community during the three decades she has been at GW.
"I know this doesn't feel good right now. We do have a long way to go, we have things to do. But I want you to try to give us—the administration and the faculty, yourselves—an opportunity to come together so that we can continue to address this problem collectively," she said, adding that it won't be solved "overnight."
"I want us to have hope. I want us to have faith. I want us to have trust in this process," she said. "We do want to make this place a more inclusive environment. I believe it in my soul."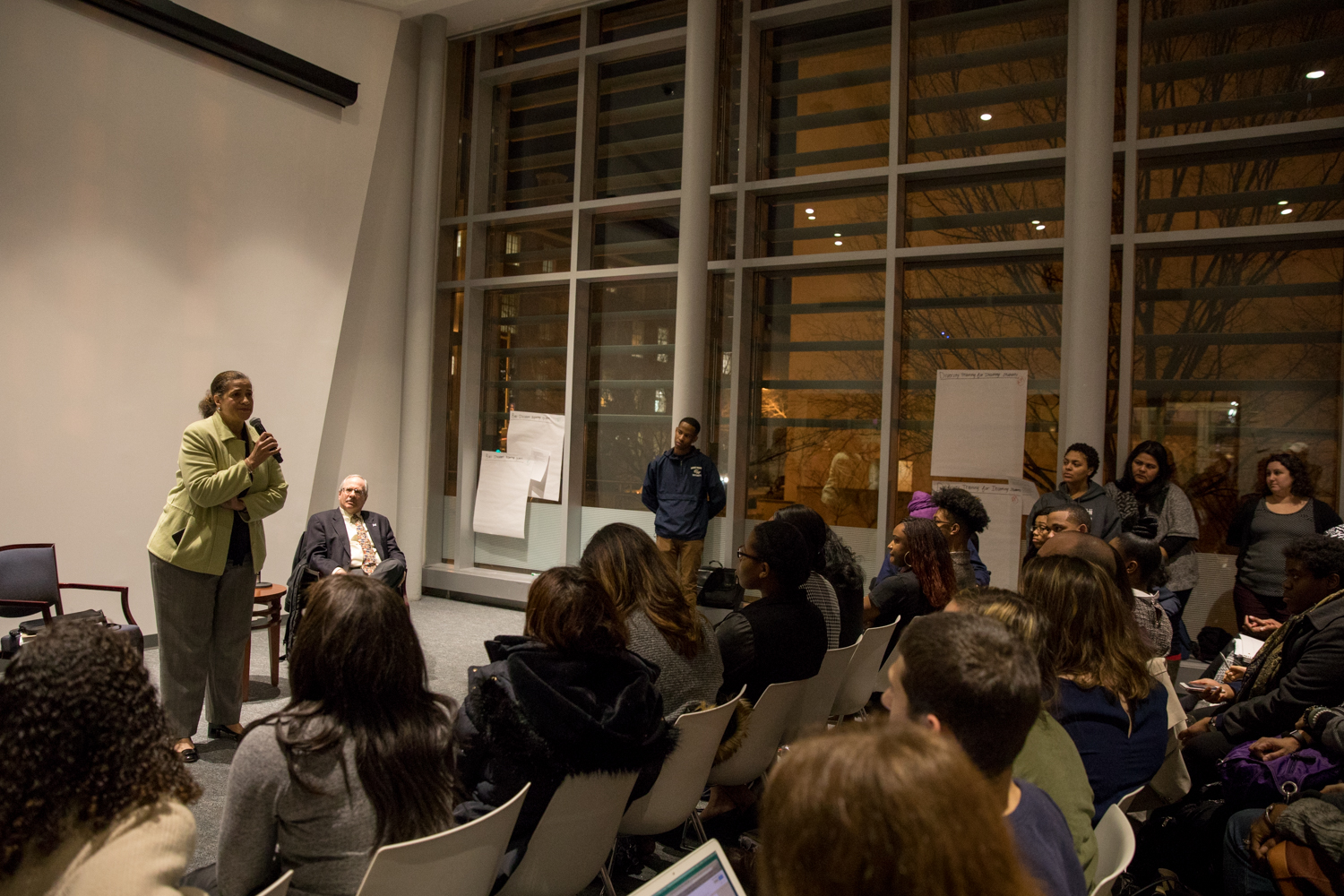 Helen Cannaday Saulny, associate provost for diversity, equity and community engagement, addresses students at a town hall on race on Tuesday. (William Atkins/GW Today)