Tina Tchen has never seen anything like this.
Chief of staff to First Lady Michelle Obama and an adviser to President Barack Obama, Ms. Tchen has seen and participated in her share of advocacy initiatives. She has been combating sexual assault "longer than you guys have been alive," she told a roomful of students at the George Washington University on Friday.
"But I have not seen this kind of national conversation, national momentum and the real possibility to effect cultural change and attitude change in this country ever before," she said. "I have never seen it happen to this degree."
She was referring to "It's On Us," the campus sexual assault awareness and prevention campaign launched by the White House and the Center for American Progress' Generation Progress in September. The GW community has been an active participant in the campaign.
"It's On Us" is unique in that it shifts the preventive focus from victims and perpetrators to their entire community, reminding students to be protective of and responsible for one another. The emphasis is on teaching community members to be "active bystanders" who can recognize and prevent situations in which their peers are in danger of being on either side of a sexual assault.
The occasion for Ms. Tchen's remarks was a panel discussion wrapping up the campaign's first national "Week of Action." More than 180 colleges held participating events. At GW, these included a pledge drive, a meet-and-greet with Students Against Sexual Assault and a student-led workshop on "How to Discuss and Support" with tips for responding to disclosures, understanding available resources on campus and caring for one another.
The week was "empowering for our campus," said Tony Ibrahim, director of community service for the Student Association.
Student and administration leaders participated in the closing panel, including Kirsten Dimovitz, president of Students Against Sexual Assault; Nick Gumas, Student Association president; Edgar Estrada, vice president of recruitment for the Inter-Fraternity Council; Mark Levine, senior associate dean of students; and Darrell Darnell, senior associate vice president for safety and security.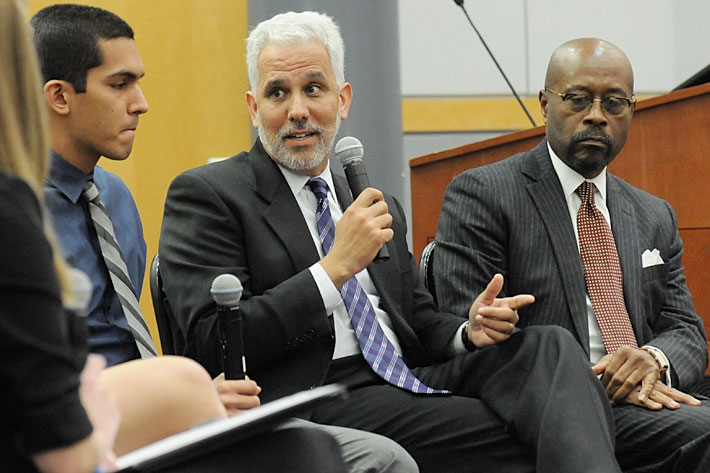 Edgar Estrada, Mark Levine, and Darrell Darnell participated in the panel discussion. (Photo: Rob Stewart)
Mr. Gumas said that a priority of this year's Student Association will be to develop and introduce mandatory sexual assault education for incoming GW students, possibly as part of Colonial Inauguration. A major part of bystander training involves overcoming the "awkwardness" of intervening in an interaction that some think is  "none of our business," he said.
"But the worst thing that can happen [if you intervene] is an awkward interaction," he said. "On the other side, the worst thing that can happen is an assault."
When a third party intervenes to defuse a potentially threatening situation, "It doesn't have to mean saying, 'Hey! Stop sexually assaulting that person,'" Ms. Dimovitz explained. "It can be saying, 'Hey, do you want to come for a walk with me,' or 'I love this song, come and dance.' It's about redirecting [an] energy" that feels dangerous.
Administrators seconded the importance of the initiative, saying that sexual assault prevention and response has long been a priority at GW and on campuses around the country. This weekend, a student suffered an assault near the Foggy Bottom campus. The George Washington University Police Department is working with D.C. Police on the investigation, and the university is offering support services to the student.
"It's On Us" has been one factor in helping students, faculty and administrators crystallize their ideas and combine their resources.
"I don't want us to believe this is a new thing for us to talk and think about," Mr. Levine said.
He added that it would be important to carry the lessons of the Week of Action into the future. "For the next month, we'll think a lot about this," he said, "but I really encourage you to think about it three months from now, six months from now."
Mr. Darnell enumerated some of the resources available from his own department, including the GW PAL app, which alerts the University Police Department to threatening situations, and the flexibility that victims have in when and how to report an assault.
"Our number one priority will always be the emotional and physical well-being of the person who has been attacked," Mr. Darnell said.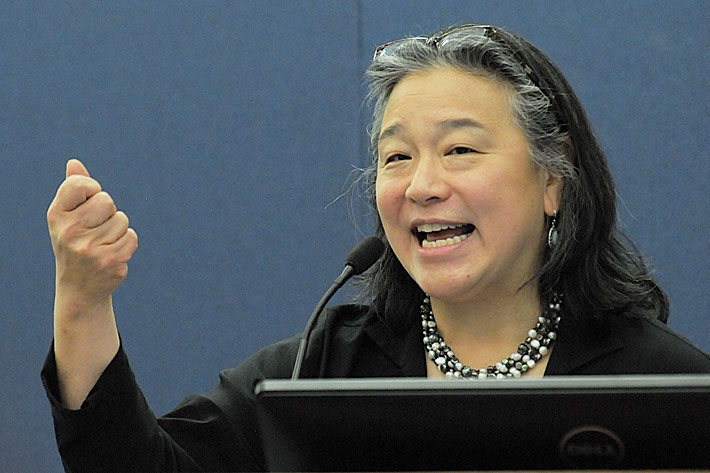 Tina Tchen. (Photo: Rob Stewart)
Ms. Tchen said that both community- and policy-based initiatives would be needed to end sexual assault, explaining that the White House has engaged with K-12 educators as well as those at the higher education level to stop sexual assault before it starts. But students, she said, will be critical ambassadors, taking messages like "It's On Us" back to their own communities in multiple demographics.
"You are changing lives here at GW," she said, "but more than that, you are changing culture."
Asked what students should take forward from the week, Ms. Dimovitz emphasized "It's On Us" is "more about actions than words."
By signing the pledge, "You committed to being an active bystander," she told the audience. "What are you doing in your personal life and your community to…build a culture where sexual violence is not OK, and everyone knows that?"
The key to breaking down the destructive attitudes at the root of sexual assault, she said—in a sentiment echoed by Ms. Tchen, Mr. Darnell and others—is in conversations with friends and strangers.
"We have to keep talking about it and talking about it and talking about it," Mr. Darnell said. "And anything I can do personally or my organization can do to continue this conversation, I'd like to do."