By James Irwin
A new safety and security mobile app that allows users to send rapid, location-specific alerts to the campus police dispatcher is now available for download.
GW Personal Alarm Locator (PAL), developed by faculty, staff and students in the Office of Safety and Security, the Division of Information Technology and the School of Engineering and Applied Science, acts as a mobile silent alarm and communicates directly with the GW Police Department.
"There are other commercial applications that do this, but what's unique about this one is students can go directly to the GWPD dispatch," said Darrell Darnell, senior associate vice president for safety and security. "There isn't a third party."
GW PAL allows users to complete an optional profile, "arm" the app (priming it to send an alert) and describe the nature of an emergency by clicking "police," "medical," or "fire" before sending a geo-tagged alert to a dispatcher. All profile information, aside from "phone number," is voluntary. The whole process, from arming the app to sending the alert, can be completed in a matter of seconds.
"The idea is if you aren't able to talk, you can still send an alert," said Alex Feldman, program lead for safety and security technology in the Office of Safety and Security. "It's an alarm in your pocket."
Once the alert is submitted, it appears at the dispatch center. Received alerts include the pre-populated user profile, the nature of the emergency (if provided by the user) and the location of the alert. Emergency situations on the Foggy Bottom or Mount Vernon campuses are sent to the GW Police Department; alerts submitted off-campus or at the Virginia Science and Technology Campus include a push notification asking the user if he or she would like to dial 911.
The app, available for free download on both iOS and Android devices, includes a feed for GW Alerts, a flashlight function and a list of push-to-dial taxi services. It also includes a platform for users to submit tips to GWPD. The tips, which can be anonymous, may also include uploaded video or photos, and have the option of including a GPS location.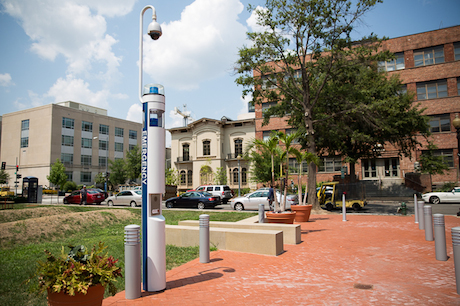 The ability to rapidly process information is one way GW PAL will complement the university's other safety measures, including the 39 blue light stations spread across campus.
GW PAL has been in development for about two years, Mr. Darnell said.
"As we looked at ways students could let us know about incidents as they are occurring, we thought, 'What is it they always have with them?' Well, they always have their smartphones," he said. "We thought if we could find a way that students could directly contact us and give us tips through a device they are comfortable using, that would be an effective tool."
According to a 2012 sample survey conducted by the Office of Institutional Research, 98.5 percent of GW undergraduates own a smartphone.
"It's a way to efficiently and quickly notify campus security of incidents and locate and respond to people who are in emergency situations," said Jared Alexander, M.S. '13, one of GW PAL's developers.
Mr. Alexander worked on the app during his final two semesters at GW under the guidance of Assistant Professor Tim Wood as part of his master's program in computer science. Proximity and rapid processing of information, he said, are ways the mobile app will complement the university's other safety measures, including the 39 blue light stations spread throughout campus.
GW rolled out pilot versions of the app last fall and this summer to user groups of students and staff to test its functionality. Feedback included tips on the user interface and icons, and adjustments to make the app easier to navigate.
"I thought it had a pretty good interface," said Nick Gumas, president of the Student Association and a member of the summer 2014 pilot program. "I think a lot of the problems we have with apps are they can be too complicated and there's too much stuff going on. This is very simple."
"I think what students will be most comforted by is you can track your GPS through the app and GWPD will be able to identify where you are when you send an alert," Mr. Gumas added. "That's a tremendous help for students worried about picking up the phone and describing their location."