On any given day, George Washington University senior Miguel Mejia runs from classes in Phillips Hall to work at the Center for Student Engagement (CSE) or to attend meetings as the Student Association vice president for undergraduate student policy.
In some ways, he is a typical GW student. His schedule is fast-paced. Achievements fill his resume: earning a B.A. in psychology in three years, interning on the Hill and serving in the Residence Hall Association.
Unlike many of his peers, Mr. Mejia will be the first person in his family to graduate from college when he turns his tassel at Commencement May 15 on the National Mall.
Mr. Mejia is counted among GW students who identify as first generation. The Common Application—accepted exclusively by GW since 2013—defines the group as students whose parents have not completed a bachelor's degree.
GW began tracking first-generation student enrollment two years ago. About 12 to 13 percent of students who enrolled in the last two years are first generation students.
"Graduation will be a reminder that I'm not just one thing, I'm not just a college student or Latino, or first gen or gay," Mr. Mejia said. "I'm all of those things, and I'm succeeding just as much as anyone else."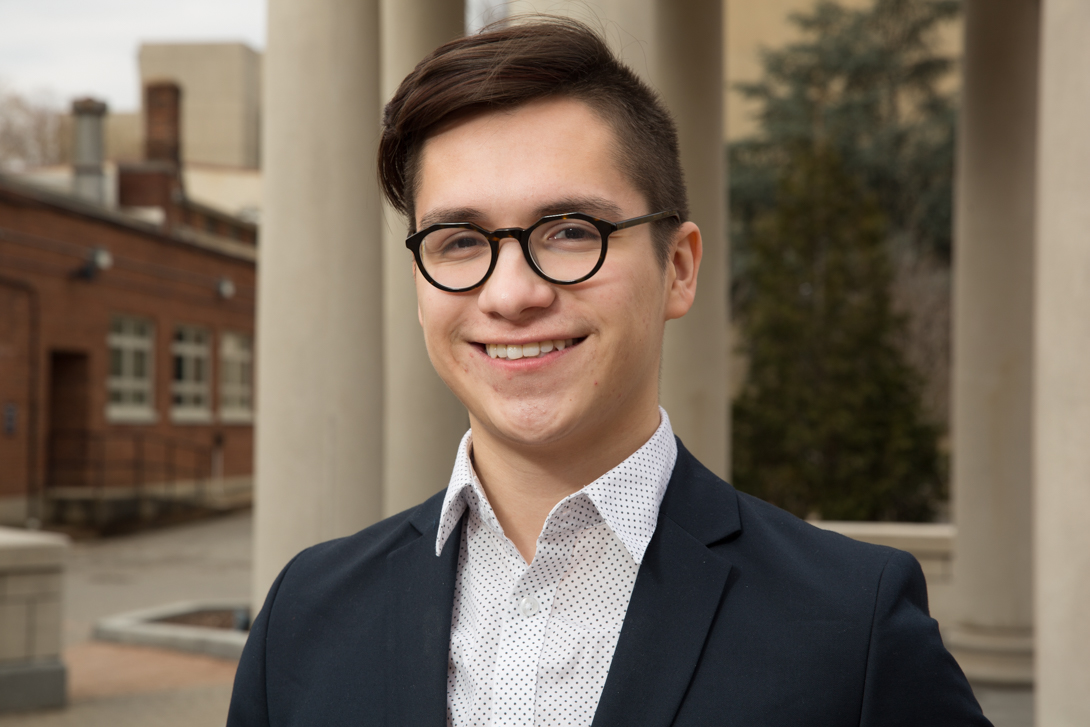 "Being first generation can be this amplifier, where if I don't do well I feel guilty, but there are positives, too, because I am setting the pace. That is what we want to show with our student organization [First Generation 2 College GW]. We want to get rid of the stigma and change how first-generation students see themselves."

- Miguel Mejia (William Atkins/GW Today)
---
First-generation students thrive at colleges and universities that recognize the students' unique identities and provide support through services that embrace their cultural perspectives, several studies show.
GW is enhancing those services through the Provost's Office, the Division of Students Affairs, the Division of Enrollment Management and Retention and the Office of Diversity and Inclusion.
Services at GW are offered to a more broadly defined group of first-generation students—such as those students who are the first person in their families to be born in the United States—because they face similar challenges to traditionally defined first-generation students.
According to Mr. Mejia, who last December cofounded the student organization First Generation 2 College GW with junior Gabriella Madrid, the self-identified term is meant to be inclusive of the diverse backgrounds of all students who consider themselves first generation.
Similar organizations have sprung up at colleges and universities nationwide, including Harvard and Yale.
At GW, the growing first-generation community is working with the university administration to create support systems and expand the image of what it means to be a GW student, said Ms. Madrid, who also identifies as a first-generation student.
"It's not a part of your identity that people can see, and often they don't really understand the challenges," Ms. Madrid said.  "But there are good things that come from embracing the title, and we want to show people that. We are trailblazers."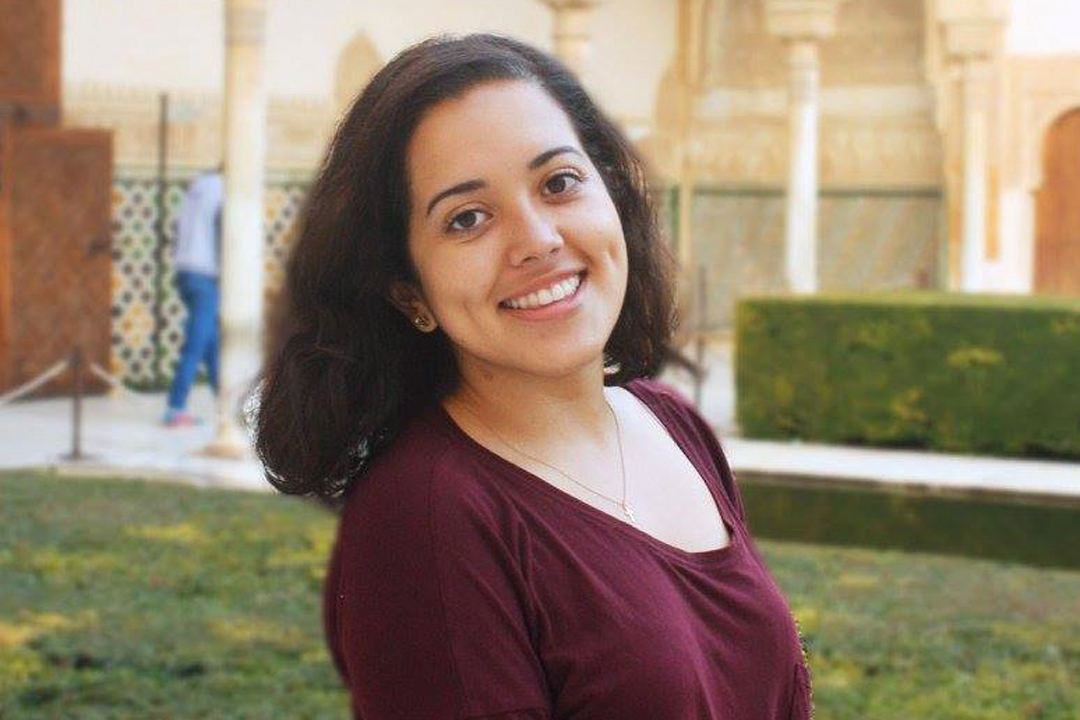 "When I was in high school I had friends at home who helped me through the FAFSA and college applications, and when I got to GW I found a solid group of women in my sorority to give me advice. Now I'm doing things I never thought, like studying abroad, and I became the president of my sorority. That kind of support is important."

- Gabriel Madrid. (Courtesy of Ms. Madrid)
---
Getting to and through GW
There are notable commonalities among many of GW's first-generation students: They were high achievers in high school. They were encouraged to pursue higher education by school administrators or their communities. They brought tenacity to the task of independent research to get to college.
At GW, many are heavily involved in campus activities. Helping each other through their academic careers comes naturally.
But there are differences as well, as the students come from a wide range of backgrounds.
For every student such as senior Adwoa Annor, a first-generation Ghanaian-American who grew up in the suburbs of Maryland and applied to GW early decision, there is a student such as junior Cindy Xayavong, a first-generation Laotian-American raised in Georgia who transferred to GW after a year at Kennesaw State University. Or Justin Dembowski, a first-generation college student and Pittsburgh native with proud working-class roots tied to the city's steel and healthcare industries.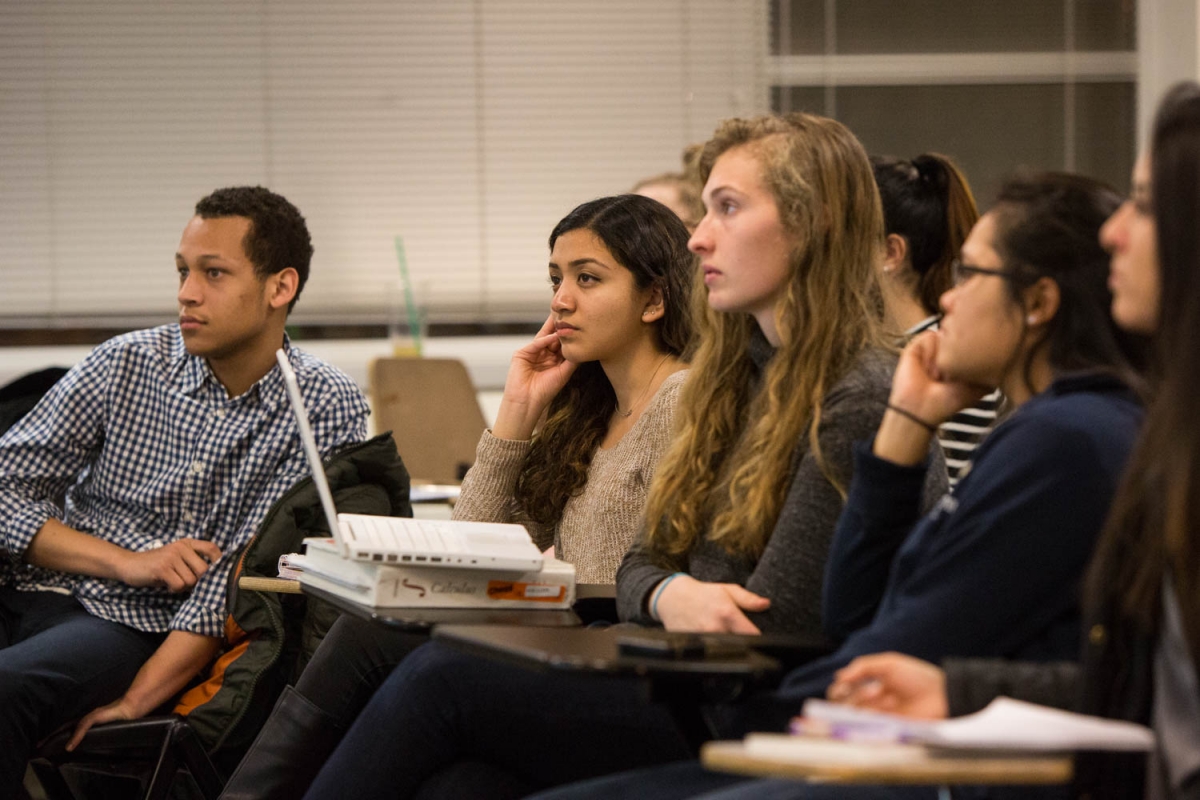 First-generation students meet in December at the first general body meeting of First Generation 2 College GW. (Logan Werlinger/GWToday)
---
Many of the high achievers earned offers from multiple universities or could have attended local and state colleges that have higher percentages of first-generation students. So, why GW?
Senior Joshua Nuñez, a first-generation Dominican-American, said that he chose to attend GW after he and his mother met with an admissions counselor over dinner.
"One of the barriers to attending GW was that I really wanted to go to college where I knew at least one person, and I didn't know anyone here," Mr. Nuñez said. "Talking over dinner, having my questions answered and seeing how comfortable my mom was made GW less intimidating."
Mr. Nuñez credits GW for putting him on a path to success. However, he said, the transition to college can cause culture shock for first-generation students whose parents value education but might lack exposure to the traditional four-year college experience.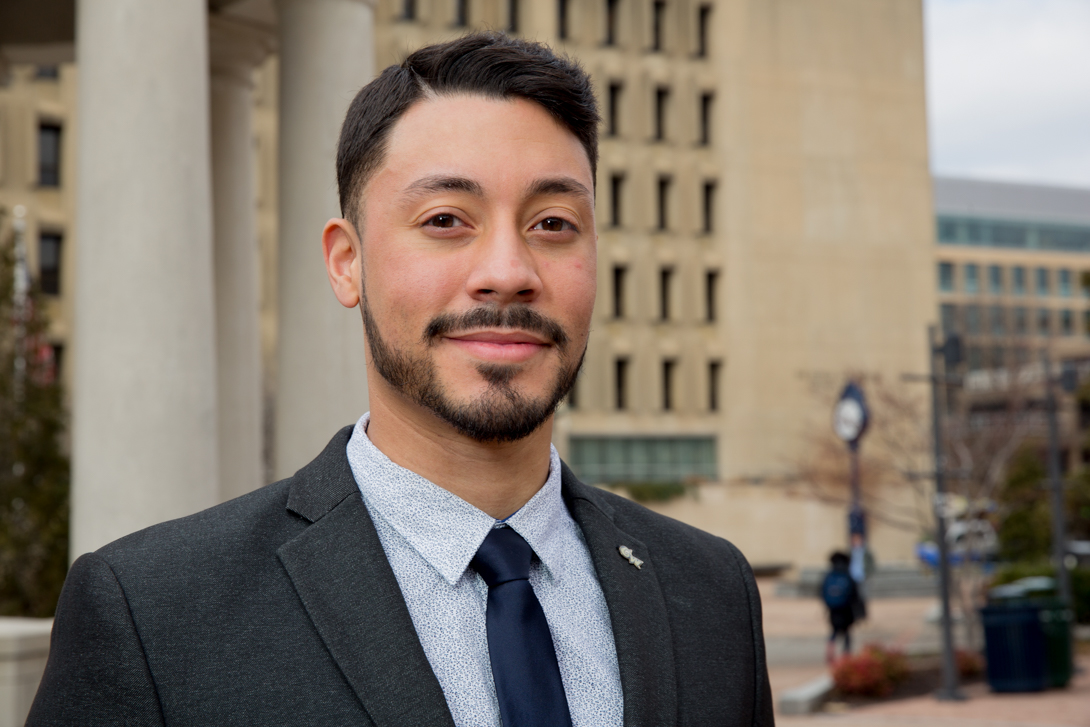 "My high school wasn't the best, but my friends and I were in the top 10 percent of our class. When we started applying to out-of-state schools like GW, people said we wouldn't make it. I told them, 'Don't tell me how far I'm going to make it because of my circumstances. I have the grades and the SAT scores, I'm just as qualified as anyone else, and I probably have something more to add to the picture.'"
- Joshua Nuñez (William Atkins/GWToday)
---
Students with parents who are college graduates can reach out to them for academic advice or guidance on dealing with professors. And parents with college degrees often earn more, making it easier for their children to call home for financial help.
But first-generation students often have to solve problems without tangible family support.
"I was used to being independent when I first came to college, but it's this whole new world," Mr. Nuñez said. "It was on me to figure out how to fill out the financial aid forms and get the right information from my parents or figure out how to get a copy of a textbook that was too expensive."
Mr. Nuñez relies on the Organization of Latino American Students (OLAS), the Multicultural Student Services Center, the CSE and peer mentors for guidance.
"Now I have my own mentees," he said. "It's important to talk to someone who gets it."
Academic struggles can be particularly acute among first-generation college students who think that they need to achieve success not just for themselves but also for their families, according to freshman Angel Marte.
Mr. Marte started applying for part-time jobs through the GWork portal before he even arrived his first semester. A full academic course load, a part-time job and living away from home for the first time proved to be too much in his first year. His grades suffered.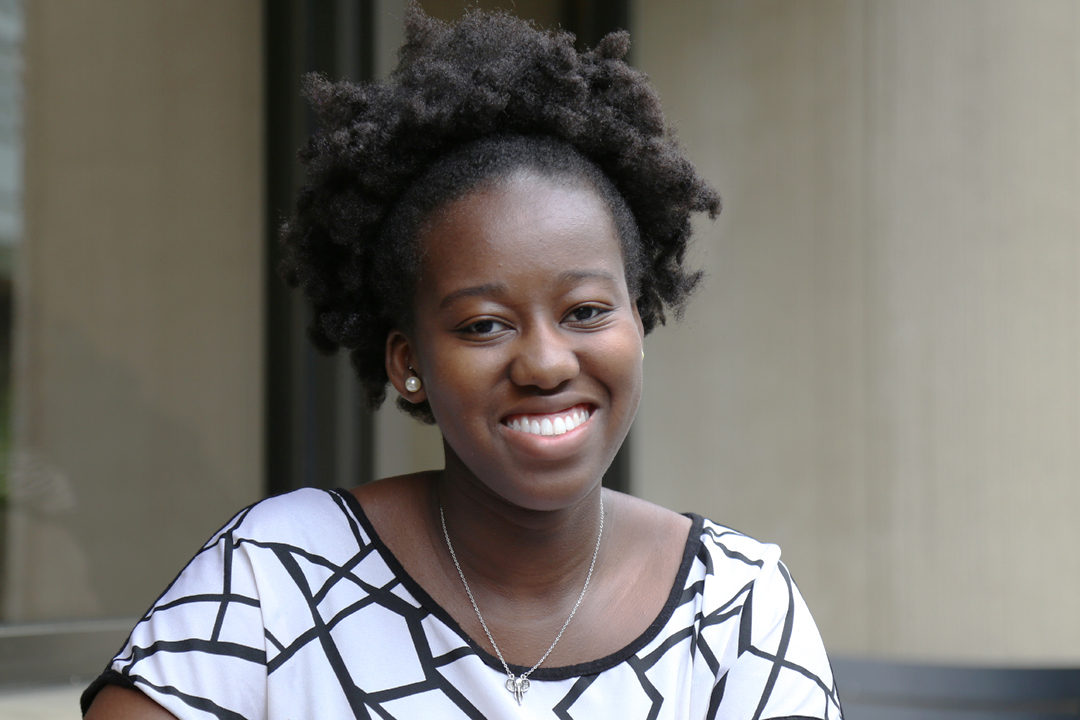 "The MSSC has been my home away from home. GW has its own diverse community and then within MSSC there is this smaller community where I found people that I could relate to. Through the MSSC I've made so many friends who are like family to me."

- Adwoa Annor (Rob Stewart/GWToday)
---
"It was tough at first, especially because I had always done well in school," Mr. Marte said. "But I quit my job to focus on my classes and am trying new strategies like making an appointment with the Writing Center so that I hold myself accountable for completing an essay early, not the day before it is due."
For Mr. Mejia, academic and social pressures came to a head during his junior year. Several CARE Network reports were filed out of concern for his well-being, and he was referred to the Colonial Health Center. 
"Burnout is a real thing," Mr. Mejia said. "You see these Type A personalities around campus, and it's easy to think you aren't doing enough, you need another internship, another job, a better grade."
Beyond academics, the costs of college can be a source of stress.
Nationally, first-generation students come from low to middle income families, so they lack the financial safety net that other students have in college. With a limited allowance for books, food and other essentials, first-generation students said their social lives can suffer.
"When I first started college, it was hard. How was I supposed to tell my friends I don't have time or money to go out to dinner?" Mr. Mejia said. "It's a tough conversation to have, especially if you don't know how someone will respond."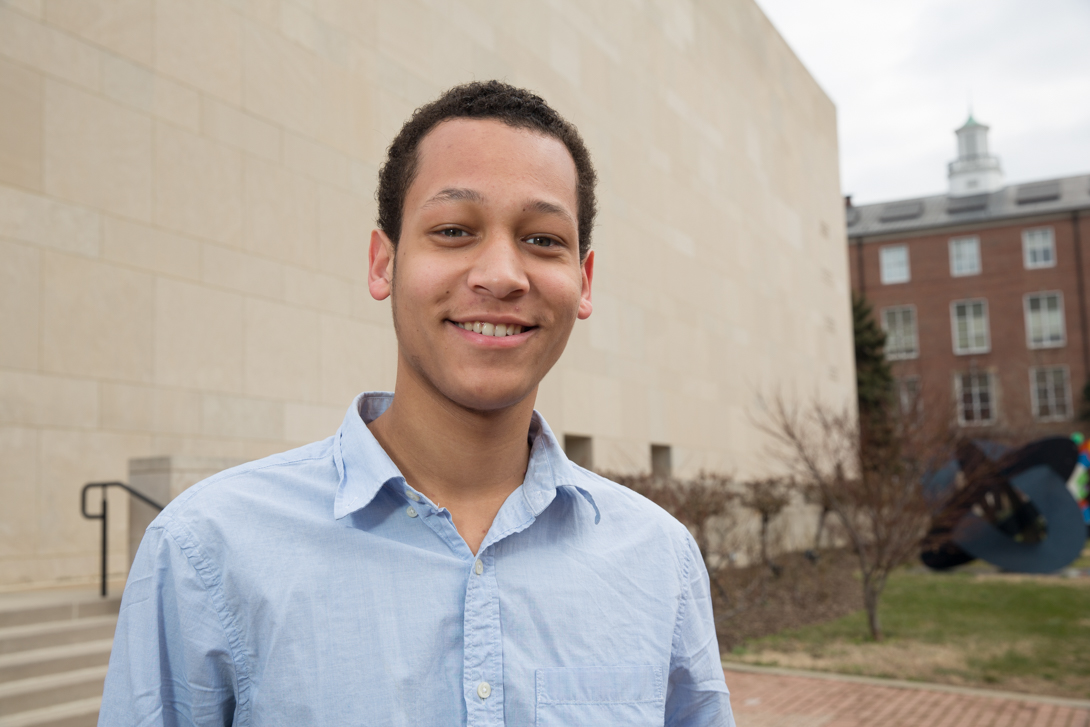 "It's a really cool thing to tell people that I am first generation. Now that I am here, I feel I have a duty to help give what I was given. In high school I had numerous opportunities to be a leader, and it led me here, and I hope that at GW I'll be able to grow and help other people have those same opportunities."

-Angel Marte  (William Atkins/GW Today)
---
Supporting a first-generation community
On a rainy Thursday in May, CSE coordinator for community support and leadership Megan Thomas repeats a saying that she often shares with first-generation students that she counsels: You don't know what you don't know.
The phrase informs the way that CSE is developing programming for first-generation students, Ms. Thomas said, because it emphasizes sharing information and building connections among students so that they can work together to solve problems. The goal is to support students as they integrate into campus culture, build community and develop life skills.
"Often first-generation students are getting along fine, but they might have a feeling that something is missing from their experience," Ms. Thomas said. "When you don't have a family member, friend or classmate to fill you in on how college works, you miss out on opportunities.
"We are trying to make sure that students have the skills and information they need to succeed."
During the spring 2016 semester, CSE launched First Generation Student Office Hours, where trained upperclassmen who identify as first-generation students meet one-on-one with younger peers. Sessions are 3 to 5 p.m. Thursdays in conference room 509 of the Marvin Center.
She said volunteers provide "quality interaction" because they can say, "I've lived through this experience, I have empathy, I understand you, here are some options or this is how I overcame.
The university is helping first-generation students develop life skills that make their transition to college life more successful. For example, Mr. Dembowski said that because of financial strain he would often sleep late in order to skip breakfast or eat a late dinner so he wouldn't crave a snack. Since food insecurity is an issue for many first-generation students, the CSE worked with University Chef Rob Donis to host a pilot cooking demonstration.  
"Coming to GW I didn't think there would be that many first-generation college students, and I would be one of the few, but the community is a lot larger than people know. Being first generation at GW  encourages me to work harder and really take advantage of the opportunities that I have because my parents didn't have them."

- Justin Dembowski (Rob Stewart/GW Today)
---
During the class, Mr. Dembowski and 11 other students learned about healthy meal preparation and food safety with Mr. Donis. CSE also recently sent out a survey to students about potential campus programs to alleviate food insecurity. Ms. Thomas and Division of Student Affairs leadership are currently evaluating the results.
In the interim, the cooking class was a "great first step" to learning strategies for cooking relatively cheaply in the residence halls, Mr. Dembowski said.
"It shows that Megan and the university are listening when we say we have trouble finding food options that aren't expensive," Mr. Dembowski said. "I didn't know a lot about cooking, so I thought it was helpful."
The university formally launched first-generation student programming during 2015 Welcome Week with the inaugural First Generation Connect event cohosted with the MSSC and Lambda Pi Chi Sorority Incorporated—of which Ms. Madrid is the president.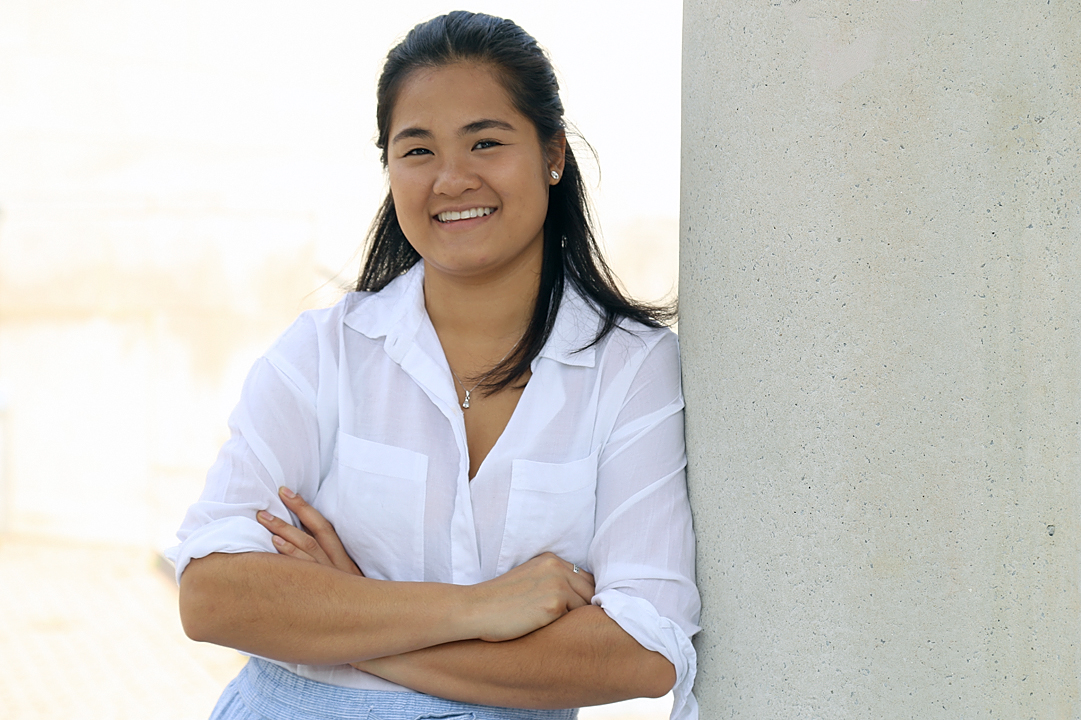 "It was tough at first, especially as transfer student, but I have high expectations for myself and I know GW will help me achieve my goals. It can be hard to be vulnerable, to ask for help from professors, and it can be intimidating to go to other students in my classes. But when you talk to them and tell them your story, they get it and they want to help."

-Cindy Xayavong (Rob Stewart/GW Today)
---
Ms. Thomas reached out to first-generation students, faculty and staff individually for the networking event. Its success spawned a series of intimate monthly community dinners that attract about 20 students on average. The final First Friday Dinner of the spring 2016 semester will be Friday, May 6.
Ms. Annor, who served as an office hours volunteer this spring, said that she has seen the "voice of first-generation students" grow louder on campus this year because the community is more unified.
"When I first came to college I knew that I was the first in my family to attend a four-year school, but I wasn't really aware of the term until I was applying for a scholarship during my sophomore year," Ms. Annor said.
"I think there may be a lot of students like that at GW, and I hope now they will reach out and find a community that supports them."
---
GW students who identify as first generation and would like to learn more about support services and programming at the university should contact Megan Thomas, CSE coordinator for community support and leadership.