By Ruth Steinhardt
After crowded days of new friendships, new interests and their first "Only at GW" moments at this summer's Colonial Inauguration sessions, the George Washington University's class of 2022 will have a chance to get to know their new neighborhood. GW's location in a vibrant world capital offers scores of restaurants, museums, enclaves of natural beauty, music venues and study spots with breathtaking views. Whether you're among the incoming students or a returning GW expert looking for new outings, there's plenty to discover on campus and off.
Below, a few favorite destinations to kickstart your D.C. adventure:
Eating and Drinking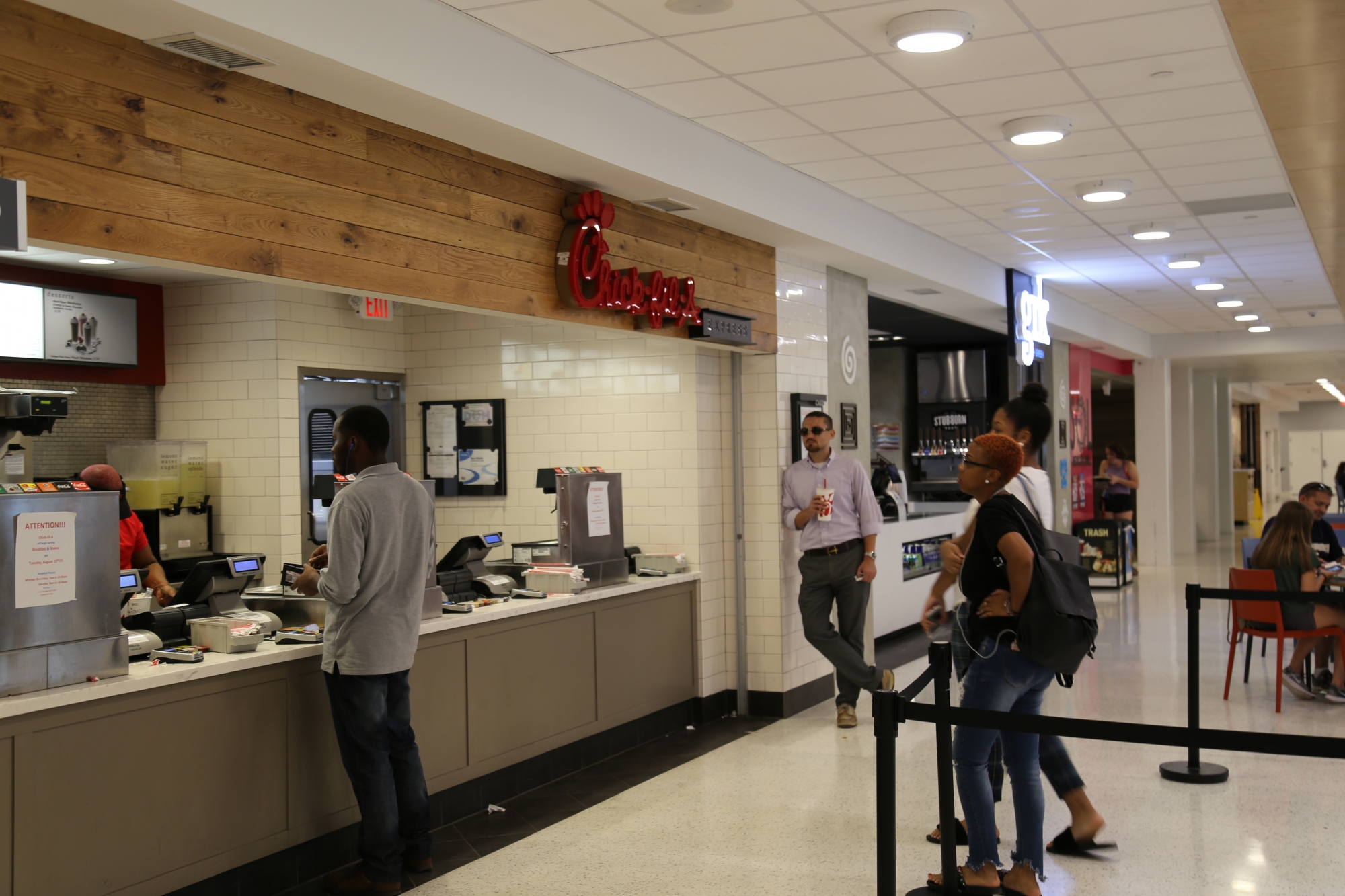 Chick-Fil-A is one of several popular dining options on the lower level of District House. (Ruth Steinhardt/GW Today)
---
Washington, D.C., is packed with options for those looking for quick eats, cooking supplies or a sit-down meal. And luckily for GWorld card holders, more than 90 dining and grocery partners on and near campus accept Colonial Cash or Dining Dollars. (New undergraduates receive their cards as part of  CI.)
Residence hall District House, 2121 H St., NW, offers a range of cuisines, including Chick-Fil-A, Peet's Coffee, Wiseguy NY Pizza and more. Food trucks serving local and global cuisine line H Street between 21st and 22nd streets at lunchtime. On the first floor of the Marvin Center, 800 21st St., NW, students line up for sandwiches and salads at Panera Bread.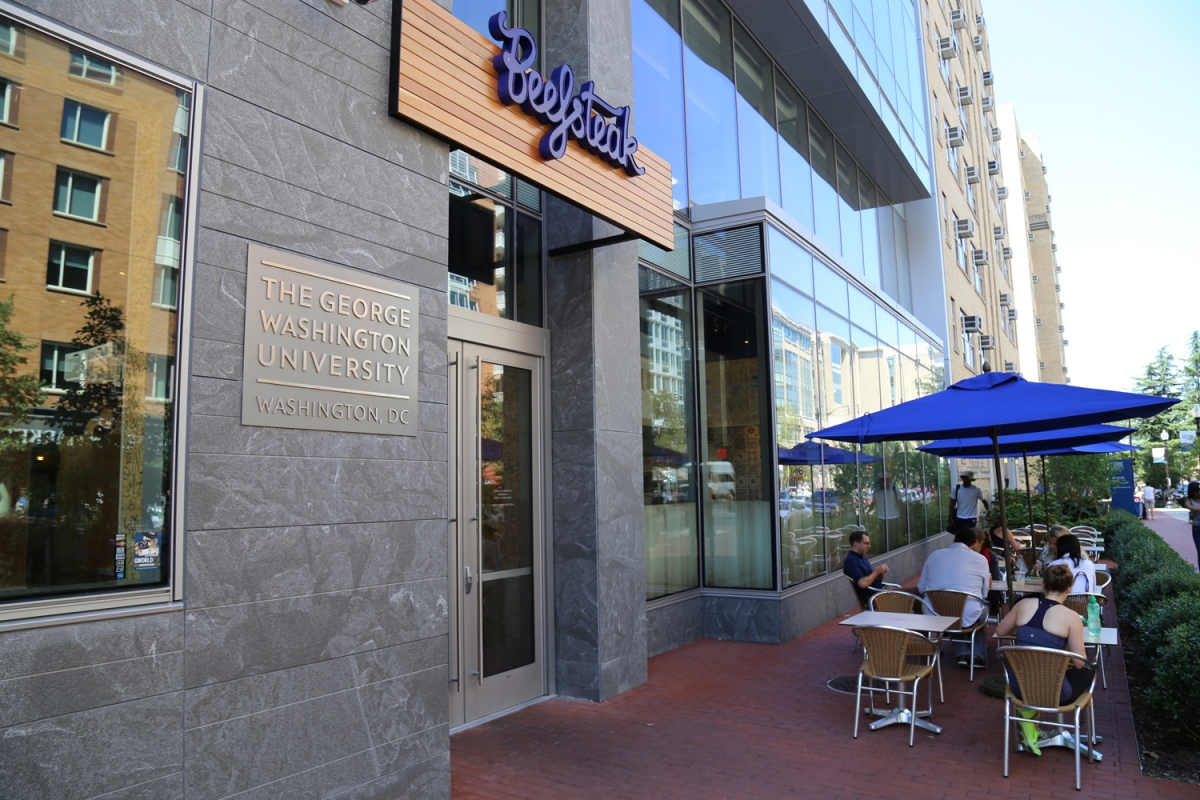 José Andrés' Beefsteak in Science and Engineering Hall. (Robert Stewart/GW Today)
---
Options around Foggy Bottom are varied and numerous, but for a start, try new spins on healthy cuisine at José Andrés' Beefsteak, 800 22nd St., NW, or locally-founded chain Sweetgreen, 2221 I St., NW. Stop into local favorite GW Deli, 2133 G St., NW, or sample poké, the Hawaiian raw tuna salad that's a relatively recent import to D.C., at Abunai Poke on 19th and L. And the shopping center at 2000 Pennsylvania Ave., NW, contains plenty of tasty snack options—including popular dairy bar and bakery Captain Cookie and the Milkman and a sit-down, parent-friendly option in Paul Bakery and Café.
Into cooking for yourself? Pick up groceries and supplies at Trader Joe's, 1101 25th St., NW, or Whole Foods, 2201 I St., NW. On Wednesdays in the fall, spring and summer, the FRESHFARM farmers' market brings healthy local produce, baked goods, cheeses and more to I Street.
If you're going out in Foggy Bottom, students recommend Tonic, 2036 G St., NW, and Stoney's, 2101 L St., NW, which offer affordable happy hours, trivia nights and bustling social scenes.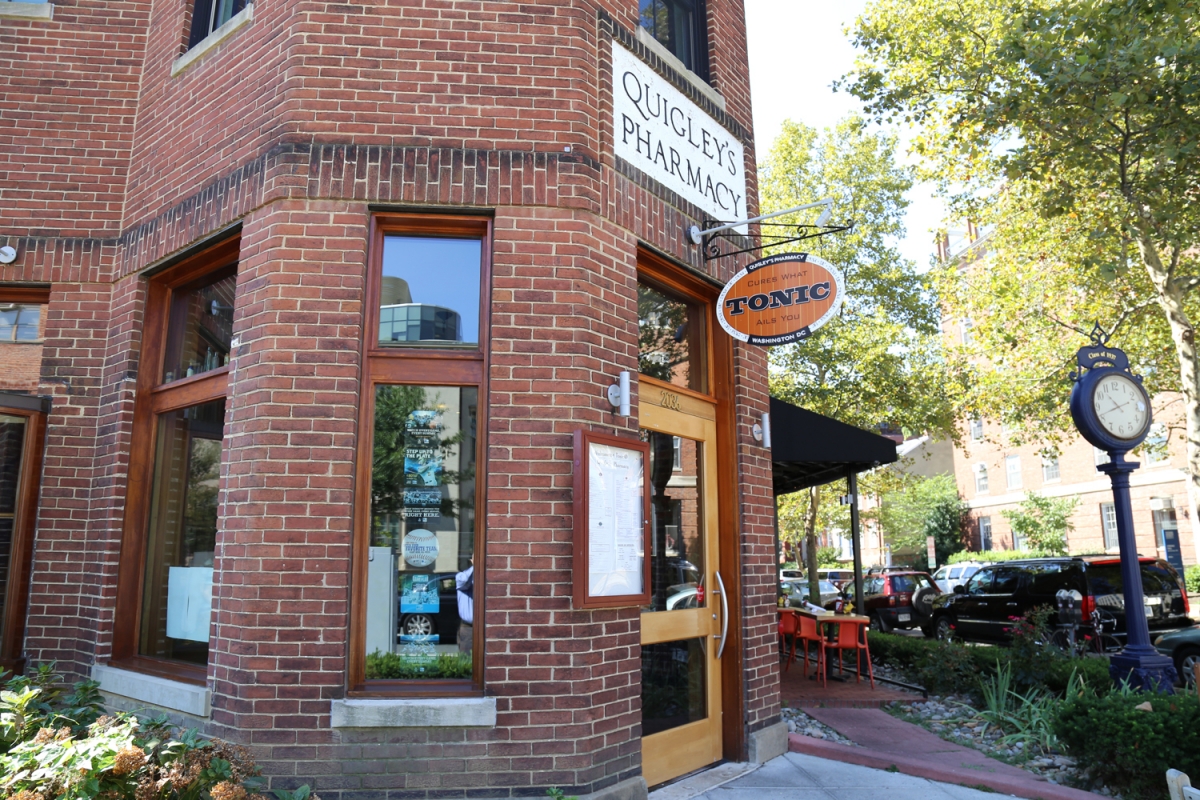 Nature in the City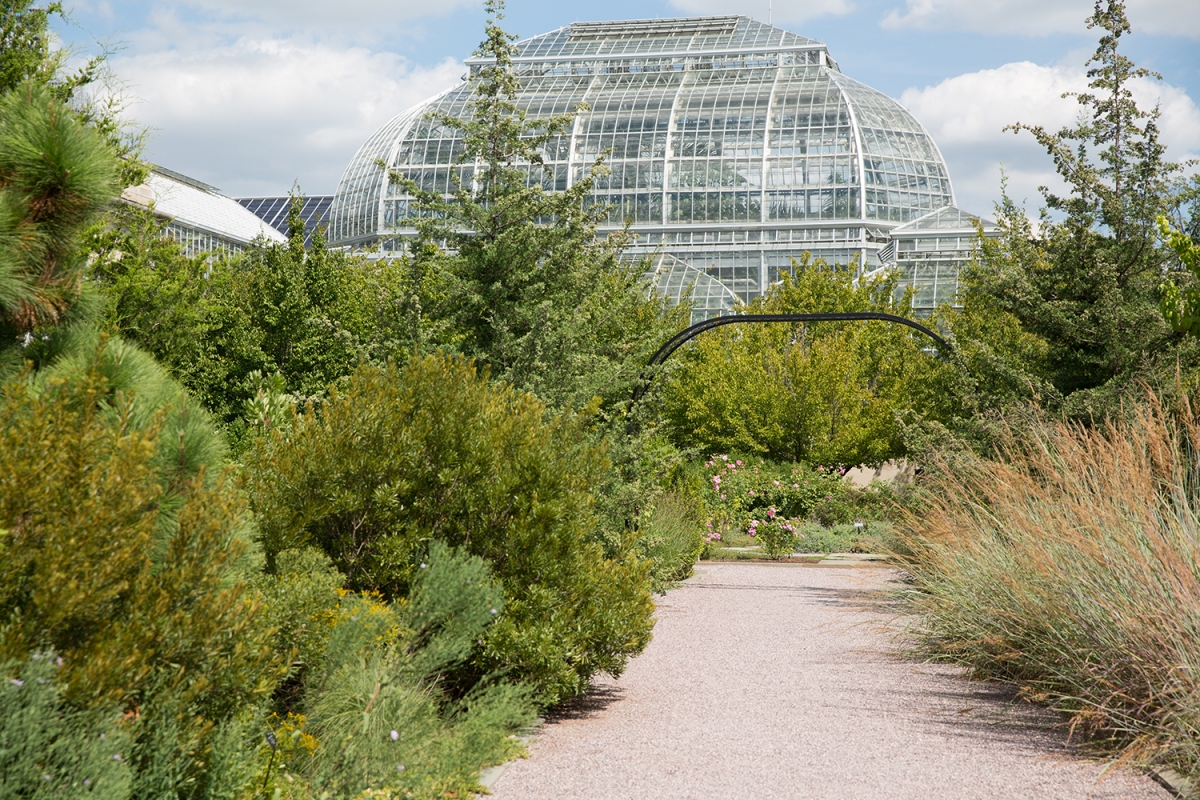 The U.S. Botanic Garden (100 Maryland Ave., SW) is an indoor-outdoor oasis highlighting regional plants and sustainable practices. (Zachary Marin/GW Today)
---
GW is known for its urban pedigree and campus in the heart of Washington, D.C., but for those in search of pastoral ambience, opportunities to commune with nature are never far away.
Joggers, cyclists and walkers can take their exercise routines to the tree-shaded trails of Rock Creek Park, just blocks away from the Foggy Bottom Campus. Theodore Roosevelt Island is a nature preserve and memorial site only a 10-minute walk from the Rosslyn Metro Station. And the National Arboretum, 3501 New York Ave., NE, is a must for azaleas in the spring, foliage in the fall and bird watching year-round.
Arts, Culture and Entertainment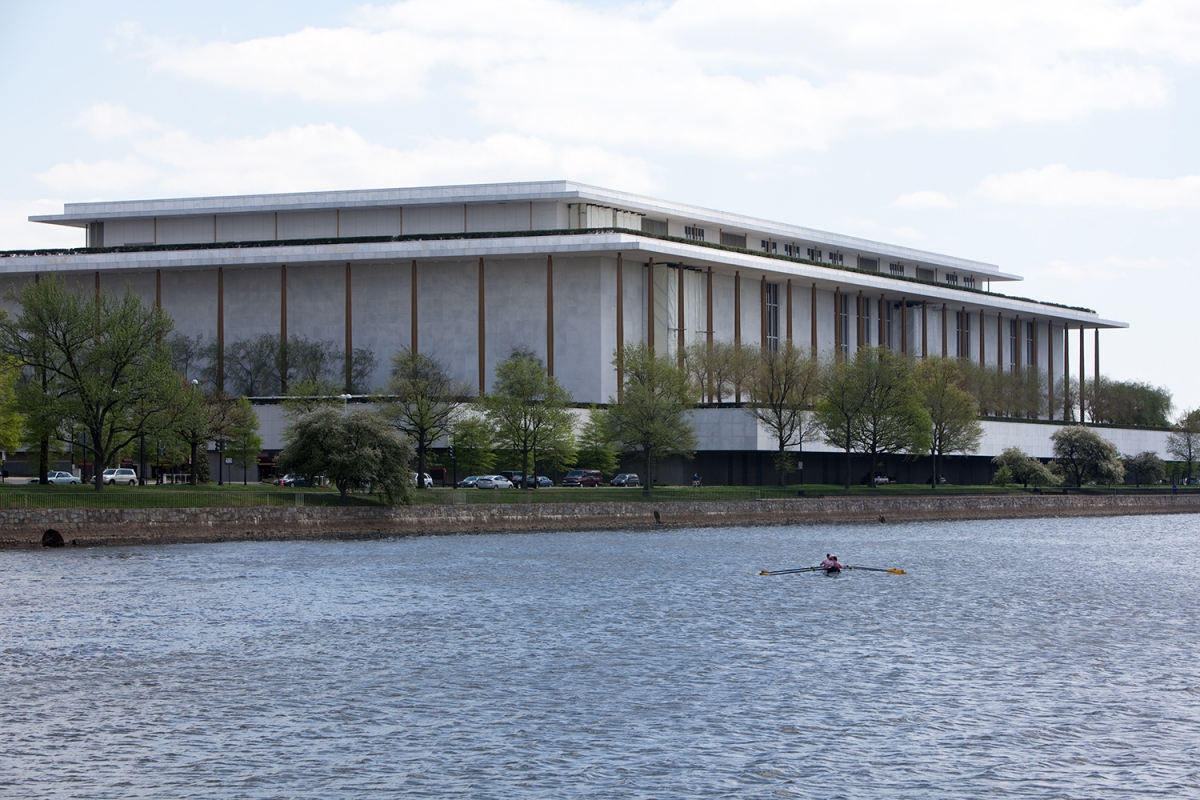 The Kennedy Center doesn't just offer plays and concerts. Visitors also can ascend to the terrace to take in a different kind of show: the panoramic view across the Potomac.  (William Atkins/GW Today)
---
It's easy to take part in D.C.'s vibrant arts and entertainment scenes—especially with guidance from GWToDo, a weekly compilation of events on and near campus. See a concert at a legendary venue like the 9:30 Club, 815 V St., NW, or U Street Music Hall, 1115 U St., NW. Take in slam poetry at Busboys and Poets, 14th and V streets, NW. For champagne taste on a diet-cola budget, catch the complimentary shuttle from the Foggy Bottom Metro to the Kennedy Center, where the Millennium Stage offers free shows daily, or just head up to the terrace to take in a different kind of show: the panoramic view across the Potomac.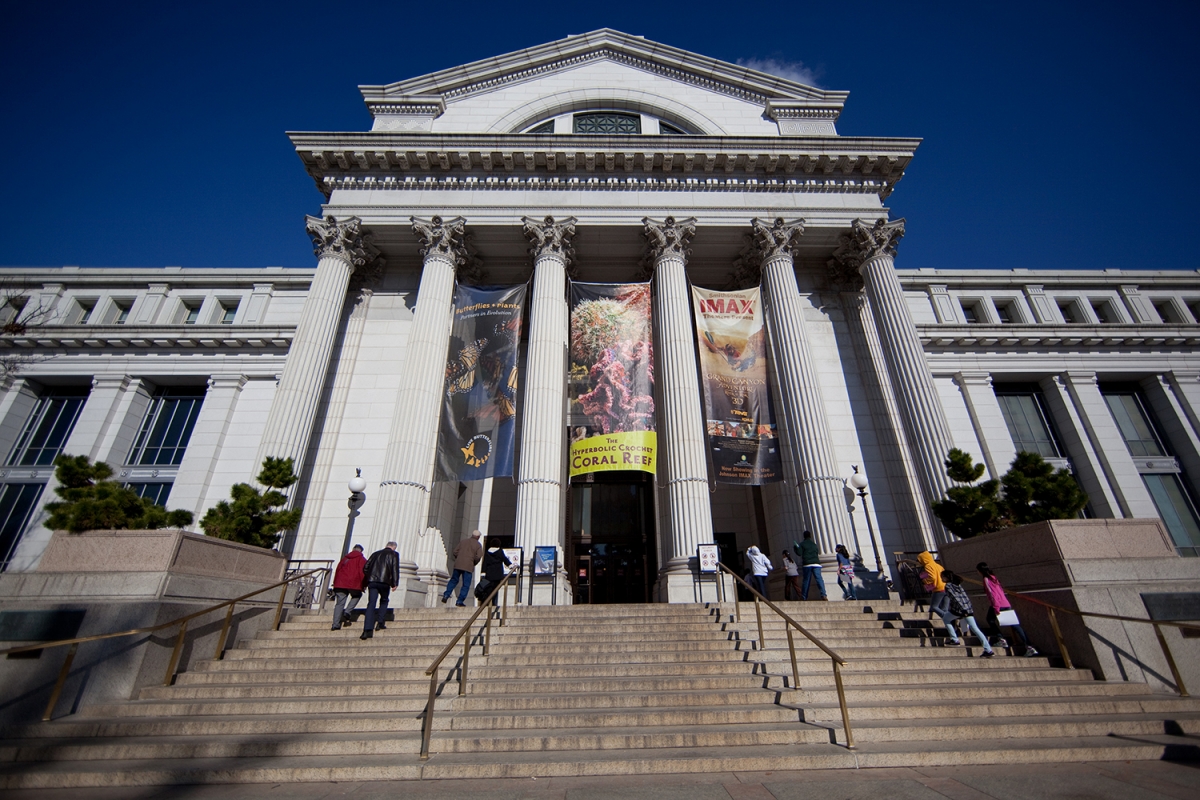 The Smithsonian Institution's Natural History Museum. (Jessica McConnell Burt)
For a quieter cultural outing, walk or take Metro to the National Mall to take advantage of the legendary Smithsonian Institution, which includes 20 museums and galleries as well as the National Zoo. All are free and open daily except for Dec. 25.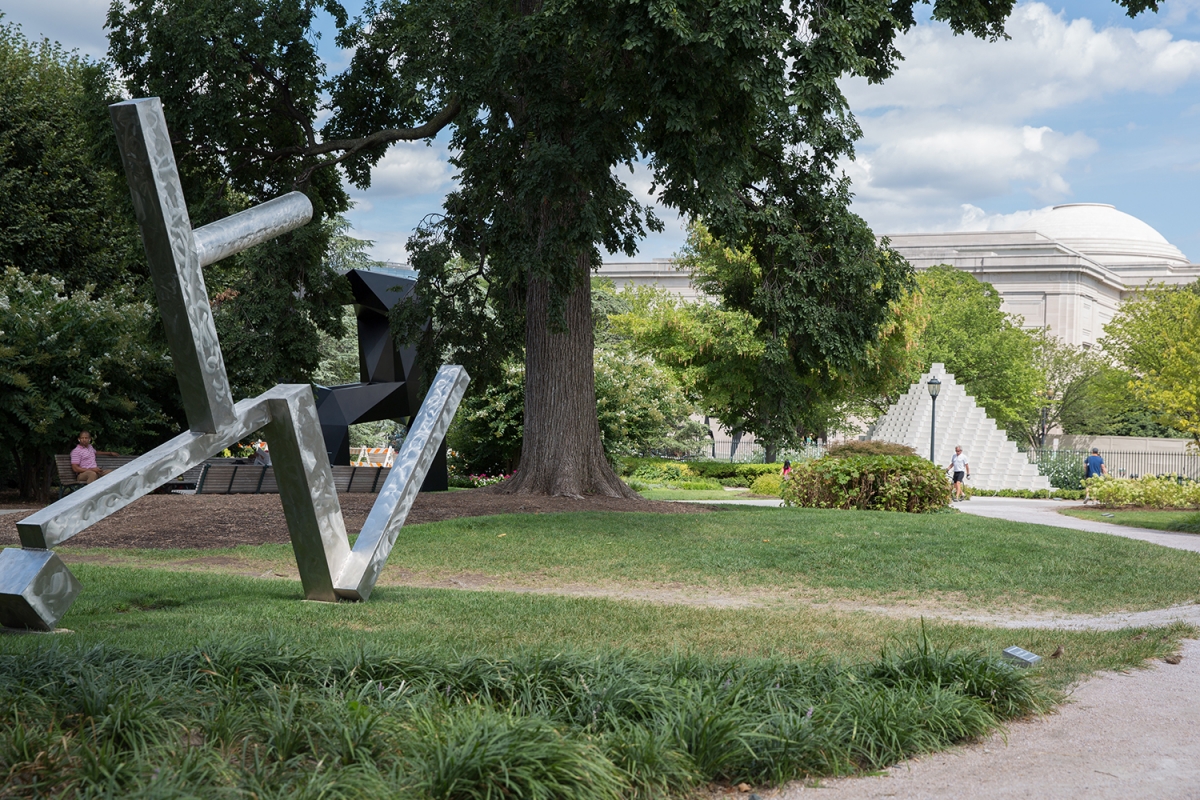 The National Gallery Sculpture Garden, part of the National Gallery of Art, features free jazz concerts in the summer and ice skating in the winter. (Zachary Marin/GW Today)
---
The Smithsonian's newest addition is the National Museum of African American History and Culture. (A timed pass is recommended for entry.)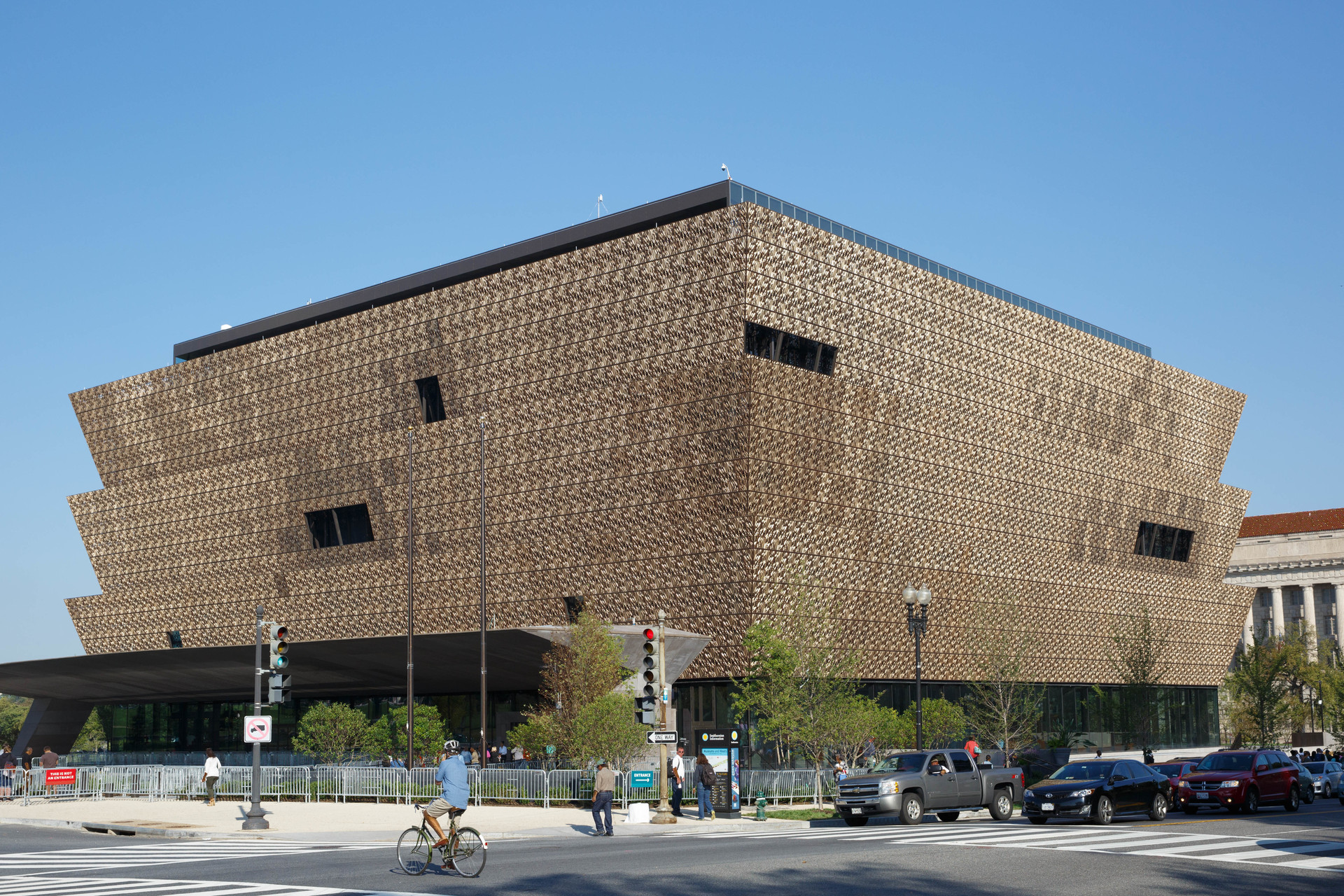 The National Museum of African-American History and Culture's distinctive building shape was inspired by the three-tiered crowns used in Yoruban art from West Africa. (Logan Werlinger/GW Today)
---
If you're on the Mount Vernon Campus, the historic Foxhall neighborhood includes lesser-known gems such as the Kreeger Museum, 2401 Foxhall Rd., NW (re-opening in September). And a 15-minute drive from GW's Virginia Science and Technology Campus in Ashburn, Va., is the Udvar-Hazy Center, a companion facility to the Air and Space Museum that features an IMAX theater and the space shuttle Discovery.
Culture vultures don't even have to leave campus. Take in a show at Lisner Auditorium, an exhibition at the Luther W. Brady Art Gallery or one of the frequent student or department performances. Take a tour of the George Washington University Museum and The Textile Museum at 22nd and G streets, where upcoming exhibitions include "Scraps: Fashion, Textiles and Creative Reuse," opening Sept. 2. Or check the Corcoran School of the Arts and Design's calendar for upcoming exhibits at the historic Flagg Building, 500 17th St., NW.
Sports
If you're more in the mood for athletics than artifacts, GW sports are in the ascendancy. Cheer on GW's own Colonials at the Charles E. Smith Center, 600 22nd St., NW, or on the Mount Vernon Athletic Fields.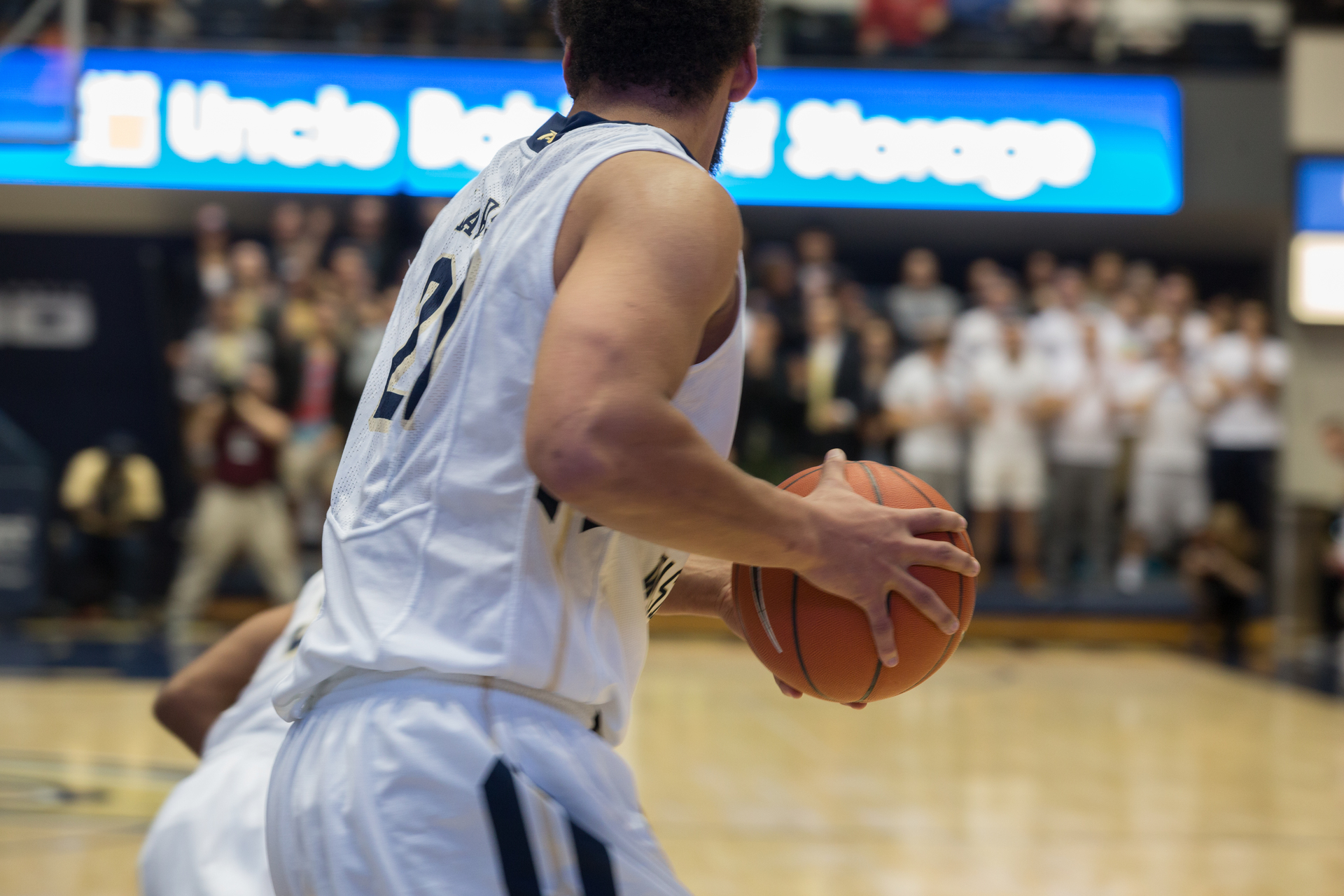 GW Basketball at the Smith Center is perenially popular. (William Atkins/GW Today) 
---
Students arriving from out of town may have their own hometown sports loyalties, but that doesn't preclude a look in at local teams. Baseball fans can root, root, root for the home team at Nationals Park, 1500 South Capitol St., SE. Former Major League Soccer champs D.C. United's new 20,000-capacity stadium, Audi Field, opens July 14. And as the seasons change, the Stanley Cup-winning Washington Capitals will host games at the Capital One Center, 601 F St., NW. "Cap One" also serves as the home of D.C.'s women's and men's professional basketball teams, the Mystics and the Wizards.