By Nick Erickson
In a scene becoming less and less familiar during an increasingly polarized political climate, a Democrat and Republican civically discussed policy issues in a public forum as senators Chris Murphy (D-Conn.) and Rob Portman (R-Ohio) took the stage Monday evening at George Washington University's Jack Morton Auditorium to address inflation, gun control and immigration, in addition to responding to current and breaking news.
Monday's event—moderated by CBS congressional correspondent Nikole Killion—was the second installment of The Senate Project, a series of three debates between U.S. senators supported by the Bipartisan Policy Center, Orrin G. Hatch Foundation and Edward M. Kennedy Institute for the United States Senate. Sen. Bernie Sanders (D-Ver.) and Sen. Lindsey Graham (R-S.C.) were the first participants in June, while the final debate will take place later this fall in Utah with two senators to be named later.
The Senate Project's goal with this debate series is to "reintroduce the culture of seeking common ground and consensus" during a time of great polarization that has eroded public trust in government.
"We are in such a challenging time where conversations like this are unfortunately the exception rather than the rule," said GW School of Media and Public Affairs Director of Strategic Initiatives Frank Sesno, who delivered opening remarks. "We try here to say to our students that this is the future, figuring out ways to be at a table together, yes to engage where we disagree, but also to seek ways for us to agree, compromise and find common ground. That's the way we need to move forward if we're going to thrive as a nation over time."
Both senators have been involved in bipartisan policy throughout their careers. In fact, they co-authored the Countering Foreign Propaganda and Disinformation Act in March 2016 in response to Russia's deliberate inaccurate portrayal of its military interventions in eastern Ukraine and Syria.
More recently, the two have come together and signed off on bipartisan legislation that includes the Safer Communities Act addressing gun violence, the Infrastructure Investment and Jobs Act and the CHIPS and Science Act that incentivizes strategic investments to secure U.S. supply chains. Portman and Murphy have also both indicated they will support the Respect for Marriage Act.
"We have passed some pretty good legislation in the past couple of years," Portman said. "It's never perfect. The infrastructure bill was not exactly as I would have written it, nor was the gun bill exactly as Chris would have written it. But we do have a responsibility to actually serve the people and getting something done that helps move the process forward."
Murphy considered the gun bill more of a compromise as it did not include bans on assault rifles or universal background checks as he had hoped. But coming together at least moves the needle on key issues, he said.
"Despite how broken this institution appears from the outside, when you put the gun bill with the potential for Respect for Marriage Act, the infrastructure bill, the CHIPS Act, this is a pretty impressive list of bipartisan accomplishment in a 50-50 Senate in a time of deep division in the American public," Murphy said. "All of this, despite the disagreements we're having today, gives me hope."
---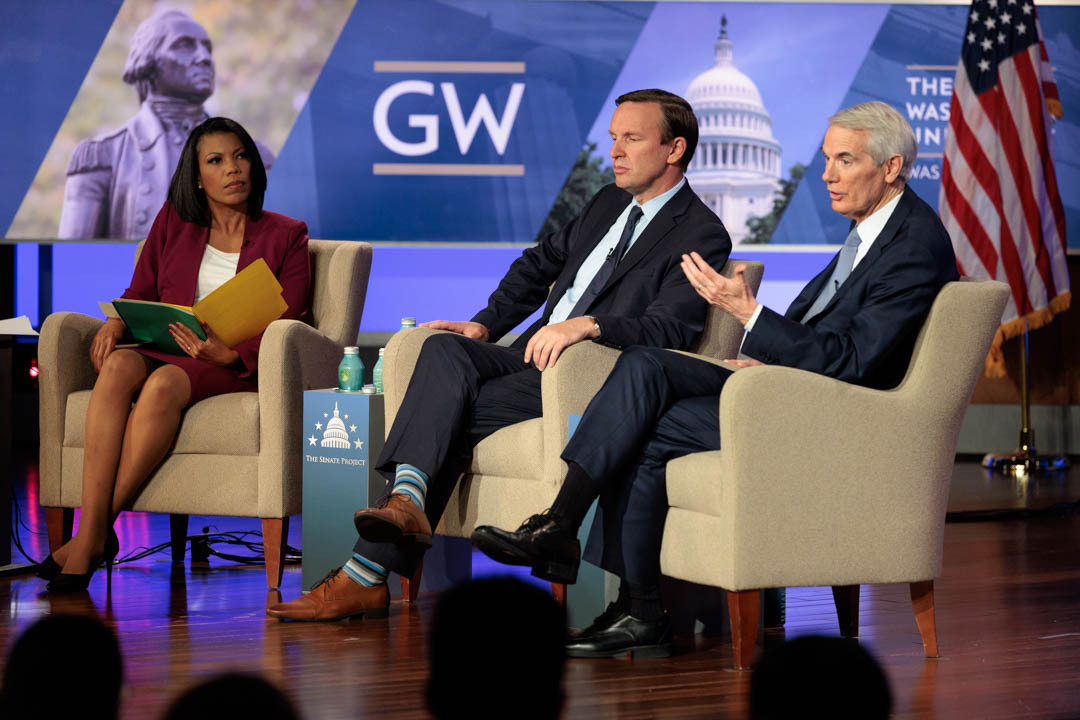 CBS congressional correspondent Nikole Killion moderated Monday's debate with senators Chris Murphy (D-Conn.), left, and Rob Portman (R-Ohio). (William Atkins/GW Today)
---
While Murphy and Portman found common ground Monday, as they have numerous times throughout their Senate careers, they shared different perspectives on all fthe major issues discussed during their Oxford-style debate, where they each had three minutes to address an issue, along with a 90-second rebuttal period.
Regarding inflation, Portman said he opposes the current reconciliation bill because of the tax provisions, claiming it would be a mistake to raise taxes at a time when people are dealing with inflationary pressures. Murphy argued inflation has been a consequence of a demand coming back post COVID-19 restrictions and a fast-growing economy that has held at a 3.6 percent unemployment rate for four months.
On gun control, Murphy believes a lot was left on the table. He said AR-15s do not belong on the street and expressed concern about the amount of illegal weapons in circulation. Portman said the most important component of the Safer Communities Act is the part that addresses mental health.
The two agreed that there needs to an immigration reform that is both fair and humane. Portman criticized the Biden administration for virtually ending removals of people who entered the country unlawfully, in addition to expressing concern about the amount of drugs—fentanyl in particular—entering the country. Murphy was critical of Republicans—mentioning he didn't group Portman in this category—who don't seem to want to solve the issue but keep it open as a political wedge. The senators agreed that immigration is part of the country's fabric and hope to find common ground to assist those who legally come over seeking economic opportunity and new beginnings.
In a more traditional question and answer session, Killion pressed Portman about why he voted against cloture on the PACT Act expanding the Department of Veterans Affairs health care to veterans with exposure to burn pits. Portman said he wanted to debate the bill and allow for an amendment that would make technical changes in terms of the accounting of funds. Portman stated he would vote for final passage of the bill whether the amendment is there or not, but wanted the chance to debate. Murphy questioned why so many Republicans flipped from an earlier vote on the same bill and wondered if it had to do with the announcement of a climate change bill. He said the American people will not tolerate that kind of gamesmanship.
On Tuesday, the Senate passed the PACT Act with an 86-11 vote. Portman indeed voted for the bill's final passage. 
The debate also started as President Joe Biden addressed the nation to announce the death of al-Qaida leader and Sept. 11 mastermind Ayman al-Zawahiri by U.S. drone strike, which Killion asked for comment. Both senators applauded the administration's execution of the drone strike.
In closing, Murphy and Portman both offered a lookahead on other opportunities to come together and how to get there more frequently. Both agreed reforming the Electoral Count Act that would modernize how Congress tallies electoral votes to accurately reflect each state's vote for president should be a priority. Murphy has learned in this split Senate how important relationships are and hopes politicians try not to litigate everything through social media. Portman pointed to the infrastructure deal having a "middle out" approach with deals driven by rank-and-file senators rather than leadership.
While the two senators disagreed on stage throughout the night, they also found commonalities and debated civically for a capacity crowd and a live C-SPAN audience. Bipartisan Policy Center Founder and President Jason Grumet hoped this presentation would be a sign of things to come. 
"We think dignifying differences is the first step to moving conversation forward," Grumet said. "The victors tonight are all of us who have the opportunity to see this kind of exchange among two of our nation's most productive leaders."