By B.L. Wilson
A group of students from George Washington University's Elliott School of International Affairs met with U.S. Secretary of State Antony Blinken Thursday after a speech on the Foggy Bottom campus on the administration's China policy.
Five GW students from the Elliott School--Truly Tinsley, Jeremy Rausch, Yani Najarian, Abby Wei and Han Zhu—joined five students from other universities for a private session with Blinken after his policy address in Jack Morton Auditorium. It lasted about 30 minutes, and afterward, four of the GW students talked with GW Today about their time with the top diplomat in the United States.
The exchange covered a range of subjects, the students said, including future careers in the Foreign Service, efforts to improve diversity in the Foreign Service and the administration's relations with China.
Najarian, who is completing her master's in Asian studies this year, said that she asked Blinken whether the administration expected sanctions to "realistically and meaningfully" improve the human rights of the Uyghurs in Xinjiang who have endured constant surveillance and detentions. She said that Blinken responded that the administration would work with allies and partners to make sure that Beijing gets the message.
Rousch, a rising senior, asked about assigning Foreign Service members to regions and countries not associated with their areas of study. Blinken explained, according to Rousch, that skills are transferrable across regions, and countries and that foreign service officers can be useful in distinctly disparate environments because although there are differences among regions and countries, there are also commonalities.
Blinken's answer, Rousch said, showed him that the secretary's commitment to diplomacy was insightful and why, perhaps, the State Department assigns people out of their comfort zone initially so they can thrive in the long run.
---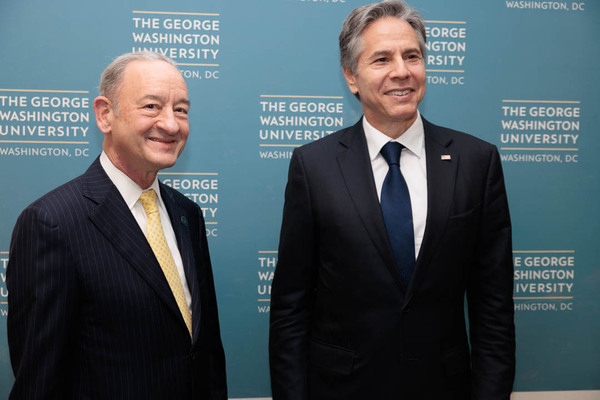 GW President Mark S. Wrighton (l) welcomed Secretary of State Antony Blinken to the Foggy Bottom campus.
---
 Najarian said the administration's China policy outlined in the speech included a new term—"integrated deterrent"—that sounds like a way of ensuring the United States can partner with allies that have overlapping objectives yet "still converge to achieve our goals."
Zhu, M.A. '21, an international student from Beijing who arrived at GW in 2019, said she wonders about the challenge of collaboration between the United States and China "because of ideological tensions. It is hard to collaborate with China because when they enter the competition… they see it as competition."
Tinsley, a rising senior, said she sees the Biden administration policy of collaboration with China despite national security concerns over human rights, their partnership with Russia and aggression against Taiwan, as "a way to balance interests, such as climate change and technological innovations, that we share so that we can work with them in the future."
Blinken was welcomed to campus by GW President Mark S. Wrighton. Also in attendance at the policy session sponsored by the Asian Society Policy Institute were other members of the Biden administration, members of Congress, including Sen. Mitt Romney (R-Utah), and GW faculty and students.
Blinken opened his speech with comments about GW. "It's a real pleasure to be here at the George Washington University," he said. "This is an institution that draws outstanding students and scholars from around the world and where the most urgent challenges that we face as a country and a planet are studied and debated." 
In his speech, Blinken said that the Biden administration is "putting diplomacy back at the center of U.S. foreign policy to help us realize the future that Americans and people around the world seek.
"Competition need not lead to conflict," he continued. "We do not seek it. We will work to avoid it. But we will defend our interests against any threat.
"There's no reason why our great nations cannot coexist peacefully and share in and contribute to human progress together, advancing human progress, leaving to our children a world that's more peaceful, more prosperous and more free," Blinken said.