By Kristen Mitchell
Student researchers from the School of Engineering and Applied Science had the opportunity to show off their hard work at the 2022 Student Research and Development Showcase, an event celebrating a diverse range of undergraduate, graduate and Ph.D. research projects across the school's disciplines.
Participating students displayed more than 130 posters on the ground floor of Science and Engineering Hall Friday afternoon, where they spoke to attendees and answered questions about their work.
"We really hope that we can use the showcase platform to provide a platform for our students to highlight our SEAS research strengths, ranging from engineering health, advanced manufacturing and also artificial intelligence," said Lijie Grace Zhang, SEAS professor and associate dean for research in her opening remarks. "In addition, we really hope we can foster collaboration from different departments and also different labs." 
Vice Provost for Research Pamela Norris kicked off the event by highlighting the interdisciplinary nature of many of the projects. The ability to intersect various disciplines will be key to solving the world's biggest challenges, she said. 
Norris spoke about her experience doing undergraduate research developing an oxygen processor for Mars, the basic design for which recently landed on the planet. Contributions to fundamental research happen over a long period of time, she said, but the opportunity for impact is enormous. 
"I hope you all really invest and put forth your best effort," she said. "I hope you take the opportunity to establish your reputation as an independent scholar and then take the lessons learned from GW and really have an impact on the world."
No judge prizes were awarded this year, however, small gifts were given to showcase participants to mark their participation in the event. The Office of Innovation and Entrepreneurship awarded innovation prizes to three participating poster teams, which included $1,000 to pursue proof of concept work and support through the office's innovation and entrepreneurship training program.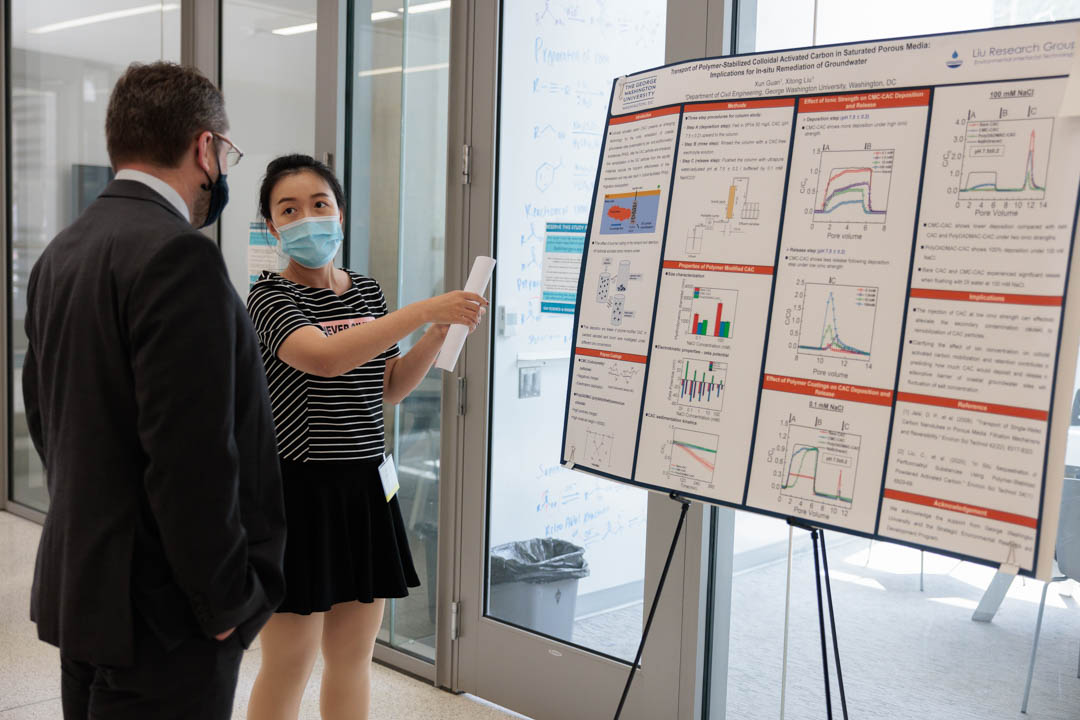 A student presents a research poster at the 2022 Student Research and Development Showcase. (William Atkins/ GW Today)
---
Eliese Ottinger, a junior majoring in systems engineering, presented her research exploring whether people drive electric vehicles differently than gasoline vehicles. She studied odometer data from used car listings and found that people tend to drive electric vehicles less than gasoline vehicles. The goal of this research is to determine whether electric vehicle technology is prepared to support the market for people who drive cars.
Ottinger got involved in this research because it combined her interests in sustainability and data analysis. She is looking at three makes of vehicle right now, but hopes to expand on this work.
"I enjoy asking questions, and I enjoy doing the data analysis," she said. "It's really satisfying when I make a visualization, and it's exactly what I expected to see."
Xiaoyuan Wu, a senior majoring in computer science, presented a longitudinal analysis of Apple app store privacy labels that require developers to disclose to users what data is collected and how it is used. Apple started requiring these labels in 2020. Researchers collected data over 35 weeks and found increased compliance with the label requirement over time and identified shopping apps as the category of app most likely to collect tracking data. 
The team plans to continue data collection and build a website to present findings to users, Wu said. 
"User security in general is very interesting to me," he said. "The industry is trying to be more transparent, and we want to learn, are they successful in these measures?"
Anysja Roberts, a graduate student in biomedical engineering, presented research she's working on in a lab at Children's National Hospital. She studied ​​how phthalates, a group of chemicals used to make flexible plastic products, impact cardiac function. She focused on Di(2-ethylhexyl) phthalate, or DEHP, which is commonly used to make blood bags and other items used in a medical or surgery setting. 
She found that prolonged exposure to DEHP reduced heart rate and had adverse effects on blood flow through the heart. Roberts began working in the lab in September.
"I love being able to answer the questions that I have and having the tools to explore different things," she said. "Being able to talk to other people about what they're doing and think together to figure out answers to the problems is really fun."
SEAS Dean John Lach closed the event, calling it a joy to walk around and speak to students about their research.
"I think that all the other guests and faculty will agree," he said. "To interact with you, to see the work that you're doing, makes me very, very optimistic about the future of our world."