By Nick Erickson
Human legs have capabilities often taken for granted. They transition from walk to run on instinct. They accelerate vertically to a jump for something out of reach, and they squat to avoid a lower overhang.
But one thing they don't have is a reset button, and those capabilities can be altered in the blink of an eye—or blast of an improvised explosive device (IED).
While working in a prosthetic clinic one day, George Washington University biomedical engineering graduate student Sarah Malinowski met a U.S. military veteran who had lost his leg during active duty. Perceived simple tasks such as getting up out of bed to go to the bathroom became excruciatingly difficult.
There was no reset button to push. His life, active by all accounts, was drastically changed, and that stuck with Malinowski. Working where she was, she noted there was no prosthetic knee on the market that allows a person to do things otherwise healthy legs can do.
"If you want to run away from a car that doesn't see you as you're crossing the street, you would have to go back to your own car, change your leg and then run," she said. "It's not practical."
She has proposed a prosthetic knee—called Rugged Redemption—that would empower amputees to maintain an active lifestyle. On Thursday night, she received a financial kick start after winning $27,500 of prize money from the New Venture Competition (NVC), a nationally recognized pitch competition out of GW's Office of Innovation and Entrepreneurship.
With her earnings as after being voted the top Tech Venture Track, she can fund a prototype that will help her launch a product that could ultimately help the 400 U.S. military service members who wake up every morning without a leg, in addition to 30,000 other Americans who are amputees.
Malinowski won one of three venture tracks—with each prize topping out at $10,000 in prize money—at the awards ceremony wrapping up the 13th NVC, which last year earned the Times of Entrepreneurship's top ranking in university entrepreneurship competitions. 
In total, 132 teams and 368 students participated in this year's four-round NVC. The second round was cut down to 104 teams, while 36 advanced to round three and 12 were named finalists. The finalists pitched their launched startup or idea for one to a panel of judges Wednesday night before winners were announced to a near capacity crowd Thursday at Jack Morton Auditorium.
A total of $408,000 was awarded during this year's competition, including $128,000 in cash to the winners, and participants represented all 10 schools at the university.
"We are supported by all of the schools in the university, and I think that's one of the reasons of why we have such a strong competition," said Jim Chung, associate vice president for Research Innovation and Entrepreneurship.
Chung noted that since the first NVC in 2009, there have been $3 million in cash prizes, 350 new ventures launched, $1 billion in follow-on funding and, this past year alone, 800 Mentors-in-Residence appointments. It has also launched GW to become a top-25 university worldwide for unicorn founders.
Director of Student Entrepreneurship Kate Heath, M.B.A. '10, oversaw her first NVC and was quick to thank her team at OIE and the Mentors in Residence and volunteer pitch coaches for their time and counsel, in addition to the judges who flew in for the competition. Heath also applauded the 132 student teams for bringing their ideas to the table and encouraged all aspiring GW entrepreneurs to keep at it.
"Applying and trying takes great courage," Heath said. "Know that our office will always be here to support your ventures and ideas no matter what the NVC outcomes are."
---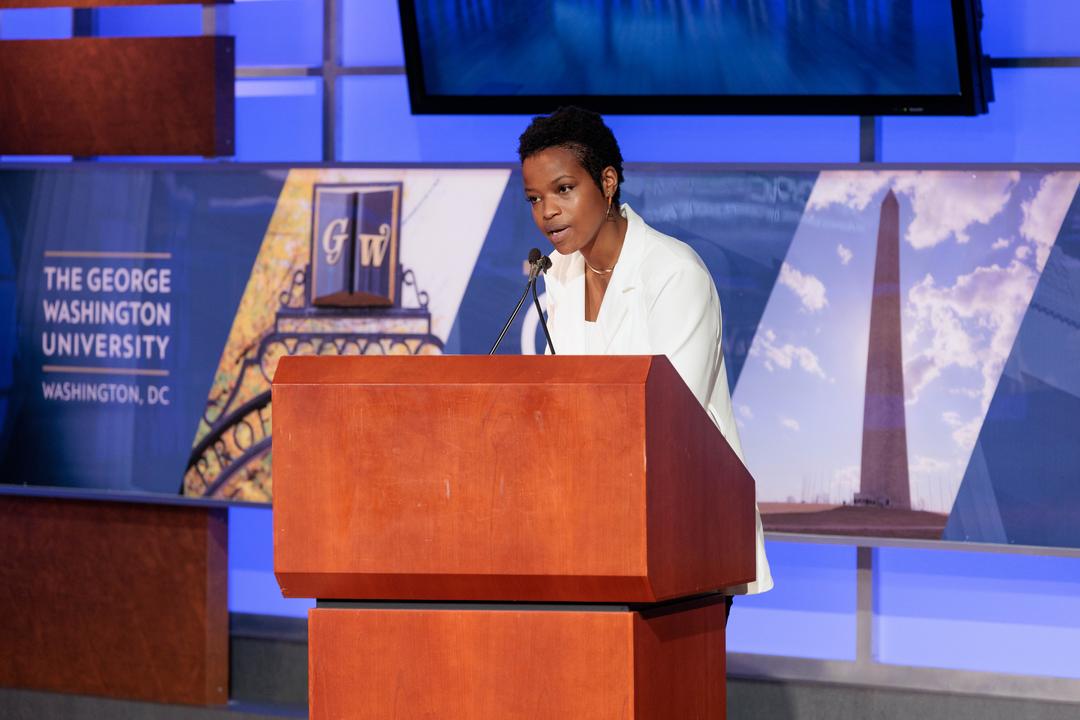 Fourth-year GW medical student and Social Venture Track winner Linda Mangera pitched an application would help match housing voucher recipients to landlords. (William Atkins/GW Today)
---
The NVC rewards students who pitch ideas with significant societal impact. GW fourth-year medical student Linda Mangera won the Social Track Venture award for a software startup called Paths that provides a more convenient way for housing-voucher recipients to search for nearby homes with welcoming landlords.
In addition to being a GW medical student, Mangera also has a rental business that has made more than $100,000 in gross revenue. What she has seen in the housing market is that people who qualify for housing vouchers often wait more than two years to see it through, and that many recipients have those vouchers expire. Current online apartment and housing services do not cater to those with housing vouchers, and Paths is an application that tracks users' movements and searches local government data bases for voucher-accepting landlords.
It uses a search parameter input by users that focuses on their voucher adjusted price limit and distance of their current neighborhoods based on movement. Paths, which received $20,000 in prize money Thursday, then notifies users of listings that fit their criteria.
"We are saying this is a group of people who are very often neglected, and we had a solution to make sure that they can actually get their housing voucher obligated to be received," Mangera said. "We have a policy that's in place to provide rental assistance to a really large group of people."
---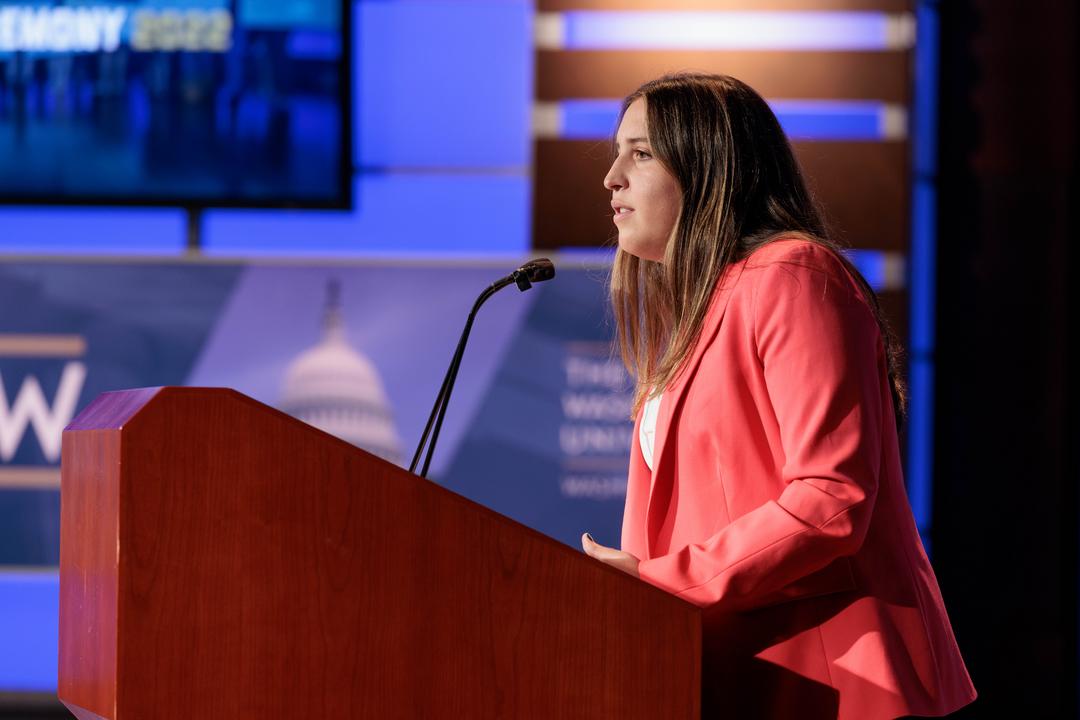 GW School of Business senior and New Venture Track winner Sabrina Clebnik stated her case for her cannabis-infused baking mix brand. (William Atkins/GW Today)
---
Another part of the NVC's fun is seeing unique products students come up with that are aimed at a hyper niche market. GW School of Business senior Sabrina Clebnik won the New Venture Track award for her cannabis-infused baking mix brand called Clebby's. Her business was launched in spring 2021 after researching for her father, who was helping to facilitate the launch of Massachusetts' first social equity and vertically integrated licensed cannabis facility.
Clebnik was surprised that fresh baked edibles weren't sold at any Massachusetts dispensaries and found that third-party testing timeframes for THC dosage and strength made selling fresh-baked edibles in dispensaries nearly impossible. Her product eliminates testing latency by providing customers the ability to bake cannabis-infused products with dosage consistency at home.
"You can think of Clebby's as the Pillsbury baking mix of the cannabis market," Clebnik said.
Clebnik plans to put her NVC money, which totaled $15,000, to product development, legal fees and eventually new hires. Having a product on the shelves of dispensaries may be a wise investment considering cannabis is projected to be a $6.5 billion industry by 2025.
An all-undergrad team of sophomore Anna Shah, junior Maya Levine, senior Stephanie Cheung and junior Rachel Cohen racked up $25,000 for their pop-up thrift store—POP!—that sells secondhand fashionable and affordable clothing to GW students. They won the Viewer's Choice Award.
All 12 finalists won a minimum of $2,500 for their venture on Thursday.