The Corcoran School of the Arts and Design's Flagg Building welcomed hundreds of visitors Thursday evening as the school's capstone and thesis show, "NEXT 2022," roared back to in-person celebration after two years mostly online. More than 70 physical installations and multiple performances transformed the building, showcasing graduating students' work in a broad swath of fields including dance, exhibition design, fine arts, graphic design, new media photojournalism, social practice and more.
Students from the art history, decorative arts and design history and music programs also presented work earlier in the week at the NEXT Symposium, and over 100 more students, including the interior architecture program, will show their work online at next.corcoran.gwu.edu beginning May 13.
"It was moving to see visitors responding to the students' work—the art sparked conversations and connections between people," Corcoran Director Lauren Onkey said. "That connection is what we've missed these last two years. It was especially powerful for students to see the impact of their work."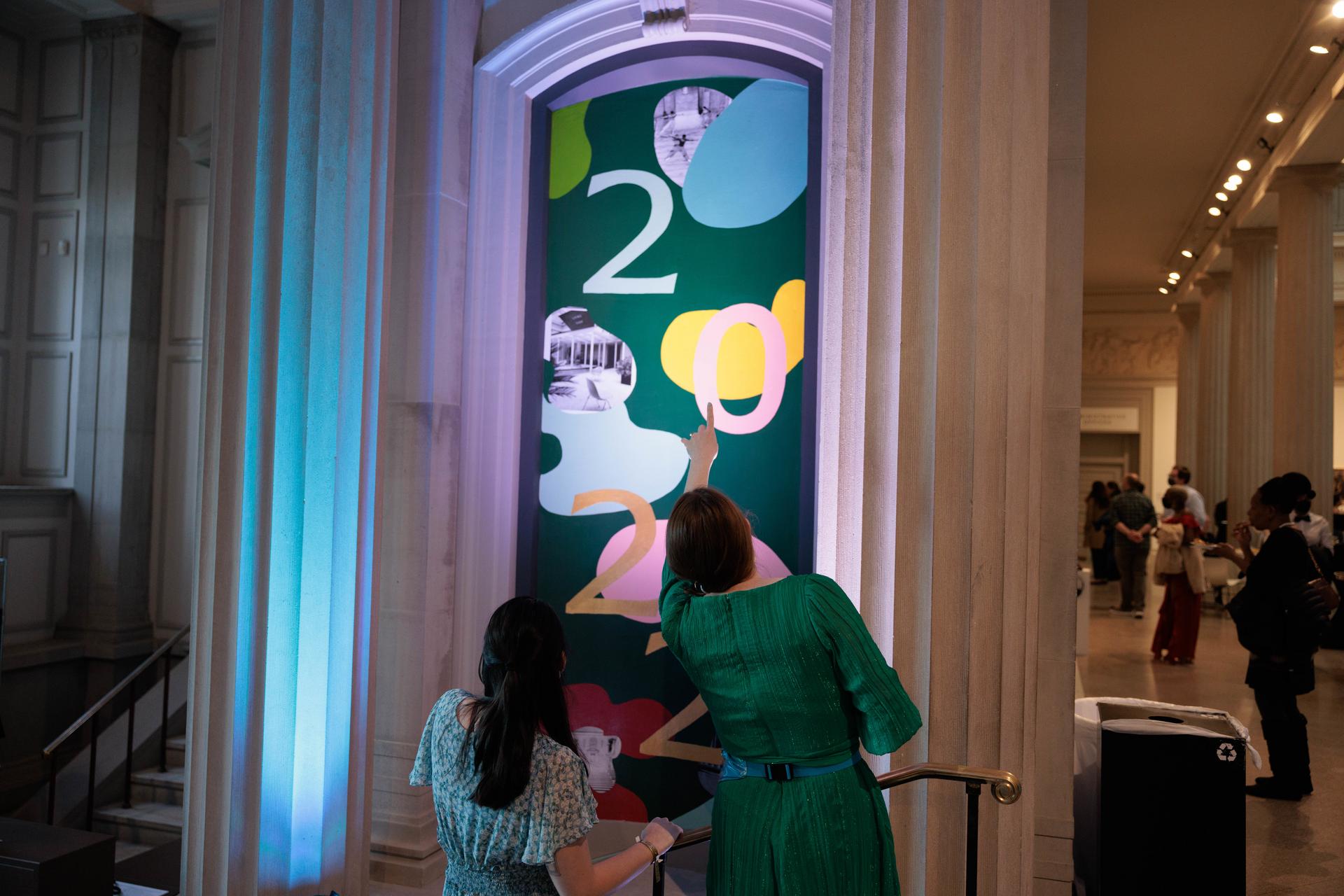 Guests at NEXT 2022. (William Atkins/GW Today)
---
On Thursday evening, the work on display spanned genres—even within programs. In one gallery devoted to work by graduates of the M.F.A. program in social practice, massive, visceral paintings and a wall of knotted ties by artist Wes Holloway shared space with Jordana Rubenstein-Edberg's backlit collage exploring her family history of cancer and her own double mastectomy, as well as with delicate interactive flowerscapes by artist and activist Adele Kenworthy.
Kenworthy's work explores who is and who is not permitted access to beauty. (Denny Henry)
---
Before the party, some artists gave lightning-fast presentations of their work at NEXT 180, where the audience voted on the best presentations in several categories to win prizes. Graphic design major Devon Ott's presentation on Nike's iconic "swoosh" logo—designed in the 1970s by a freelancing college student—won "Best Overall." Theatre major Natalie Parks won "Most Humorous" by unpacking the process of turning dark, deeply personal topics into art for an audience. Parks' thesis, "EGO/DEATH," was a one-person play about a character who comes back to life a year after committing suicide—and "it was kind of a funny show," Parks said.
"I explained the parts of the show that were similar to my life to my family before they saw it so they didn't go 'Oh my god," Parks said. Like many projects at NEXT, "EGO/DEATH" will continue beyond the Corcoran, premiering at the Capital Fringe Festival in July.
Senior Sydney Walsh's photojournalism thesis, "From There to Here," featured portraits and a series of first-person essays by interracial adoptees on the challenges and complexities of their experience. Walsh, herself an adoptee, remembers the feelings of isolation and confusion that came with her early own experiences of racism.
"The feeling of never 'being Asian enough' but never 'looking American enough' left me feeling trapped," said Walsh, whose presentation won "Most Inspirational." "Adoption should not be something that's treated so simply, with a disregard for color, when we live in a society that is anything but colorblind."
NEXT 2022 by The George Washington University on Vimeo.
---
The crowd at the Corcoran was made up of students, families, friends and even subjects. Members of the all-female football team D.C. Divas showed up—at least one in uniform, complete with pads—to perform a raucous opening chant and see themselves documented in photojournalism senior Phebe Grosser's project, "For Her."
The in-person format also allowed for the rebirth of a cherished NEXT tradition: live performance. In one piece, Nateé Himmons' "Humanity," three dancers moved before a video screen that showed themselves, also dancing. While the digital versions sometimes appeared to anticipate or echo their live counterparts, the effect was pure chance, Himmons said: The video is constructed of short clips that play in random order, varying with each performance. Even the music playing over the performance is chosen at random via shuffle as the dancers execute their moves in sequence.
Dancers perform Nateé Himmons' "Humanity." (Denny Henry)
---
Himmons, a dual major in dance and business analytics, created the choreography with the help of an algorithm she wrote. The creative interplay between machines and humans fascinates Himmons, who plans to work in data analysis but says her training as a dancer helps her tell stories in any medium—including code.
"I'm going on to be an engineer, so I know how important these machines are—we're creating tools to help society, autonomous cars and all that stuff," Himmons said. "But there's this beautiful sensation of randomness and generosity when it comes to humans."
Visit NEXT 2022 in person through May 15 at the Flagg Building, 500 17th St., NW. Hours vary daily; please check go.gwu.edu/NEXThours for details. Visit virtual work at next.corcoran.gwu.edu starting on May 13, 2022
entity>