Interim Provost and Executive Vice President for Academic Affairs Forrest Maltzman presented an update on the progress in implementing the university strategic plan, and members of the George Washington University men's and women's basketball teams were honored at Friday's meeting of the Board of Trustees.
Dr. Maltzman presented on key areas of Vision 2021, the university's 10-year strategic plan, focusing on international enrollment, student diversity and interdisciplinary learning and research.
"These are four of the most important actions highlighted in the strategic plan," Dr. Maltzman said.
His presentation highlighted a busy Friday meeting that also featured the introduction of the university's new vice provost for diversity, equity and community engagement and remarks from George Washington President Steven Knapp, External Relations Vice President Lorraine Voles, GW Alumni Association President Jeremy Gosbee, B.A. '98, M.A. '02, and Faculty Senate Executive Committee Chair Charles Garris.
The trustees approved the university's 2016-17 budget as part of the meeting.
The men's and women's basketball teams were recognized at the beginning of the open session for their accomplishments this year. The teams finished with a combined record of 54-17 and won three championships during the 2015-16 season. The women's team won the Atlantic 10 regular season and conference tournament titles for a second consecutive year, while the men capped off the winningest season in program history by capturing the National Invitation Tournament championship.
"Our deepest thanks and appreciation to our students, you made us proud this year," Board of Trustees Chair Nelson A. Carbonell, B.S. '85, said. "And to our coaches and staff, you did a terrific job. Thank you very much."
Aristide Collins, Allan From, Nelson Carbonell and Steven Knapp pose for a photo at Friday's meeting of the Board of Trustees. (William Atkins/GW Today)
---
New Vice Provost for Diversity, Equity and Community Engagement
Athletics success also was part of Dr. Knapp's report to the board. Last fall, GW ranked first among all NCAA schools nationwide for the number of community service hours performed by student-athletes, he said. On Tuesday, the university held a special Commencement ceremony for the men's rowing class of 2016. They will compete Sunday at the Eastern Sprints on Lake Quinsigamond and are unable to attend the university's main Commencement ceremony.
Dr. Knapp provided the board with an update Friday on international efforts at the university. Senior Associate Provost for International Strategy Doug Shaw had presented on the topic at the February meeting. Dr. Shaw's plan to "leverage Washington for global impact" already is yielding results, Dr. Knapp said.
"One of the things we've been doing is making available to our students an increasing number of contacts with world leaders," he said. "Just this semester—and I'm only focusing on presidents and prime ministers and cabinet ministers—we've welcomed the presidents and prime ministers of the Central African Republic, Estonia and Georgia, former prime ministers of Australia and Japan and cabinet ministers of Bolivia, France, Germany, Kosovo, Liberia, Somalia and Turkey. Again, that's just this semester. It's a pretty extraordinary succession of opportunities for our students."
Dr. Knapp also introduced Caroline Laguerre-Brown on Friday as GW's new vice provost for diversity, equity and community engagement. Ms. Laguerre-Brown replaces Terri Harris Reed, who now serves as secretary of Spelman College. Associate Professor of Marketing Vanessa Perry has been serving as Dr. Reed's interim successor.
"I am thrilled to join President Knapp, Provost Maltzman and the talented team at the Office of Diversity and Inclusion at the George Washington University," Ms. Laguerre-Brown said. "I am really excited about being able to partner with those important stakeholders to advance this institution's commitment to inclusive excellence and community engagement."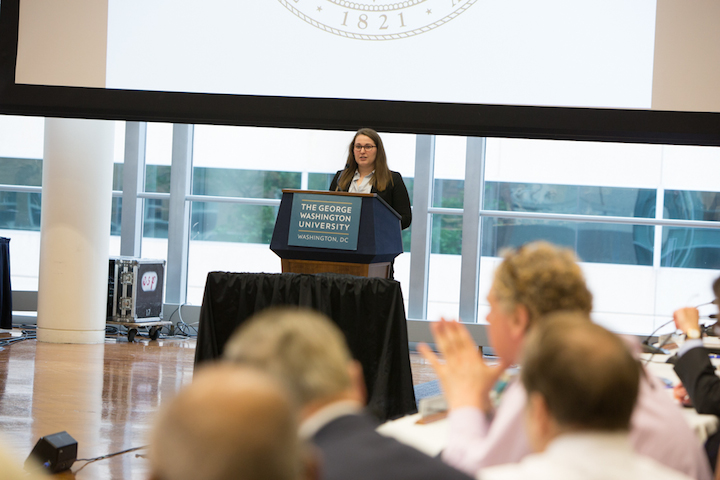 Incoming SA President Erika Feinman outlined SA goals for the next academic year. (William Atkins/GW Today)
---
Goodbye and hello
Farewell remarks were common refrain Friday. Outgoing Student Association President Andie Dowd was recognized by the board and thanked its members during brief remarks. She introduced rising senior and new SA President Erika Feinman, who discussed the SA's goals for the next academic year of increasing academic opportunities, addressing affordability and amplifying student voices.
The board honored outgoing trustees Friday and voted to elect two new members: Gabbi Baker, B.B.A. '13, and Judith L. Rogers, A.A. '74. The board also voted to confer emeriti status on three former trustees: Mark Hughes, M.S. '77, Linda Rabbitt, M.A. '72, and Lydia Thomas.
"Thank you to all the trustees who are departing," said Mr. Carbonell. "We will always welcome you on campus and will always welcome your efforts. Thank you so much for everything all of you have done for the George Washington University."
Mr. Gosbee and Dr. Garris also spoke Friday.
Mr. Gosbee spoke of ongoing GWAA efforts to be better advocates for alumni and said it was an exciting time of year at the association with Commencement only a few days away. Dr. Garris provided an update on senate activities, highlighting a pair of resolutions passed at the April meeting regarding a procedure for amending the Faculty Code and university contributions to staff and faculty health insurance costs.
"It is my belief that the board, the faculty and the administration are harmoniously working together for a better university," Dr. Garris said. "We have a long tradition of shared governance and cooperation."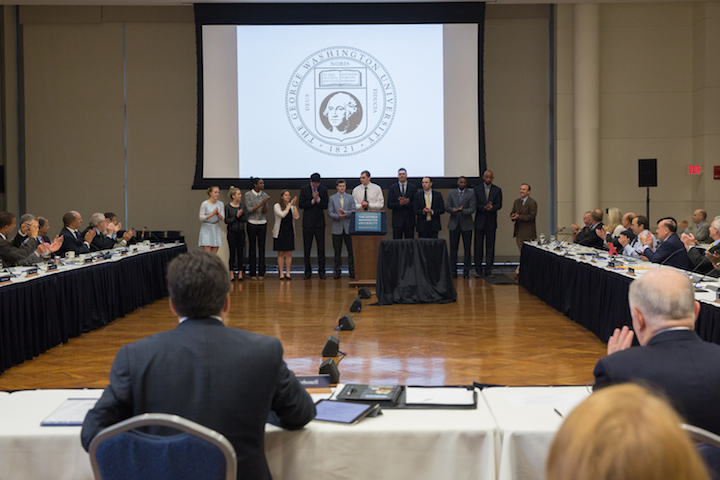 Members of the men's and women's basketball team were honored at the beginning of the meeting for their accomplishments during the 2015-16 season. (William Atkins/GW Today)
---
Commencement this weekend
Ms. Voles presented Friday on Commencement activities, which will take place Sunday. United States Senator Cory A. Booker (D-N.J.) will deliver the Commencement address before an audience of approximately 25,000 graduates, friends and family members on the National Mall. It is the 10th consecutive year GW has hosted Commencement activities on the Mall, Ms. Voles said. GW is the only university to do so.
Mr. Carbonell also spoke about Commencement in brief remarks to close the open session. In addition to Sen. Booker, the university also will recognize Albert H. Small and Baroness Joanna Shields, M.B.A. '87, with honorary degrees from the university, he said.
"These are three really unbelievable people," Mr. Carbonell said. "We look forward to congratulating them at our ceremony Sunday."