Founded in 1877, the Mount Vernon Seminary and College—now the George Washington University Mount Vernon Campus — hit its stride in the 1930s, producing hundreds of women scholars and making plans to expand its campus and programs.
But then World War II hit and the women's college struggled to find financial footing.
"The U.S. Navy took over the Nebraska campus during the war and Mount Vernon was forced to move to a new location and rebuild," said Robin Delaloye, GW Libraries director of communication and outreach. "Enrollment was on the rise, but it dropped after World War II—there was just poor financial planning,"
The solution? Class of 1904 alumna Marjorie Merriweather Post, the first Mount Vernon alumna trustee and CEO and founder of General Foods Corporation.
According to letters and accounting ledgers held by GW Libraries University Archives, the female business mogul leveraged her massive fortune to keep the institution running for nearly 45 years.
Mount Vernon became a part of GW in 1999, and the former college is a unique part of GW's history. Ms. Post is an example of the many great women connected to GW who are celebrated in March by the university during the nationally observed Women's History Month. 
"Without Marjorie Merriweather Post, Mount Vernon would not have continued to exist. She was devoted to the school and footed the bill for a number of years," Ms. Delaloye said. "She was the savior of Mount Vernon."
Ms. Delaloye said that Ms. Post is remembered for her brilliant business sense. At 27, she inherited Postum Cereal Company from her entrepreneur father C.W. Post. She expanded the company over several years and became one of the richest women in the world.
"She may have only been 27, but she was a boss," Ms. Delaloye said. "I like to think that her father left her the company because he really saw her potential for success in business."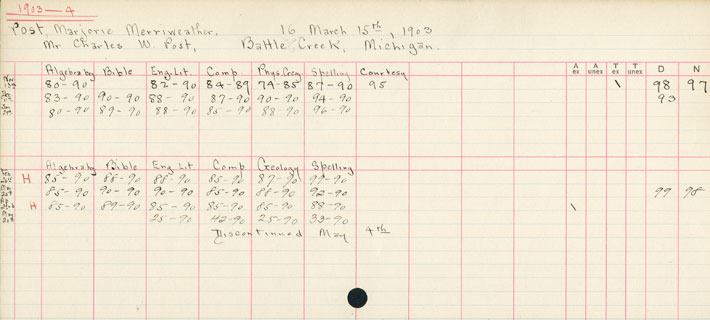 A report card mailed to Ms. Post's father C.W. Post in 1903 shows her success as a pupil at Mount Vernon Seminary and College. 
---
Ms. Post was a principal benefactor of the college, and letters on file to then-President George W. Lloyd account for hundreds of thousands of dollars in donations throughout the 1940s, '50s and '60s—gifted as cash, supplies and shares of stock from General Foods, International Business Machines (IBM) and other companies.
Ms. Post's letters and telegrams reveal a woman intimately involved in the day-to-day happenings of the school, Ms. Delaloye said.
Her more whimsical donations include mink coats, a 1948 Crown limousine and a wood-paneled room that was built, disassembled and reassembled on campus. She was a collector of Fabergé eggs and was often seen in photographs wearing tastefully tailored dresses, fur coats and outrageous jewelry, Ms. Delaloye said.
Many of her garments are on display at the Hillwood Estate, Museum and Gardens, where she lived for nearly 20 years. The museum is also home to her collection of Fabergé eggs, Russian Imperial art, French decorative arts, textiles, costumes and jewelry.
---
"We gave her a gold pin in the shape of a heart. We told her this gift symbolized what she meant to us, 'The Heart of Mount Vernon.'"
-Rosalind Vereen, Class of 1929, New York Mount Vernon Alumnae Chapter
---
Ms. Post funded the building of many Mount Vernon projects including Post House —renamed Merriweather House— and the top floor of Ames Hall, which was used as an infirmary, Ms. Delaloye said.
She notably commissioned the construction of a separate Post Hall—named for her parents—because the women of Mount Vernon did not have a place to properly receive their "gentleman callers." A letter to Mr. Lloyd outlines $175,000 in funding for the building and a contingency of $10,000.
"This is one of my favorite stories to tell about her," said Ms. Delaloye, who annually gives a historical lecture on Mount Vernon to freshman in the Elizabeth J. Somers Women's Leadership Program
"She believed it was improper for the men to stand outside and wait for their dates," Ms. Delaloye laughed. "It shows you just how involved she was in the school."
Following 42 years of involvement as a pupil, alumna and trustee, Ms. Post resigned from the Board of Trustees on June 8, 1943, citing disagreement with the "business conduct of the school."
"I had always taken great pride in my association with school, in its high scholastic standing, its accomplishments and quite particularly in its business-like administration," she said in her letter of resignation.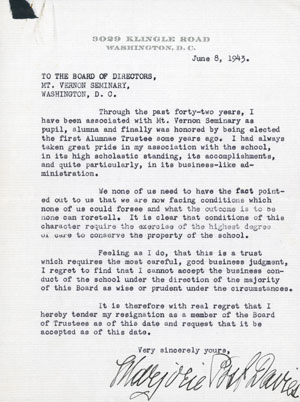 In a resignation written to the Board of Trustees, Ms. Post disagreed with the financial leadership of the institution. 
---
Despite resigning from her official role, Ms. Post continued her philanthropy at Mount Vernon up until her death in 1973.
Her legacy of service is perhaps best summed by a convocation address written by former Mount Vernon President Peter D. Pelham and printed in the Mount Vernon Bulletin.
"Marjorie Post was an unusual woman and a great human being, and Mount Vernon was privileged to have been the recipient of her interest, time and counsel for the better part of this century," Mr. Pelham said in homage.