What do Charles Lindbergh, John Lennon and university namesake George Washington have in common?
They're a small sample of the historical figures drawn to heightened perfection by artist Mike Caplanis, whose work is on display through March 30 at the George Washington University Virginia Science and Technology Campus.
The exhibit, "STEAM: Notable Men and Women in Science, Technology and the Arts," showcases a range of pieces from his collection of more than 1,700 caricatures with a focus on the heroes of STEM—science, technology, engineering and math. 
"There is nothing more expressive than the human face, and caricature reveals a truth that lies just behind what is right in front of you," Mr. Caplanis said. "I do it with respect, but realize that caricature is basically ridicule—and God help me, I love to make fun of people."
Mr. Caplanis has been featured in the Washington Post, the Philadelphia Inquirer and the Los Angeles Times, among other publications. He is currently working on series of city caricatures, showcasing large metropolitan areas.
George Washington Today spoke with Mr. Caplanis about six drawings in the exhibition and the inspiration for his work.
---
George Washington (and Martha Washington)
Mr. Caplanis drew the first president specifically for an exhibition at GW in 2008. He said the goal was to recognize the "small moment" when President Washington contemplates the creation of a national university as a part of his legacy— realizing its monumental importance in U.S. history.
"This also is a humorous couples moment where Martha—who must have heard it all a thousand times—says in that long suffering way that any husband or wife recognizes, 'it's late George, come to bed,'" Mr. Caplanis said.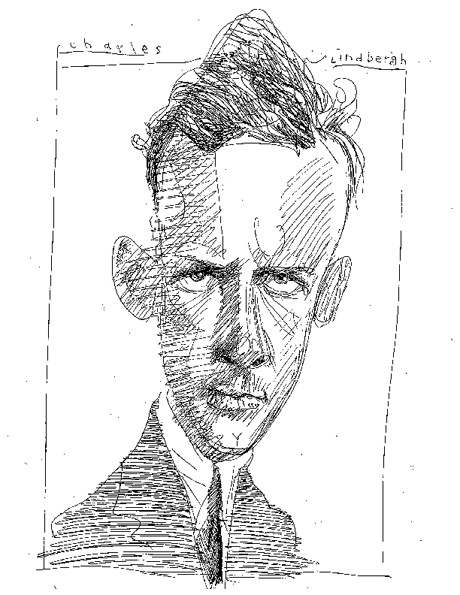 ---
Charles Lindbergh
Aviator, inventor and explorer Charles Lindbergh was the first man to complete a solo flight across the Atlantic Ocean in 1927. In the black and white drawing, the man known as "Lucky Lindy" has a stern, serious face.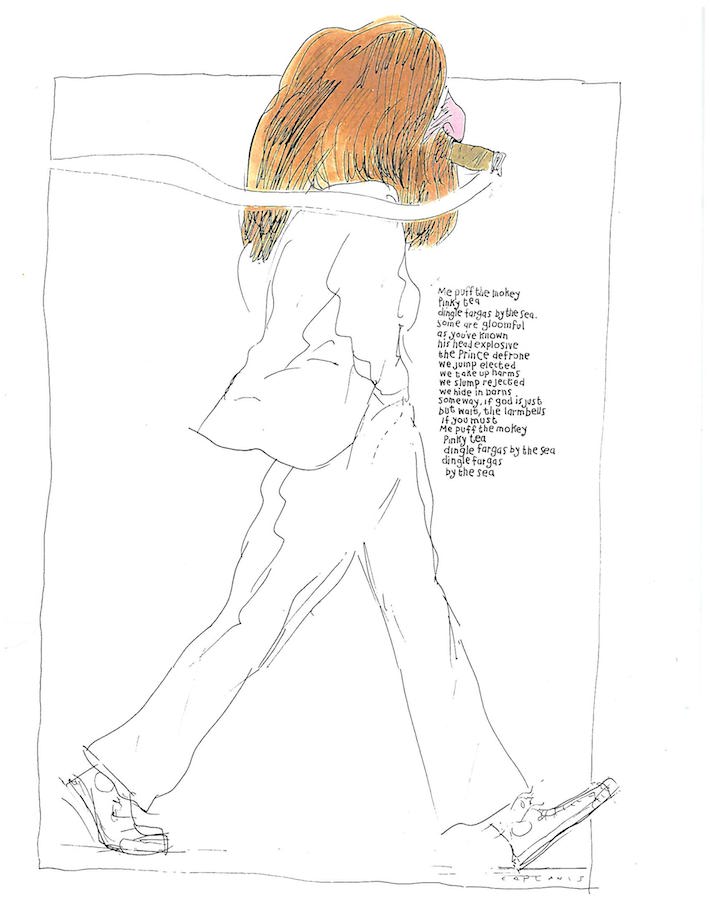 ---
John Lennon
The legendary member of British band the Beatles is pictured walking away coolly in the drawing, his face obscured by "hippie-style" hair. Beside his figure is text written by Mr. Caplanis— a feature in many of the pieces.
"This is usually some obscure fact or a sarcastic joke based on what I know about the person," he said. "What I don't know, I make up."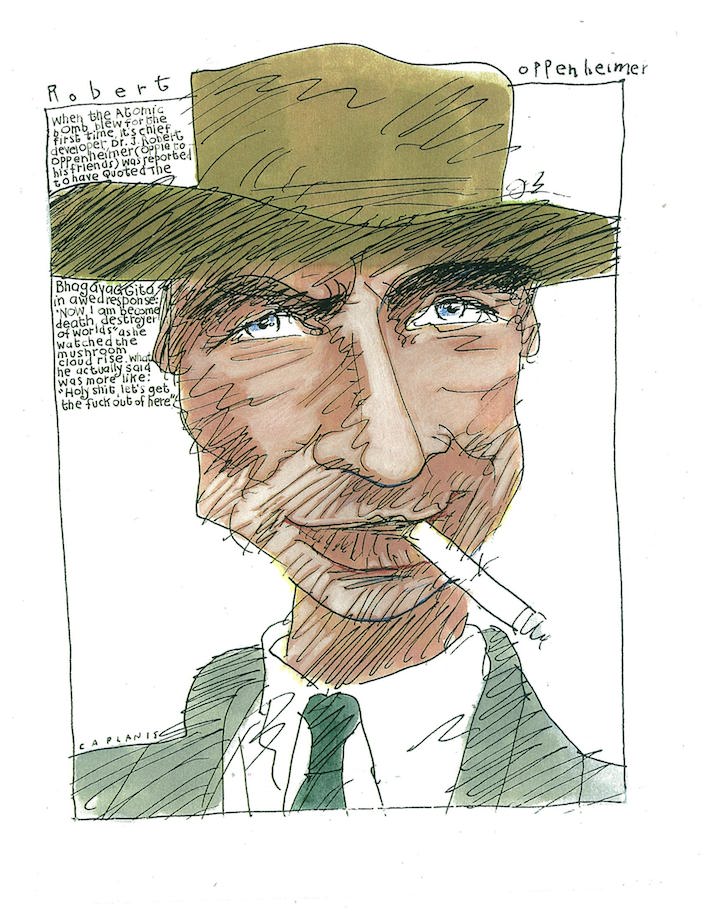 ---
J. Robert Oppenheimer
J. Robert Oppenheimer, known as the "Father of the A-Bomb," gained recognition for his work developing that weapon of mass destruction. He later became a lecturer on intellectual ethics and morality. Dr. Oppenheimer famously said, "Science is not everything, but science is very beautiful."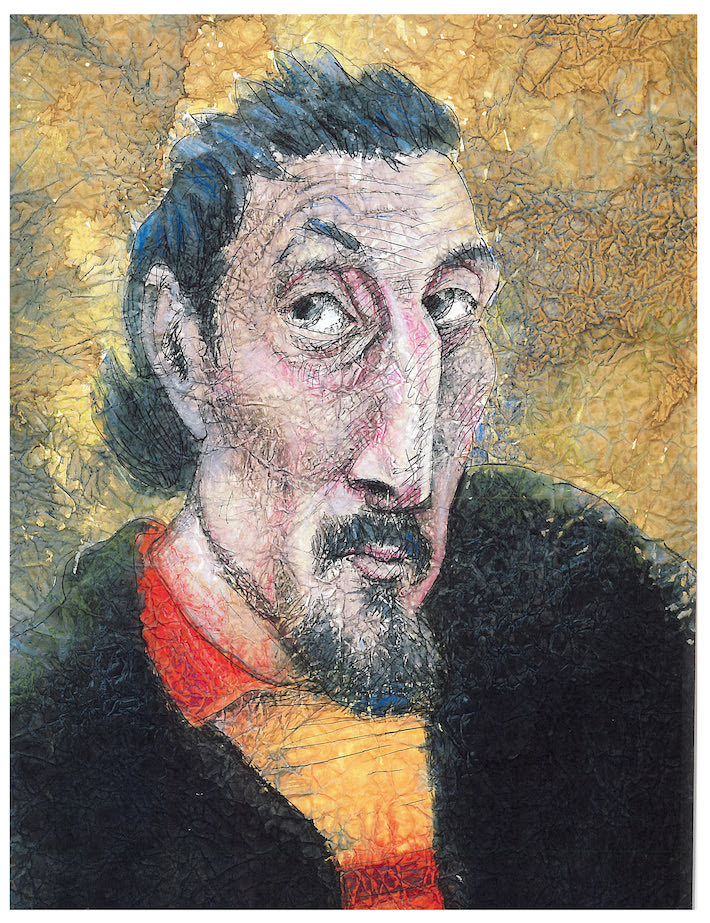 ---
Paul Gauguin
The French Post-Impressionist artist Paul Gauguin gained fame after his death for his paintings. A friend of Vincent Van Gogh, the eccentric painter is remembered for abandoning his job as a stockbroker and moving to the South Pacific to devote himself to art.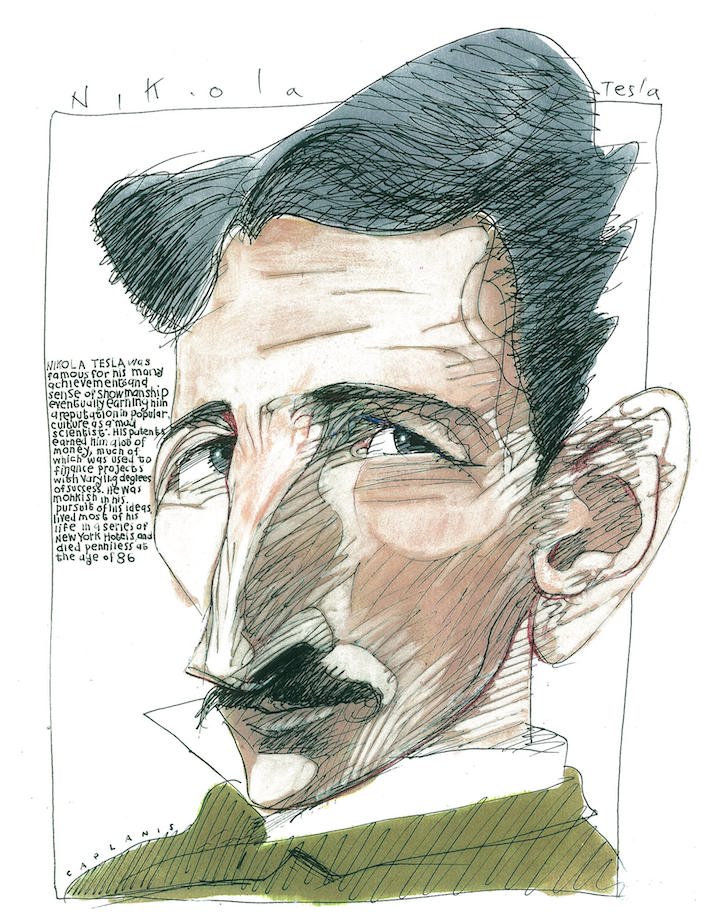 ---
Nikola Tesla
Engineer and inventor Nikola Tesla started his career working with Thomas Edison and became known for his tireless commitment to pursuing scientific discoveries.  He obtained 300 patents for his inventions. The text included in the drawing acknowledges his status in popular culture as a "mad scientist."
 "There are 40 pieces in the show. I've drawn caricatures all my life and it's a terrific outlet for me," Mr. Caplanis said.